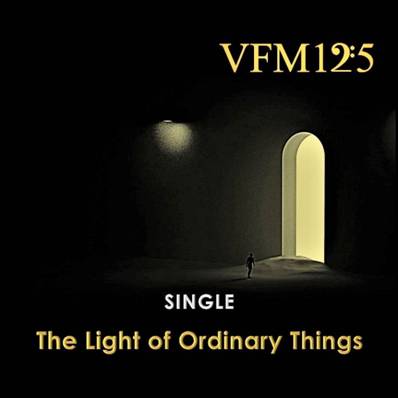 Progressive pop only just scratches the surface of the extra-ordinary new single from musical duo VFM125 – The Light of Ordinary Things. The single, out 05/06/23, combines influences from the worlds of the surreal, the strange, and the extra-terrestrial, all in a quirky and incredible package.
"The Light of Ordinary Things celebrates the arts and how they can lift us from the ordinary into the extraordinary. The irony being that the ordinary can sometimes be extraordinary!" – VFM125
The single brings together a mesmerising assortment of sounds. Distorted guitars in the distance contrast a clear acoustic guitar arrangement against a sci-fi soundscape upon which David Finney's vocals dance. The Light of Ordinary Things will feel right at home with fans of Bowie's more off-planet outings.
VFM125 is comprised of cousins (and lifelong friends) Martin Vishnick and David Finney, who between them hold an eclectic range of influences and backgrounds that come some way to explaining their immensely charming progressive pop style. As a Doctor of Music with a research profile in pedagogy, Vishnick is a classical guitarist and composer of international repute who has stunned audiences across the globe with Rock, Spanish, and Classical styles. Finney previously co-founded the band The Company She Keeps who enjoyed airplay across BBC TV, Radio 1, and MTV. Fans may recognise them from their iconic music video starring Rik Mayall.
Outside of their music, VFM125 are incredibly passionate activists and spiritualists. An animal rights activist for 7 years, David Finney volunteers for the non-profit Humane Being and is a spokesperson for The Scrap Factory Farming campaign who in 2022 took the UK government to court. Like many artists Martin Vishnick is a devoted Nichiren Buddhist, working towards a peaceful world.
The Light of Ordinary Things will be available across all platforms 05/06/23
Facebook: https://www.facebook.com/VFM125
Website: https://vfm125.bandcamp.com
Spotify: https://open.spotify.com/artist/1etmKWmsRM7CkETtGKzQ31
Youtube: https://www.youtube.com/@vfm125