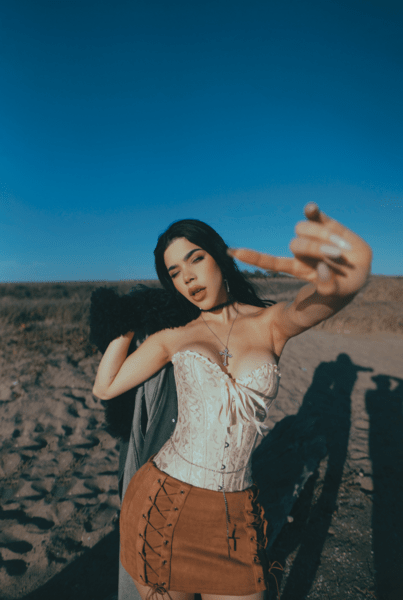 @skopemag news – friday – june 2, 2023 @ 8 am est
https://www.facebook.com/SkopeMag/
https://twitter.com/skopemag
https://www.youtube.com/@skopetv2
https://www.instagram.com/skopemag/
APP – Apple iTunes –
https://itunes.apple.com/app/id1465224822?mt=8
@skopemag APP – Google / Android –
https://play.google.com/store/apps/details?id=hr.apps.n207414718
Support @skopemag –
https://www.paypal.com/donate/?hosted_button_id=3APKAKT8K6ETW
GEARS – Heavy New Single "ALL OR NOTHING"
Gears continue to drive their notable sound but this time with a heavier industrial pulse crossover that merges into the unmistakable nuance that resonates – Gears. The heavier measures brought to the forefront with bass, drums, and vocals bring a headbanging, fist-pumping song that can still set the floor to be danceable.
ARTIST & PRODUCER COUPLE DEBUT "GRACE & MOJI," WITH NEW PROJECT ON LOVE & HEALING – JUNE 22, 2023
Indie/pop duo Grace & Moji is set to make a powerful entrance onto the music scene with their highly anticipated single, "Our Love" on June 22nd. This introduction showcases their remarkable chemistry and songwriting, echoing the nostalgia of 2000s indie bands such as Flaming Lips, Edward Sharpe and the Magnetic Zeros, and The National while combining fresh sounds evocative of Kasey Musgraves and Harry Styles.
HORIZON THEORY RELEASE "DECEMBER" + Capulet Fest
Together, the music Horizon Theory creates is a driving force that melds all the right components to cause an explosion of sound. Horizon Theory has now released their next single, "December". From the moment of the song's inception "December," hits the intensity of pure vocal tones, driving guitars, bass lines, and the beat of the drums as it inhales a deep breath of headbanging pursuit. The listeners are hooked. This band, whether in the studio or live, brings their utmost to turn the music produced into its own unique delivery that holds its solidly marked place in rock music.
Southern Metal Outfit VERMILION WHISKEY Release Video For "Confidence"
VERMILION WHISKEY have dropped their new video "Confidence". The song is from their album Crimson & Stone which is out today.
The band comments "A heavy, rocking anthem that speaks for itself, Confidence is exactly that: Confident, determined vocals, driving percussion, with a steady dirty guitar drives this one home and is meant to be a message to inspire courage and strength in the face of adversity."
Mai Moxi UNRELEASED "N.Y.N" prod. by JaySwifa Single OUT 6/16!
Dropping on Mai Moxi and notable rapper Tupac Shakur's birthday, Mai's play on acronyms in naming the song is a nod of respect to late rapper Tupac and his acronyms T.H.U.G L.I.F.E and N.I.G.G.A. The "N.Y.N" Acronym for "New York N*gga" & "Now is Yesterdays Never" meaning. What one person says is impossible yesterday can be the reality you live today. Cleveland, OH native rapper Charles Hamilton's "Brooklyn" Girls" inspired this record and the hook is a nod of respect and homage. The lyrics are reminiscent of a female spin on "Jay-Z's "Girls, Girls, Girls" and "What They Really Want" of late rapper DMX.
Catie Turner Comes To Boston! (6/17)
The tour celebrates her forthcoming EP Comedy & Tragedy: Act 1 – a two-part collection of songs and visuals to be released throughout 2023. The project was first heralded by the deeply introspective (but still upbeat) "Hyperfixations," featured in both Rolling Stone's "Songs You Need To Know" and Ones To Watch's "Now Watching." The inspiring "Easy" followed earlier this month, originally teased on Turner's popular TikTok (where it quickly amassed over 1M likes) and joined by an official visualizer streaming HERE. In addition to latest release "Hometown," the EP also includes Turner's heart-wrenching breakthrough hit single, "God Must Hate Me," which earned more than 1.2M streams in its first week, landing Catie on the cover Spotify's influential "Next Gen Singer Songwriters" playlist. Now with almost 72.6M global streams, "God Must Hate Me" is joined by a powerful live performance video, filmed live at the historic St. Ann's Church in Brooklyn, NY (streaming HERE).
CHIKA RETURNS WITH EMOTIONAL NEW SINGLE "REQUIEM FOR A DREAM"
Grammy-nominated rapper CHIKA returns with the evocative "Requiem For a Dream," her first new single since 2021. The song reintroduces the remarkable artist to the world by doing what only she can: delving into the depths of her psyche while revealing a remarkable musical versatility. "Requiem For a Dream" sounds like a soothing lullaby that's been tattooed with lamenting lyrics. "Often I just wanna cry," CHIKA raps over the beat—which pairs the gothic, technical architecture of drill production to a lilting melody. Though CHIKA has been quietly cooking for a minute, the impact of her previous work still ripples through the music world. The musical maverick and media darling has been featured in The New York Times, Rolling Stone, In Style, Interview and more. Her 2020 debut EP Industry Games not only landed her on XXL's coveted Freshman cover, but earned her a Grammy nomination for Best New Artist.
New release from DAAY
JACQUEES' SINGLE "TELL ME IT'S OVER" FEATURING SUMMER WALKER AND 6LACK #2 MOST ADDED AT URBAN RADIO THIS WEEK!
Taking over airwaves yet at again, Jacquees' new single "Tell Me It's Over"featuring Summer Walker and 6LACK charts as the #2 Most Added" at Urban Radio. The rising single was first revealed with the release of his latest studio album, Sincerely For You.
New Track from Superswell – Skope Magazine Submission
"Heathen" is about struggling with shame. Interesting instrumentation includes an Aztec Death Whistle, evoking the sound of a human scream. This is followed by a mathy re-intro.
DAVE & CENTRAL CEE RELEASE NEW SINGLE AND VIDEO 'SPRINTER'
Today sees Dave and Central Cee join forces for a huge new single 'Sprinter'. The single marks their first solo collaboration and a hugely anticipated track by two of the UK's biggest artists.
[DL] LÂLKA shares debut mixtape ROMANCE + REBELLION 💘
Today, Borneo-born, Meanjin/Brisbane-based artist, producer, multi-instrumentalist and DJ LÂLKA shares her glossy, immersive and "hyperintense" debut mixtape, Romance + Rebellion, launching with an accessibility-minded hometown show (details below) and featuring recent singles 'Romance + Rebellion', 'Lilith' and 'What If We Kiss To Break The Tension?'. Romance + Rebellion is out now, listen HERE.
De La Ghetto y Quevedo unen fuerzas en una colaboración musical
El reconocido artista y pionero musical De La Ghetto, sorprende a sus fanáticos con una colaboración sin precedentes junto a la sensación del rap español, Quevedo. Esta unión de talentos representa la fusión de dos mundos completamente diferentes, donde la experiencia y el legado del género urbano se encuentran con la sofisticación y frescura de la nueva ola de intérpretes urbanos europeos.
Bajo el título "My Love", esta melodía urbana cautivará a los amantes de la música con su combinación de elementos del Trap y el R&B. La canción, compuesta por De La Ghetto, Quevedo y Yanzee, ha sido producida por Hydra y IOF, dos talentosos productores que han dejado su sello único en esta colaboración.
Raven Artson's 'Twist My World' is a modern maximalist take on late 70's Disco
In two-and-a-half minutes he convincingly guides us towards 'the next step' in an early romance that's characterized by manic loving. Raven starts out by portraying the frenzy days of pink: "You twist my world pearl, a Gemini in glory. Your cracking open put the world in overtone." A craze he follows up with a desire for stability: "I'm longing for a time where we can put it down."
BUZZING GENRE-DEFYING ARTIST ABSOLUTELY RELEASES STUNNING DEBUT SINGLE & MUSIC VIDEO "HIGHER"
After emerging as a sought-after force behind-the-scenes for the likes of Anitta, David Guetta, Normani, and more, Absolutely introduces herself as the genre-smashing maverick music has been waiting for.
KENIA OS EXPLORES HER MUSICAL ROOTS WITH "MÁS TE VA A DOLER"
The track was born in Colombia while on vacation, Kenia Os reveals about "Más Te Va a Doler," a song through which she reconnects with the Mexican music she grew up with. A month ago, through an IG Live, Kenia teased the song and millions of fans fell in love with it and kept asking her to release the song.
ARDN RELEASES NEW SINGLE "ARE U KIDDING"
"ARE U KIDDING" is a reflection on ARDN's determination to succeed and his perspective on his current life experiences, which — despite the barriers he has faced — he describes as "Pinch me moments". The chorus repeats, "Are you kidding?" to emphasize his disbelief at those who underestimated him. He is joined by Chicago rapper femdot. who delivers a complimentary verse of what it's like to defy odds.
BROTHER-SISTER DUO BETWEEN FRIENDS RELEASE VIBRANT SINGLE AND VIDEO, "WHAT'S UP"
The new record, which the duo debuted at Governor's Ball last year and performed to positive fan reaction on their recent sold-out tour, is a continuation of their recent string of vibrant yet emotive pop songs – this time centered around the feeling of chasing an unrequited love. Savannah sings, "I've been chasing after you forever / Can you call me on my phone to say 'What's up?' / I just wanna get to know you better" openly expressing her fondness for a love interest and pleading for her feelings to be reciprocated while Brandon provides the ethereal backing vocals. The track is filled out with a driving bassline and spacey, melodic synths which continue the group's recent trend of producing more upbeat songs while still retaining the more emotional and heartfelt songwriting fans have come to love.
SARCASTIC SOUNDS SHARES NEW SONG "JAYCEE"
Fresh off the heels of his tour dates with Arden Jones and co-writing David Kushner's hit "Daylight," Sarcastic Sounds has released his new song "Jaycee." Lifted from the Toronto-born / LA-based vocalist, songwriter, and producer's forthcoming debut album, the track overlays lightly strummed acoustic guitar with Sarcastic Sounds' emotionally charged and self-aware lyrics that reflect on the end of a relationship. Listen HERE.
RLYBLONDE PRESENTS DEBUT EP 'FANTASY'
After years of being the go-to photographer, videographer and creative director for New York's favorite indie acts, rlyblonde showed an exciting evolution in her artistry with the release of her own music project. Teaching herself guitar, songwriting, and all the other nuts and bolts that go into creating, recording and releasing music, rlyblonde has spent the last 2 years putting together her debut EP, 'Fantasy.' The EP includes past singles "Fantasy" (title track), "Spiltmilk," and "Hot Girls Always Win," as well as 2 brand new tracks.
MADISON BEER RELEASES "HOME TO ANOTHER ONE" NEW SINGLE & MUSIC VIDEO OUT NOW!
THE CHAINSMOKERS RELEASE HYPNOTIC NEW SINGLE AND OFFICIAL MUSIC VIDEO FOR "SELF DESTRUCTION MODE" WITH BLUDNYMPH
Ophelia's Eden unveils striking new single 'MAD'
The latest single from debut album Boundary Road coming in August, 'MAD' is a show-stopping pop tune, pairing a strutting groove with reverberating pianos and Ophelia's Eden's soulful vocals.
LATTO LINKS WITH CARDI B TO "PUT IT ON DA FLOOR AGAIN"
PURPLE DISCO MACHINE RELEASES NEW SINGLE 'BAD COMPANY'
The present-day king of disco, Purple Disco Machine pays homage to his roots with his latest release 'Bad Company'. Get ready to sonically transport to the 80s with yet another disco cut ready to conquer the dancefloor. It follows on from an internationally-acclaimed collaboration with Kungs for 'Substitution' that is currently leading the radio airwaves across Europe and proved that in 2023 dance lovers are craving that authentic disco-laden beat more than ever. Purple Disco Machine is yet again providing the sonic landscape for fans to flourish and become immersed in the Dresden producer's funk-fuelled world.
FRIDAYY – R&B'S MOST IN-DEMAND HOOK-MASTER & 'MELODY GOD' – RELEASES BRAND NEW SINGLE "DON'T GIVE IT AWAY" FEATURING CHRIS BROWN
Building on a whirlwind year of unprecedented momentum that saw Grammy-nominated collaborations and SNL performances with likes of DJ Khaled and Lil Baby respectively, quickly rising star Fridayy has grabbed the title of 'Melody God' and established himself as the go-to hitmaker in the hip-hop/R&B space. Now, Fridayy reveals a brand new single entitled "Don't Give It Away" featuring Chris Brown via Def Jam Recordings today.
Children of the Sün release new single "Come With Us"
RISING STAR KRIS JAMES SHARES THE NEW SINGLE "CAUGHT FEELINGS"
Kris James is firmly on the rise. Having recently supported Will Young and Anastacia throughout UK and Europe on tour, today the singer-songwriter from Liverpool releases his first new music of 2023 – the soul-stirring summer single 'Caught Feelings'. The song sees Kris inviting his fans to delve deep into the depths of his true essence, offering an intimate glimpse into his raw emotions and genuine self. Kris fearlessly embraces his authenticity, unleashing a symphony of unfiltered thoughts and heartfelt sentiments.
Intense synthpop offering 'Suffocate' – new single from Magnetic Skies out now
Following their euphoric previous single 'You Shine On', London synthpop band Magnetic Skies dial up the tension on their new release 'Suffocate', out 2nd June.
MICHAEL CATTON release new single & video
"Armageddon Again", the new single from MICHAEL CATTON, expresses that "Oh no, here we go again" feeling we get every time a new power-hungry madman gets too close to the nuke codes. Sometimes it seems like half the world's leaders are intent on blowing the planet to bits in an effort to win the world's highest-stakes pissing contest.