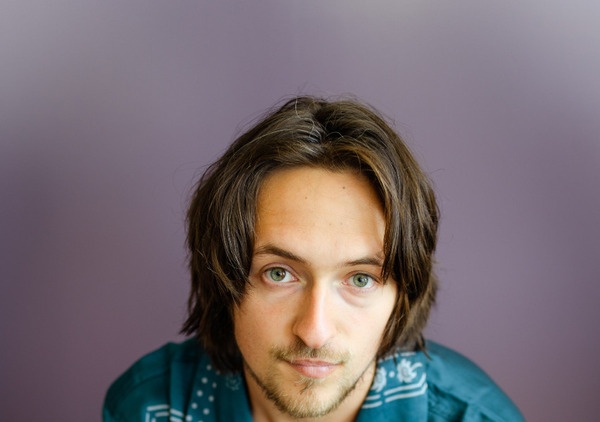 I defy anyone to successfully pigeonhole the band Noshows. Max Satow initially began the band as an one man project but soon broadened his vision. The New York City based act is now a five-piece outfit featuring Satow on vocals/guitar, Dylan Satow on trumpet, and Amedeo Corey on keyboards and backing vocals. Bassist Zac Munowitz supplies backing vocals as well and drummer Isaac Pincus rounds out the lineup. Max Satow's remarkably elastic songwriting direction incorporates several styles, often within the same song, without ever sounding disjointed.
The band's new single "Paranoid" illustrates that elasticity. It begins with an energetic trumpet fanfare before Corey's keyboards and the rhythm section drive the song forward. Satow's experience as a producer serves Noshows well as "Paranoid" has an impressive heft moving forward and an excellent balance between its varied instruments. The burning heart of "Paranoid", however, is an effervescent melody, both instrumental and vocal, that immediately drew me in. 
His vocal melody is particularly alluring. The rising and falling in Satow's singing casts a spell closing off the outside world. Listening to this song is a memorably insular experience. You forget about anything else and feel hypnotized by Satow's melodic gifts, but it's never cheap, takes no short cuts, and earns your attention through sheer skill.
The lyrical content has a conversational bent. Noshows' perspective throughout their songs is completely accessible, yet clearly intelligent. He isn't writing about anything particularly new, but the personal edge is sharp and relatable. There are no high-flown pseudo poetic musings. His songwriting grounds itself in the real world rather than the ephemeral.
https://open.spotify.com/album/3TsfKmTepNIa7uhPd0Htq6
Satow's guitar playing has an increasing influence on the song's direction as it progresses. It gives the track a far fuller effect than the opening passages. He plays with bracing urgency and tailors the six-string contributions to the song's melodic architecture. There's no gratuitous self-indulgence but, instead, a sure sense of how to fully realize the song's potential. The rising intensity gives the cut undeniable climatic passion.
It's arguably Noshows' finest moment yet. They are building a greater reputation with each successive release and increasingly high-profile gigs reflect their rise. The Bowery Electric, Pleasantville Music Festival, Baby's All Right, and Arlene's Grocery are among the influential venues hosting Noshows' fiery concert appearances. "Paranoid" positions them to break through to another level.
It's a fully justified ascent. Max Satow began this band as a solo vehicle, but making the decision to move towards a genuine band lineup has fully realized the project's potential. "Paranoid" arguably would lack the power it has in its current form if Satow worked with session musicians or played all of the parts himself. The band's five members share an audible chemistry whose sum is far greater than its individual parts. "Paranoid" is my first experience hearing this band and I finished my first listen impressed by the well-rounded completeness of this song. It checks off every box. I believe, as well, that it is a harbinger of even greater triumphs to come.