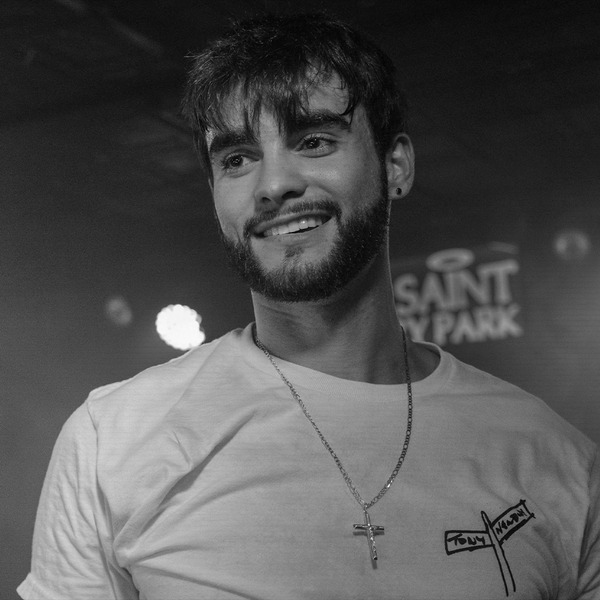 by Nick Christophers
Many in the music or film scene work hard to achieve the best they can with their God given talent. But at times it is harder and the hill one needs to climb can be daunting. Still there are those who would stop at nothing to get to the top and fulfill their dreams. Tony Newbury just happens to be one of those people. This NJ native has developed a growing following with his music and personality. He grew up with the sounds of Frank Sinatra due to his family playing his records. Tony became inspired by the energy and lyrical talents of Sinatra and wanted to carry that into his own sound. The track that meant the most to Tony from Sinatra was "My Way" which to him was very inspiring via its message. Tony's first step into making his own music was in his poetry. He started penning poems and sharing them with his mother for her critiques and it only motivated him to keep developing his style.
"Poetry was the beginning of my songwriting journey. I used to read my poems to my mom to see what she thought of them. Sometimes she would love them. Other times she would tell me I could do better. That turned into the way I now write music."
This was the steppingstone into him creating his image and brand. He chose the stage name, Tony Newbury. His real name is Nicholas Lorenzo, he took the name Tony after his uncle who passed and was like an older brother to him and the last name Newbury for the block he was raised on. His first effort to break into the music scene was via showcases and local performances which garnered him a soon to be growing fan base and awards. In 2019 he dropped his first EP entitled "Misunderstood" that many of us can even relate to. This was where he would not let off on the pedal and bring his brand and music to the forefront. He would go on to win first place in a showcase hosted by Concert Crave and perform from Brooklyn to Toronto. The EP "Misunderstood" for him was a way of representing who he truly is. He would follow up this EP with two others "Lonely in the Summer" and "Suburban Rap Music".
Even though he is seen as a Hip Hop artist his music seems to be a fusion of hip hop, pop and alternative. This is of course due to the spectrum of music he was influenced by. So far, he has managed to attain over 600,000 streams on many platforms. He has been inspired by many artists like J Dilla and J.Cole but one that stood out for him was Russell Vitale, a.k.a. "Russ" who is also a native New Jersey hip-hop artist. Tony has used Russ' approach in his career to enhance his own and it has been working so far.
"Each of those creatives have a sound that's considered their own thing. I try to have that same effect. I want people to hear something and know it sounds like Tony Newbury. I also love it when artists reference their own life experience through their lyrics to connect with their fans. I try to tell my story for those who can relate."
Tony does admit that his headline show at the House of Independents in Asbury Park, NJ was one of his most memorable. For him it was a big transition from doing showcases and open mics. It was the catalyst to his emerging talent and current drive in the business. During the pandemic and into 2021 he released two new projects "Nothing New" and "Westwood".
The following year he opened for Camden rapper Mir Fontaine at The Saint in Asbury Park, NJ. It is important to note that Tony also likes to give back to the community and volunteers at the
The HUBB Arts & Trauma Center in Newark. There he offers young people personal guidance on music production. Currently, Tony has managed to sell out the SModcastle Cinemas movie theater where it premiered his 16-minute short film called "Newbury Road". He followed this up with a standing only show at The Sultan Room in Brooklyn.
On the radar presently is his new release "Route 9" will drop on May 22nd across all streaming platforms. The track touches upon his journey as an artist and all the ups and downs that come with it. But it also harps on the desire to never give up on your dream no matter the pressure. He is also planning on releasing a music video for the track "Route 9" as well as booking more performance dates. Tony is a pure example of perseverance and a desire to do that right thing throughout his music.