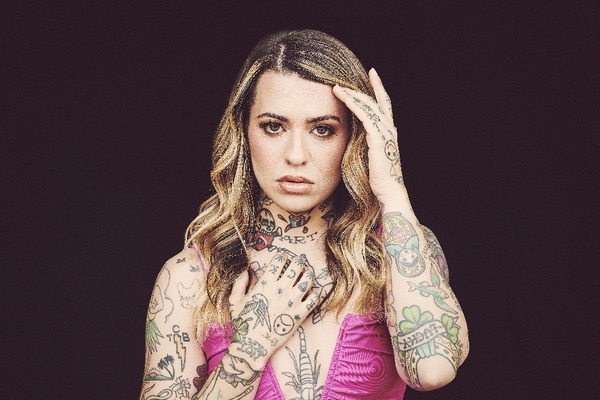 @skopemag news – wednesday – may 17, 2023 @ 12 pm est
https://www.facebook.com/SkopeMag/
https://twitter.com/skopemag
https://www.youtube.com/@skopetv2
https://www.instagram.com/skopemag/
APP – Apple iTunes –
https://itunes.apple.com/app/id1465224822?mt=8
@skopemag APP – Google / Android –
https://play.google.com/store/apps/details?id=hr.apps.n207414718
Support @skopemag –
https://www.paypal.com/donate/?hosted_button_id=3APKAKT8K6ETW
Ed Sheeran On His Bond with Taylor Swift and Harry Styles: "There's rarely people that like totally understand you" on The Latest Spout Podcast
Grammy-winning superstar Ed Sheeran returns as a guest on The Spout Podcast to explain his unique bond with Taylor Swift and Harry Styles while reflecting on his coping methods that got him through his most painful life moments to create his most profound new album, "Subtract."
James BKS (Little Simz, Snoop Dogg, Manu Dibango) new single + video out now
MULTIPLATINUM RAP STAR LIL TECCA RETURNS WITH ANXIOUSLY-AWAITED NEW SINGLE & MUSIC VIDEO "NEED ME"
Miles Kane searches for 'Baggio' in new single…
A cosmic song about childhood life and belief, 'Baggio' is straight up, guitar driven brilliance as Miles searches for himself within Italian football legend Roberto Baggio. "I was eight years old when I first saw Baggio on TV, it was during the 1994 World Cup," Miles said. "I was taken back by his presence, his look and his talent. It was the first time I'd seen a man look so different and unique. Seeing Baggio led me to be obsessed with that Italian football team for many years later. They made me want to grow my hair and I think that was the start of me getting obsessed with clothes, fashion and all things Italian. It was the start of me wanting to grow into who I am today."
HOTWAX RELEASE NEW SINGLE 'RIP IT OUT' + VIDEO
"'Rip It Out' is the darkest song I have ever written." explains lead singer Tallulah; "The lyrics came to me so fast, at a time I was feeling psychotic due to the contraceptive implant. I wanted to create a dramatic, theatrical, melancholic sounding piece, which Lola put together perfectly. I hope it resonates with women who have gone through a similar thing and raises awareness about how contraception needs to be updated."
Northern soul artist Kenny Lee Roberts releases brand new album + video
Following his latest album 'No Talc on the Dancefloor', Kenny Lee Roberts has just released his newest music video for the track 'Giving it Travolta' on the 7th of April. The video contains cameos from Gordon Dalziel and Frank McAvennie, former football players and fellow Scotsman, and appear as the 'DJ' and the 'Dancer', respectively.
Horror Metalwave Phenomenon Nargathrond Drops Killing Season (Lyric Video)
Prepare yourself for a bone-chilling journey into the dark realms of Horror Metalwave with Nargathrond – the spine-tingling project that masterfully blends elements of Dark Synthwave and Black Metal to create an otherworldly sound. Today, the artist has released the title track "Killing Season" lyric video, which is taken from their upcoming album "Killing Season" due for release on June 16th, 2023 via Wormholedeath.
Daft Punk 'We Were The Robots' Out Today
A new book about Daft Punk by the people behind seminal 90s dance music magazine Jockey Slut and new magazine Disco Pogo is out today.
Daft Punk and Jockey Slut have a shared history with the magazine being the first to interview the duo back in 1994 and also the first magazine to feature them on the front cover in 1996.
Daft Punk also played Jockey Slut's club night 'Bugged Out' many times over the years.
VIDEO: Sara Lew dances in the sea in ethereal 'Out Of Nowhere' visual!
Psychedelic dream-pop artist Monad returns with new single 'Light In An Empty Room'
After cementing himself with a wealth of rich and soaring offerings these last few years, including his mesmerising 2020 EP 'Dissolution', psychedelic dream-pop artist Monad returns for the new year to deliver his beautifully alluring new single 'Light In An Empty Room'.
Uma shares new song 'Filthy Rich' with accompanying live video
Uma has been teasing out a string of singles which will make up a mixtape due to be released on Slow Dance towards the end of the year.
Her latest song, 'Filthy Rich' comes out today and in Uma's words "is the product of frustration and sadness, feeling helpless in a crumbling world. But it is also the drive to change things and bring those who take too much and care too little to justice".
Kiimi releases blissed-out new single 'Sun Goes Down'
Since their debut Kiimi has received tastemaker support from all corners of the dance universe, named one of Pete Tong's 'Radio 1 Future Stars 2023' and counting Jamie XX, TSHA, R1's Jaguar and Jack Saunders (who described the artist as 'the future of electronic music') and more as fans. Firmly committed to future-facing thinking behind the scenes as well as in their own productions, Kiimi also heads up Hunni Sound, a project aimed at making music production more accessible to female, trans and non-binary people.
Duff McKagan joins forces with Propeller to honor Mental Health Awareness Month
Duff McKagan is honoring Mental Health Awareness Month with a number of important activities including last week's acclaimed release of his new EP, This Is The Song. Now McKagan is joining forces with Propeller for a very special campaign encouraging fans to take action for mental health causes. Fans are invited to support these vital causes through actions like taking an online training course in helping someone through a crisis, sharing To Write Love on Her Arms' "Find Help" tool, or simply making a donation. Exclusive reward incentives include such iconic memorabilia as a Signed Vinyl Gold 5" Duff McKagan Funko Doll, a Signed Guns N' Roses Use Your Illusions Vinyl Set, and a Signed Guns N' Roses Duff McKagan II Rock Icons Statue, with an Ultimate Prize of McKagan's handwritten lyrics for THIS IS THE SONG, the title track and first single from the new EP.
Fast-rising vocalist ALBERTINA delivers her sleek EP WAITING 4 LIFE
Combining heavily produced synths, harmonies, stunning vocal samples and distorted sounds Albertina effortlessly blends genres in a project influenced by classical, Garage and Grime. Produced by Albertina and Jacob Samuel, the five track EP also features remixes of "Angel" by Harry Rodger and "isitluv" by Chamber45 that take inspiration from the likes of Sampha and Burial. With emotive lyrics throughout, the EP beautifully reflects on loneliness and escapism.
FAKE A SMILE IMPRESS AGAIN ON 'DON'T STOP'// WATCH THE VIDEO HERE
Having gained acclaim from areas such as The Line Of Best Fit, 10 Magazine, Fashionably Early and more on sunbleached debut single Prom Dress, rising Bouremouth based trio Fake A Smile once again stand out from the pack with attention grabbing second single, Don't Stop. Taken from their upcoming debut EP Shoot Me To The Moon, the track sees them connect again with Mercury Award winning producer Gianluca Buccellati ( Arlo Parks,Biig Piig) on a grit-pop offering showcasing a more sombre tone than their summer ready debut.
Foo Fighters share new track 'Under You' & announce free global streaming event on Sunday May 21st…
While ears are still ringing from the sonic and emotional gut punch that was "Rescued," Foo Fighters have unveiled "Under You," an aggressively melodic punk-tinged earworm sure to join its predecessor in massive summer singalongs on the band's upcoming tour dates.
DIMINISHING: Ominous "An Emptiness" Video/Single Now Playing
New experimental/post-industrial outfit DIMINISHING presents their first video, created for their harrowing new single, "An Emptiness." The song is the opening track to the band's debut album, The Unnamable, nearing June release on Anti-Corporate Music.
AMAKA LETS GO IN "LEAVE IT BEHIND" PRODUCED BY KAYTRANADA
AMAKA is back again with another fresh new warm weather single, "Leave It Behind"- out now across all platforms via Venice Music. The new track is rooted in being the perfect temporary escape from daily woes and acting as motivation to let go and enjoy life to the fullest. AMAKA sets the euphoric tone of the song with lyrics like, "Step inside and get a whiff of life/don't deny that nothing beats this high/you need to drive instead of riding behind/just leave all your worries behind."
Hot Wax Release New Single/Video "Rip It Out," Debut EP 'A Thousand Times' Out This Friday (Marathon Artists)
"'Rip It Out' is the darkest song I have ever written. The lyrics came to me so fast, at a time I was feeling psychotic due to the contraceptive implant. I wanted to create a dramatic, theatrical, melancholic sounding piece, which Lola put together perfectly," explains Sim-Savage. "I hope it resonates with women who have gone through a similar thing and raises awareness about how contraception needs to be updated."
Germany's Dream Pop Cinematic Duo NICK & JUNE Premiere Session Video of 'Anything but Time' Today on Post-Punk.com – New EP Out Now!
Activity Announce New LP 'Spirit in the Room' Out 8/4 (Western Vinyl), Share Lead Single "Careful Let's Sleepwalk" & Confirm U.S. Shows
Activity, the Brooklyn-based band of Travis Johnson (lead vocals/multi-instrumentalist), Jess Rees (guitar/vocals/keys), Bri DiGioia (bass/vocals), and Steven Levine (drums), today announced their new album Spirit in the Room will be released on August 4th, 2023 via Western Vinyl. Produced by Psychic TV's Jeff Berner, the band's sophomore album is an emotional seance held through an unearthly haze of menacing trip hop, ambient electronica, and synth-based noise rock.
90s-alt-inspired 'Orange' LP from CHAMELEON LIME WHOOPIEPIE
CHAMELEON LIME WHOOPIEPIE's "Burn Out" is a little bit like a fever dream, but one where you wake up wishing you could go back in, not really sure what you just saw. Even though Chi- is literally sat atop piles of trash, the sky is raining gummy worms, and a swarm of balloon animals are tethered to her, keeping things optimistic.
"You say I am a psychopath…"
Most artists don't top Rolling Stone's Best Country Albums of the year list with their debut album. But most artists aren't Morgan Wade, who earned the top spot with her scathingly honest and raw 2021 LP Reckless. While Reckless, and its Top 30 lead single "Wilder Days," busted down the doors and introduced Wade as a once-in-a-generation songwriter, she now readies her anticipated follow-up project, Psychopath, arriving Aug. 25 via Sony Music Nashville.
Andrew Hung (Fuck Buttons) announces new album "Deliverance" + shares new single "Ocean Mouth" | New album out 11th August via Lex Records
Andrew Hung announces his ecstatic new album, Deliverance, out August 11th on Lex Records, and presents its lead single/video, "Ocean Mouth." Known for his collaborative projects with Fuck Buttons — with whom Hung performed headline slots at festivals such as Glastonbury, Green Man, and All Tomorrow's Parties, and whose music soundtracked key moments in the 2012 London Olympics opening ceremony — Hung continued his collaborative streak through writing and producing with Beth Orton on her career redefining album, Kidsticks.
Introducing Snõõper with new single 'Fitness'
Bully Shares "Change Your Mind," From Lucky For You, Available Worldwide June 2nd From Sub Pop
On Friday, June 2nd, Bully (aka Alicia Bognanno) will release Lucky For You, her kaleidoscopic new full-length worldwide from Sub Pop. On the heels of the previously released singles "Lose You (Feat. Soccer Mommy)," "Days Move Slow," and "Hard to Love," comes the tenacious new single "Change Your Mind."
Altin Gün share video for "Doktor Civanim"
GRAMMY® Award-nominated Turkish psych-folk innovators Altın Gün have shared a thrilling new video for "Doktor Civanim," a highlight from their recently-released new album Aşk, out now via ATO Records.
"After the sci-fi movie set we all lived through during the pandemic, we wanted to recreate this song as a tribute to all the doctors and healthcare workers," says the band's Merve Dasdemir.
Alt-rock/indie duo The Manic Boys And Girls Club share single + video "Lose My Mind"
"Lose My Mind," out today, is a liberating, drum-backed anthem that allows the band to break free from any stress or obligations in pursuit of a good night. The simple instrumentation using one guitar chord reflects the time period the song is based on–a time of innocence, simplicity, and growing up. Calling it "the most autobiographical song we have written," Fernando Ferreira (vocals/guitar) says the track is "inspired by the nights we just wanna tune the world out. The times we need to escape reality. Not try to find yourself, not figure life out, not think about tomorrow. It's about walking into the moments that turn into the nights we never forget." Plus, as a touching callback to his youth, Ferreira used the first guitar his parents ever bought him on this track.
SATURNUS release new track 'Breathe New Life'
SATURNUS release the heavily growling new track 'Breathe New Life' as the final single taken from their forthcoming album "The Storm Within", which has been slated for release on June 16, 2023. Please see below for album details.
Glove blur the line between man and machine on "Chewing on a Wire"
"'Chewing on a Wire' is the yearning for the natural and digital world to be able to coexist together," explains the band. "To believe in the advancement of technology without leaving the natural world behind. Fighting for balance and the battlefield is on the dance floor."
PINKPANTHERESS HITS NO. 1 ON RHYTHMIC RADIO WITH "BOY'S A LIAR PT. 2"
This week, PinkPantheress and Ice Spice earn the No. 1 spot on the Mediabase Rhythmic Radio Chart with their monster hit "Boy's a liar Pt. 2." The music video sits at an impressive 117 million views while the single has accumulated over a billion combined global streams.
dayaway Announce New EP, Share "i wish" Single + Video via EARMILK l 'blue summer moon' EP Out August 30 via Turn To Wind
Today, dayaway (the dreamy indie-pop project of Amber Renee and Graham Marsh of CLAVVS) announce the forthcoming release of a brand new EP, blue summer moon, out August 30 via Turn To Wind. Preceded by two stellar singles — "ocean blues," a song concerned with forbidden desire, and "hot blue summer," an indie bop with hazy guitars, dusty drums, and the duo's signature hooky melodies — the EP, as described by the duo, is "a collection of songs that tell a story of love and loss; each song is a new phase of that story." They continue, "Naturally, we're releasing it on the only blue moon of the year, August 30th, 2023."
Zito unveils new single + video "Please Don't Leave Me"
Emerging singer-songwriter Zito returns with her supplicating new single and video, "Please Don't Leave Me" via FAMA Collective. Inspired by real life, "Please Don't Leave Me" is a bluesy rock-fueled heartbreak ballad that mirrors the agony of the title's plea. The story offers a glimpse into the critical moment of a relationship's demise, sprinkled with lingering memories, thoughts of what could have been, pain, and the uncertainty of unspoken words which have been haunting Zito ever since. Diving deep into Zito's roots, written in isolation in the Pennsylvania countryside, and recorded with close friends, the self-produced track draws from every authentic resource possible to say what wasn't said then.