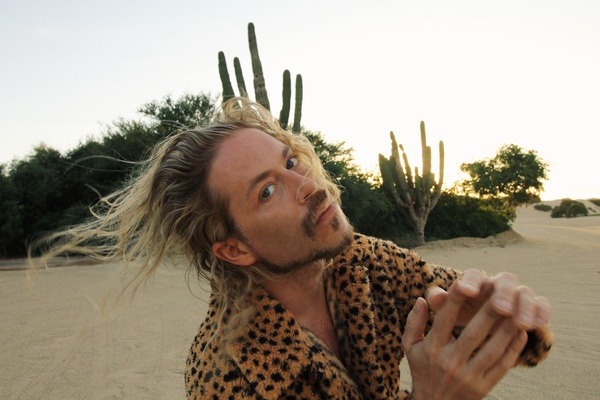 Great artists never stand still. They're hungry for a challenge; they're always looking to master new skills and new styles. The great ones are impossible to pigeonhole: they don't confine themselves to one genre; instead, they make a style all their own. Bryce Avary of The Rocket Summer is an artist like that. In his brilliant and influential career, he's never discarded a single good idea. Instead, he built on each artistic success, refined his vision, and constantly pushed himself to be more expressive, expansive, and maximal.
The result of his ambition? Songs like "M4U," which is a wild, gleeful, joyous, unpredictable ride in three and a half minutes. Is it pop? Is it rock? Is it R&B, hip-hop, or industrial music? The answer is yes, yes, and yes. It's all these things and more. Avary finds room in his newest single for a sinuous, seductive verse, a stomping chorus, a rapped chant in a delirious breakdown, floor-shaking bass synthesizer, dream-drenched six-string, and a bracing riff that grounds the song in the upstart punk tradition with which The Rocket Summer is most closely associated. Every time you think you've got the song pegged, it morphs into something else — something even more catchy and delirious than what's come before. It's all held together by Avary's magnetic vocal performance, one simultaneously pleading and confident, ecstatic and urgent, mysterious and forthright.
"M4U" is a centerpiece of SHADOWKASTERS, the eighth full-length from The Rocket Summer, and the latest chapter of one of the most fascinating stories in American popular music. With a track included in Rolling Stone's "Songs You Need To Know" list, we'd like to say SHADOWKASTERS is the culmination of everything Avary has done before: the dizzy, youthful pop-rock of debut Calendar Days, the irresistible singalong energy of the emo-pop classic Do You Feel, the spiritual intensity of Of Men And Angels, the boundary-shattering eclecticism of Zoetic, the machine-friendly (but never mechanical) art-rock of Sweet Shivers. But we can't say that because we know that as soon as we think Avary has arrived at his destination, he's just going to climb to new heights. Call it the latest step on a wondrously unpredictable journey.
That elusiveness is present in the beautifully warped clip for "M4U." Directed by Nicky Parks, it features footage that Avary filmed himself while in the studio. He appears as a storm of tiny pixels and white-hot dots on a black background. It's impossible to tell where he is, but it's clear he's possessed by the music and driven to communicate. There are listeners, too: one of them a female dancer who is as translucent as a curl of smoke. Screen wipes, static, and digital effects keep obstructing our view of her; she's tantalizing, alluring, and just out of reach. There are glimpses of musical instruments, too, including a double-tiered Model D minimoog and a gleaming hi-hat. It's a reminder of another remarkable thing about The Rocket Summer: Avary plays all the instruments, and produces / mixes the music himself.
Follow The Rocket Summer:
http://theRocketSummer.com
http://facebook.com/TheRocketSummer
http://twitter.com/TheRocketSummer
http://instagram.com/bryceavary
http://tiktok.com/@rocketsummer