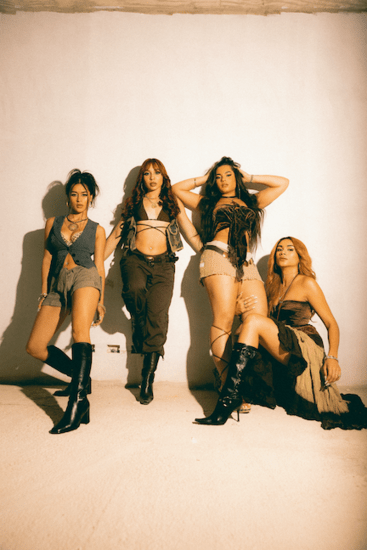 @skopemag news – friday – may 5, 2023 @ 1 pm est
https://www.facebook.com/SkopeMag/
https://twitter.com/skopemag
https://www.youtube.com/@skopetv2
https://www.instagram.com/skopemag/
APP – Apple iTunes –
https://itunes.apple.com/app/id1465224822?mt=8
@skopemag APP – Google / Android –
https://play.google.com/store/apps/details?id=hr.apps.n207414718
Support @skopemag –
https://www.paypal.com/donate/?hosted_button_id=3APKAKT8K6ETW
soul/pop collective evokes "the stillness of a cool spring night"
As they gear up for the release of their new 'Splinters' EP on September 15th, the NYC-based soul/pop collective Gideon King & City Blog has released "Turn Off The Sky," a breezy, introspective ballad about the ebbs and flows of relationship that evokes the stillness and calm of a cool spring night. Released alongside an in-studio video featuring the renowned vocalist Michael Mayo, "Turn Off The Sky" highlights City Blog's signature blend of complex chord sequences, rhythms, and abstract lyrical patterns. "'Turn Off The Sky' was inspired by the lyrics of Bono, some of the sonic qualities of Radiohead, and the abstraction of the unconscious," comments Gideon. "We really hope you like it!"
Joonti lanza su nuevo sencillo "Labios" bajo el sello discográfico AP Global Music
PHABO Drops Smooth "Casamigos" Single
Written by PHABO and co-produced by multiple GRAMMY Award-winning hitmaker Eric Hudson (Whitney Houston, Justin Timberlake, Mariah Carey) with Phillip C. Lewis (Mary J. Blige, H.E.R., Doja Cat) and Ezzra (John Legend, Ant Clemons, Keyshia Cole), "Casamigos" marks another standout ballad from the naturally gifted multi-dimensional artist at his most comfortable. The track follows on from his latest offerings this year including the official studio version of "Scorpio Moon" – first premiered on COLORS – and the sun-soaked "Out of Touch" featuring UK R&B artist Shaé Universe.
Randall King Releases "When My Baby's In Boots," Available Now
With a healthy dose of charm and twang, Hereford, Texas native Randall King adds a boot stompin' honky tonk tune to his set list with his new "When My Baby's In Boots," available everywhere now on Warner Music Nashville. Detailing the irresistible toe-tapping power a pair of Luccheses have on his girl, King tees up a song best enjoyed under the neon lights on a night out on the town.
Alan Chang Tells His Side Of The Story In "Love As A Weapon"
Rising jazz pianist and songwriter Alan Chang has released his new single, "Love As A Weapon," an anthem about the complications that come with partnerships. Relationships are complicated matters, and when a friendship has both professional and personal stakes, there can be conflicts of interest that result in a break. This separation is precisely where musician Alan Chang, musical director for Michael Bublé, got the inspiration for his new single "Love As A Weapon." "Love As A Weapon" is available to stream and download on all major streaming platforms worldwide.
The Intemperate Sons Release New Single "Game of Keep Away" via FRAME|WORK
Indie rock band The Intemperate Sons released the title track from their highly anticipated new album Game of Keep Away that will be released to all major platforms via FRAME|WORK in the fall of 2023. The band is in the early stages of planning a fall run of shows on the west coast.
Gov't Mule Releases New Single "Same As It Ever Was" // New Studio Album 'Peace…Like A River' Out June 16
Renowned GRAMMY-nominated band Gov't Mule, led by guitar legend, vocalist, songwriter and producer Warren Haynes (whose performances last weekend at Willie Nelson's 90th birthday concert at the Hollywood Bowl were an event highlight), has released the new single "Same As It Ever Was," the opening track of their forthcoming studio album, Peace…Like A River, out June 16th via Fantasy Records. "Same As It Ever Was" features a soaring arrangement – anchored by Jorgen Carlsson's thunderous bass and Matt Abts' precise yet soulful drumming – that helps bring the song's heartfelt sentiments home.
New Music Video/Single: Bella Dose: Viral Bilingual Girl Group
With heritages from Cuba, Honduras, Dominican Republic, Puerto Rico, Colombia, and Chile, Bella Dose embody their Latin flavors through their music, all while bringing a tidal wave of female empowerment for the Gen-Z generation. Bella Dose has nearly 30 million streams across platforms and has received acclaim from the likes of ABC News, Rolling Stone, Glamour, Wonderland, LADYGUNN, Notion, Billboard, CNN, UpRoxx, to name a few. The single is off of their forthcoming EP. Thanks for your consideration,
JIDENNA RELEASES NEW ALBUM ME YOU & GOD AVAILABLE TODAY VIA WONDALAND
GRAMMY® Award-nominated multi-platinum rapper, singer, producer, artist, and actor Jidennareleases his third studio album, ME YOU & GOD, today via Wondaland. The album was preceded by three singles "Blush", "Safe" and "Front End."
SINGER-SONGWRITER EMILY KINNEY RELEASES DREAMY NEW SINGLE "WALKIN' ROUND YOUR DREAMS"
Jullian Records recording artist, singer-songwriter Emily Kinney today releases her first single "Walkin' Round Your Dreams." The dreamy sounding and heartfelt song is the first single from Emily's upcoming LP Swimteam, due out on September 21, 2023.
RISING R&B ROYALTY JOURNEY MONTANA BLOWS A KISS TO HARLEM ON NEW SINGLE "212"
Today, Harlem's R&B princess Journey Montana releases her latest single, "212," the singer/songwriter's first release after newly signing to Los Angeles-based independent record label 10K Projects. Accompanying the track is the official video, directed by Panoramic Films, in which Journey invites viewers into the middle of the city that raised her, giving them a glimpse into the energy that inspired the song.
NEW MUSIC RELEASE ** Panamanian Artist CIENFUE Takes Fans On A Psychedelic Journey With New Album "SEVEN CITIES OF GOLD"
Cienfue, the acclaimed indie singer and songwriter recognized internationally for his irresistible tropical psychedelia, has commanded listeners' attention this year with two kaleidoscopic singles, "Lost Tribes" and "Big Dream Energy." Today, he now returns with the album from which these songs were birthed, "Seven Cities of Gold."
Take That Return With Rework Of 'Greatest Day' By Robin Schulz and Featuring Calum Scott
Take That have today released a brand-new rework of their single, 'Greatest Day' by GRAMMY® Award-winning DJ and music producer Robin Schulz and featuring multi-platinum selling singer songwriter Calum Scott. This is the band's first music release since their Odyssey Greatest Hits album in 2018 and it marks the start of a monumental year for them. 'Greatest Day' is out today via EMI Records.
New Music This Week from Emily King, Rodney Crowell, Alison Brown, Smashing Pumpkins, Ed Sheeran and More
New Releases for May 05, 2023 – Here are the AllMusic editors' picks for the most noteworthy releases this week. Looking for more? Visit our New Releases page.
SPINEBREAKER: Cavern Of Inoculated Cognition EP From San Jose Hardcore/Death Outfit Out Today On Creator-Destructor Records
San Jose, California-based SPINEBREAKER presents their Cavern Of Inoculated Cognition EP, out today on Creator-Destructor Records and streaming everywhere.
NONSTOP TO CAIRO NEW ALBUM KAI OUT NOW
Delivering a mix of punk, funk, and melody Nonstop To Cairo genre-fluid new album KAI is out now via collaboration with Rama Entertainment and Creative Entertainment Network/The Orchard, a division of Sony Music.
Canadian Singer-Songwriter Joshua Hyslop Returns With Heartfelt New Single "Pieces"
Today, Canadian singer-songwriter Joshua Hyslop shares his introspective new single, "Pieces." Hyslop explains, "This one is about coming to terms with the fact that vulnerability is actually a strength and the only true way for real connection to take place. It's learning how to let your guard down and not giving up." The track is his first new release since his 2022 album, Westward.
OUT: AIME SIMONE RELEASES ALBUM OH GLORY + "GIVE ME LOVE OR GIVE ME NOTHING" VIDEO (BECAUSE MUSIC)
Today, the Paris-born artist and producer Aime Simone delivers his hotly anticipated new album Oh Glory, including the singles "Baby Don't Quit" and "New World", and new single "Give Me Love or Give Me Nothing". Freshly signed to Because Music (Christine and the Queens, Shygirl etc), the introspective and emotional body of work set across eleven tracks, Oh Glory captures core moments and emotions from Aime's travels between Berlin, Los Angeles, Vienna and Paris.
Jérémie & The Delicious Hounds Release Debut 'Cruel' LP
Jérémie & The Delicious Hounds are new-age fosterers of soul music with a uniquely Canadian twist. Hailing from St. Boniface, the old French quarter of Winnipeg, they have crafted their identity as bilingual artists with their first full-length album, Cruel. Infusing nine fun-loving songs about amour and heartbreak in a mixture of both English and French, the LP serves as an authentic representation of the languages they speak at home. With the support of seasoned producer Murray Pulver, Cruel was recorded "live off the floor" to capture their vintage soul aesthetic and vibrant live performance energy.
BIG RED FIRE TRUCK Release New Single "Love Bite"
The band comments: " 'Love Bite' is a personal reflection of my experiences in the music industry and its comparison to the highs and lows of a place like Vegas. It's easy to get caught up in the glittering facade of success and become fixated on the idea of making it big. I read an article recently that helped me come to realise that the industry is in fact a lot like a casino – a few win big, a few even win small and those that don't are kicked to the curb and left to fend for themselves. This song is a reminder to myself and others to enjoy the journey, no matter what the outcome may be."
ANDREW HAGAR Releases "Systematic Minds" + Visualizer to all major platforms!
Pop-Rocker Chad Tepper Scores Big Time In New Music Video "Outta My League"
Navigating life with his heart on his sleeve, charismatic pop-rocker Chad Tepper is never afraid to be vulnerable. In celebration of his recent engagement, today he shares a new music video for his song "Outta My League," produced and co-written by Keith Varon (MGK, jxdn, chloe moriondo). Written about his new fiancé, the alt-rock track is accompanied by a lyric video featuring self-shot footage of himself and his future wife basking in love's glow on a desert road trip.
AUGUST ROYALS RETURNS WITH NEW SINGLE "ANGEL ARMS"
His first song of 2023, "Angel Arms" follows last year's release of his debut project, Inhaler, a nine-track EP that served as a multi-genre reflection of his own experiences and struggles. Driven by the strums of an acoustic guitar before bursting to life with a flurry of drums and percussion, "Angel Arms" is an emotional indie-pop track that sees August trying to connect with a love interest.
KitschKrieg Recruits Anti Da Menace for Percolating "Really Rich" Single
MEGAN MORONEY'S DEBUT ALBUM 'LUCKY' OUT NOW
Today, Sony Music Nashville/Columbia Records rising star Megan Moroney strikes gold with the release of her massively anticipated debut album, LUCKY. A daringly honest look at all the major wins and losses of her life at age 25, LUCKY features the Georgia-bred singer-songwriter-guitarist's breakout hit "Tennessee Orange" — a newly PLATINUM-certified viral smash that's cracked the Top 10 on Country radio and surpassed a staggering 196 MILLION streams to date.
Andy Frasco & the U.N. announce new album; share first song/video
LOLA YOUNG DROPS GRITTY NEW SINGLE "MONEY" VIA DAY ONE / CAPITOL RECORDS
With the overflow of fluttering guitar melodies and a hip-hop-influenced beat, "Money" narrates the story of how it looks when super-rich kids misspend their money. The track is stylized with frank lyricism, a signature Lola Young style form within her music.
for Skope: Panamanian Gian Varela's debut EP fights Latin stereotypes, promotes the "other" Latin culture (out now on Mixmash)
Little Fuss Releases Fiery Single "Hypothetical Girl"
Little Fuss, a collection of shy creatives hoping to take their introverted perspectives and write songs that make them loud enough to hear, are using their new single, "Hypothetical Girl," to turn the male gaze's lustful, manic pixie dream girl fantasy on its head. The first track off their upcoming Lovely Distraction EP, set to be released later in the spring, is now available to stream and download on all digital platforms.
THE SIGIL Releases Video For "The Shape of Shadows"
Esoteric melodic rock outfit The Sigil is have released a video for thier single "The Shape Of Shadows". A tour de force of attitude and energy, with electrifying guitar riffs, pounding drums, and a driving bass line, "The Shape Of Shadows" features intense vocals and captivating lyrics; a modern classic in the making.
Jeanines shares new single, "Each Day," announces European tour
Over the course of two well-received albums and numerous singles and compilation appearances, Jeanines have captured the ears of discerning listeners with a sound that recalls a diverse swathe of pop history, from 60s folk-pop and girl-group tunes to 80s DIY pop to solid gold 90s touchstones like The Aislers Set, The Cat's Miaow and the post-Black Tambourine bands of Pam Berry.
Suki Waterhouse Shares "To Love" (Official Video) + Summer Tour Dates
In March, vocalist and songwriter Suki Waterhouse released the intimate "To Love," a new single, and her contribution to the Sub Pop Singles Club, Vol. 8. Rolling Stone says, "the British musician exchanges her signature sad girl heartbreak songwriting for a warmer and more optimistic take on romance."
MisterWives announce fourth LP 'Nosebleeds' with video for title track + North American tour with Bishop Briggs on sale now
Nosebleeds, highly anticipated fourth studio album by MisterWives, propels the group into all new territory, this time, equipped with bravery, confidence and strength. Through a decade-long career, of tremendous highs and lows, the forthcoming project meets the band at their most evolved as they turn their pain into power. Over ten compelling tracks, the band digs deeper than they ever have before, capturing the nuances of life's highs and low and re-defining what it means to succeed and to fail.
Americana rock band MORGANWAY release sophomore album 'Back To Zero'
Multi-award winning band Morganway will release their dramatically melodic forthcoming album Back To Zero on 5th May 2023.
Following a string of singles and a UK headline tour announcement, Americana rock band Morganway are set to release their new record, Back To Zero – an album captured over a wild period in the band's recent history. Writing and recording took place during 2020s lockdowns and then later fitted around a relentless touring schedule; from forced resets and sudden restarts, its title track served as an appropriate name for the latest body of work from this resilient band.
PHILLY GOATS UNLEASH NEW SINGLE & MUSIC VIDEO "X EM" VIA DEF JAM RECORDINGS
The track's frenetic energy and kinetic percussion entwine seamlessly with the group's bulletproof bars. Together, they lock into an instantly irresistible hook. The accompanying visual only matches this explosive energy with moments of show-stopping choreography and fast-paced narrative!
BabyJake Shares "Gambler's Prayer" Single via The Honey POP
Chosen as a VEVO DSCVR artist and frequent collaborator with artists such as 24kgldn to Dillon Francis, Nashville-based singer-songwriter BabyJake has made an indelible mark on the modern music landscape since his debut in 2019 with "Cigarettes on Patios" (Certified Gold, 125M+ streams across DSPs). With acclaim from outlets such as Billboard, Wonderland, Lyrical Lemonade, Ones to Watch, and American Songwriter, in addition to 20+ Spotify placements (Feel Good Indie Rock, Dopamine, Varsity Bars) and 30+ Apple Music placements (Chilltronics, New in Pop, AltPop, Superbloom), BabyJake is on the rise, and hasn't let up.
Indie-folk Singer Jolé Releases Profoundly Honest New EP 'Let Go'
"This EP is about loss. I lost two of my grandparents, pretty close together, and I hadn't been able to see them for two years during COVID. The songs deal with this, with not being able to see the ones you love, while also looking through earlier memories of our time together. The EP is about becoming an adult, experiencing loss, and becoming a father," reflects Jolé about the release.