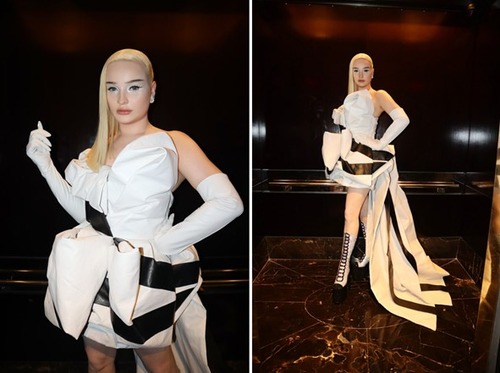 @skopemag news – tuesday – may 2, 2023 @ 11 pm est
https://www.facebook.com/SkopeMag/
https://twitter.com/skopemag
https://www.youtube.com/@skopetv2
https://www.instagram.com/skopemag/
APP – Apple iTunes –
https://itunes.apple.com/app/id1465224822?mt=8
@skopemag APP – Google / Android –
https://play.google.com/store/apps/details?id=hr.apps.n207414718
Support @skopemag –
https://www.paypal.com/donate/?hosted_button_id=3APKAKT8K6ETW
Glazergirl Releases Official Music Video for New Single "Chilly Flower"
Modern hard rock project Glazergirl™ aka "GG" (Jill R. Serfaty) released her newest single "Chilly Flower" to all major platforms. The single is from her forthcoming 5 song EP titled "Mothership" due out this spring.
KRIGSGRAV To Release Fires In The Fall On June 23rd 2023
The sky darkens. The wildfires roar. A new album from KRIGSGRAV emerges from the smoke. Wise Blood welcomes the Texan black metal trio back to the coven to release their new masterpiece of eternally doomed black metal — Fires in the Fall on June 23rd, 2023.
Alternative Metal band VIOLET BLEND collab w/ TIRED VIOLENCE (Post-Hardcore) in new "My Head Is Broken" music video & single out now!
Cinema Stare share springy pop-punk single and video "Remember"
Today, Connecticut band Cinema Stare have shared their new single "Remember." The song really leans into the "pop" part of pop-punk with vivacious melodies and a sing-along chorus from vocalist Quinn. It's the second single from their upcoming debut album The Things I Don't Need out May 19th on Static Era Records. The accompanying video for the song find the band giving a dynamic performance as colorful lyrics pop into view, and it can be watched here.
Lastlings Share New Single 'Out My Head' + Announce North American Perfect World Tour
Today, Japanese-Australian sibling electronic duo Lastlings release their new single 'Out My Head', out now on RÜFÜS DU SOL's Rose Avenue Records. 'Out My Head' serves as the fourth single off their forthcoming sophomore album Perfect World, due out June 23rd. Along with the single, Lastlings have announced their upcoming 14-date headline tour set to kick off on September 14th.
Rob I. Miller of Blues Lawyer shares a slab of Teenage Fanclub-inspired power pop
Baxter Dury Shares New Single "Celebrate Me" / New Album Out June 2 via Heavenly
Musician, writer and Renaissance man Baxter Dury releases "Celebrate Me" the third track from his forthcoming seventh studio album I Thought I Was Better Than You. Due for release June 2 through Heavenly Recordings, the album is produced by Paul White, celebrated for his work in Golden Rules and with the likes of Charli XCX and Danny Brown.
Coki And Trixx Drop Their Second EP 'Savanna La Mar'
Pop-Fusion Singer-Songwriter TK Releases New Single "I Don't Need U"
Today, in anticipation of his upcoming album Eternal Garden dropping this Spring, pop-R&B singer-songwriter TK has released his newest single "I Don't Need U." Produced by electronic duo Marian Hill's Jeremy Lloyd, the track starts with an unexpected static noise before TK's smooth vocals croon over the track's melodic, lo-fi sounds. "I Don't Need U" is an anthem for finally freeing yourself of external validation and instead finding happiness within.
JOSIE COTTON Releases New Album 'Day of the Gun,' "Painting In Blood" Video Out Today
"I've never been shy about being provocative or too ironic and I saw no reason to pull any punches on this one either," laughs infamous New Wave icon JOSIE COTTON about her new album DAY OF THE GUN out today (May 2, 2023) on Kitten Robot Records. "Every record I've ever made has been kind of an experiment… a chance to morph into something else but this is the one where I go completely over the cliff," she explains. "Let's just call it a Dystopian musical with David Lynch as a re-incarnated French poodle who overthinks everything in her path. "
Symphonic black metal act Puerignis releases new album "Sons of Abomination" via Coffin Joe Records
Fronted by musician Cypher (Nelson Rodrigues), Puerignis is a unique band that presents a unique approach to modern symphonic black metal, combining classical instruments with modern synthesizers, guitar and orchestration techniques. With influences ranging from death metal to classical music, the band aims to offer a fresh perspective on the genre.
KIM PETRAS Releases "Alone" (with Nicki Minaj) Music Video
The steamy club banger features diamond-selling hip-hop icon, and one of Kim's biggest inspirations, Nicki Minaj. The video sees the duo embodying a man's ultimate fantasies to figure out how to finally get him all alone while making references to multiple club classics such as Eric Prydz's "Call on Me," Alex Gaudino's "Destination Calabria," and Fedde Le Grand's "Put Your Hands Up For Detroit."
Skope Magazine x Ragers
Profoundly shaped by the pop-punk wave of the early aughts, and informed by the state of alternative music since, Ragers combine the infectious energy of an arena-rock act with a zeal seldom found in artists with such a long track record. Taking cues from their inspirations which include Gym Class Heroes, The Hives and their Canadian predecessors in groups like Simple Plan and Sum 41, Ragers use their forthcoming album as an excuse to introduce a new generation to the earnest, fun and relatable appeal of pop-punk, always with a modern twist.
John Michael Ferrari Shares "Music With You"
John Micheal Ferrari makes a shining return with his newest track "Music With You" – available May 15. Dubbed a "smooth rock gem" by Indie Pulse Music, "Music With You" shares a message of togetherness and camaraderie, two things John Michael Ferrari felt necessary to relay to listeners.
"I love entertaining and 'Music With You' is particularly important to me because I wrote it for and to my audience sharing with them directly 'I want to music with you, share the light,'" says John Michael Ferrari.