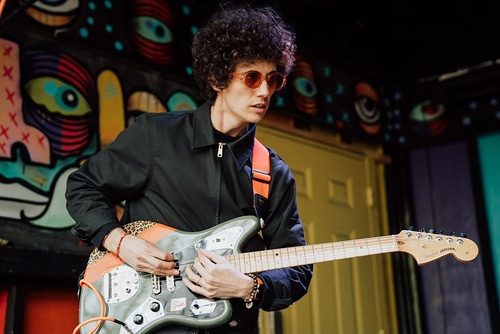 @skopemag news – wednesday – march 29, 2023 @ 1 am est
https://www.facebook.com/SkopeMag/
https://twitter.com/skopemag
https://www.youtube.com/@skopetv2
https://www.instagram.com/skopemag/
APP – Apple iTunes –
https://itunes.apple.com/app/id1465224822?mt=8
@skopemag APP – Google / Android –
https://play.google.com/store/apps/details?id=hr.apps.n207414718
Support @skopemag –
https://www.paypal.com/donate/?hosted_button_id=3APKAKT8K6ETW
Mary Scholz Releases Music Video For "Talk to Me," Produced by Jonathan Wilson
LA-based Americana-folk singer-songwriter Mary Scholz premieres the music video for her single "Talk to Me" on Americana Highways today. The song is from her latest full-length album, Begin Again, produced by Jonathan Wilson (Father John Misty, Connor Oberst) and executive produced by KZZ Music. The song itself leans into the funk-pop Americana sound that defined the artist's chart-topping 2021 EP release, Lonesome, and it addresses the fragmented national discourse that has characterized American culture in recent years.
GEARS Rocks with "Fix What's Broken"
There is something in the flavor of GEARS music that speaks an emotional anecdote of hard rock with a danceable edge. The combination of Trip and Jimmy are incomparably tight-fitting. Together they are the puzzle pieces that mesmerize and latch onto your soul. Trip's vocals carry a forbidden nuance, add this to his visual talents brought to light in this particular music video, and the voodoo vibes of Miami slip into your rock pleasure. "Fix What's Broken" hits once again the undeniable sound that GEARS listeners thrive on.
THEY WATCH US FROM THE MOON Premiere New Single "Mother Of All Bastards" At Doomed & Stoned
Hailing from Kansas, THEY WATCH US FROM THE MOON have landed to present their new single "MOAB" taken from the upcoming magnum opus Cosmic Chronicles: Act 1, The Ascension. The new record will be released on May 5th, 2023 via New Heavy Sounds.
Jukebox The Ghost Announce 'Cheers Deluxe' + Share "Brass Band" Music Video
"We wanted to add tracks to the deluxe version that felt like they were already part of the album," says Jukebox The Ghost about the new additions to their self-produced sixth studio album which is full of catchy and clever pop songs with theatrical undertones. Cheers is an arena-sized, ebullient toast to surviving and thriving in the face of hard times, conjuring up 70's Queen and McCartney-styled song suites, without sacrificing any modern punch. The album sees the band combine their memorable choruses, cheerful melodies, and Freddie Mercury-esque vocals with the hip-hop-influenced energy of Twenty One Pilots, the modern piano balladry of Andrew McMahon, and the joyful energy of Walk The Moon. By almost any measure, it's their most ambitious and cohesive creative effort to date.
SKINHER Premiere New Single "You Are Next!" At Ghost Cult Magazine
SKINHER have unleashed their first single "You Are Next!". The track is taken from the upcoming album Heartstruck, scheduled for release on April 21st, 2023, via Aural Music. Fueled with driving rhythms, compelling riffs and a vintage analogue sound, SKINHER bring thrilling hard rock with a dark and gory undertone.
Jugg Season Still Reigns With Jay Critch's Minutes Video
Baja Beach Fest Recruits Don Omar, Feid, Grupo Firme, Tego Calderon, & More to Headline BBF 2023
Baja Beach Fest brings music lovers from all over the world to Rosarito Beach, MX to celebrate Latin Music's rich history and diverse community of artists and fans in a picturesque oceanside location. This year, the festival commemorates its Fifth Anniversary with a weekend for the books, featuring performances from iconic acts from all eras and many Latin genres.
Bleached Festival Announces Joji, Leon Bridges, Omar Apollo, PinkPantheress, Lizzy McAlpine, Stephen Sanchez, Channel Tres + More For San Diego Debut
Today, San Diego's newest alternative and indie-pop curator, Tight Knit, has announced Bleached Festival, a new festival in partnership with FNGRS CRSSD. Bleached will take over downtown San Diego's iconic Waterfront Park on August 5th and 6th, offering a laid back uniquely Southern California summer experience.
The Electric Highway Festival (Calgary, AB) Announces Dates For 2024 Lineup – April 4 -6; Opens Band Submissions and Special One-Day Ultra Early Bird Special
Calgary's The Electric Highway Festival has wrapped up for 2023 and it was a resounding success according to festival organizers. The event took place from March 23, 24, and 25, 2023 at Dickens, with 3 days of music from Canadian bands trekking from across Alberta, British Columbia, Saskatchewan, and Manitoba along with American headliners, Los Angeles' Sasquatch.
Blues Artist David Deacon Returns to Music With Philosophical, Humbly Accepting "Arc Of Life"
It can be very difficult to live life on life's terms, and so Guelph, ON-based blues artist David Deacon gives us a dose of gentle reality on his humbly philosophical song "Arc of Life" – available now.
Paris Paloma's Single "labour" Goes Viral As Rallying Cry Against Misogyny
"labour" is a wild, stirring yet self-contained anthem telling the story of a woman railing against the inequity of labour within heteronormative relationships. With her usual poetic lyricism and beautiful approach to melody, Paris Paloma manages to express a familiar, feminine rage through this folky, dark pop offering. The chorus is a goosebump-inducing protest chant, building to gang vocals which make you feel like taking to the streets. A fantastic play between the wonderfully crafted pop song and underlying themes that work like a battle cry.
Michael – Do LaB at Coachella announces The Glitch Mob, A-Trak & Dave1, Cloonee, Party Favor & Baauer, ALUNA, Mr. Carmack, Flight Facilities, Whipped Cream + more for 2023 stage
Today, creators of the original boutique festival experience Lightning in a Bottle and immersive art leaders Do LaB have announced the artist lineup for their 2023 stage at Coachella Valley Music and Arts Festival this April 14-16 and 21-23. With an ever-evolving interactive stage design and a forward-thinking curation of celebrated musical talent, Do LaB continues to be a core experiential aspect of the globally celebrated festival.
The 2023 lineup includes the return of electronic trio and longtime Do LaB stalwarts The Glitch Mob, veteran Australian exports Flight Facilities, the brand new Dylan & Harry project of party starters Party Favor & Baauer, the team up of Grammy-nominated artists A-Trak and Dave1 for The Brothers Macklovitch, hypnotic live electronic and multi-instrumentalist singer-songwriter duo Giolì & Assia, and bass music powerhouse Whipped Cream.
Skope || Ron Gallo announces book, tour + film (Kill Rock Stars)
Garage-punk artist Ron Gallo has announced brand new west coast tour dates and his debut literary pursuit titled SOCIAL METEOR, due out April 18 (U.S. Tax Day) on Kill Rock Stars. The 106-page book features journal entries, rants, essays, local reviews, interactive sections, graphics and other random nonsense. A companion piece to his latest album FOREGROUND MUSIC out now on Kill Rock Stars, it offers fans a deeper look into the thoughts and mindsets that ultimately became the album.
BOSA Releases Eclectic World-Influenced 'Contrast' EP on Alpha Pup Records
A dynamic and globally inspired EP, Contrast powerfully showcases BOSA's unique sound and style, which blends elements of underground house music with a future-forward, world-influenced approach. A key feature of Contrast is the incorporation of the English, Spanish, French, and Swedish languages into individual tracks. As such, Contrast is aimed to be a global project that transcends language barriers. Fans of underground house music and innovative, genre-defying production are sure to find much to love in BOSA's latest musical offering.
ALT ROCK/INDIE DUO THE MANIC BOYS AND GIRLS CLUB ANNOUNCE SELF-TITLED EP DUE OUT JULY 13
The rising Toronto duo, made up of siblings Bela and Fernando Ferreira, was born out of a desire to escape from the mundane, and instead, form a refuge for misfits. After being raised strict Catholics and shipped off to Portugal to live with their grandmother–a former nun–the siblings decided to run the other way, and refuse to become submissive and apathetic. Enter: The Manic Boys And Girls Club and their forthcoming self-titled EP.