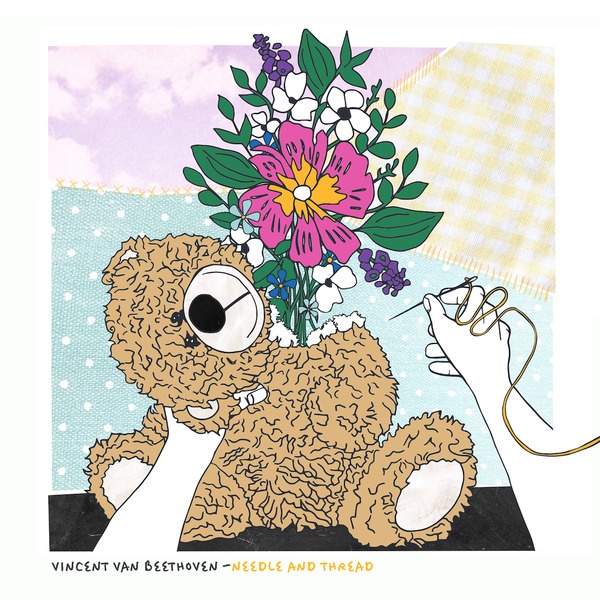 Vincent van Beethoven is a pop-inspired music project by Minneapolis-based musician and audio engineer Joe Finstrom. If you're looking for something completely different, then you came to the right place! You won't get the classical Ludwig here but rather the Vincent version that does include classic elements from the 80s and 90s. One will hear dynamic arrangements for voice, piano, synthesizers, guitar, bass and sampled percussion. 'Needle and Thread' is like nothing you have ever heard before, I can bet money on that!
The record kicks off with a song called "Calamity Unraveling" where a mysterious tone is immediately picked up on. The curious nature of "Calamity Unraveling" and its sheer wonder will keep you and your ears on the edge of your seat. Next, we have "Here We Go" that has a definite impact on the listener and one will enjoy the sound of birds chirping in the intro. Track three, "October Sky", offers bright notes with musical beams of light shining through the speakers. "October Sky" is such a pure-sounding tune that offers plenty of rich substance for the audience. Get ready for "Hey Baby" next where one will hear a unique melody with an interesting song structure in place. Musically and lyrically, "Hey Baby" provides entertaining material that can be enjoyed by many. Prepare for an interstellar experience on "Can This Be" where the listener will enter another dimension thanks to an unconventional performance by Vincent Van Beethoven. Track six, "Change of Heart", offers up a cool, retro beat that is extremely appealing. A mix of emotions can be heard on "Change of Heart" where the lyrics bounce back and forth between dark textures and upbeat hooks. It's time to find "The Map" next where X marks the spot for a deep space number. "In a New Light" is the following song and one will hear a colorful array of audio that seems to blend together perfectly. Track nine, "One Day", provides a soft touch and light tone that hits the listener and Vincent Van Beethoven supplies a solid performance overall. "When the World Goes Dark" is floating along at just the right speed as a big blast of sound engulfs your ears. Track 11 has all the right "Moments" where Vincent Van Beethoven comes at you with a strong delivery and fun-filled mix. Beethoven ends with an Enya cover, "Only Time", that has a wonderful arrangement and its emotional presence will leave a lasting impression on the listener.
With themes of identity, relationships, adolescence and personal growth, 'Needle and Thread' has something for everyone. Vincent Van Beethoven even tackles sensitive issues like mental health and mental health awareness on this new record. Be sure to SKOPE out the official music video for "Here We Go" right here:
Vincent Van Beethoven is the maestro and 'Needle and Thread' is his composition of work coming to life right before your very ears!
http://vincentvanbeethoven.com/
By Jimmy Rae