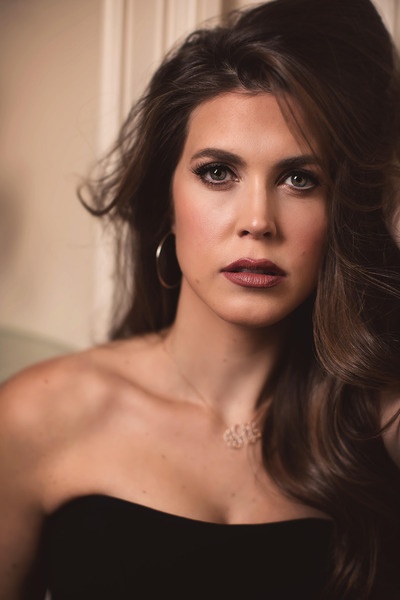 A blood moon is a real thing. It's the colloquial name for a lunar eclipse — the great celestial shadow that stains the heavens red. Anyone who has seen one is unlikely to forget the radical alteration of the familiar night sky or the weird power that emanates from the moon's occlusion. Count art-pop artist Jessica Carter Altman among the many searchers who've chased the blood moon. When she caught what she was after, the experience was so profound that she was compelled to write and sing about it.
In "Blood Moon," her hypnotic new single, the eclipse and its attendant phenomena are a convincing metaphor for a transformative emotional state. The singer wrestles with desire and longing, compulsion, sheer carnality, and the lure of the unknown. Primal forces are acting on her – forces that are difficult to understand and even harder to contain. Carter Altman's candid verse draws on werewolf stories, supernatural cinema, the mythological and occult, and tales of sexual abandon. She's matched the intoxicating lyrics with music that amplifies the mystery: atmospheric synthesizer, washes of treated guitar, silky backing vocals, and graceful but subtly driving rhythms. Everything in the song tugs like the tide and pulls the uninitiated deeper into a whirlpool of sound and feeling.
"Blood Moon" is the kickoff track and tone-setter on Jessica Carter Altman's current EP — and it'll be a cornerstone of her full-length set, which'll be released later in 2023. It's an introduction to a singer and writer with a truly personal style: a unique balance of innocence and experience, terrestrial concerns and spectral visions. There are ghosts all over this set, and they haunt the corners of these mixes and whisper between the notes.
The dazzling, beautifully shot "Blood Moon" clip has the gloss of a major motion picture and the feel of a séance. The camera catches Jessica Carter Altman in flight in a dense and chilly forest, raising a torch against looming darkness and sitting by the fireside in a remote cabin, surrounded by votive candles. Everything is suggestive of ritual and strange magic, spookiness and erotic allure. The blood moon opens a conduit between Carter Altman's narrator and her darker double and draws close to the dangerous spirits that animate her. In one revealing shot, we're shown Jessica Carter Altman and her double behind wolf masks; slowly lowered, they reveal the singer's awestruck face.
Follow Jessica Carter Altman: