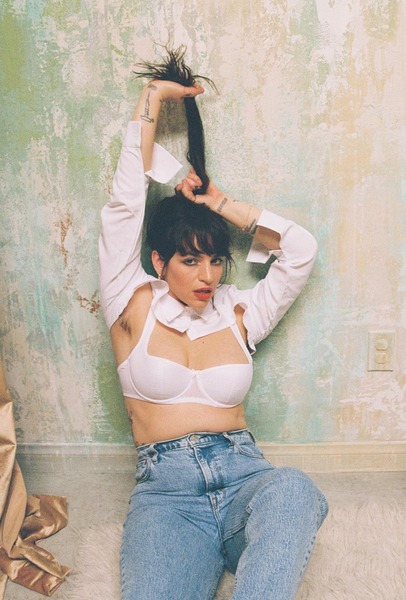 @skopemag news – wednesday – march 8, 2023 @ 12 pm est
@skopemag HQ – http://smarturl.it/skope
Buy & Sell @skopemag Marketplace
https://skopemag.com/category/services
NxxxxxS announces new album 'Short Term Agreement' due 5/5 + enlists Freddie Dredd for new single
"Slump" finds influence from the home of samba, Brazil, and further flaunts NxxxxxS' ability as a shapeshifting producer. The exotic jaunt mixed with his trademark dungeon hip-hop beats is the perfect backdrop for Canadian rap icon and frequent collaborator Freddie Dredd's sharp tongue and giddy frenzied flow.
Izis y Choco Orta presentan nuevo sencillo "Dos Mujeres Pal' Mundo"
Isis Rosario, mejor conocida como Izis "La Enfermera de la Salsa" lanza al mercado un nuevo sencillo titulado "Dos Mujeres Pal' Mundo" junto a la gran cantante, percusionista, bailarina y actriz Choco Orta.
Una canción con tremendo swing para los bailadores y, a su vez, transmite un mensaje enérgico en representación de las mujeres salseras. De tal manera, conmemoran el Dia Internacional de la Mujer.
"Dos Mujeres Pal' Mundo" ya se encuentra disponible en todas las plataformas digitales y el videoclip se puede apreciar a través del canal de YouTube de Izis "La Enfermera de la Salsa":
MORASS OF MOLASSES: new single "Prima Materia" streaming
British heavy and stoner blues trio MORASS OF MOLASSES unleashes a psych-laden new excerpt taken from their forthcoming third album "End All We Know", to be issued on March 24th through Ripple Music.
VIDEO: Gorgeous animated dogs illustrate Holly Henderson's poignant psych-pop single "Wendy"
London based singer-songwriter Holly Henderson has been picking up acclaim for her sophomore album "The Walls" from the likes of Clash Magazine, Atwood Magazine, Record Of The Day, BBC Radio London and more.
Now she's unveiled a doggy daydream of a video for her latest single "Wendy". Wanted to see if you'd be up for featuring it.
Hungarian producer-songwriter shares visually striking music video
Califone — Villagers
Califone has announced the release of their new album Villagers on May 19, 2023 via Portland-based label Jealous Butcher Records. Watch the music video for the opening track, "The Habsburg Jaw," now.
Eddie Chacon releases new single + video "Sundown" | Touring in UK and AUS/NZ | "Sundown" is out March 31 on Stones Throw
"Sundown" is the title track from the new album by Eddie Chacon, out on March 31st. The "Sundown" video, which documents the process of recording the album, was shot at 64 Sound Studios in Northeast LA. Appearing in the video are John Carroll Kirby, who produced, co-wrote and played keys on Sundown, Logan Hone (flutes and saxophones), Elizabeth Lea (trombone), Will Logan (drums) and David Leach (percussion).
Scott McMicken and THE EVER-EXPANDING Share "Reconcile,"
Scott McMicken and THE EVER-EXPANDING are sharing "Reconcile" today, the final pre-release single before the debut album 'SHABANG' comes out on March 31. Watch the band perform the track among a kaleidoscope of inverted colors in the song's new video below.
NATION OF LANGUAGE return with new single 'Sole Obsession' via [PIAS] with 16mm filmed video
NEW SINGLE: Robin Eaton reclaims his dreams with "Tell Me Your Dream" (RIYL: Tom Petty, Jonathan Richman, Paul Simon, Longhorne Slim and Randy Newman)
Today, Robin Eaton is elated to present "Tell Me Your Dream", the latest single from Eaton's upcoming album, Memories of A Misspent Youth, due for release on May 1st.
"Tell Me Your Dream" was inspired by Robin Eaton's childhood nightmares and dreams. As a songwriter, Robin Eaton often finds inspiration in dreams. After previously being covered by artists such as Jill Sobule and Todd Rundgren, Eaton aims to reclaim his night time visions on his edition of "Tell Me Your Dream".
Alt-rocker Annabel Lee shares debut LP 'Mother's Hammer' & track "All Of My Ghosts"
Written mostly while in quarantine in 2020, Mother's Hammer gave Annabel Lee time to reflect on preceding years which were some of the hardest of her life. After a cross-country move to pursue music, Lee found herself in challenging situations, from struggling with addiction and running out of money to ending an eight year relationship that left her without a place to live. It was from this profound hardship that an incredibly intimate, expansive body of work emerged. Diving into the subject matter, Lee shares, "Some of the stories on the album relate to being strung along by vampires in the industry. Being mistreated and taken advantage of. Fumbling around trying to fall in love and staying numb at every turn. Grieving the loss of friends, gone much too soon, and trying to see the silver linings but losing hope. Being 3,000 miles from anyone that actually knew me. It was a very dark and informative time."
Out Now: Inkfields – 'Your Head's in the Sand' : Edinburgh based songwriter channels calm through a moment of frustration
'Your Head's in the Sand' is the second single from the upcoming album (The Third Side of the Coin due April 27) of Edinburgh based artist Inkfields the track sees the songwriter inspired by the fluidity and calming effects of the ocean as he conjures up a mesmerising back drop while encouraging the subject to "give up your pride".
Oracle Sisters Share New Single & Video "RBH"
With a hazy, mirage like opening, "RBH" quickly descends into a raucous rock track; one of the year's catchiest guitar hooks propelled by a driving rhythm section and elevated by the band's now signature three-part harmonies. On "RBH," Oracle Sisters look deep into the soul, but from two separate perspectives. Chief songwriters Chris Willat thinking about the type of character who would prop up the same bar every night stuck in the role they felt life required of them, Lewis Lazar thinking about the landscapes of dreams and the unconscious.
Petite Noir debuts Noirwave anthem "Finding Paradise" + new album out April 14
Today Petite Noir shares "Finding Paradise," the latest single to be lifted from the forthcoming album MotherFather, his first LP release since the acclaimed La Vie Est Belle/Life is Beautiful, which came out in 2015.
Psych indie rock trio The Get Right Band share single + video "Am I Just A Battery" ahead of LP
The first song written for iTopia, "Am I Just A Battery?," out today, aptly set the tone for the creation of the forthcoming album as it explores existing within an attention economy, being surrounded by advertising and what it means to live, work, and consume in today's world. The song's chorus repeats the question, "Am I just a battery?" and continues asking questions in the second verse, "What are you advertising?/What are you selling to me?/You look so hypnotizing/You look bright and shiny." Over the four minute track, the band wonders if the finite time granted to individuals on Earth is ultimately only about feeding the economy.
TINA FEY // LOUISE: Split EP From Two Cincinnati Bands To See April Release On Nefarious Industries; Preorders And Details Posted + Eastern US Spring Tour From Both Bands Announced
TINA FEY is a grindcore-tinged hardcore trio formed by former members of Eunoia and WELP, unifying drummer Shon Worthington, bassist Bryce Aasen, and guitarist/vocalist Logan Nichols. The group formed in 2022 – Nichols and Aasen were dissolving their covert mathcore act Eunoia as Nefarious Industries was releasing their scathing Psyop Of The Year full-length – and feeling optimistic about the future, the trio prepared this split with hometown ruffians LOUISE as its inaugural release.
Rockshots Records – Take A Motorcycle Ride w/ BAD BONES New Video "Wanderers & Saints" Off New Album "Hasta El Final!" Out March 2023
"Free, without rules, we abandon this society, to live on the margins, aware of the things we will miss, but proud of the choices made, an intro reminiscent of The Police, a song that flies away fast, light and powerful, perhaps the most "modern" song that Bad Bones have ever written." adds the band.
OVERCOATS UNVEIL LATEST NEW TRACK "NEW SUEDE SHOES" FROM THEIR FORTHCOMING ALBUM WINNER AVAILABLE APRIL 7th
In the run-up to the release of Winner, Overcoats will be a highlight at this year's SXSW Music Festival in Austin, Texas where they are confirmed to perform at multiple events including among others the coveted A2IM showcase on March 15th and a live session with Paste on March 16th. On April 24th, they'll embark on a long-awaited 16-date North American tour, making stops in major cities including New York, Los Angeles, Boston, Philadelphia, Chicago, Seattle and more.
Modern Pop Artist Billy Rogers Shares Liberating New Single "One Night Only"
Billy Rogers has been a backbone of the Niagara, ON music scene for the past two decades. Previously released tracks – "Criminal" and "Runnin' Blind" – helped cement Rogers as both a profound songwriter and composer. Now he returns with "One Night Only," an energetic song that spurred from seeing the phrase emblazoned on tickets for a stag and doe.
Mediocre Unleash Punchy "Pop Song Baby" Single/Video
Moreish Idols Share New Single "Between These Ears" via Speedy Wunderground
South London's Moreish Idols arrived fully-formed last year with the absurdist smarts of "Speedboat" and the contorted thrill of "Hangar", two highlights from a debut EP for Speedy Wunderground, Float, that was packed full of them and saw international support from the likes of Stereogum, The FADER, NME, BBC 6 Music and more.
SAINT LEVANT RELEASES "FROM GAZA, WITH LOVE" EP & ANNOUNCES DEBUT GIG IN LONDON
Born in Jerusalem and currently residing in Los Angeles, Saint Levant (French for "holy rising") is the son of a French-Algerian mother and a Palestinian-Serbian father. Raised between Gaza and Amman as a child of the Palestinian diaspora, he fuses English, French and Arabic to offer a unique, shape-shifting take on contemporary pop music. With his newfound fame, multilingual ability, and complex worldview, From Gaza, With Love introduces listeners into Saint Levant's sonic universe: a futuristic yet nostalgic space. Following in the footsteps of few of today's most successful independent artists (Bad Bunny, Brent Faiyaz) and reflecting the trajectory of the music industry, Saint Levant has also launched his own label, 2048 Recordings.
New Music: CHRIS PICCO shares "Make It Up To You," latest single from Split Down The Middle LP (03/24)
Chris says, "'Make It Up to You' continues in the power pop vein I wanted to present with Split Down The Middle. My goal was pretty simple; come up with a killer chorus punctuated by jangly electric guitars, accompanied by a genuinely gritty vocal and soaring harmonies."
Maxence Cyrin "Where Is My Mind- The Toxic Avenger rework"
Missing link between The Cure, Bach and Aphex Twin, pianist Maxence Cyrin released a rework of his cover "Where is My Mind", already triple platinum disc (more than 170M streams) and covered on several pubs (Narcisso Rodriguez, Apple, etc) and Netflix series (Mr Robot, The Leftovers,…).
Pardyalone Shares "Alone" ft. Travis Barker
"I never would've expected to have gotten the opportunity to work with Trav, he's one of the most humble people I've met here in LA. It's crazy to see someone who's been doing music this long be so excited and involved," he adds on working with Travis Barker. "This is my mom's favorite song so I'm excited for everyone to hear it."
Silver Moth (ft Stuart Braithwaite of Mogwai) Share "The Eternal" / Debut Album out April 21 via Bella Union
Silver Moth, the new collective involving Stuart Braithwaite of Mogwai and other celebrated musicians, will release their debut album Black Bay on April 21 via Bella Union. Having previously shared first single "Mother Tongue", Silver Moth today reveal "The Eternal", one of the album's standout tracks. "The Eternal" is a deeply heartfelt song written in tribute to Elisabeth Elektra and Stuart Braithwaite's close friend Alanna who passed away suddenly. A major theme of the song is the regenerative sense of hope that comes with the knowledge that the love we have for our friends and loved ones is eternal. Stuart's guitars are shimmering and transcendent, Elisabeth's vocal has a pure, hymnal tone, while Ben Roberts' cello emotively weaves in and out complementing and responding to her vocal. "The Eternal" has a serene yet powerful quality to it, echoing the landscape of The Hebridean island where it was written and recorded
WEEKEND RECOVERY ARE BACK WITH A NEW SINGLE & HEADLINE TOUR
'No Guts, All The Glory' is the second single to release from forthcoming long-player 'Esoteric', bringing with it all the charm of its chart-topping demo, plus fresh new production.
Mixing equal measures of in-yer-face vox, overdriven guitars and straight-talking lyrics from frontwoman Lori, it's this mix that's seeing them into editorial playlists on Deezer, YouTube and Apple, alongside shows at Kendal Calling, Bingley Weekender and sell out dates including Corporation Sheffield.
alltheprettythings – new single out NOW!
This follow-up to the acclaimed first single "Teenage Lines," differs from the anthemic debut. "Our new track, 'Every Now And Then,' represents what ALLTHEPRETTYTHINGS strives for as a band," explains guitarist / producer, Worth Weaver. "It is our take on an emotional, powerful and thought-provoking alt rock single that resonates deeply with the listener on multiple levels."
Finnish Rockers ANYVERSE bring up the dark side of love with "Flowers Sleeping" Single
Claud Joins Daisy The Great On New "Tell Me Have You Been Dancing"
Today Brooklyn, NY-based indie pop band Daisy the Great share a new version of "Tell Me Have You Been Dancing" remixed by and featuring vocals from indie pop artist Claud.
Bad Blood (Scott Vogel + members of Violent Way) share first single "Apology Denied"
"No nonsense hardcore with a punch and a pulse." That's how Scott Vogel (Terror, Buried Alive) introduces Bad Blood, formed alongside members of Buffalo, NY hardcore bands Violent Way and Exhibition. Spending years talking about making music together, guitarists Eric Ellman (They Live, Violent Way) and Mason Hutchins (Violent Way), bassist Greg Vinal (Exhibition) and drummer Nick Terlecky (Violent Way) created the music while Vogel penned the lyrics. The result is the five hard-hitting tracks that make up The Bad Kind Decides EP, set for release March 31st on Flatspot Records. Today, the band share single and video "Apology Denied," giving the first taste into the band's style of honesty packed with aggression.
DINNER PARTY SHARES "INSANE (FEAT. ANT CLEMONS)"
Dinner Party, the incomparable supergroup of Terrace Martin, Robert Glasper, Kamasi Washington and friends, teamed up with Grammy-nominated R&B singer-songwriter Ant Clemons and Grammy-winning producer Sounwave on a new single "Insane (feat. Ant Clemons)" released today.
East Coast folk singers Don Brownrigg and Terra Spencer team up for "Say" duet
The first verse of the lyrics was written over a decade ago by Brownrigg, and the song was finally finished when he met Spencer.
Say, say, say all that you want to with the thoughtful duet "Say".