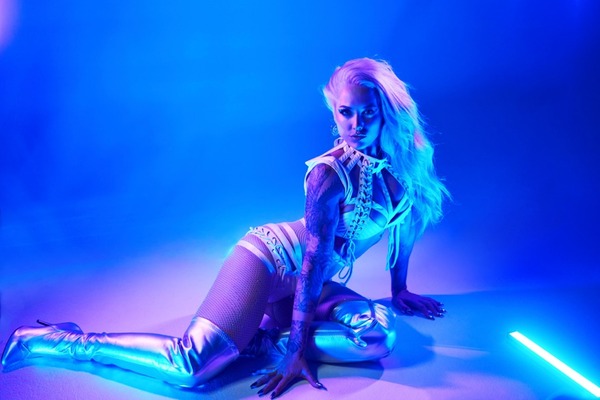 @skopemag news – tuesday – march 7, 2023 @ 12 pm est
@skopemag HQ – http://smarturl.it/skope
Buy & Sell @skopemag Marketplace
https://skopemag.com/category/services
Video Submission: Marius Dierberg – Ich Bin Raus
"Ich Bin Raus" is a single released by a German singer Marius Dierberg. The title of the song translates as "I am Out" The lyrics of the talk about starting over and embracing the journey. Marius' smooth voice and an uplifting melody is a perfect combination for a feel-good song. The music appropriately accompanied by a video with beautiful scenery.
HOUSE OF IONA/RCA RECORDS RELEASE "ELVIS (ORIGINAL MOTION PICTURE SOUNDTRACK) DELUXE EDITION" ALBUM
Baz Luhrmann on the ELVIS Soundtrack (Deluxe): "The whole Elvis music team has answered the call from fans with this new Deluxe Edition of the Elvis soundtrack. Featuring everything from previously unreleased recordings by Austin Butler to contemporary takes on Elvis's classics and a fresh mash-up with the Backstreet Boys, the Deluxe album reveals all the complex layers of Austin's performance, Elvis's music and those who continue his legacy."
WEIGHT OF EMPTINESS Consider Life And Death On 'Withered Paradogma'
The Chilean band Weight Of Emptiness releases its third full-length album called Withered Paradogma, which reflects life and death as part of the cycles of the human being. Death is just one more step, a new beginning, the awakening to a new age, where the old ways are withered.
DYING PHOENIX Single/Video "Mother Of Dragons"
DYING PHOENIX from Berlin release the second song "Mother Of Dragons" from the upcoming album "Winter Is Coming" (release date May 26, 2023).
Winter is coming? Mother of Dragons? Yes, the album actually takes its listeners into the worlds of author George R.R. Martin. As the title suggests, all songs are about events and characters from Game Of Thrones, or The Song Of Ice and Fire (as the books are called in the original). The stories offer so much material that the band and its producer Oliver Palotai (Kamelot) could draw on a palette of emotions and moods.
OFFICIAL VIDEO – "Mother Of Dragons"
The Vaccines' Freddie Cowan releases 'Begin Again' as 'Freddie & The Scenarios'!
The latest single from the album, 'Begin Again', out this week, is about that process of rebirth. Beginning in the cocoon, the song follows the battle to break through the walls of self-doubt and fear, and ultimately ends with the shamanic ceremonial words (brought to life by Diego Herrera of Mexico's legendary Caifanes) that acknowledge the necessity of transformation, and that living in the darkness is not really living.
Msaki x Tubatsi (Black Coffee, Urban Village, Keleketla) new video out now
'Synthetic Hearts' itself is both introspective and conversational – disentangling emotions and considering what is shared and private in the messiness of our relationships with ourselves and others. The album "speaks about having an equal responsibility to look after each other" and questions how "we express feelings of love towards each one another", Moloi explains. Longing, confusion, sorrow and despondency, are opened up and negotiated. The new video for 'Come In' itself mirrors the track's counsel for vulnerability and trust with those we love.
Rufus Wainwright announces new album 'Folkocracy' & unveils single 'Down in the Willow Garden (Feat. Brandi Carlile)'..
"Singing with Rufus feels like watching birds swirl around together instinctively in flight," says Brandi Carlile. "It's anticipated but somehow as natural as can be. His voice is so special to me that I hear it sometimes when he's not even singing with me. I loved every second of flying around in this music with him."
New Music By Noise Cans
Kid Koala shares new single and video "1000 Towns (ft. Coelacanth)"
Kristen Knight unchains herself from control in new "What You Came Here For" music video
Commanding attention with its retro-flavoured pop production, "What You Came Here For" infuses an empowering message of breaking the chains of control, and designing your own narrative as a creative being – brought to life in the music video's gripping visuals of Knight flawlessly delivering polished, high-energy choreography in chic yet gothic inspired looks.
BLONDSHELL — Shares Her Take On The Cranberries' "Disappointment" || + Debut Album Out 7 April
On April 7 Blondshell (aka Sabrina Teitelbaum) will release her highly anticipated self-titled debut album via Partisan Records.
Today she gives listeners a special treat by way of her take of The Cranberries' deep cut "Disappointment" – a fan favourite that she played all last month on her sold-out tour with Suki Waterhouse.
Kate Davis Shares "Long Long Long," New Album 'Fish Bowl' Out March 24
In a continuation of her Y2k-inspired videos for previous tracks, Kate Davis is cruising in a purgatory pick-up truck down an endless highway in the clip for new new track "Long Long Long." Watch it below.
Beach Fossils announce new album "Bunny" + share the video for lead single "Don't Fade Away" | New album out June 2nd via Bayonet
Billboard 100 Hotel Ugly go back to their R&B roots with chilled pop anthem 'Fish Maan' – out now!
Very much in the same vein as the renowned 'Shut up My Moms Calling', it's melodically sweet and fruitful throughout with a less serious message behind it. It's exactly what put Vince on the map, and you can hear why in what is such a unique and now signature sound that is addictive to listen to on repeat.
New Video! The Flying Caravan presents "I Just Wanna Break Even" Recording Diary
"I Just Wanna Break Even" is a testament to the band's love for classic rock bands like Camel, Pink Floyd, Kansas, and Be Bop Deluxe, as well as newer progressive rock acts such as The Flower Kings, Karmakanic, and Transatlantic. With influences from acclaimed musicians like Roine Stolt, Neal Morse, and Jonas Reingold, the album creates an atmosphere that is a perfect blend of progressive and classic rock.
Asher Gamedze announces new album "Turbulence and Pulse" on International Anthem & Mushroom Hour
Today, South African drummer, historian, cultural worker, and political organizer Asher Gamedze announces Turbulence and Pulse, a potent double album releasing on May 5th, 2023 backed by a monumental, cross-continental collaboration of contemporary jazz labels International Anthem and Mushroom Hour Half Hour. The lead single from the album, "Wynter Time" is available today, dedicated to Black Caribbean radical intellectual Sylvia Wynter, in particular the book that she wrote called Black Metamorphosis.
Here's the new single by Chantal Preston "Girls Can Be Toxic"
Rammit Records is proud to present an infectious dance anthem for summer. Chantal Preston has released her new single "Girls Can Be Toxic" Zero Gravity Remixes, featuring two smashing remixes by Ared Arzumanian. The Streaming Radio & Club Mixes take this song to a new level and make it perfect for radio stations and clubs. We are confident that this infectious anthem will be an instant hit with listeners everywhere. Get ready to groove to the "Girls Can Be Toxic" Zero Gravity Remixes & checkout the strong 'anti-bullying' video!
DRAIN Share New Music Video "FTS (KYS)"
NorCal hardcore trio DRAIN are back with a new single and music video, "FTS (KYS)" ahead of their freshly announced Epitaph debut album, 'LIVING PROOF'. Rhythmic percussion fills are overtaken by speedy chugging power chords palm-muted for roaring riffs. Ending with a brutal breakdown, the thrash heavy song scores the cinematic storyline of the Riley Lattanza directed music video where all three Drain members are tracked and killed by men in suits. RIP
GAVIN LEE EMBRACES HIS SOUTHERN ROOTS WITH NEW SINGLE "REDNECKIN"
With fun-hearted lyrics like life is just a party with the right attitude, Redneckin' will have listeners excited for warm weather, cold beer and long days at the beach.
"I try to make my music relatable to the everyday working man," Gavin shares. "That is my ultimate goal for my music."
ROTTEN SOUND Reveals Music Video for New Song, "Renewables"
The apocalypse is nigh and Finnish grindcore entity ROTTEN SOUND has crafted the perfect soundtrack to accompany humanity's impending extinction. Aptly titled 'Apocalypse,' the band's eighth studio album is dropping into 2023 with the same blistering speed and chaotic impetus as an asteroid searing through atmosphere and crushing everything upon impact.