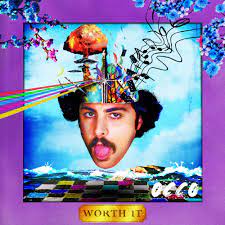 Miami-based alt-pop artist, OCCO, is preparing to release his highly-anticipated EP, "Worth It," on March 3rd, 2023. With a reputation for dwelling in his own genre, his own musical vision. OCCO creates a unique and immersive experience for listeners. OCCO's carefully crafted lyrics are rich in imagery and storytelling, exploring themes of belonging, adventure, and the emotional impact of modern life. His singing and arrangements are characterized by experimentation and eccentricities that joyfully overflow with theatricality.
Each track on the EP tells a different story, with its own sound and vibe. But together, they create a thought-provoking narrative that takes listeners on a journey. The first song, "No Regerts," introduces the protagonist who has left a difficult home situation to face the world on their own, only to find it can be just as grim. In track 2, "WORTH IT," the protagonist struggles as they enter the workforce, feeling hopeless and defeated and taken advantage of. Track 3, "I'm Not Crazy!," highlights the protagonist's slipping mental health as they grapple with their new reality. Track 4, "dead eyes," delves into the themes of suicide and depression, as the protagonist contemplates ending it all. The final track, "Jingle-Jangle Diamond Die," the protagonist opts to escape the modern world and all of its sickly pressures.
OCCO recorded the EP in his old apartment closet, affectionately known as "The Pillow Fort." Despite the basic, homemade recording space, early reviews of the EP have been overwhelmingly positive, with reviewers praising OCCO's unconventional approach to music. One reviewer called the EP "…eclectic music that is free from any conventions or expectations" and another "…music that walks the line of cynicism and sentimentality." The "Worth It" EP is pop music at its most daring, offering a unique showcase of an emerging artist's potential to create immersive and imaginative soundscapes that are both thought-provoking and emotionally resonant.
In summary, the "Worth It" EP is a must-listen for fans of music looking for a refreshing departure from the norm. The EP will be released on March 3rd, 2023, and listeners can expect a payoff at the end of their emotional journey.
http://instagram.com/theartistocco