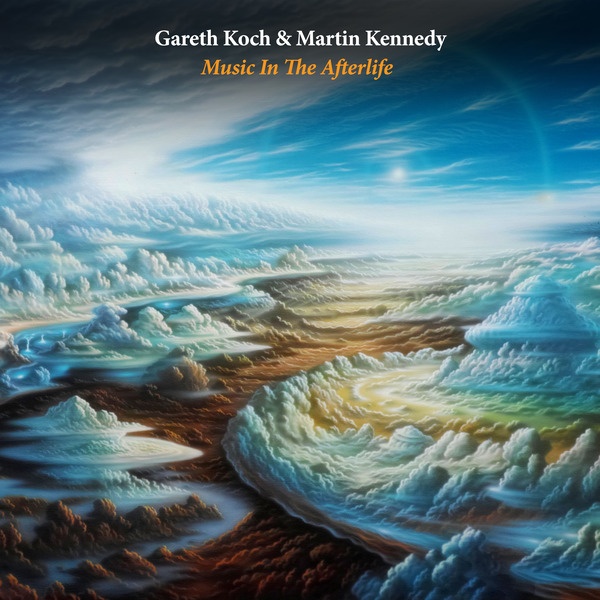 Prepare for an otherworldly listening experience where the physical body clashes with the spiritual realm on 'Music In The Afterlife'. Gareth Koch is a Viennese-trained classical musician and Martin Kennedy is an ambient music specialist. This new album is a debut collaboration for the duo with 'Music In The Afterlife' being their fruitful introduction to the listening audience.
Dubbed as instrumental and ambient, this new release contains elements of folk and world music. Acoustic and electronic styles are meshed together flawlessly on 'Music In The Afterlife'. Gareth Koch & Martin Kennedy take you on one insightful and mesmerizing ride on 'Music In The Afterlife'.
Get ready to be put into a "Trance" right from the jump as Gareth Koch and Martin Kennedy invite you to a mysterious land where you can choose to free your mind and collect your thoughts. Next, the listener will be asking oneself what exactly are we "Waiting" on where a sense of wonder will keep you on your toes. Track three includes pleasing notes ringing in your ears all in the key of "Resignation". A pleasant and calming presence rushes over you on the following number, "Elysium". A haunting melody on the title track, "Afterlife", will make you stop in your tracks and contemplate life around you. "Deep Sea Sky" is next, so dive in and refresh your senses as bright, musical waves come crashing in. Enter Valley of Echoes" where you can put all your worries aside thanks to a soothing sensation and peaceful place. Satisfy your soul next as you drift away to the heavenly chords of "Adrift". Once again, the listener will be put into a trance on "Dune" where a worldly sound collides with a mysterious tone to make up one powerful performance. "The Night Air" rolls in to end the 10-song set with a crisp, calm & cool environment intact.
https://kilbeykennedy.bandcamp.com/album/music-in-the-afterlife
'Music In The Afterlife' by Gareth Koch and Martin Kennedy will have a profound effect on the listener. This duo has written thought-provoking compositions that will challenge your ears and exercise your mind. Gareth Koch and Martin Kennedy offer you mindful material with a purpose, so time to listen, contemplate and savor 'Music In The Afterlife'.
By Jimmy Rae