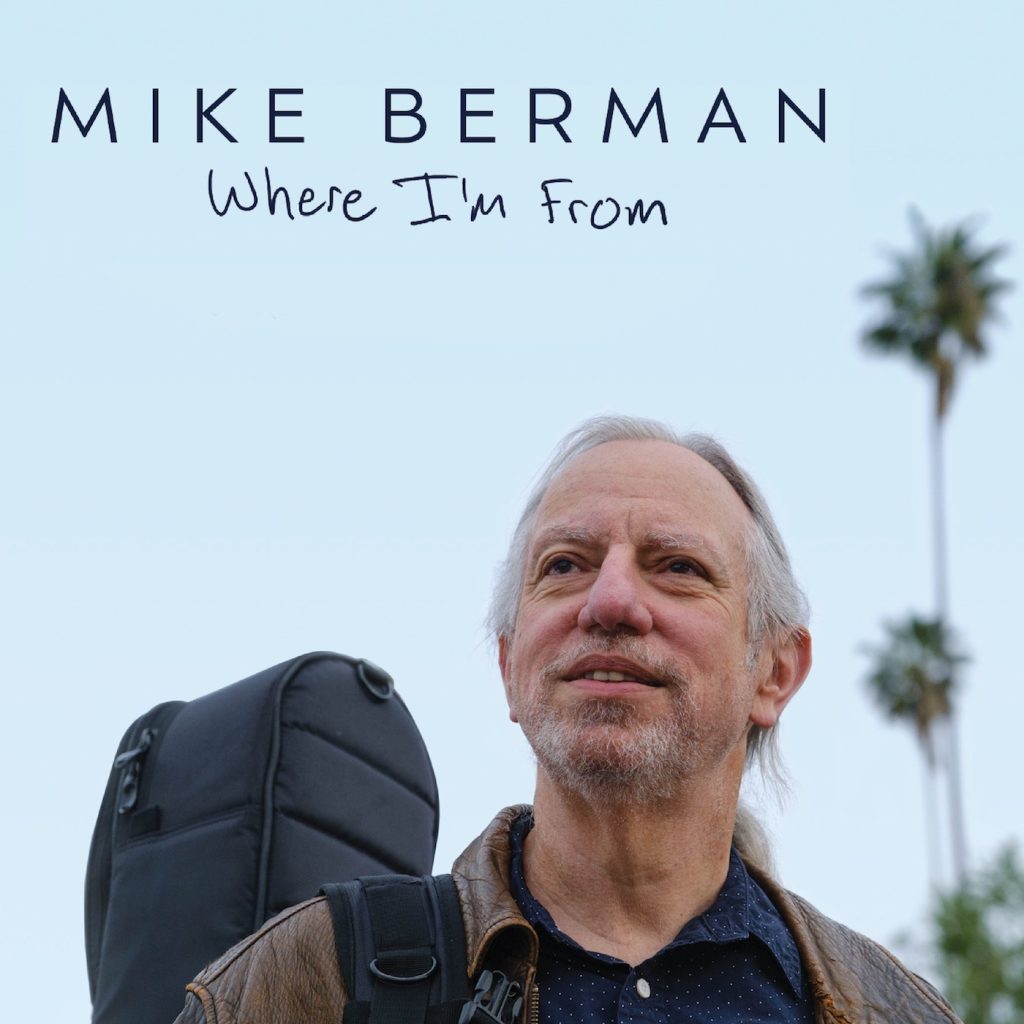 I may not know Mike Berman or where he has lived, but I certainly get a better sense of where Mike Berman is coming from after listening to his new album. 'Where I'm From' paints a vivid landscape of Mike Berman's world through the lens of a skilled artist. Mike Berman is a true singer/songwriter who knows how to tap into a song and evoke human emotions through relatable concepts. 'Where I'm From' contains 11, well-penned compositions that Mike Berman is proud to release to the public.
With elements of folk & rock, 'Where I'm From' is the ideal soundtrack for the life & times of Mike Berman. Some of Mike's musical influences include: The Byrds, Jackson Browne, Carole King, and Bakersfield heroes like Merle Haggard. Mike Berman has a knack for writing songs that stick and capture human interest just as the aforementioned acts had a gift in doing so.
The record has Mike Berman on lead vocals, acoustic & electric guitars and also features an array of talented musicians backing him up. 'Where I'm From' kicks off with "Drive" that invites you in from the start with its bright, driving rhythm. Next, the listener will sense Mike Berman's pure joy on "Hills of California" where Mike will welcome you in to his home. Rain never sounded better than on "Make It Rain" where you will want to soak up the pleasing melody. Track four, "Angels Flight", proves to be delightful, delicate, witty and truthful as Mike Berman is spreading his wings and soaring high on this number. Track five, "Goodbye California", hits on current issues with Mike Berman delivering strong lyrics that really ring home. The following song, "Angels in the Stone", lures you in with its comforting vibe and powerful presence. Track seven, "It Should Be Raining Today", showcases Mike Berman pouring out emotional chords that will leave a lasting impression on listeners worldwide. The airwaves are thin and bare on the next installment titled "There's Nothin' on the Radio" where Mike is turning the dial and tuning out the noise. Mike Berman emphasizes the thrill of blasting the radio in the old days and how that feeling is gone now on "There's Nothin' on the Radio". Track nine, "Van Nuys", is soothing & subtle yet strong like Superman ready to take on anything. Take a nostalgic trip down "The Road I Once Traveled" where Mike Berman will take you back to memories re-imagined and revisited. Prepare to be hit with real, American spirit on "Livin' on Both Sides of the 5" where traditional roots hit you like a ton of bricks.
You can SKOPE out the official music video for "Drive" right here performed live by Mike Berman and The Very Good Band: Drive – Mike Berman live with The Very Good Band – YouTube. Mike Berman has a lot on his mind with plenty to sing about with 'Where I'm From' at the top of the list. This album takes you on a fun journey through many different settings and plateaus with Captain Mike guiding this musical ship. With skilled instrumentation, wonderful melodies and fine lyrics, 'Where I'm From' has something for everyone. Either way, Mike Berman has arrived and as an artist he knows exactly who he is and where he is from.
http://www.mikebermanmusic.com
http://Linktr.ee/mikebermanmusic
http://www.youtube.com/@mbermanmusic
https://www.instagram.com/amichaelberman/