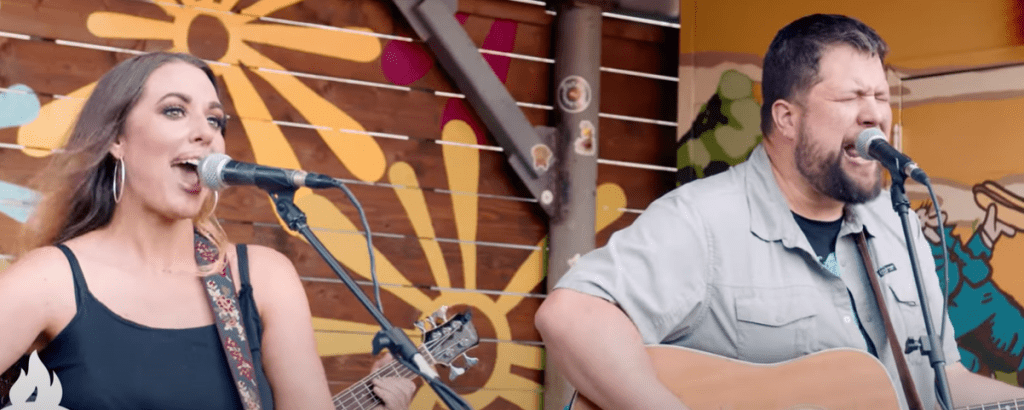 There's a rusticity to the tone of the strings in Andrew Crawford and Brandi Colt's "Gambler and Gypsies" that I'm entirely hesitant to deem old school for one big reason; the melody they create is forward-thinking and progressively stylized. This sort of duality can be found in almost every aspect of Crawford's artistry in this performance, and this single might be the most identity-encapsulating work anyone in his scene has committed to master tape this year. The honest and exposed sensibility in the poetry that comprises the lyrics in "Gambler and Gypsies" is a constant focal point, and yet the instrumental portion of this track is arguably reason enough to give it a dedicated listen this February. You don't have to be a big country fan to appreciate this music, but for those who are, this collaborative release is amazing.  
The instrumental element here is matched with a potent lead vocal from Crawford, who puts a brooding spin on every word he sings whether light or forceful in execution. He's a very methodical singer, and I think it's pretty clear in this track just how much detail he's prepared to put into a performance if it means making the emotion in the narrative all the more tangible to us, the listeners. "Gambler and Gypsies" could help to raise his profile as a vocalist more than anything else because of the passion we're treated to around every twist and turn in the rhythm, and considering the kind of year 2022 was, this kind of soul should feel all the more soulful to country fans.
You really can't go wrong with a simple country concept like the one used to construct the melody in "Gambler and Gypsies," and this isn't to say that Andrew Crawford lacked originality in his use of this specific formula. There's an old-fashioned western sway to the words that are right out of the 90s crossover country playbook, but it's made his own through a mighty and unmistakably golden drawl. He wears his influences on his sleeve in this performance, but I don't think there's anything wrong with that; after all, at a time when so many of his peers are ready to cheapen the same contemporary aesthetic over and over, it's nice to hear a songwriter whose music features his roots presented in modern terms anyone can understand.  
Andrew Crawford has been on my radar for a minute, and if you've heard any of the buzz surrounding this latest content, you're far from alone. "Gambler and Gypsies" lives up to the hype he's created for himself while showing off his chemistry with one Brandi Colt, and it's just a small sampling of what his sound can consist of in the right scenario. I've got a gut feeling we're going to hear a lot more magic from him in the next few years and judging from the present creative trajectory he's on in songs like this one, we should have every reason to believe he's going to be maturing as a musician likely at a much quicker rate than some of his contemporaries can.  
Gwen Waggoner