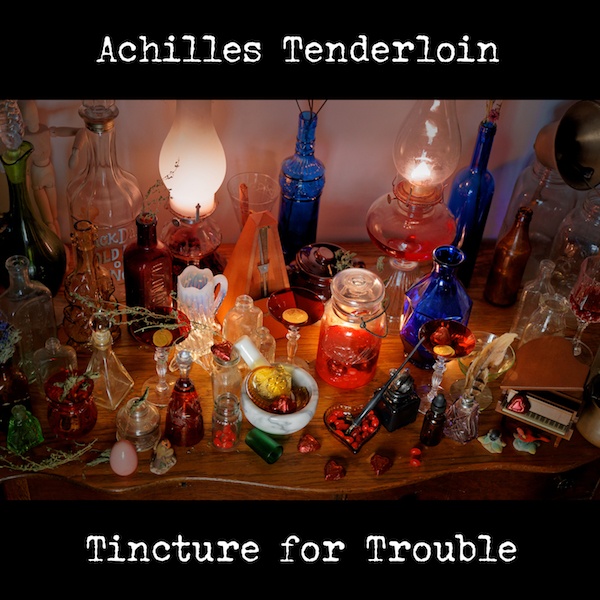 Achilles Tenderloin aka Joe Augustin is a hyper original songwriter and guitarist who has come up with 'Tincture for Trouble'. Blending slide blues and folk-americana, Achilles has created a sound that is unique to the core. 'Tincture for Trouble' is everything you haven't heard yet and then some!
Produced by Patrick Himes at Reel Love Recording Company, the album contains 10 songs and one completely different from the next. There are lush string, wind, choral and percussion arrangements on 'Tincture for Trouble' that will impress the listening audience. Achilles Tenderloin is a musical doctor in a league of his own and he has prescribed 'Tincture for Trouble' to all of his listeners.
The record kicks off with a song called "Torch Song" that will intrigue your ears with its snazzy sound. Achilles Tenderloin says "Let's get strange" and I say let's light this damn "Torch Song" and get into this thing! Achilles gives a rousing performance next on "Blue Silhouettes" and I salute Tenderloin's efforts on this number. Track three, "Little Girl Blue", offers up a pleasant melody and colorful chords that will excite the listener. Get ready to "Kiss the Ground" you lay your ears on as Achilles Tenderloin provides a downright, gritty texture that is incredibly raw. Moving along, the audience receives a wonderful arrangement and striking melodies that grab you on "Don't Be Long". Track six, "Never Trust a Barber" is a peculiar sort of cut that peaks your curiosity and is a hair-raising experience you won't soon forget. "Falls Thistlethwaite" has a nice flow musically while "Pipedream Blues" is off the tracks yet steady as hell! We've arrived at the title track, "Tincture for Trouble", that supplies a stellar arrangement and highlights Achilles Tenderloin as a premier music artist. Time to end the 10-song set with some good, old-fashioned "Howlin' at the Earth" where Achilles T is singin' the blues to the entire world. "Howlin' at the Earth" is a compelling number, so I say howl away and don't hold back!
'Tincture for Trouble' is the fifth album release for Achilles Tenderloin and features an array of featured guest artists. With folk, blues and everything else in between, Achilles brings his own flavor to the table and it's refreshing to hear. Achilles Tenderloin is authentic to say the least and 'Tincture for Trouble' gets my stamp of approval for authenticity.
http://www.achillestenderloin.com
https://www.facebook.com/achillestenderloin
https://www.instagram.com/achillestenderloin
By Jimmy Rae