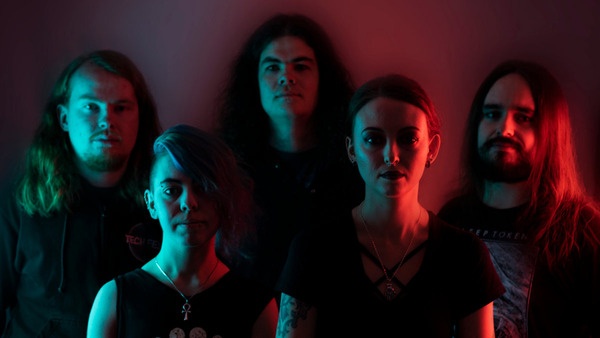 @skopemag news – monday – february 6, 2023 @ 6 pm est
@skopemag HQ – http://smarturl.it/skope
Sell Your Services and/or Products on the @skopemag Marketplace
https://skopemag.com/2023/02/01/sell-your-services-and-or-products-on-the-skopemag-marketplace
Tiger Driver: Release A New Single 'Lost in Paradise'
"Lost in Paradise" is the fourth single from Melbourne death-doom metal band Tiger Driver and the accompanying track to their 2022 release, "Deceiver".
The lyrics tell the story of a land promised to be a paradise, only to be revealed to be a wasteland where the lost and broken fight for survival, only to be stricken by famine and their deathly surroundings.
Tiger Driver bring a brooding ambience to their melodic track leading into an oppressive chorus and finale.
NEW // Brooklyn's Rap Riser KaFi Kayzo Shares Visuals For 'On Everything'
Kick starting the new year with the visuals to his brand-new release is New York's very own KaFi Kayzo. Encapsulating the gritty elements of Brooklyn's renowned drill sound and putting his own spin on it, the rap riser is ready to shake some industry feathers!
Somebody's Child announces Autumn UK tour after current UK tour sells out | Debut self-titled about out now via Frenchkiss Records
Releasing his debut album last week and about to embark on a sold-out UK tour, Somebody's Child today announces another chance to see him live this Autumn with his biggest venues yet.
U.S. Metal Band MALUS DEXTRA Drops Pit (Lyric Video)
GREG KOZO "TU VOZ / AMOUR FOU"EP (Deep House/Atmospheric House)
Luton's hottest rapper TYNEE unleashes cold 'Voice Of The Streets' freestyle with KENNT ALLSTAR
Atop moody instrumentals and a skippy beat, Tynee spends the first half providing raw anecdotal tales surrounding his rapid rise-up and early upbringings. Showing Tynee in a different light, the second half features a heavy beat edit of Luniz and Michael Marshall's cult classic "I Got 5 On It". Upping the tempo with some of the sleekest bars, Tynee showcases just why he is one of the most exciting rap prospects in the UK scene right now.
bdrmm sign to Rock Action | Announce new album "I Don't Know" out June 30th | Share new single "It's Just A Bit Of Blood"
Following the release of 2020's widely-acclaimed debut LP "Bedroom", and a clutch of hotly-received singles since, today the Hull based shoegaze quartet bdrmm return with the news that they have signed to Mogwai's Rock Action and that the revered independent label will release their anticipated second album "I Don't Know" on June 30th.
REGENT — Release Roaring: "She Checks My Head" || + New EP 'Believe' Out 10 Feb
Set to start the new year off with a bang, Southampton-based rock'n'roll four-piece REGENT have releasd their new single "She Checks My Head" today.
The track arrives as the second single taken from their new EP 'Believe,' due 10 February 2023.
Rising musician GaDDel releases his expressive new single "What If We Break Up?"
Following on from November's "I Don't Suffer Anymore", "What If We Break Up?" is the brooding London based vocalist's second release; overflowing with GaDDel's emotionally charged confessions, a minimal backing of just a Yamaha 1954 Grand Piano allows GaDDel's raspy, tender vocals to take centre stage and deliver the track's poignant, self-written lyrics in full capacity.
Crossing Belt Share Video For New Single "Intoxicated"
Italian alt-rock act Crossing Belt have dropped the video for the new single "Intoxicated", available now in all digital platforms. Produced by Jaxon (Jax Diaries) at Heavy Tones Recordings, the track describes the style of the band with post-grunge, metal and country music as influences.
Milo Merah – Linger
Laced with blissful synth guitars and acoustic drums, the genre-bending Linger drapes Milo's richly textured & soulful vocals with a melancholic sonic veil produced by AUR3LIAN and Homebodi. Out since January 25, the poignant track narrates how he lost his fight to hold onto love.
Photo Ops announces new LP, shares first single / video "You Must Not Need A Friend At All"
"On the whole record, I was very interested in space, and the contrast being acoustic, natural sounds and instruments, and the analog synth. There is something very striking about how natural it can still seem – processing the loss of a relationship, from indoors, looking outside, allowing myself to feel the loss and the passing of anger into an honest grief and complaint of what is left." -Terry Price / Photo Ops
NEWS: Synth Pop Trio Hey Cowboy! Releases New Single "Mesmerize"
Austin-based Synth Pop trio Hey Cowboy! has released their new single "Mesmerize." Showcasing a more moody side of the band, "Mesmerize" stays true to Hey Cowboy!'s winning formula of Synth Pop with a consistent bassline, dancey drums, melodic keyboards, and atmospheric harmonies. "Mesmerize" premiered on Under The Radar and was featured on KUTX' Song of the Day! The new single is Hey Cowboy!'s first release since 2021 and a teaser for their upcoming full-length record, due out later this year.
Parker McCollum Kicks Off His 2023 Touring Schedule with Sold Out Shows in Detroit, MI and Cincinnati, OH
Parker McCollum has become one of Country music's biggest breakout stars of the past year, blazing his own path while remaining true to the genre's traditions. The multi-Platinum singer/songwriter, recognized for delivering electrifying stage shows, is keeping his fans on their feet night after night. Kicking off his 2023 tour, Parker played to sold-out crowds in both Detroit, MI and Cincinnati, OH over the weekend packing out both venues with Country music fans eager to see him do what he does best.
Ally Venable's New Album & Upcoming Tour w/Buddy Guy
Texas blues/rock guitarist, vocalist, and songwriter Ally Venable is pleased to announce that she will release Real Gone!, her latest solo effort, on March 24th via Ruf Records.
At 23, Venable is a fiery presence well-known in the roots music world. Her name has grown in stature with each new album and high-energy gig. She's a ripping guitar player with style and tone for days, a commanding singer, and a songwriter with the power to make blues music that speaks to contemporary fans. The new record, produced by Grammy winner Tom Hambridge (Buddy Guy, Susan Tedeschi), features guest appearances by Joe Bonamassa and living legend Buddy Guy.
Sharc Goes on the Attack in "1 of 1" Video
Video: Helixx C. Armageddon & Shanty Gallos ft. Kelly Finnigan – Circus Puppets and Parables
The Western Civilization – "If You're Lucky" single
MUSIC ICON & GLOBAL SUPERSTAR LIL WAYNE SHINES DURING HISTORIC GRAMMY WEEKEND
Kicking off the weekend strong, Lil Wayne received the Global Impact Award at the Recording Academy Honors presented by the Black Music Collective. Longtime collaborator DJ Khaled presented him with the award along with special video messages from Drake and Deion Sanders. Swizz Beatz, 2 Chainz and Tyga performed some of Wayne's hits. Wayne delivered an emotional acceptance speech and posted an additional message thanking those who have played a significant role in his career.
DISCONNECTED SOULS Release Video For "Dissonant Whispers"
Emerging from beyond the shadows, "Dissonant Whispers" is the new single from the eclectic cinematic metal outfit DISCONNECTED SOULS. The Chester, England, based band push their boundaries further than ever before in this enchanting song. Become immersed in the foreboding tale of magic and disturbance of the mind through dramatic orchestration, thundering guitars and the alluring voice of the siren.
INTREPID BLOOM Releases New Single, "Above the Storm,"
"'Above the Storm' is a fast-paced blend of hard rock and electronic about anticipation and the split-second-moments before taking a chance.." – INTREPID BLOOM
NEW MUSIC: PRICE & COZZ SLIDE THROUGH THE CITY IN THEIR NEW SINGLE "ON GO"
Closely following the release of his latest single "No Sleep in the City," feat. G Perico. Price shares the mic yet again with another standout feature. This time around, the LA rapper recruits Dreamville's Cozz for "ON GO" ahead of his third studio album, appropriately titled No Sleep in the City, due 2/17.
Rising Artist HADEE. Brings Heat with his Sophomore Single, "KEROSENE."
Straight from the start, we're met with an almost haunting instrumentation that paints the visual of desert-glaring heat raining down. "KEROSENE" cements HADEE. as an upcoming artist with a versatility that leaves his listeners longing to explore.
Joyce Wrice Drops Choreo-Filled "Bittersweet Goodbyes" Video
Co-directed by Juliann McCandless and Ashley Bone, the steamy visual finds the current Proud Family theme song vocalist delivering a show-stopping dance performance featuring choreography by Brian Drake and appearances from Kiana Ledé, ESTA., and Mack Keane who co-wrote and co-produced the track alongside Kaelin Ellis (Lupe Fiasco, Sango, KAYTRANADA).
IMPERIAL DEMONIC Announce Debut Album Beneath The Crimson Eclipse
Melodic black metal formation IMPERIAL DEMONIC are preparing to unearth their bleak debut Beneath The Crimson Eclipse on April 7, 2023. Not far from the brisk fjords of the black metal motherland, IMPERIAL DEMONIC, from Belfast, Northern Ireland pay homage to the more polished black metal sound of the late 90's and early 2000's.