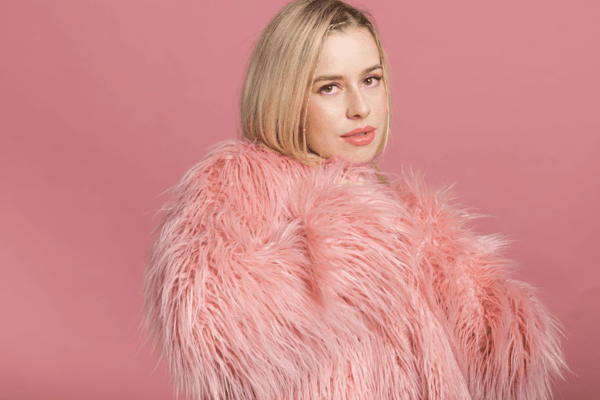 @skopemag news – friday – february 3, 2023 @ 3 pm est
@skopemag HQ – http://smarturl.it/skope
Sell Your Services and/or Products on the @skopemag Marketplace
The Kingdom Choir Return with New Single & US Tour Dates
Offering love, hope and inspiration, The Kingdom Choir today make a timely return with their brand-new single "Not Giving Up". Founded in 1994 by Karen Gibson MBE (the Godmother of Gospel), The Kingdom Choir have continued to win hearts since their unforgettable performance at the 2018 Royal Wedding in front of a global televised audience of 2 billion people. Listen to "Not Giving Up" HERE.
AUSTRALIAN ALT-POP ARTIST CHYMES ANNOUNCES NEW EP GAME OVER; DROPS SINGLE "MY OWN WORST ENEMY"
"The Game Over EP is probably my favourite bunch of songs I've ever written. I wrote a lot of them whilst on a writing trip to LA which was so inspiring and fun and exciting, I really felt like I was in my element. There is a bit of a story with the songs on this EP, going from chasing bad relationships, changing into someone you're not, to realization and deep self reflection, to laughing at yourself for being a bit delusional and then finally cutting toxic people off," says Chymes on her EP.
SM6 Captures The Simplicity of Love in "Generation Heartbreak"
Buzzy electropop moguls, SM6, have released their single titled "Generation Heartbreak," a ballad that longs after the simple gestures in romance from a time before their own. "Generation Heartbreak" is the latest single off their forthcoming album dropping later this year. SM6 emphasizes meaningful gestures like writing letters and picnic dates, and hopes that, by extension, slower relationships will be preserved by the Gen Z dating pool.
Awir Leon Shares Indie-Electronic, Hip-Hop Tinted Masterpiece 'Stars'
Blood Runs Cold (members of Sanction, Koyo) drop two song single on DAZE
Hailing form Long Island, NY, Blood Runs Cold are creating metallic hardcore fueled by frustration. Today the band makes their debut with double single, Residuals / Kill Yourself, out on DAZE. Formed by brothers, guitarist Evan Perino (Separated, Missing Link) and drummer Dillon Perino (Sanction, The Fight), the two set out with vocalist Joey Chiarmonte (Koyo, Typecaste) to produce a sound that was heavier than what was currently happening in the local scene. Rounded out by guitarist Mike Marino (Sanction) and bassist Kyle Mulligan, the band took their time in the studio crafting out what you hear today.
NOTHING,NOWHERE. ANNOUNCES NEW ALBUM 'VOID ETERNAL' — SHARES NEW SINGLE "THIRST4VIOLENCE" (FT. FREDDIE DREDD & SILVERSTEIN)
LA RAPPER/PRODUCER HUDI DROPS "BRAND NEW!" BRAGGADOCIOUS SINGLE & VIDEO
Brit Taylor's Kentucky Blue Out Now!
Country singer songwriter Brit Taylor is releasing her sophomore album, Kentucky Blue, today. Produced by Grammy winners Sturgill Simpson and David Ferguson, the ten original songs explore the breadth and depth of Taylor's captivating songwriting and arresting alto. Available on all music streaming platforms, the album is being released on Cut a Shine records in partnership with Thirty Tigers.
MIKE POSNER & SALEM ILESE ARE "HOWLING AT THE MOON" ON NEW SINGLE & MUSIC VIDEO OUT NOW
JONAS BLUE X FELIX JAEHN'S "WEEKENDS" OUT TODAY VIA ASTRALWERKS
"Felix and I had the idea to do a collaboration together when we both played at Pacha Ibiza at the end of last summer," recalls Jonas Blue. "We'd been bouncing a few ideas back and forth and landed on 'Weekends' being the perfect track for us to do together. It's a bit different to what you might expect from us individually. We wanted to do something different and with mad energy to it."
Marco Giovanni Captivates on Debut Single "Straight Face"
Singer/songwriter Marco Giovanni has released his debut single, "Straight Face," out now on all DSPs. Over bouncing bass lines and syncopated drum beats, Marco's dynamic and polished vocals shine as he speaks to the emotional stability and security he has to offer to someone in his life. Produced by GRAMMY-nominated songwriter and producer Poo Bear (Justin Bieber, Usher, Mariah Carey, Jennifer Lopez), the airy R&B mood booster is just the first taste of what's to come from the emerging artist.
Big Words Release "You're So Wonderful" Single and Video
THE UNDERCOVER HIPPY — Resurfaces With New Album: "Poor Little England" Out 7 Apr || Listen to "Hey Boy" Now
New Music This Week from Nada Surf, Shania Twain, The Go! Team, Joe Chambers and More
New Releases for February 03, 2023 – Here are the AllMusic editors' picks for the most noteworthy releases this week. Looking for more? Visit our New Releases page.
The Reds, Pinks & Purples announces new LP on Slumberland, shares "Life In The Void"
Dottie Andersson // Swedish Indie Pop New Single
Picture-perfect, smooth pop is the opposite of what Dottie stands for. Her weekday breakfast consists of a large can of Monster-Energy, which is a good example for the energy she creates in her songs: To not take yourself too seriously, to have a grand plan, to do everything differently compared to a mere mortal. In her lyrics, Dottie describes pitfalls alternating with high highs turning life into a rollercoaster. Always online, never less than 15 stories on Instagram, always ironic while emotions are always around the next corner.
COREY KENT RELEASES MOVING, AUTOBIOGRAPHICAL TRACK & VISUALIZER FOR "MAN OF THE HOUSE"
HANNAH GRAE RELEASES NEW SINGLE "I NEVER SAY NO"
20-year-old Hannah began captivating online audiences with her rewrites of popular songs and covers, resulting in over 152k subscribers to her YouTube channel. Merging nostalgic elements of No Doubt, Alanis Morrisette, and The Bangles and modern storytelling lyrics inspired by the likes of Phoebe Bridgers, Paramore, and Taylor Swift – Hannah's self-taught musical education seats her firmly in the lineage of cross-genre women making musical waves.
Musician Roe Kapara Signs To Epitaph, Drops New Single "Better Off"
Today, Los Angeles based musician Roe Kapara celebrates his signing to Epitaph Records with the release of his brand-new single "Better Off." Through a winning combination of off-kilter indie-pop mixed with quirky charm, in the past year alone Roe has seen his fanbase grow to over 260k followers and 4.6M likes on TikTok.
Lecrae Premieres Krunk-Fu music video "Good Lord" featuring Andy Mineo
Don't take your Church Clothes off just yet! On Friday, February 3rd at 11 am, Lecrae Moore and Andy Mineo will premiere the video short "Good Lord," a new krunk-fu film directed by Nathan "Dust" Corrona, with additional creative direction by its co-stars Lecrae and Andy Mineo. The music video for "Good Lord" is a great story about an awful movie. Lecrae and Andy Mineo star in an original comedy as two unlikely filmmakers who are hell-bent on producing a half-baked script after being laughed out of every major Hollywood film studio. Armed with low fidelity cam-corders and out sized hubris, the duo is so impressed with their idea they begin filming "the making of Good Lord the Movie", chronicling their adventures and accidentally creating a music video. Watch "Good Lord" here and stream "Good Lord" off of "Church Clothes 4" here.
Effervescent New Single // British Indie Pop Artist
Hailing from the small city of Lancashire, Molly Warburton is armed with unparalleled strength and individuality. Her tough exterior blends with her soft, vulnerable core – a combination that shines brightly across her growing repertoire. Through intoxicating indie-pop melodies and a powerhouse of vocal energy, Warburton proves that at her core, she is a truly passionate storyteller, bringing her chronicles to life with the vibrancy of her sound.
Andrew Broder (Fog) Shares "Personal Effects" Single + Video via Under the Radar | 'The Show Original Soundtrack' LP Out Now via Lex Records
Today, renowned Minneapolis producer and multi-genre musician Andrew Broder — whose recent production credits include Joe Rainey, Lambchop, Dua Saleh, Armand Hammer and more, in addition to his solo work as Fog — finally shares his brand new solo LP entitled The Show Original Soundtrack (via Lex Records).
MERLOCK Release New Single & Video "Where No One Goes"
GHANAIAN SUPERSTAR STONEBWOY RELEASES BRAND NEW SINGLE "MORE OF YOU"
Kicking off the new year with a banger, Ghanaian Afropop, dancehall and beloved reggae artist Stonebwoy releases new single "More Of You." The track was produced by GRAMMY-nominated American/Jamaican producer Supa Dups and is the third single since Stonebwoy's historic global signing with Universal Music Group (UMG) label divisions, Def Jam Recordings in the U.S., 0207 Def Jam in the UK and Def Jam Africa in early 2022.
Out Today Your ex and I explore lust & fantasy in new single "If You'd Only"
DALE PUTUTI COMIENZA EL 2023 CON LA VIBRA PERFECTA EN SU NUEVO TEMA CON EL CHACAL "TONTO"
Hard Rock Band MONROE Releases Debut EP 'This Is Rebirth' via IMAGEN RECORDS
Hard rock band MONROE released their debut EP This Is Rebirth to all major platforms today via Imagen Records. The EP was produced by Morgan Rose (Sevendust), Shaun Foist (Breaking Benjamin), Barry Stock (Three Days Grace), Justin Taylor (Alborn) and Jose Urquiza (Three Years Hollow). All of these wonderful musicians assisted Monroe during the writing process of the EP to bring you the best quality product that you could ask for!
Lojay Announces 'GANGSTER ROMANTIC' EP, Drops "MOTO"
As a follow up to his energetic dance floor-facing singles "Leader!" and "Canada" last year, "MOTO" goes at a slower and more sober pace, with the track showcasing a more vulnerable side to Lojay as he reflects on romantic loss, yearning and dashed dreams. Easing in with soft electric guitar strums and mellow Afrobeats percussion, 'MOTO' was produced by Lojay himself with finishing touches added by Elementz and AOD. Carrying a sombre energy throughout, 'MOTO' explores heartache through the lush layers of Lojay's distinctive vocals as he showcases his lyrical abilities through raw songwriting and storytelling.
Alternative Industrial Outfit GLDN Shares NSFW Single & Video "Hole"
Industrial punk newcomer GLDN is back with more new music! The new, NSFW single "Hole" follows the release of their debut EP, First Blood and remix album Hemophilia. "Hole" descends further into the murky shadows and twisted imagination of GLDN mastermind, Nicholas Golden.
Golden comments: ""HOLE is a song about despair. It's an exploration of how it feels to be at your lowest and know that there's no way out. Once you're in that darkness long enough, it can become almost comforting. You start to see the beauty in the pain. And in the end, there's a sort of acceptance that you will never be the person you were again. In that acceptance, there is freedom to be someone new."
For Skope: Nicky Romero releases long-awaited festival crowd-pleaser "Turn Off The Lights" (out now)
Shimmering Pink EP // Tribulations of Love & Dating
Introducing Italian-born, London-based, Alice Pisano, a rising star in the contemporary pop scene. Blessed with a uniquely warm and silky voice, Pisano has a natural ability for writing relatable, emotive songs that connect and since her debut in 2019, she has garnered a fantastic name for herself.
Seattle's Tomten shares "Caterpillar Hill," the second single from their forthcoming LP
Ukrainian Metal Band HETMAN Release Official Music Video For "White Threads, Black Needles"
TODD GREENE RELEASES NEW SINGLE "GET UP"
With motivational lyrics like it might take some time, but you'll be all right, if you just reach out, you're gonna win the fight, "Get Up" showcases an inspirational message that many listeners will relate to.
Kreios Debuts Experimental First Single 'Asylum'
Annie DiRusso Announces Her New EP, "God, I Hate This Place" (February 24th) And 27 Date Tour + Shares First Single, "Emerson"
DiRusso spoke to Nylon about her new song and EP, and they say of DiRusso's music, "The 23-year-old musician is a scathing songwriter and on her latest single she writes with a serrated intensity about pains of growing up. Yet, despite the heaviness of its content, "Emerson"— named after the street she grew up on — feels like a huge wave of relief rolling off of her shoulders, its driving guitar line like an exit conduit for her boiled-over grief. At the end, the song gathers into a pool of catharsis." Nylon today also premieres the song's live music video.
MEMORIAM: Rise To Power Full-Length From UK Death Metal Titans Out Today On Reaper Entertainment; New Video Now Playing
Founded by former Bolt Thrower singer Karl Willetts and Benediction bassist Frank Healy — living legends of old-school death metal — MEMORIAM stands among the most creative bands of the genre. In celebration of the release of Rise To Power, today the group unveils a lyric video for the record's timely title track.
Shaggy ft. Skinny Fabulous – Don't Run
INSTANT EMPIRE Announces 'Standing Eight Count' + shares "Tiny Flashes" – LISTEN
The Denver-based indie rock band Instant Empire is ecstatic to announce the release date of their upcoming album, Standing Eight Count. Standing Eight Count will be the band's fourth LP and will be released digitally on March 31, 2023.
2022 Breakout Country Music Star Parker McCollum Releases Music Video For His Current Single "Handle On You"
Los Angeles Indie-Pop Artist Emily James Shares the Empowering New Single + Video "Happy For Me"
"Happy for Me is about wanting to stop letting anxiety get in the way of your joy." Says Emily. "It's so easy to beat up on ourselves and fixate on what we don't have, or what we should be doing better, and getting sucked into an endless downward spiral. I wrote this song for anyone who needs reminding (myself included) of how important it is to celebrate yourself and not to let worrying take you out of the present moment."
Hooray For Earth Announce 'True Loves' LP Reissue, Share "La Que" Single + Visualizer via FLOOD Magazine | Reissue LP Out Now
Today, storied NYC rock band, Hooray For Earth (est in 2003 by musician Noel Heroux), share a reissue of their 2011 LP True Loves (featuring tracks "True Loves," "No Love," "Realize It's Not the Sun"), out now via Bandcamp. Along with the reissue, the band also share a previously unreleased track from the original recording sessions, a single entitled "La Que."