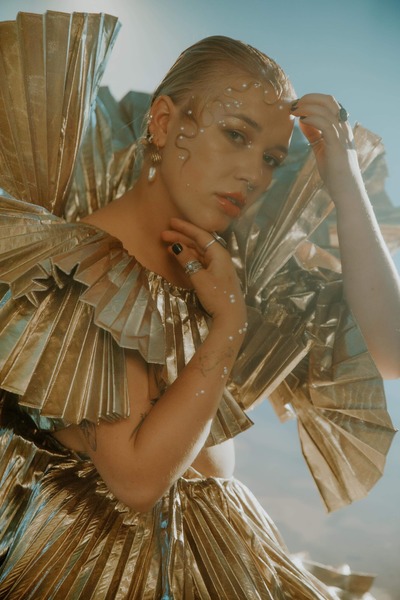 @skopemag news – friday – february 3, 2023 @ 10 am est
@skopemag HQ – http://smarturl.it/skope
Sell Your Services and/or Products on the @skopemag Marketplace
Kingswood release latest track 'One Too Many Times'
Continuing on from the success of previous singles 'Burning Holes' & 'Good Whiskey', Kingswood today, carry on teasing out their forthcoming record, 'Home (February, 24th), with the latest track 'One Too Many Times' a country-rock tinged ode to leavin' town and savouring a romance that once was.
Finding renewed confidence & purpose, 'One Too Many Times' highlights the phenomenal musicianship apparent in the Kingswood quartet, the band reaching higher & soaring further than ever before.
200 STAB WOUNDS To Play Decibel Magazine Tour 2023 With Dark Funeral, Cattle Decapitation, And Blackbraid; Tickets On Sale Friday!
Cleveland death metal outfit and recent Metal Blade Records signees 200 STAB WOUNDS will support Dark Funeral on this year's edition of the Decibel Magazine Tour! The trek begins on May 11th in Santa Ana, California and runs through June 10th in Los Angeles, California. Additional support will be provided by Cattle Decapitation and Blackbraid.
AMY RAY releases video for "Subway"(feat. Brandi Carlile) inspired by pioneering queer DJ Rita Houston
Ray explains, "I was sitting at home during the pandemic and missing NYC, thinking about how liberated I always felt there as a young queer person just starting to get comfortable with myself. And I was thinking about what I would say to Rita if I wrote her a letter — sort of a letter from all the young queer songwriters.I still treasure the unfettered joy of the nights I would walk the city streets to and from shows, or just walk for the feel of it, not wanting to miss a beat, and taking in all the action. Rita embodied that action and that joy."
Brady Lee Releases Nostalgic Track "Strangers In A Photograph" featuring Kelsey Lamb
In the exclusive premiere with American Songwriter, Brady reflected on the inspiration behind the single: "It's also normal to be genuinely curious and not have some sort of love flame that you want to reignite in people's lives. It's normal to want to know what old friends are doing and be able to give yourself permission to go down memory lane. That's where I wrote it from."
Country Riser Hank Ruff Releases New Tune Titled "Whiskey Always Wins"
"I love this song because I think it is exactly where I want my music to be sonically. It is country to the bone, but still has a little rock edge and mainstream appeal. I love the prominence of the steel guitar, and I love the writing in the song. It's fun, witty, and catchy," tells Hank.
ETHAN BORTNICK COMES TO TERMS WITH TOXIC RELATIONSHIP ON "deadly ever after"
In speaking about the new song, Ethan says, "I have some what of a savior complex, and being with someone who is broken makes me want to help. I wanted to capture the feeling of absolute exhaustion that we had both felt, finally coming to terms with the fact that we were not good for each other. This track took almost a year to produce and is connected to both engravings and 'the last laugh' which comes directly after this one."
Katie Melua Releases New Track 'Those Sweet Days'
Today, acclaimed singer-songwriter Katie Melua unveils new track 'Those Sweet Days', the second offering from her forthcoming ninth studio album Love & Money, out 24th March via BMG. Katie, who has amassed 56 platinum certifications and 8 consecutive UK top 10 albums over her glittering 20 year career, announced the album last month with single 'Golden Record' (currently playlisted at BBC Radio 2), and heads off on her UK & EU tour in April & May, which includes a landmark show at The Royal Albert Hall in London on the 16th May.
Country Newcomer Matthew Wayne Releases New Single "Reckless"
"From the moment I heard Reckless from fellow writer and artist, Johnny Gates, I knew I wanted to cut it. I loved how up beat and fun the song was about making bad decisions that we all can relate to. Once we laid it down in the studio it had the right energy I wanted for the song that felt like I made it my own," explains Matthew.
WEIGHT OF EMPTINESS Release New Single 'Wolves'
"The magnificent process of evolution, the hopeful visualization of a future full of benefits that our enviable intellect offers us and, like it, separates us from the "animal"… or not? In Wolves, it tells of that moment in life when the wild animal in us gets out of control, and we are only guided by the primordial instincts of the beast, breaking any paradigm assigned to our perfect societies or the status quo, that animal force that has raised nations and that in packs, are the true and only meaning of the rebellion… listen to the howls within you… listen to your inner wolf!!!"
OUT TODAY: Tulle – Godforsaken City (FFO Lorde, Billie Eilish, sad pop)
Not afraid of asking the big questions in her music, 23-year-old Norwegian songwriter Tulle spent 2022 focused on the morbid things in life through the introductory singles "Dead Dead Dead" and "Blood On Your Hands".
Casting aside the notions of a new year being the time for resolutions and renewal, Tulle is instead continuing to embrace the darkness on new single "Godforsaken City". It's out today.
Dub MD & The Audible Doctor – EP=MD²
When society goes from targeting the heads of unarmed African Americans to a global surveillance state where voyeurism, gang stalking and theft are the new normal. EP=MD² takes you from 1984 to current day featuring K-Hill [Stallone & Weathers], Singapore Kane, Krumbsnatcha, Tokyo Cigar, Elete Wright [St. Joe Louis], The Good People, Lena Jackson, Joc Scholar [Grand Opus], Likwuid and others. All beats by The Audible Doctor.
YONIC SOUTH release 'Devo Challenge Cup', their final EP. Out today on Wild Honey Records
First Day Of Spring shares new single "Operation" ahead of debut EP
ROSIE Shares New Single/Video "Startover"
Veering away from the more melancholic themes and sounds of her first EP, '20mg of Happiness,' "Startover" sees ROSIE heading in a more uptempo, uplifting direction, both sonically and lyrically. The song builds with a delicate piano melody and ROSIE's emotive vocals before exploding into an irresistibly catchy yet heartfelt chorus: "So can we start over / Maybe letting go is how we get closer / And if ending us is how we get closure / Let's say goodbye and then we'll start over / Can we start over."
lo-fi rapper, singer and producer Powfu shares new song "life in a locker" with Jomie & feat. Skinny Atlas
TIDE LINES SHARE THE NEW SINGLE 'THESE DAYS' – WATCH THE 360 DEGREES PERFORMANCE VIDEO
Lusaint sends hearts soaring with debut single 'Dark Horse'
Manchester-based singer-songwriter Lusaint is making a grand entrance with her debut single, 'Dark Horse', out 3rd February on new indie imprint Heavenly Fire.
'Dark Horse' is the powerful lead single from Lusaint's debut EP 'self sabotage', set for release later this year. The track spotlights Lusaint's distinctive voice, which has captured hearts since her 2019 breakthrough with its melodic blend of jazz and blues influences.
THE VELVET HANDS – Release Storming "40 Up 40 Down" Single || From 'Sucker Punch' – Album Out Today
AYA YVES – feeling small (let the light in)
As humans we have all felt the heaviness from the last couple of years, especially AYA YVES. Her focus shifted and she aligned her life with things that make her feel excited, inspired and at peace. "I feel lightest when I feel insignificant, when I feel small in a big world"
feeling small (let the light in) captures the feeling of when you climb a mountain or gaze at the stars and feel small and insignificant – but in a really empowering way. We are all just tiny specs, floating through endless space – so why sweat the small stuff? Do the things that scare you, listen to your inner child, chase what sets your soul on fire and don't forget to let the light in along the way.
Rising musician GaDDel releases his expressive new single "What If We Break Up?"
Following on from November's "I Don't Suffer Anymore", "What If We Break Up?" is the brooding London based vocalist's second release; overflowing with GaDDel's emotionally charged confessions, a minimal backing of just a Yamaha 1954 Grand Piano allows GaDDel's raspy, tender vocals to take centre stage and deliver the track's poignant, self-written lyrics in full capacity.
WILLIE JONES MARVELS AT WHAT "THEM GIRLS DO" ON NEW RELEASE
"'Them Girls Do' gives a peek on what many of us look for in a girlfriend: a chameleon. Someone who can flip it by being proper and polite and then – bam – possess that danger gene. Think '…A little Sunday morning, a little Friday night,'" said Jones. "I wrote this song with my friends Nick Autry and Justin Ebach in Los Angeles, at The Penthouse Studios. We wanted a different type of party vibe and when those opening banjo licks get goin', you just wanna turn up. I'm not afraid of a little mischief but most of the time, it ain't me starting it, it's 'Them Girls.'"
Chris James Releases New Song "Heaven or Hell" Off Upcoming Album 'Why Should We Turn Around?' Out April 14th      
"Heaven or Hell" is about coming to terms with the fluctuating nature of a relationship and being willing to go through any obstacle in order to be with someone. "This person has had a profound impact on me and has made me willing to change and do things I wouldn't normally do. I am willing to go to the extremes, or 'Heaven or Hell,' to be with this person," states Chris James about the track.
Hamish Hawk and Samantha Crain share "Rest & Veneers" | New album "Angel Numbers" out today via Post-Electric
Rising star Zak Abel unveils brand new single 'What Love Is'
Laced with soul and funk, 'What Love Is' rings in a new musical era for Zak Abel. Lyrically laying bare the 27-year-old's vulnerabilities, the track was co-written with Brendan Grieve (Sam Smith) & long-time collaborator Connor Blake (Dermot Kennedy), with Zak laying down vocals in the confines of his South West London bedroom. Nathan Duvall of Disciples (Calvin Harris) heads up the production, and it was mixed by Mark Ralph (Years & Years, Becky Hill, Rudimental).
ALT POP NEWCOMER HALLIE SHARES DEBUT EP "THIS IS LOVE"
ANTHEM To Release Crimson & Jet Black Full-Length On April 21st Via Reaper Entertainment; First Video/Single Available
ST LUNDI SHARES THE NEW SINGLE 'READY TO BE LOVED' – WATCH THE OFFICIAL VIDEO HERE
OUT NOW: Indie Musicians Adam Harpaz x Pastel Jungle Share 'Other Than Orange' (FFO: Angus & Julia Stone and Vance Joy.)
Out today: Julian Taylor (award-winning Americana/folk singer-songwriter) "It's Not Enough (Sunset Version)" (single)
Julian Taylor talks about "It's Not Enough (Sunset Version)":
"'It's Not Enough' is about love. It's an attempt to find balance. It's about the juxtaposition within all the noises in our own head. It's about living with our own inadequacies, and the admission that nothing is perfect and never will be. I wrote this song with lovers in mind, lovers who have been through a lot, and no matter what they've gone through, how they see it through together."
Harlem's Antha Pantha Doesn't Play with Punks in "B.W.A." Video
Clear My Mind – NEW Single – Dave Herrera
Dave Herrera and his SONG "Clear My Mind" – On ALL Streaming Platforms now!
Dave Herrera needed to clear his mind when writing this story about getting away from all the fast-paced life, as demonstrated in this NEW Single "Clear My Mind," a song about traveling by foot, out through a rural terrain, to be free and one with the land.
Woodes, Australia's Most Captivating Creative Mind, Shares "Forever After" 
Elle shares, "I wrote 'Forever After' about love and the process of moving on, alongside grief. I started writing this at the start of 2022, after the breakdown of a relationship. I packed my things and moved interstate. 'Forever After' was the thought that I wouldn't want to erase the love or the story; they're a part of me forever. Personally, I was rebuilding everything around me, including my relationship with music after the time in the pandemic. I found myself playing piano again, writing songs to heal. I found myself hiking and returning to nature, starting to reconnect with myself. I'm so proud of the process. It feels like my most personal work."