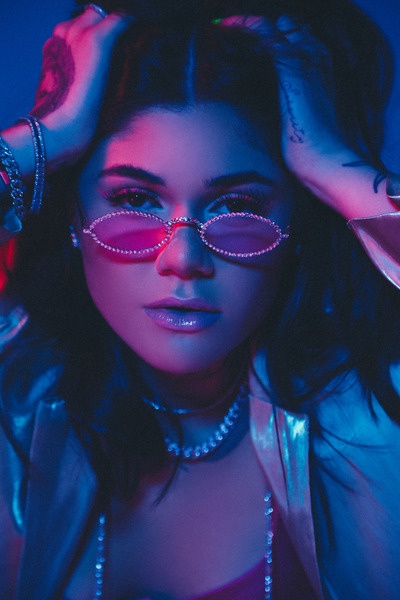 @skopemag news – wednesday – february 1, 2023 @ 12 pm est
@skopemag HQ – http://smarturl.it/skope
@skopemag Menu – https://skopemag.com/2022/07/11/skopemag-editorial-services-the-menu
Vancouver's Alexander Sharp Directs Sensual Grindhouse-Inspired Music Video for Josh Jones & Trevor Kidd's "Salvation"
Director Alexander Sharp serves up sexy, slithery vampire with a steely, black-and-white grindhouse aesthetic in the video for Josh Jones & Trevor Kidd's "Salvation" – available now.
Ballaké Sissoko forms new quartet with Vincent Segal, Émile Parisien and Vincent Peirani
Sissoko Segal Parisien Peirani is a new quartet bringing together Malian kora master Ballaké Sissoko, French cellist & Victoire De La Musique winner Vincent Segal, French accordionist Vincent Peirani and saxophonist Émile Parisien (also both fellow winners at the Victories). The debut album from the new project, 'Les Égarés' is due for release on March 31, 2023 via Nø Førmat! records (Oumou Sangaré, Blick Bassy). Ahead of then, the quartet today release two new pieces of music – watch the video for 'Banja' – shot by Julien Borel at Studio Ferber – and stream 'Ta Nyé' across all platforms from here
Multi-Talented Performing Artist HARRIET CHUNG Releases "Today and Tomorrow" Single
You can hear the love through her music as the multi-talented performing artist, Harriet Chung proclaims in her latest single, "Today and Tomorrow" – available now.
Fernandito Rentas a ritmo de bolero "Por Estar Con Ella"
Fernandito Rentas empieza este nuevo año 2023 a ritmo de "Bolero Cha-Cha" con su nuevo sencillo que lleva por nombre "Por Estar Con Ella". Una canción grabada en formato Big Band con la participación de reconocidos músicos de la ciudad de Medellín, Colombia. Bajo la dirección del maestro Robert Requena y masterizado por el ingeniero Héctor Mora para el deleite de los amantes de este género.
Chloe Star Reveals "Element" Music Video
Today, explosive new pop act Chloe Star reveals the music video for her debut single, "Element." Directed by Jake Woodbridge and produced by Jake Johnston, the "Element" music video is an enthusiastic introduction to Chloe Star's expansive visual world.
Ultra Q share new single 'VR S*x'
Fronted by Jakob Armstrong, the youngest son of Green Day's Billie Joe Armstrong, Ultra Q share new single 'VR Sex' as well as announcing debut album My Guardian Angel out 9th June 2023 via Royal Mountain Records.
HUNDRED REASONS share latest single 'So So Soon'
At the tail end of last year, Hundred Reasons announced that their first album together in 15 years, Glorious Sunset, is due for release on 24th Feb 2023 via SO Recordings.
M(h)aol share new single 'Period S*x' with 70s/French style video
A track that people either love or makes them feel widely uncomfortable, 'Period Sex' is a celebration of periods and how it's still such a taboo subject even for those that would consider themselves progressive – a band known for being political, this was a song they wanted to be really sexy.
Top indie artists come together to raise money for St Mungo's homeless charity
A group of top indie artists Mieko Shimizu, William D Drake, Barbara Morgenstern and Ola Szmidt have joined up together to raise money for St Mungo's homeless charity with their amazing 'Write To Be' EP, out today!
ORBITAL — Penelope Isles feature on "Are You Alive?" || + New Album out 17 Feb
Orbital have today released "Are You Alive?" Featuring Penelope Isles, the third track to be taken from the seminal electronic music duo's forthcoming album Optical Delusion, out February 17.
Finnish Punk Icons Terveet Kädet and Their New Album 'Kaikki kaikkia vastaan'
Revered with a cultish adoration, the band have received influence nods from bands like Sepultura and continually been named one of the best punk bands in the world. Though a touch of metal has tinged their sound in later years, it only adds to the intense thrash assault they bring to the table every time.
JAMIE LENMAN Reveals Surprise New EP 'Iknowyouknowiknow'
Hot on the heels of his acclaimed fifth album The Atheist released late last year, revered alt-rock songwriter Jamie Lenman is delighted to announce a surprise new companion EP, with Iknowyouknowiknow set for release on 5th May 2023 via Big Scary Monsters.
SIVU returns after 5 year absence with compelling new single "Wild Horse Running"
Sivu (aka British songwriter James Page) returns with a new single "Wild Horse Running" – the first new music to heard from him in five years, following his widely acclaimed albums Sweet Sweet Silent (2017) and Something On High (2014).
Jack Harlon & The Dead Crows: watch "Dark Entries" video!
Melbourne-based psychedelic fuzz rockers JACK HARLON & THE DEAD CROWS share a thunderous new track taken from their third album "Hail to the Underground", to be released on February 17th through Blues Funeral Recordings. Watch their hectic cover of Bauhaus' "Dark Entries" now!
GIÖBIA: new track "Consciousness Equals Energy"
Italian psychedelic and acid rock stalwarts GIÖBIA announce the release of their sixth album "Acid Disorted" this April 28th on Heavy Psych Sounds. Listen to the infectious and cosmic first single "Consciousness Equals Energy" exclusively on It's Psychedelic Baby Magazine!
'Consciousness Equals Energy' by Giöbia | New Album, 'Acid Disorder'
Mylar announces sophomore EP Human Statues with new single "Hobby Horse"
London art-pop quartet Mylar announces their sophomore EP Human Statues (out 30th March via Blue Flowers) with the release of new song, "Hobby Horse". Accompanied by another stunning visualiser featuring animation by Yasmine Tara Opre Djedje-Fisher-Azoume, Hobby Horse follows the EP's first single "Stay Close," which was released in late 2022.
Makh Shares New Single "Closer"
Bradford-born Makh is a rapper, vocalist and record producer. Along with creating his own music, he is also a presenter for the BBC Asian Network. Born to Sikh parents but with a multicultural, multi-ethnic family, his music takes inspiration from hip-hop, reggaeton, soul and rock, with sprinkles of South Asian instrumentation, resulting in his own unique stamp on popular genres, such as on his new single, "Closer".
Peaceful Faces shares "Signature Blues" from forthcoming LP
"'Signature Blues' started as an imagined phone call with an imagined ex. What do you do when it seems like someone's doing a lot better without you? Nostalgia is an easy trap to fall into; even if you rationally believe you're not the right fit for someone, it's hard to eradicate that nostalgia-fueled feeling of longing and possessiveness. The song also serves as a showcase for Utsav Lal on piano and my wonderful fellow horn players Eric Stilwell and John Cushing." -Tree Palmedo / Peaceful Faces
Meron T continues to push boundaries with her brand new Amapiano inspired track, 'State of Mind'
Meron T and Sey G are back to kick start the new year with a brand new flavour. From their 2018 debut track 'Hunny', to their more recent A/B side project 'Everything' & 'Don't Let', these two have teamed up again – but this time embarking on a new sound entirely. Taking roots in Amapiano and Deep House, this track sees the pair pushing their boundaries, and delivering us a scorcher for the dance floor. Influenced by the intensity of love, 'State of Mind' is a declaration of devotion, and an attempt to sonically replicate the trance-like nature of it all.
Boston Ballet presents Don Quixote, March 16–26
Boston Ballet and Artistic Director Mikko Nissinen presents Rudolf Nureyev's Don Quixote. The beloved ballet brings the sparkling wit of Miguel de Cervantes' classic novel to life with Nureyev's virtuosic choreography set to a spirited score by Ludwig Minkus performed by the Boston Ballet Orchestra. Don Quixote runs March 16–26 at the Citizens Bank Opera House.
"Rudolf Nureyev's iconic Don Quixote has enjoyed a long history with Boston Ballet. Nureyev was a dear friend and professional idol, and I am thrilled to bring his ballet back after 10 years," said Artistic Director Mikko Nissinen. "Rudolf staged the ballet here in 1982, and he toured extensively with the Company in the role of Basilio, capturing the attention of American and international audiences. Nureyev's adaptation of Don Quixote is one of the best, and I am excited for audiences to experience it and for our dancers to take on the challenging and fun choreography."
NOVA ONE returns with create myself – Out March 31st on Community Records, listen to "dangerous" now
Since their debut in 2018 via a six-track EP titled secret princess, released through Community Records, Providence's own NOVA ONE has continued to create lush, nostalgic soundscapes complemented by the movingly honest performance and, at times, anthem-like quality we find in the songwriting of Roz Raskin. Building on the 60s-inspired pop of their 2020 release (debut album, loveable) NOVA ONE's newest project, create myself, is a continuation of a deeply human conversation around self-acceptance through a prismatic and complex lens, befitting of an experienced musician like Raskin. The album is co-produced and performed by Raskin, Bradford Krieger, and Chaimes Parker at Big Nice Studio in Rhode Island, and is bolstered by supporting musicians Casey Belisle, Emily Dix Thomas, with vocals from Anjimile Chithambo.
YOUR ANGEL Announces New Album Out 3/17
The 11-track album includes recent singles "You Never Say Sorry" and "Misbehave," the latter of which was met with praise from NYLON, Consequence, and Ones To Watch. Teeming with raw emotion and ethereal indie-pop soundscapes, A Star in the Headlights captures a time of contemplation and transformation for YOUR ANGEL.
GREGBLU – SOBA
"SOBA" is the first track of off "GREGS DEMO TAPE", his debut alternative/hip hop album. Along with the release GREGBLU dropped a music video that he filmed and edited himself. In the video we get to dive into a world of juxtaposition, alcoholism, and resentment.
Mylar (Blue Flowers) Announce New EP / Share Single "Hobby Horse"
"A hobby horse is both a child's toy and a personal obsession, so it's quite a good description of the faintly ridiculous process of writing music," Mylar says of their groove-laden new offering, which juxtaposes cascading keys with a vibrant left field sound.
Japanese metal band View From The Soyuz share massive new single and video "Caligula"
Today, Japanese metal outfit View From The Soyuz have shared their massive new single "Caligula". Serving as the second song off their upcoming EP, Immaculate, the track is highlighted by bright and brutal guitar riffs and ends with an absolutely crushing breakdown. The accompanying video focuses on detailed performance shots capturing the band's technical prowess and chaotic energy.