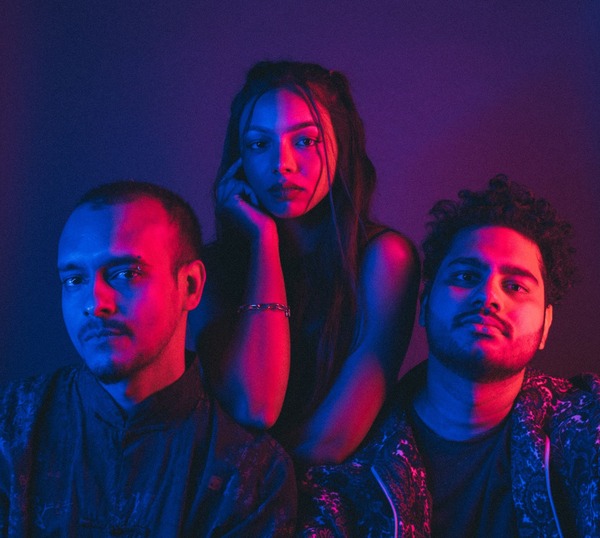 @skopemag news – wednesday – january 25, 2023 @ 2 pm est
@skopemag HQ – http://smarturl.it/skope
@skopemag Menu – https://skopemag.com/2022/07/11/skopemag-editorial-services-the-menu
The Wood Brothers Announce 'Heart Is The Hero' + Summer Tour w/ Shovels & Rope
The Wood Brothers announced their eighth studio album, Heart Is The Hero, will be released April 14 via Honey Jar/Thirty Tigers. Recorded analog to 16-track tape direct from the studio floor with nary a computer in sight, brothers Oliver and Chris Wood, along with honorary sibling Jano Rix, stripped back their sound to its elemental core, focusing on the impact of the performances over studio perfection. The results sonically reflect the themes of presence, grace, and faith that inform the collection's ten songs. A sylvan, acoustic-driven effort, its earthy and energized performances are matched by the visceral songwriting that has turned The Wood Brothers into Grammy-nominated leaders of American roots music, even as their music reaches far beyond the genre's borders.
Baltimore's Bloomr releases "TalkTalkTalk" single, shares video
Bloomr are an American alt-rock band based in Baltimore who channel noisy punk energy and flirt with earworm power-pop tendencies while creating their plaintive melodies.
RAUL KERR (BLOODYWOOD, NO FLAG) Releases New Single & Music Video, "The Vegan Song "Green Goddess"
"Green Goddess is about using plant based food to fight climate change. Whether it was the crazy hot summer, freezing cold winter or natural disasters, 2022 was filled with brutal reminders that climate change is real and now we're all feeling it. Plant based food is the best way to fight back on an individual level. Whether it's having the occasional vegan meal, going all out vegan or anything in between, it time to do anything and everything we can. Help us put the word out and let's kick some ass!" – Raoul Kerr
Louis VI ft Mick Jenkins
"Black and brown people have been left out of this climate conversation yet around the world are on the front line of climate change even though they've contributed the least and that's peak, that can't run. This is about what climate change really means for our future."
ROTTEN SOUND Reveals Music Video for New Song, "Suburban Bliss"
The apocalypse is nigh and Finnish grindcore entity ROTTEN SOUND has crafted the perfect soundtrack to accompany humanity's impending extinction. Aptly titled 'Apocalypse,' the band's eighth studio album is dropping into 2023 with the same blistering speed and chaotic impetus as an asteroid searing through atmosphere and crushing everything upon impact.
SUPER JUNIOR'S YESUNG Releases First Studio Album, 'Sensory Flows'
UNEARTH Drops "The Wretched; The Ruinous" Single
Fall Out Boy Release New Song "Heartbreak Feels So Good" from Forthcoming Album So Much (For) Stardust
GRAMMY Award-nominated and multi-platinum selling rock band Fall Out Boy are offering another glimpse into their highly anticipated new album So Much (For) Stardust with the drop of a brand new song "Heartbreak Feels So Good" –
Tobias Arbo announces debut EP 'Powerlines' – stunning new single "Within" out now
Swedish musician Tobias Arbo has announced his debut EP 'Powerlines' and has released its second single "Within". New EP 'Powerlines' will be released on the 31st March via CRC Records and will feature the previously released single "Saudade" and new single "Within" – the latter, a charming, heartfelt paean to inner peace with one's adult self.
American Rock Trio Female President share new single "Junkie"
Female President is writing and recording their second EP, due out in late spring 2023, yet they were inspired to cover a favorite song by Tyler Cassidy. The theme of their second EP is about the love you find and lose between earth and sky, yourself and others, and your own head and heart. JUNKIE encapsulates the obsession we can create with love, that it almost destroys us. Female President has made a beachy and soulful rendition, mixing blues, vocal power, and the dreamy dissonance of The Beach Boys' Pet Sounds album. JUNKIE invites you to snuggle up and feel all of the feels.
Zoon Announces New LP ft. Lee Ranaldo + Owen Pallet, Shares New Single + Video Via CBC | 'Bekka Ma'iingan' LP Due April 28 via Paper Bag Records
Baaba Maal Releases New Track "Agreement"
Today sees the release of his beautiful new song "Agreement," the fourth track on Being. The hypnotic, looping track emerges from a riff played by Barou Sall, a Hoddu master and long time Baaba Maal collaborator. This traditional Senegalese instrument which prefigures the banjo accompanies Baaba's pure, searching vocal, backed by Mamadou Sarr's delicate percussion. Production from Johan Hugo treads a magical line between ancient and modern, following Baaba's ongoing musical quest to discover where the past meets the future and old becomes new. As ever, the song is about making musical, cultural and emotional connections. The track premiered yesterday on NPR's All Songs Considered.
MetalSucks Premieres "Kimono" Video From Phoenix Psychedelic/Alternative Rock Act
Phoenix, Arizona based psychedelic/alternative rock band MEDIA has issued a new video from their debut EP, Influence, which saw release in the Summer of 2022. The video for "Kimono" is now playing exclusively at MetalSucks.
Take a Trip Behind the 'Kimono' with Media's Latest Tool-Like Single
Raised on TV Premiere "Mr.Blue"
The last we heard from Los Angeles alt-rock trio, Raised on TV, was at the end of September 2022 when they released a fantastic teaser EP titled Around the Sun. Their Sell the Heart Records debut gave listeners a quick introduction to their brand of sun-soaked California alternative rock.
SUUNS release new song "Wave" + share West Coast tour dates
Today experimental Montreal-based rock trio SUUNS share the Ilyse Krivel-directed music video for their new song "Wave." Engineered by Adrian Popovich at Mountain City Recording Studio in July 2022, "Wave" has evolved over the past year and a half of touring in support of SUUNS' 2021 album The Witness.
Metal Titans DEAD BY WEDNESDAY Releases Innovative New Music Video
New England's premier metal band DEAD BY WEDNESDAY released their brand new animated stop motion music video for their single "Mars in Exile." The drummer's 8-year-old son, Orion St. Lawrence, inspired the story & concept, and designed the building brick band characters.
Airplane James Releases "What I'm Into" Video Today, 'Still Hurt' Released 1.11
LA rapper Airplane James released the official video for "What I'm Into" today, following his recently released EP, Still Hurt, on January 11th via Diamond Lane Music Group. In the stylistically black and white visual, co-directed by Airplane James himself, we see a swaggy Plane with LV locs on telling us what he's into, in his own signature melodic wordplay. Still Hurt is Airplane James' first offering of 2023, a thematic continuation of 2022's Lowkey Hurt, featuring guest appearances from Rose Gold, Griff Tyler, Kay Franklin and Jayson Cash.
Ready for broadcast… Palace from Chinese pop sensation Chow Ting Chi
Slumberland announces repress of The Pains of Being Pure at Heart's sophomore LP, 'Belong'
Country Riser Taylor Sanders Releases Official Music Video for "Firecracker"
With the success of her latest single, "Firecracker," Taylor Sanders puting the lyrics into a visual with the release of the official music video. Described as a "powerhouse anthem is an attention grabber from the jump (The Nash News)," the singer-songwriter has been riding the success of this single.
FRIDAYY – BUZZWORTHY R&B STYLIST FEATURED ON SONG OF THE YEAR-NOM "GOD DID" – ROLLS INTO GRAMMY WEEK WITH NEW VISUAL FOR "KNOW THE TRUTH"
New Year, New Visual! The 2023 3x GRAMMY-nominee and quickly rising star, Fridayy returns with a new video for his single, "Know The Truth."
Mary Scholz Releases Music Video For "Ordinary Morning," Produced by Jonathan Wilson
Press Your Luck – New Single & Video "Mementos"
Press Your Luck has a new single and video coming your way January 27, 2023, "Mementos" from their forthcoming Painfully Aware EP. This emotion-evoking and meaningful new single is the follow-up to their very well received, "In My Bones" single and video which has garnered over 47k plays on YouTube and 15k on Spotify.
Razor Braids shares "Nashville, Again"
Michigander Releases New Single "Superglue" // 'It Will Never Be The Same' EP Out March 31
Buzzworthy indie rock artist Michigander, the sonic alter ego of Michigan native Jason Singer, has released "Superglue," the opening track of his forthcoming EP, It Will Never Be The Same, due out March 31st via C3 Records.
Mumbai-based Collaborative Music Project, Arrows Releases New Single "Another Avenue" ft. Riya Duggal
David Britto began his collaborative project Arrows in 2018 after playing bass for Bombay blues-rockers The Tripp and performing extensively at clubs across India as well as music festivals such as Bacardi NH7 Weekender and Sula Fest. While with the band, they released their EP 'Superhuman' in 2016. Britto's solo work as Arrows invites guest vocalists to feature on his songs. As Arrows, he began releasing music in 2019 and has collaborated with artists such as Vernon Noronha, Siddharth Basrur and Raghav Meattle. When David is not composing or performing, he writes about and on the indie music scene for Rolling Stone India. He also runs a successful podcast series called My First Record.