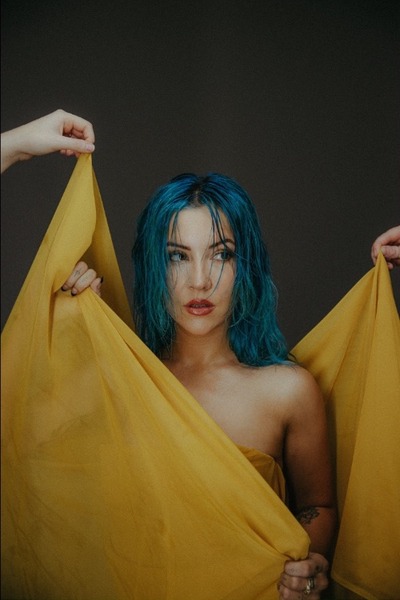 @skopemag news – wednesday – january 25, 2023 @ 11 am est
@skopemag HQ – http://smarturl.it/skope
@skopemag Menu – https://skopemag.com/2022/07/11/skopemag-editorial-services-the-menu
Jess Kallen Shares New Single "The Knife" today via New Professor
Jess Kallen returns today with "The Knife," the 26-year-old guitar wiz's second single from their debut album expected in Spring of this year. Kallen – who has been spotted as a sideperson on tours with Alex Lahey, Rosie Tucker, even the occasional show with Olivia Rodrigo – offers up thoughtfully arranged folkish-rock that navigates grief, rage, and love with raucous urgency and whimsical charm, for fans of Phoebe Bridgers, Indigo De Souza and Haley Henderickx.
Vancouver's Persian Powerhouse Tissa Rahim Debuts Soulful Acoustic Retelling of Heartbreak In "Done, Done, Done"
RUEL ANNOUNCES HIGHLY ANTICIPATED DEBUT ALBUM 4TH WALL TO BE RELEASED MARCH 3RD – NEW SINGLE "MUST BE NICE" OUT NOW!
British-Australian singer/songwriter and pop prodigy Ruel announces his highly anticipated debut album 4thWall to be released March 3rd via RCA Records. Through a journey that spanned over the last three years, Ruel's long-awaited debut album explores his most personal and stellar musical offerings to date.
Lil Yachty Releases Skit Ahead of New Album 'Let's Start Here' !!!
Niven returns with his Glitchy, Experimental, Kinetic Chirrups
Following a five-year hiatus from putting out his own music, British electronic producer and visionary Niven is set to release his highly anticipated EP 'Van' on 10th March 2023 through Blank Dust. This offering is the epitome of a DIY project, with the four tracks within being composed with little more than a small modular synth in the back of a van as the artist traversed Europe in recent years.
Temtris: Release First Single/Video 'Khaos Divine' of upcoming album
Khaos Divine is a stunning, modern metal concept album, which plunges the listener into a tale of a dark and troubled dystopian city where a new world order has taken hold of its population with the offer of a chance to live an almost eternal life, but at the cost of freedom.
Notorious B.I.G. producer and co-writer's new project Short Wave Craft drop modern trip-hop anthem!
In 1993 Dominic Owen's musical home became High Class Productions in Brownsville, Brooklyn where he worked with 90's Hip Hop legends like Rakim, Busta Rhymes, M.O.P. Raekwon and AZ, as well as future R&B giants Anthony Hamilton and Angie Stone.
OVERCOATS SHARE NEW SINGLE AND MUSIC VIDEO "NEVER LET YOU GO" FROM THEIR FORTHCOMING NEW ALBUM WINNER AVAILABLE APRIL 7TH
Co-written by Overcoats, Kate York (Lady A, Little Big Town) and Mikey Reaves (Miranda Lambert, Caylee Hammack), "Never Let You Go" is an irresistible earworm. Featuring the band's signature lush harmonies set against a crisp arrangement of beats and sparkling piano, the track is a slice of indie-pop perfection. The track also demonstrates Overcoats' evolution as masterful songwriters who effortlessly straddle the worlds of pop, country and electronic. The result is their own unique sonic landscape that leaves an indelible mark on the listener.
David Guetta & Bebe Rexha hit an incredible 1 billion streams with global smash 'I'm Good (Blue)'
David Guetta and Bebe Rexha have hit an incredible 1 billion streams worldwide with their #1 mega-hit single 'I'm Good (Blue)'.
In the same week that 'I'm Good (Blue)' reached top spot in both the US Top 40 and Dance Radio charts, the single has hit spectacular new sales milestones around the world.
Don't Miss TEMTRIS' Blasting Single & Video "Khaos Divine"
"Khaos Divine" album is due for release on March 17th, 2023 through Wormholedeath records, including another special Japanese pressing through Wormholedeath Japan!
Baaba Maal – releases new track 'Agreement' from forthcoming album 'Being'
Today sees the release of his beautiful new song 'Agreement', the fourth track on 'Being'. The hypnotic, looping track emerges out of a riff played by Barou Sall, a Hoddu master and long time Baaba Maal collaborator. This traditional Senegalese instrument which prefigures the banjo accompanies Baaba's pure, searching vocal, backed by Mamadou Sarr's delicate percussion. Production from Johan Hugo treads a magical line between ancient and modern, following Baaba's ongoing musical quest to discover where the past meets the future and old becomes new. As ever, the song is about making musical, cultural and emotional connections.
OUT NOW: Sabrina Bellaouel – 'Eclipse'
French-Algerian R&B star Sabrina Bellaouel shares lush new single 'Eclipse' – a starry-eyed celebration of astrology spanning rich, futuristic R&B and classic house with her signature soulful vocals. The follow up to her recent 2022 single 'Trust', 'Eclipse' is an homage to Sabrina's love of clubbing and dance music culture and comes with the promise of two club focussed remixes yet to be revealed. This is the second single taken from Sabrina's sensational forthcoming debut album Al-Hadr, out 3rd March via InFiné. Counting fans in Gal-Dem, Crack Magazine, DJ Mag, The Wire, The Quietus, COLORS and more so far, the LP is set to continue to cement Sabrina's name as one of the most exciting electronic R&B artists of the moment.
XG release music video for 3rd single 'SHOOTING STAR'!
XG have today released the music video for their long-awaited third single, 'SHOOTING STAR' (Wednesday 25th January). The track is available digitally as well as a limited edition box set.
CHARLOTTE SANDS SHARES THE NEW SINGLE 'ALRIGHT' – CURRENTLY ON TOUR AS GUEST TO PVRIS
Mixing the melodic rush, fiery attitude and relentless energy of pop-punk with the kind of voice and instantly irresistible hooks that powers chart-bound pop stars, Charlotte Sands bridges the space between those two worlds. She's just as comfortable opening for My Chemical Romance and YUNGBLUD as she is writing an appreciation of Harry Styles' fashion choices with 'Dress', her biggest moment to date which has exceeded 35 million streams and spent ten weeks in the Top 40 on pop radio in the States. She's firmly on a trajectory which mirrors Katy Perry's breakthrough, when she was racing up the charts while performing on the Warped Tour.
AJET 2F RELEASES DEBUT SINGLE 'RIDE WITH 1' – A POSITIVE DRILL TACK
The single has already been gaining attention and momentum after the original freestyle went viral with his post hitting over 1 millions views on TikTok which led to unofficial rips of the audio being uploaded to Spotify hitting over 1 million streams before being taken down and over 500,000 streams on Soundcloud.
THE XCERTS ANNOUNCE BRAND NEW SINGLE AND NEW LABEL HOME
'GIMME' hits top speed straight from the gate and shows the band at their fully fledged new-selves; a distorted pop sound that feeds off their established work but shows the band at a creative and adventurous stage in their career. The chop-cut guitars, urgent vocals and explosive production push 'GIMME's' pop credentials to their limits and create a perfect sonic sledgehammer. The accompanying video, directed by Zak Pinchin, bottles up that energy, holds the viewer by the metaphorical ankles and shakes for one minute and forty-five seconds – a perfect visual to accompany this fresh chapter of The XCERTS evolution.
VC Pines releases the hypnotic, groove filled new single "Running" (premiered on BBC 6 Music) out now through Believe
"Running" marks the start of a new era for VC Pines. While the last year had taken its toll on the young artist, he has come out of the other side a new and more introspective individual. Focusing himself on a broader range of ideas and letting a more creative pursuit invade his musical orientation. Another rich and sensual addition to his quickly growing catalogue of late. Matching a sweet and alluring production with his own shimmering vocal performance once again, his latest endeavour marks another exciting step forward from an artist brimming with fresh and captivating ideas.
REAL TERMS Reveal New Single 'Cacophony' Released 25th January 2023 via Sofa Boy Records
Liverpool experimental alt-pop trio REAL TERMS are pleased to reveal their new single 'Cacophony' which is released on 25th January 2023.
The track is the latest to be taken from their debut album, VANTAGE, which will be released on 24th February 2023 via renowned math-rock band Delta Sleep's new label, Sofa Boy Records.
With 160 million streaming plays, 'Black Clover' anime theme tune 'Black Catcher' features on new concert Blu-ray/DVD by Vicke Blanka, 'RAINBOW ROAD -Ki-'
Japanese singer-songwriter Vicke Blanka releases his first ever concert Blu-ray and DVD today, January 25, titled 'Vicke Blanka presents RAINBOW ROAD -Ki-'. The release features footage from Vicke Blanka's 'RAINBOW ROAD -Ki-' concert, which was held at Tokyo Garden Theater on October 30, 2022 – his first ever arena performance, in which he expressed his deep gratitude to the fans who have supported his music career. This special one-off set features 19 songs, including an encore.
SWEDISH/SUDANESE NEWCOMER ASYA SATTI SHARES HER DEBUT SINGLE 'LOOK AT YOU NOW' – WATCH THE OFFICIAL VIDEO
Calling on influences from Asya's African upbringing, 'Look At You Now' offers a soul-capturing, unique antidote to the usual pop tropes Yet with Asya's gloriously captivating vocal and the lightness of touch provided by the track's live instrumentation, 'Look At You Know' possesses an immediacy that takes its Afro-fusion authenticity into the pop realm. It also benefits from Asya's bilingual lead vocals, as she switches so naturally from English to Arabic and back again.
Sad Boys Club announce debut album, share first single "To Heal Without A Scar (Is A Waste Of A Good Wound)"
Dark, mysterious and brooding, Sad Boys Club are set to have their breakout year. Newly announced album Lullabies From The Lightning Tree builds upon their previous string of EP releases that have seen them co-signed by the likes of Fred Macpherson, Matty Healy, Phoebe Bridgers and more.
Rising alt-pop artist Jenny Bakke announces debut mixtape & shares new single 'Can We Move To Mars' via 9AM Records
In 2022, Liverpool-based Norwegian musician Jenny Bakke made her musical debut under the moniker Helven, releasing her debut EP, volume 1, a collection of synth-laden lo-fi pop. Now she's preparing to make her return with Morild, her most personal collection of songs yet, fittingly to be released under her own name. Today she has released a new single, the hauntingly beautiful 'Can We Move To Mars', via 9AM Records.
ALIEN CHICKS share EP lead single 'Cowboy' | out today (Jan 25th) via SLOW DANCE
London-based post-punk power trio Alien Chicks announce their arrival with eccentric new single 'Cowboy', out today (January 25th) via cult indie label Slow Dance Records (Saint Jude, Uma).
Forming the lead single from their upcoming debut EP, the group explore a whole mix of genres including jazz, rap, latin, and math rock in their music, providing a surreal social commentary packed with punchy rhythms and eclectic time signatures.
CIRCE releases imperious Dark-Pop single 'Undone'
London dark-pop artist Circe releases imperious new single 'Undone' today. She'll be playing Wide Awake Festival's tips for 2023 show in London on January 30th, before shows supporting Lynks in Leeds and Newcastle as part of DIY's Now And Next Tour in February.
GUEST SINGER return with 'Divine Psychic Hotline' via MNRK
Doncaster duo Guest Singer release new single 'Divine Psychic Hotline' through MNRK MUSIC GROUP on today.
Made up of Jake Cope and France Lahmar, Guest Singer compose dark party songs; anti-motivational anthems for the post-truth generation. A Lynch-esque murkiness inhabits their world. They dexterously peel back the façade of the everyday to reveal the eerie in the intimately familiar. Taut pop hooks, glitchy bass lines, new wave guitar stabs and electronic dance are soaked in the combustible elegance of Cope's delivery.
Rochee Shares New Single "T.F."
Rochee is a singer/songwriter/producer from Brooklyn, NYC, who blends his experience performing/writing for rock bands, pop groups and R&B groups to create a unique alternative R&B sound that is original and incredibly catchy. His music creates sonic landscapes for the listener to get lost in, as can be heard on his brilliant new single, "T.F.", which was co-written with Oscar/Grammy/Golden Globe award-winning songwriter Anthony Rossomando.
URIAH HEEP RELEASE SECOND SINGLE "HURRICANE" CHAOS & COLOUR NEARS RELEASE
British hard rock legends and progenators Uriah Heep release the second single "Hurricane", taken from their twenty-fifth studio album Chaos & Colour, set for release January 27th, 2023 via Silver Lining Music.
The anthemic and epic "Hurricane" carries an underlying historical and mythological theme.
INTRODUCING AVALON EMERSON & THE CHARM
One of dance music's most celebrated contemporary figures, Avalon Emerson, today introduces her new artist project: Avalon Emerson & The Charm with the song "Sandrail Silhouette." Co-produced with avant-pop savant Bullion, the track launches alongside an ethereal dreamscape video via Another Dove—a new label Emerson has launched with long-term affiliate and AD 93 founder Nic Tasker.