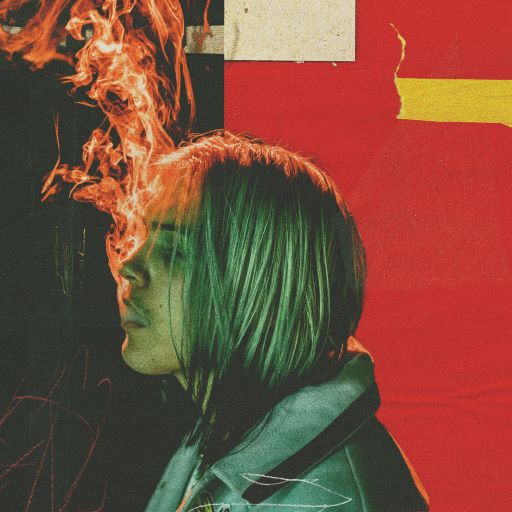 @skopemag news – tuesday – january 24, 2023 @ 8 pm est
@skopemag HQ – http://smarturl.it/skope
@skopemag Menu – https://skopemag.com/2022/07/11/skopemag-editorial-services-the-menu
The 1984 Draft release Best Friends Forever, share video for "Big Star" featuring Susie Ulrey of Pohgoh
The 1984 Draft, a band who channel American rock sensibilities through a '90s-tinted punk and indie lens, released their sophomore LP, Best Friends Forever today via Poptek Records, Sell The Heart Records, and Engineer Records (U.K.). Listen to it wherever you stream music.
Brother Hawk Release video for "Safe Passage" from upcoming new album on Amigo The Devil's label
"The song is about trying to find myself and my way out of depression after my father passed," said Brother Hawk guitarist/singer JB Brisendine. "This is a really special song for me because it's the first time I'm handling harmonica duties on a song instead of my dad. I know he'd shit if he heard it and it makes me smile so big every time I think of that."
Mike Baretz Announces New EP Out Now
A triple-threat singer/ songwriter/ producer, Mike Baretz stepped out from behind the scenes, making himself front and center. After releasing several singles, he just announced he will be dropping his new EP, What I Won't Be.
LIBIANCA RELEASES THE OFFICIAL VIDEO FOR HER BREAKOUT GLOBAL HIT "PEOPLE" VIA 5K RECORDS/SONY MUSIC UK/RCA RECORDS
Evolution of Justin Bieber A Cappella Medley from new Aca-boyband
Country Riser Becca Bowen Shines In New Music Video for "Glitter"
Country artist Becca Bowen is embracing her sparkle in the brand new music video for her original song, "Glitter" which premiered exclusively with Circle All Access. The empowering song is highlighted with stunning visuals, directed by esteemed director Ford Fairchild, who has worked with the likes of Reba, Darius Rucker, Danielle Bradbery, and more. Showered in glitter with Becca's dazzling personality on full display, the video truly captures the meaningful message behind the song.
Aviga & BRØWNS team up again to release 'In the rain'
17 year old Aviga is the next promising producer from Campinas, Brazil. He started producing music at the age of 12 after falling in love with the EDM music he put in the background of Minecraft and Flight Simulator videos he produced for Youtube. "Since then I have produced music for several projects. In 2019 I got the honor of being one of the Walkers in Alan Walker's project Alan x Walkers – Unity", says Aviga.
Afropop star JOEBOY returns with new single
Frameworks announces upcoming album and drops atmospheric new single 'Circles'
Manchester-based artist Frameworks has announced his upcoming album 'Reflections' to release on 14th April and continues his hot streak with new single 'Circles', out 20th January.
Elderbrook drops brand new single 'I'll Be Around'
Grammy award winning multi-instrumentalist, producer and singer/songwriter Elderbrook has teamed up with Amtrac for his latest euphoric gem 'I'll Be Around', out 20th January.
Pairing soaring synths, with hazy vocals, 'I'll Be Around' portrays a comforting story, alongside sharp, poignant production. The track's powerful message and atmospheric arrangement is sure to evoke a dazzling reaction from fans. The track arrives as another teaser of Elderbrook's upcoming second studio album, 'Little Love' set for release on 31st March 2023.
New Freja The Dragon EP Out Today
Freja The Dragon, the Swedish singer-songwriter, multi-instrumentalist, producer, and protégé of Peter Bjorn and John's Bjorn Yttling (whose credits include Lykke Li, Chrissie Hynde, Neko Case, Diplo, Kygo & Primal Scream) has released her mesmerizing new EP Midnight Feelings today via Villa. The EP is the follow up to Freja's 2019 debut Long Gone Girl which produced the heartfelt single "Give You All My Love" co-written with Yttling and tapped by Northwell Health for a TV ad campaign to pay tribute to all their their healthcare workers.
DAHLIA RAY SHARES NEW SINGLE + VIDEO 'BONFIRE'
Evoking endless summer days and bubbling warmth, the new single Bonfire out today from singer-songwriter Dahlia Ray blends buoyant indie pop with 90s sentimentality. Driven by optimism and demure effervescence, Bonfire is also accompanied by a nostalgic music video, complete with a key childhood staple: the humble trampoline.
L.A. EDWARDS PREMIERS NEW MUSIC VIDEO "ALREADY GONE"
LIL TJAY DROPS OFFICIAL VIDEO FOR "CLUTCHIN MY STRAP"
Rising Indie-folk artist ALICIA BLUE
Last month, Alicia revealed her video for the vibrant and lively track "I Want It Faster", and already, it's building up momentum, (Rocking Magpie has said "Blue could easily go the pop singer route, she has the voice for it and effortlessly writes sweet melodies").
Roberta Flack Celebrates 50 Years of "Killing Me Softly With His Song" With New DJ Spinna Remix
Roberta Flack released "Killing Me Softly With His Song" 50 years ago this Sunday, on January 22, 1973. One the greatest tracks ever recorded, her soulful, genre-defying ballad topped the Billboard Hot 100 for five non-consecutive weeks in 1973 before winning three Grammy® Awards the following year.
Sløtface share new single "Nose"
Norway's much-loved Sløtface return today with the anxious pop rush of "Nose", a song that delivers melodic invention and the kind of personal, relatable lyrics that have been a welcome hallmark of the band's sound up to now. The band have also confirmed a title and release date for their new EP "AWAKE / ASLEEP" of February 24th on Propeller Recordings.
Kristin Sesselja drops 'I'm Still Me'. Big secret revealed later later this week
SHORE Releases New Song "Sour Patch"
Today, SHORE releases new song "Sour Patch" available to all digital service providers via Legend Label Group. The song was produced by SeaEss (Night Beds) in Colorado as well as co-written by SeaEss, Colton Shorman and Dawson Shorman. The song delights in the appetite for the charming and innocent infatuation of love surrounded around a fun pop musical encasing. The guys share more about their inspiration about the track.
Rising R&B songstress Alysha releases soulful masterpiece 'Lord, Help Me' OUT TODAY
GODS OF DECAY Release New Single 'Slaughterhouse 19'
The brand new single from post-grunge group Gods Of Decay is titled Slaughterhouse 19, and as it often happens with the band, the track revolves around social issues of today and critiques the fact that individuals become disposable material in the games of governments and corporations.
IDMAN returns with new single/video "HATE"
Somali-Canadian singer-songwriter and artist IDMAN returns today with their first musical offering of 2023; a meaningful new single, "Hate," out now via Arista Records. The highly anticipated release is a powerful track that touches on the heartbreak and emotional turmoil endured throughout a relationship. The poignant song arrives alongside an intimate and captivating visual directed by Khufu Najee (Kehlani, Audrey Nuna, Smino, ROLE MODEL, Tempest). The video beautifully showcases IDMAN's heartfelt and graceful vocals as she contemplates her emotions and accepts her vulnerability, finally letting go of the relationship and love she embraced with all its flaws.
Lillasyster release highly anticipated new album 'Stormtrooper Boombox'
Today Lillasyster release their 6th studio album 'Stormtrooper Boombox', the first entirely in English. The band has had a busy couple of years despite the pandemic. They've done 10 national TV performances, Melodifestivalen (The Swedish Eurovision Tryouts) two years in a row, seen success with two of the album's hit songs Pretender (9,9mn streams) and Till Our Days Are Over (4,2mn streams), as well as six singles more released.
NLE CHOPPA KICKS OFF THE NEW YEAR WITH HARD-HITTING BANGER "23"
RISING GRUNGE-POP STAR 44phantom SHARES BRAND NEW TRACK "cherry cigarettes"
Last year saw 44phantom jump on MGK's MAINSTREAM SELLOUT TOUR in Cleveland, OH and throughout Europe. 44phantom also performed at Landon Barker's birthday concert at The Roxy in Los Angeles. "cherry cigarettes" is just the latest track in 44phantom's arsenal of catchy, genre-bending tunes. Stay tuned for much more to come from 44phantom this year!
TRIPPIE REDD RELEASES SURPRISE ALBUM MANSION MUSIK – EXECUTIVE PRODUCED BY CHIEF KEEF
An ode to Chief Keef's 2018 Mansion Musick mixtape, the project features Keef as executive producer, as well as a featured artist on tracks "ATLANTIS" and "ROCK OUT." Beyond that, the tracklist packs a punch with a stacked list of features including Travis Scott, Future, Lil Baby, JuiceWRLD and Lil B. See the full tracklisting below.
CHLOE STAR Releases Debut Single "Element"
With its driving, trap-inspired beats and dreamy sing-song vocals, "Element" is a carefree anthem about feeling yourself. "It's a song about me just being in my element," says Chloe. "My element is all about confidence, strength, not giving a flying fuck about anything, constantly pushing the limit, living life on the edge, and enjoying every moment that life throws at you."
Märvel launch new single "Catch 22"
LAVEDA — Release Crisp New Single For 2023: "Clean" || + New Album Coming 14 April
Sulky and scintillating, "Clean" sees the two-piece traversing the darker side of dream-pop as moody melodies linger in the air like clouds blocking out the sun on a dismal day.
ALMA SHARES THE NEW SINGLE 'HEY MOM HEY DAD' – LISTEN HERE
'Hey Mom Hey Dad' finds ALMA reflecting on her very personal family experience. ALMA and her twin sisters Anna had to look after their wheelchair-bound parents since childhood after their father was diagnosed with multiple sclerosis and their mother with rheumatoid arthritis. It was a great responsibility for two children and at times a heavy burden – but as the two sisters grew up, they realised the strength that comes with their parents' life. And as ALMA started to achieve success, she realised that her accomplishments would provide both the money and the opportunities to make a substantial difference to their lives.
Siv Jakobsen releases new album 'Gardening' – out today 20/1 via The Nordic Mellow
(20th January) Acclaimed Norwegian songwriter Siv Jakobsen today releases her highly anticipated third album Gardening. Jakobsen will embark on a European tour in support of the album this February, including a newly announced London headline at The Social on 23rd May.
AILBHE REDDY shares new single 'Last To Leave' | New album 'Endless Affair' out 17th March 2023
Ahead of the release of album Endless Affair on 17th March 2023, Ailbhe Reddy will play a number of intimate venues in the United States and the UK, beginning with one of New York's most famous bars and venues, The Dead Rabbit on 3rd February, and culminating in a performance at SXSW in Austin, Texas. After that, she returns to the UK, where she is now based, from where she will embark upon a UK, Europe and Ireland tour, finishing up with two back-to-back Dublin shows in Whelan's Main Room on Friday 5th May and Saturday 6th May. All tour dates below.
Metallica reveal new track 'Screaming Suicide'
"Screaming Suicide addresses the taboo word of suicide," says James Hetfield. "The intention is to communicate about the darkness we feel inside. It's ridiculous to think we should deny that we have these thoughts. At one point or another I believe most people have thought about it. To face it is to speak the unspoken. If it's a human experience, we should be able to talk about it. You are not alone."
FAR FROM SAINTS SHARE THEIR DEBUT TRACK 'LET'S TURN THIS BACK AROUND' – WATCH THE VIDEO HERE
Kelly Jones of Stereophonics has co-written an album with Austin's Patty Lynn and Dwight Baker (aka The Wind and The Wave) resulting in the formation of a new band Far From Saints, evoking a cross-genre sound spanning country, rock, folk, and Americana. Far From Saints is a project born from a shared, unadulterated love of music and collaboration, rich with emotions, creative integrity and defined by the unique sound of Kelly and Patty's vocal harmonies.
TORS SHARE THE NEW SINGLE & EP 'ANYTHING CAN HAPPEN'
In music, one song can change everything. Indie-pop trio Tors have been on the cusp of achieving a major breakthrough for some time now, but the phenomenal fan reaction to teasers for their new single 'Anything Can Happen' has reached another level. Clips of the trio performing the song with their sumptuous, organic vocal harmonies have received over 4 million views in just three videos, with social media sensation Elyse Meyers (8.5 million followers), Meghan Trainer, Melissa McCarthyand singer-songwriter Ber ('Meant To Be', 'I'm Not In Love') leading the names who have already praised the song. The single is accompanied by the release of their debut 6-track EP of the same title and shows that there's still much more to come from Tors.
SAY LOU LOU RETURN WITH FANTASTIC NEW SINGLE
GLÜME RELEASES NEW SINGLE + VIDEO 'FLICKER FLICKER'
Today – Friday 20th February – electro-pop évocateur Glüme releases her brand new single 'Flicker Flicker', released via independent record label Italians Do It Better. The track has been produced by Johnny Jewel (Chromatics, Desire, Glass Candy), and is accompanied by a music video which has been directed by Manny Liotta.
Ash Olsen – CRAZY BITCH!
Norways latest export to take to international waters Ash Olsen.. Tipped within her home territory as one of the most exciting emerging talents to come through over the past year; signed to the country's most prominent management team (Sigrid / AURORA) and already a plethora of nominations under belt including 'Newcomer of the Year' at the Norwegian Grammy's. Ash has also performed at this years Eurosonic festival (Thurs 19th) before coming over to the UK for a series of performances in Spring.
NEW: Sophie Griffiths returns with new cut, 'Modern Love'
Even after soundtracking the most romantic moment of Love Island 2022, Sophie Griffiths is fed up with dating, specifically online dating, in the 21st Century and her new cut, 'Modern Love', is all about that.