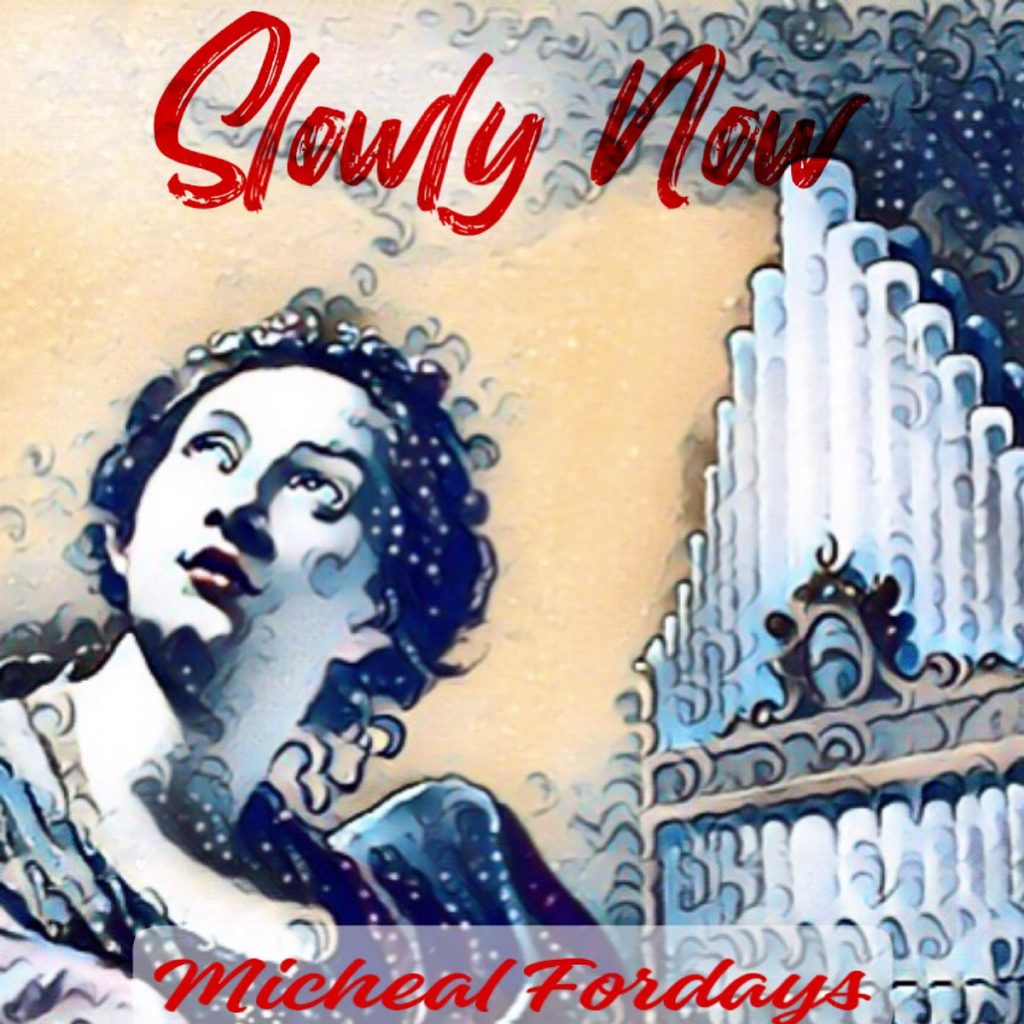 "Slowly Now" is the latest release from alternative rock musician Michael Fordays. The Los Angeles native has refined his craft for years in a variety of projects ranging from experimental outfit Mind Over Four touring guitarist and co-writer with Joan Jones. He stays busy. He's released a growing body of solo work with the common theme being his guitar work at its center. "Slowly Now" continues that trend; Co-produced with Dave Klein, also responsible for the song's drumming and keyboards, the new single percolates with the same irrepressible energy defining his earlier work.
Fordays takes the track on with just the right amount of abandon. He's able to shift from wide open riffing into passages of even greater intensity when he strips the guitar work down to a relentless staccato. Klein plays drums and keyboards on the track, but it's behind the kit when he shines brightest as his playing provides a perfect counterpoint to Fordays' guitar playing.
The lyrics aren't throwaway at all. Fordays enunciates each line clear above the musical fray and puts every bit of himself into the song's numerous payoff lines. The first verse will be a particular favorite for many and kicks things off in stirring fashion. It is obvious that the music comes first, as it should, but "Slowly Now" has an important message that Fordays throws all his interpretive weight behind. They are certain to connect with a vast majority of listeners.
https://michealfordays.bandcamp.com/track/slowly-now
He never overstays his welcome. "Slowly Now" is cut to a manageable length, running three minutes and one second, and focuses on getting the song over. Anyone looking for guitar gymnastics should look elsewhere. He isn't on a misguided virtuoso trip but, instead, looks to lay down tracks that get under the listeners' skin and make personal statements that mean something to him. It's only near the song's ending when he allows himself a chance to rip on the guitar.
Fordays plays bass on the recording as well. The bottom end is an important part of the song's success, and he doesn't content himself with merely keeping time or locking in with the drums. The bass line, instead, complements the drumming without enslaving itself to the beat. It isn't ostentatious though. Fordays' bass playing, like every part of the recording, looks to serve the song.
It isn't easy to write and record a song where the suggestion of imminent chaos seems like it's a beat away, but never comes. Michael Fordays, however, walks that tightrope with confidence. "Slowly Now" is an invigorating addition to his growing discography and it rages full-on with intensity and unquestionable musical skill. He's honed his talents to a razor sharp edge. "Slowly Now" reveals a musical artist working near or at the peak of their powers. This is a guy who can do anything. 
Gwen Waggoner