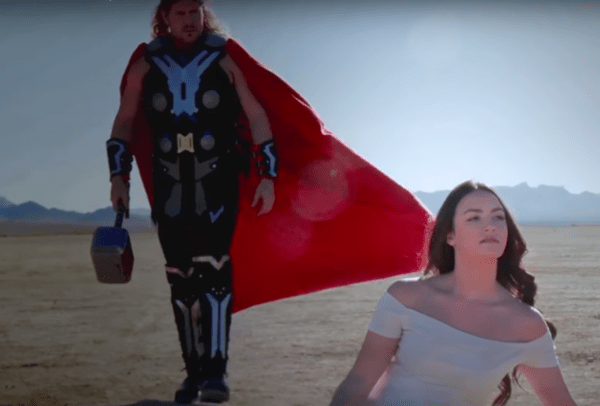 Silk, is a female artist who wants to make music that makes people feel good. Her second single "Thunder God 1" is set to release in a couple of weeks. Like her first single "It's Hot", Silk wrote the lyrics, composed the music, sang and produced Thunder God 1.
In her personal life Silk is a positive thinker, manifestation coach and talk show host. She however keeps the various sides of her work separate using her skills to try to create a positive impact.
The idea behind Thunder God came because of Silk's respect for Thor, the God of Thunder.
After producing the song 'It's Hot', Silk started to think of new music for the next song. Since she was fascinated with the God of Thunder, she thought of a story where a girl was lost in the desert and was found by Thunder God.
There are Gods of Thunder, rain and weather in many belief systems across the world. The God of Thunder is needed to help grow the flora and fauna of earth and to keep balance in nature. He is a provider and caretaker and so it is only natural that he would rescue a lost heroine since it's in his nature to do so. Being handsome of body and face and also good of heart and innocent in some ways, Thunder God could be easily be imagined to fall in love and have a true love experience seeing love through the eyes of a trusting human girl/woman.
Having rescued this girl, Thunder God is fascinated by her. Thunder God 2 contains more of their love. Stay in touch on socials as Thunder God 2 will also be released soon.
The whole story was filmed in Las Vegas with Silk's appearances filmed in Canada. The female actress Lisa Wheeler is a Las Vegas actress while the male actor Jason Sarcinelli is a Los Angeles Union actor who had actually auditioned for the original Marvel Thor movie. He is now in Vegas and Silk happened to know him for a while even before the idea for Thunder God happened. When she first produced the songs Thunder God 1 and 2, she played them for him and he liked them, agreeing to star in the videos.
Having the hero's agreement for the music videos, Silk started to work on them and interviewing several music video producers who could bring her vision to life. Silk was involved in every step of the production process taking over the final production herself after the initial filming and first edit was completed.
Silk brings to you her second song 'Thunder God 1', and hopes that you enjoy it just as much as she enjoyed producing them. The artist has several singles lined up to drop after Thunder God 1.
In early February of 2022, Silk released her debut single "It's Hot" which quickly gained popularity and worldwide attention across the club scene, and continues to receive airplay today. This positive artist has been sharing one important message to her fans and listeners since February: