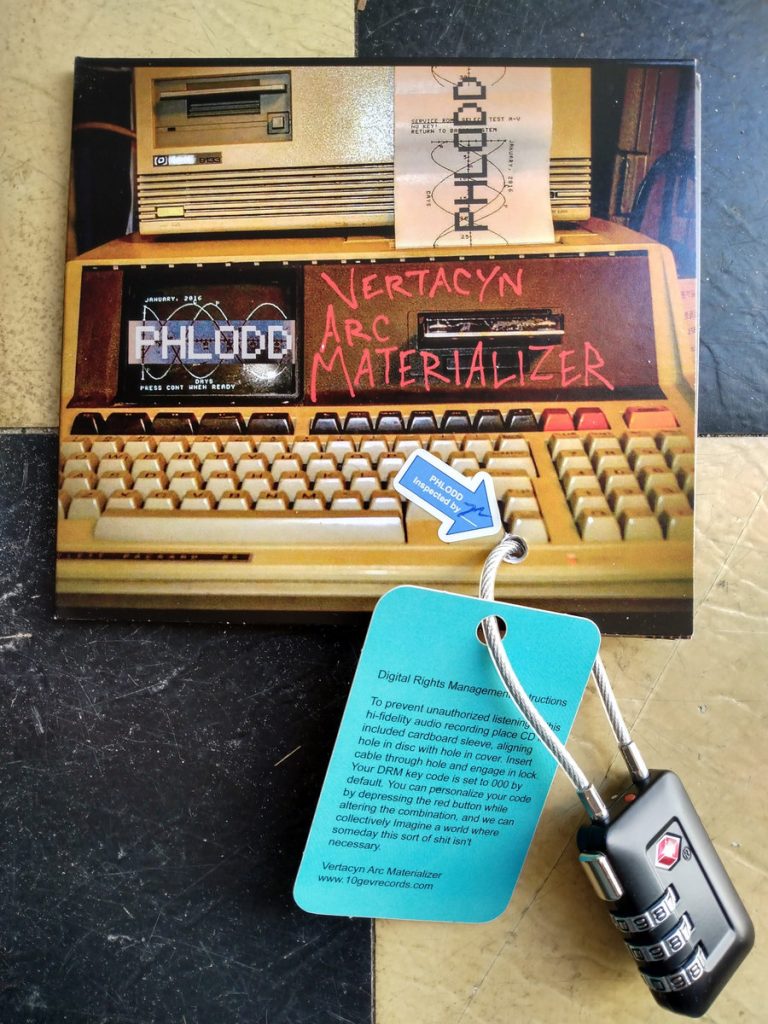 Are you ready for a listening experience you won't soon forget? If you answered yes, then prepare your ears for a wild ride with Vertacyn Arc Materializer's latest release titled 'Phlodd'. This San Francisco-based band will have you questioning everything you thought you knew about music after taking in 'Phlodd'. I can almost bet that the majority of the audience has yet to hear anything quite like this and if they have, then more power to them! For most, 'Phlodd' will be a brand new experience where Vertacyn Arc Materializer will take you on a journey through unfamiliar territory and space.
'Phlodd' is the third release for the art-rock band Vertacyn Arc Materializer and this album is sure to send a jolt to your eardrums. VAM has a wide range of musical influences and so 'Phlodd' includes elements that bounce between A-Z. Never a dull moment when listening to 'Phlodd' as your ears will get a solid and healthy workout. Modern music and transferable oddities combine to make up the interesting & dynamic world of 'Phlodd'.
The records kicks off with distorted audio for the Sunshine State on "Thank You Florida!" where Vertacyn Arc Materializer's unconventional technique is in full effect. The unorthodox pattern continues on throughout the entire 11-song set where VAM brings you zany moments and trippy vibes. On track five, "Weight Loss 101", you may not lose pounds but you will certainly gain some insight into the unusual concoction that is Vertacyn Arc Materializer. Brace yourself for an unstable flight path & pattern on "Moth In A Butterfly Collection" where VAM is flying all over the map. Track seven, "Nicotine Chewing Gum", is bursting with wacky flavor, so savor this futuristic, robotic bubble that is about to POP! On the next number, "Slides", one will hear puzzling lyrics and a mysterious tone making this tune a real head 'n' ear scratcher. You can also SKOPE out the official music video for "Slides" right here: https://youtu.be/eOyTakrdJ-E. On track nine, "Enough On Hand To Forget", get ready to enter the 'Phlodd' galaxy and venture into a warped reality where Vertacyn Arc Materializer is your musical guide. The listener will be slipping into another dimension on the closing number, "The Slip, Slip, Slip" where VAM will blow your mind 'n' ears.
Original is an understatement for VAM's latest release, 'Phlodd', as Vertacyn Arc Materializer takes originality and creativity to whole, new level. 'Phlodd' is a true, audible mind trip that will mess with your perception of sound and leave you speechless & dumbfounded. If you're in the mood for something truly unique, then give a listen to 'Phlodd' by Vertacyn Arc Materializer.
https://vertacynarcmaterializer.bandcamp.com/
https://www.facebook.com/vertarcmat
https://www.youtube.com/channel/UCVCqoPFbMP_jVYcrzQSOYmA
By Jimmy Rae