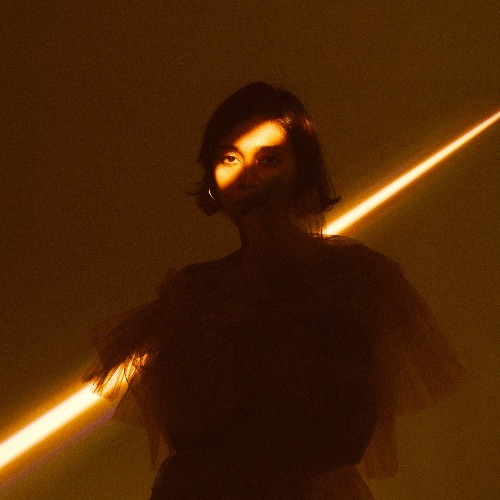 @skopemag news – wednesday – january 11, 2023 @ 12 pm est
@skopemag HQ – http://smarturl.it/skope
@skopemag Menu – https://skopemag.com/2022/07/11/skopemag-editorial-services-the-menu
Legendary English punk rocker, Steve Lake of Zounds, and American singer Mia Dean, release the first single 'Spell' from their self-titled album of duets, Blood Moon Wedding
Legendary English punk rocker, Steve Lake of Zounds, and American singer, Mia Dean, to release the first single from their self-titled, duet album, Blood Moon Wedding: An American Nightmare on Friday the 13th of January. 'Spell' is the opening track on the album and also the beginning of their gothic-noir, road trip, folktale. Set in the sprawling deserts of the United States, Steve and Mia find themselves trapped in an alternate reality, where death and love are the only way through the gates of space and time. Exploring themes of mass murder, gun violence, and trauma bonding, Blood Moon Wedding is a dramatic commentary on the violence in American society.
Rissa Boo – "In My Disquiet" Single + Music Video
Rissa Boo is a multipotential artist. Writer, rapper, photographer and experimented backpacker. Hailin' from Paris, he began his activism through graffiti and breakdance before moving to New York City to feel closer to the Hip Hop culture. He starts rapping on his firsts mixtapes while backpacking in South America, Asia and Africa for almost 2 years.
Ben Stevenson harnesses unconventional grief to create 'Ratbag'
The death of a loved one is always difficult to process. Grief can throw up many emotions, unanswered questions and curveballs along the way. For Coffs Harbour comedian Ben Stevenson, the loss of his mum (who nicknamed him 'Ratbag') was an opportunity to find meaning and alternative perspective to the situation; his slightly skewed life view bringing a unique interpretation, and even humor to the situation. 'Ratbag' sees Stevenson take the darkest point in his life, pairing it with tales, stories & oddities from his childhood, to yank out life, light and absurdity.
LIL SEYI to share "Leather Free Seats (Mosey Remix)" – Thoughts?
Dropping by with a reminder that tomorrow, Kitsuné Musique's Lil Seyi will release a Mosey remix of his track "Leather Free Seats." The original track is from Seyi's latest EP A Blue Tesla Story, which is out now.
Nordic Daughter Announces Partnership with Scandinavian Alliance of Colorado!
Nordic Daughter the hot up and coming Denver artist announces their partnership with the Scandinavian Alliance of Colorado (SAC). They kicked off their friendship with a Winter Solstice event coined after the ancient Viking holiday Jul or as many know it, Yule.
The band performed for the Estes Park Midsummer Festival in June and have agreed to perform again in 2023. The partnership comes after months strategizing and planning long term development with the Scandinavian Alliance. Nordic Daughter is a Rocky Mountain Folk Alternative artist with Celtic influence. Their soulfully introspective tunes turn grief into empowerment and sadness into hope.
Judd Hoos Releases New Single « Good Man Down »
Judd Hoos shares: "Our latest single, 'Good Man Down' epitomizes the live Judd Hoos experience with in your face guitars, huge drums, soaring vocals and a heavy groove. We're excited to strip things down for this single and share with everyone that Rock Music is still alive and it still feels good."
ABBY SIMONE SHARES HER SECOND SINGLE 'WALKING AWAY'
Abby's ear for R&B production is highlighted on the new single Walking Away, where she shares her sensual jazz-inspired vocals. Abby details all the intensity of romance, offering something to calm it singing, "Give me a little bit of your sun/I'll give you some good cool breeze". The quiet melancholy of leaving something behind chimes with long distance relationships and the universal impulse to hide your pain as emotion rises. Like 'Same Sunrise' before it, 'Walking Away' speaks to people who have experienced the pain of separation and the impulse to put on a brave face as your heart breaks.
Sweet Baboo returns with kids TV-inspired 'The Worry' ahead of seventh album
The songs-and-storytime innocence of classic children's television fingerpaints primary colours over Sweet Baboo's latest single, The Worry, a painstakingly constructed ode to joy and a harder-than-it-looks experiment in the most direct of direct songwriting. Drawn from his imminently released, seventh album The Wreckage, the single's gamboling rally against letting negative thoughts creep in is sung with abundant, crayon-drawn, crepe-paper and sticky-backed plastic heart, from parent to child, while inviting grown-ups to practice what they preach.
MICKELSON — XTC'S Colin Moulding Features On: "Only Grey Matter Boiling In My Head" – Out Today
Kicking-off the new year with a choice collaboration, the new single sees the San Francisco songwriter teaming-up with XTC legend Colin Moulding, who provides the track with its wandering bassline and production nous.
HUNDRED REASONS share new track 'Replicate' | New album Glorious Sunset out February 24th via SO Recordings
At the tail end of last year, Hundred Reasons announced that their first album together in 15 years, Glorious Sunset, is due for release on 24th Feb 2023 via SO Recordings.
MODERNLOVE. SHARE THE NEW SINGLE 'RUIN YOUR NIGHT' – WATCH THE VIDEO HERE
'Ruin Your Night' shows the band's limitless potential, an electrifying indie-pop dancefloor filler that feels like a modern missing link between Bloc Party and The 1975. While it rushes out of the speakers with an instant euphoria, its lyrics capture the relatable turmoil of a big night out that ends with the mess and regret of alcohol-fuelled conflict. As vocalist/guitarist Barry Lally laments, "I promise that I didn't mean to ruin your night / I'm sorry it's just what I do." The song was written bymodernlove. and produced by the band with Tom Leach (Lewis Capaldi, Years and Years).
CVC Share New Track 'Music Stuff'
It follows the release of 'Docking The Pay', 'Good Morning Vietnam' and 'Sophie' and is in-keeping with elements of their now signature psych-rock-pop sound. Mojo recently exalted their "seamless three-part harmonies", describing them as being "touched by some hazy flower-powered yesterday"' and Music Stuff' is destined to become the definitive gateway into the sonic world of CVC.
Marie Dahlstrom releases video for BBC Radio 1Xtra-playlisted "Clouds"
Danish, London based singer and producer Marie Dahlstrom has released the video for new single "Clouds", directed by Lennon Gregory (Poppy Ajudha, Sasha Keable). The new single features vocals from MiC LOWRY's Delleile Ankrah, was produced by Dan Diggas (Mahalia, Central Cee, M Huncho) and is the first taste of her second full length album expected for release later this year – the follow up to her widely acclaimed debut Like Sand.
TIANNA ESPERANZA drops brand new single "Lone Child (Ft. Valerie June)" ahead of debut album 'Terror'
Originating from Massachusetts, Tianna's outsider status – queer and of mixed heritage – play a big part in her life and music, with themes of protest and deeper, lived lyricism running throughout her work. In this way, "Lone Child" feels both classic and supremely of the moment – openly combatting sexual violence and colourism and emerging as an anthem of confidence, guidance and freedom, of finding your way through dark times.
SHALOM ANNOUNCES DEBUT LP VIA SADDLE CREEK
Shalom has announced her debut LP Sublimation for March 10th via Saddle Creek. The 13 tracks reflect the many sides of the Brooklyn-based, South African-raised artist with stories of heartbreak, feeling like an outsider, self-medicating and partying, and ultimately choosing love over fear. While she paints the edges of indie rock, Shalom, along with her collaborator and the album's producer Ryan Hemsworth (Quarter-Life Crisis), team up for challenging and vivid arrangements that are danceable, driving, and also delicate. Today you can watch the video for the lead single "Happenstance," a track that finds Shalom world sick. Over a muscular bassline, she sings, "I'm waiting for the day that I can finally walk away from all this bullshit." As the track settles into a mesmerizing groove, she sings over the chorus, "I'm just trying to erase myself whenever I get the chance / my need to evaporate and receive validation at the same time is just happenstance." It's in these contradictions where Shalom's writing thrives and is at the core of Sublimation.
Scott McMicken and THE EVER-EXPANDING Announce Debut Album 'SHABANG'
Scott McMicken of Dr. Dog is ready to switch things up and do something he's only done once before: start a band. Introducing Scott McMicken and THE EVER-EXPANDING and the debut album 'SHABANG.'
MALIK BAPTISTE DEBUTS "ALL YOU NEED TO KNOW" FT. SNOH AALEGRA
Today, GRAMMY award-winning producer and artist Malik Baptiste kicks off a new chapter and releases his new single "All You Need To Know," featuring GRAMMY nominated, Iranian Swedish-born singer Snoh Aalegra.
Sylo mainlines intentionality into highly anticipated EP 'blanket' – out today
Today, frontrunner of the alt-R&B renaissance Sylo releases his latest EP blanket. Built up of intimate ballads and slow-burning grooves, the Korean-Canadian artist meticulously puts together a 7-track portrait of his latest era of life. Taking some time to himself in 2022 to place the utmost intentionality behind his work, the end product is something that feels like a personal serenade –
NEW SINGLE from Maliika – "The Enya of Sweden"
In her atmospheric music productions the Swedish artist Maliika creates moods that recall both Enya and Kate Bush as well as Sarah Brightman. Her dreamy music emerges from inner images, inspired by fantasy worlds with endless possibilities. Anchored in moods sprung from the universal new age culture, Maliika creates her music around melodies, harmonies, and soundscapes that lift her weightlessly shimmering voice.
Temples announce new album produced by Sean Ono Lennon; share first song/video
Temples have announced the release of their long-awaited new album, Exotico, arriving everywhere via ATO Records on Friday, April 14. The album will be available digitally as well on CD, standard vinyl, pink vinyl (indie exclusive), cloudy blue vinyl (band store), splatter vinyl (Levitation exclusive), and a Rough Trade exclusive (color tbd). Pre-orders are available now. Produced by labelmate Sean Ono Lennon and mixed by GRAMMY® Award-winner Dave Fridmann (The Flaming Lips, Mercury Rev, MGMT), Exotico is heralded by today's premiere of the stratospheric first single, "Gamma Rays," available now at all DSPs and streaming services. An official music video is streaming now on YouTube.
Altin Gün return with new album, share single/video; announce biggest U.S. shows yet
An exuberant return to the 70s Anatolian folk-rock sound that characterized Altın Gün's landmark first two albums, Aşk is heralded by today's premiere of the pulse-pounding new single, "Rakıya Su Katamam," available now at all DSPs and streaming services. A space rock-powered take on the folk standard composed by Turkish writer/theologian Mustafa Öztürk, the track is joined by an equally kaleidoscopic official music video premiering today at YouTube.
Japanese metal band View From The Soyuz sign with DAZE records
Based out of Tokyo, Japan, View From The Soyuz are making a world-wide impact with their blend of modern metalcore and melodic death metal. Today, the band announces their signing with North American record label DAZE and their forthcoming EP, Immaculate, set for release on February 10th. First single "When My World Collapse" is a serious headbanger, strewn with dense drumming and captivating guitar riffs. Lyrics take form in both English and Japanese, and Senta from Tokyo-hardcore band NUMB lays a guest vocal feature on the track adding to the band's already pummeling delivery.
d3adc0de Unveil Futuristic Sci-Fi World With "Fight Or Flight"
Awakening from hypersleep, electro-rockers d3adc0de are unleashing their independent debut single and video "Fight Or Flight" today. The duo, made up of Stephen Sims (vocals) and Steven Morgan (instrumentals) are unveiling their sci-fi tinged video, set on a spaceship in the not too distant future. "Fight Or Flight" serves as a prologue to an ongoing narrative that d3adc0de will unveil as they release new music and other multimedia. "Fight Or Flight" is available on all DSPs –
Shana Cleveland announces new album "Manzanita" out March 10th via Hardly Art | Shares new single and video "Faces in the Firelight"
Songwriter, musician, visual artist and writer Shana Cleveland (La Luz) has announced the forthcoming release of a new solo album, Manzanita, on March 10 via Hardly Art Records.
Today she shares the first peek of the LP via the orchestral pop single "Faces in the Firelight." The song is addressed to both her son (written while he was in utero) and her life partner Will Sprott (Shannon and the Clams)
Meteorically rising So-Cal rock band Sun Room kick off the year with "Cadillac"
Holding onto the authenticity of their DIY roots despite their fast rise over the last two years, Sun Room taps into the unbridled energy of four young guys ready to fully throw themselves into the craft. Their EP Outta Their Minds will be released in Spring 2023.
CHIIILD UNVEILS NEW TRACK "GOOD FOR NOW" FEAT. LUCKY DAYE – NEW ALBUM 'BETTER LUCK IN THE NEXT LIFE' OUT MARCH 3, 2023
This latest release sees Chiiild team up with GRAMMY-winning R&B star Lucky Daye, resulting in a mesmerizing ambient track with rich vocals and an otherworldly atmosphere. The two artists previously collaborated on "Compassion" on Daye's 2022 GRAMMY-nominated album Candydrip.
El Ten Eleven announces new album Valley of Fire
"'Not Even Almost', in fact, the entire album, came from visiting Valley Of Fire State Park in Nevada," explains ETE bassist Kristian Dunn. "Overwhelmed by the beauty and surreal nature of the place, I found myself in the rare state of actually living in the moment and feeling awash in true tranquility. There was a sense of not getting close to something transcendent but actually experiencing it, thus the title. It wasn't almost transcendent, it WAS.
Sólstafir Shares Bloody New Music Video for 'Dionysus'
At its core, the music video for 'Dionysus' is an allegory for the inner-violence and tragedy of substance abuse, and for the struggle with an endless twilight of codependent love, inherent.
BLACK THOUGHT & EL MICHELS AFFAIR ANNOUNCE COLLABORATIVE LP 'GLORIOUS GAME' OUT APRIL 14 ON BIG CROWN RECORDS
On the track, flute echoes through a head-nodding beat punctuated by shaky guitars and an eerie vocal sample. Holding nothing back, Black Thought lyrically stalks the soulful production with incisive bars. As poignant and provocative as ever, he laments, "Dale Carnegies with big dreams to get rich quick that fail horribly" before he confesses, "Never been in pursuit of the American dream."
THE FREQS: The Sleeping Shaman Premieres "Poacher Gets The Tusk" By Salem Noise Rock Trio; Poachers EP Nears Early February Release
THE FREQS deliver fuzzed-out, psych-punk, stoner rock, and sledgehammering noise at a crushing decibel. Their fourth EP, Poachers, explores a range of topics surrounding the history of Salem, including the flagship single "Witch" as the band's Seth Crowell is a descendant of Rebecca Nurse, one of the witches hanged during the Salem Witch Trials. The record was recorded, mixed, and mastered by Alex Allinson at Bridge Sound And Stage in Cambridge, Massachusetts, and completed with cover photography Colby Todisco. The tracks "Powertrippin'" and "Witch" feature additional backing vocals by Nicholas Pentabona (Bedtimemagic).
Premiere: The Freqs 'Poacher Gets The Tusk' – From 'Poachers' EP That Drops 3rd February
Hyper-Punk Duo poptropicaslutz! Release Candid New Single, "Sierra Echo X-Ray"
New York duo poptropicaslutz! enter 2023 with a bang and their brand-new single "Sierra Echo X-Ray". Produced and co-written by Chris Lyon, (Chainsmokers, Rina Sawayama, Carly Rae Jepsen) together they built a whimsical soundscape of pulsating synths and glitchy transitions contrasted by dynamic drum patterns. Via auto-tuned vocals and a playful pop melody, poptropicaslutz! tell a witty story of youth while trading sincere lines about the naiveties of navigating intimate relationships for the first time.
Blues Lawyer shares "Nowhere To Go" video featuring some very cute puppets
Oakland band Blues Lawyer joins Dark Entries for their third full-length, All in Good Time, a record of pop-rock songs about living in a world that wants to put your existence on the clock. Today the band shares the puppet-filled video for the new single, "Nowhere To Go."