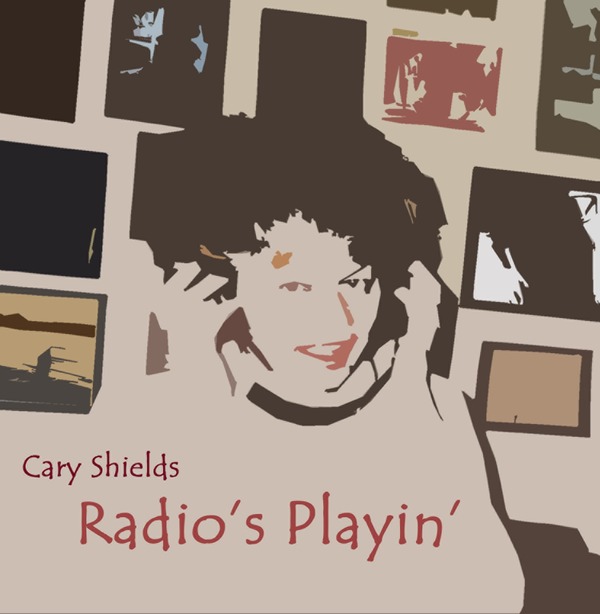 Cary Shields is no stranger to recording & performing memorable songs with years of experience as a hard-working musician. This new EP by Cary Shields hits on all the right notes and is honestly a breath of fresh air. "'Radio's Playin'" five, great songs, so turn up the volume and enjoy the show!
You have Cary Shields on vocals & acoustic guitar, Steve Cooley on acoustic lead guitar, banjo & mandolin and Jeff Faith on acoustic bass. Additional vocals by: Richard Powell, Jeff Faith, Christine Faith, Edie Wilson and Michael Young. "Radio's Playin'" was recorded at Raise the Roof and produced by Steve Wilson and Cary Shields. There are just five songs on this new EP, but this "Radio's Playin'" on forever and ever.
The first installment is a fun, fast and hoppy tune called "Run Rabbit" where the melody will sweep you away. Bounce along to "Run Rabbit" all day long and don't fight it, just go with it! Next, Cary Shields is cookin' up something nice "In the Morning". This song is sizzling with appeal, so rise & shine with "In the Morning". Wake up and sense the wonderful aroma that's like musical caffeine in your ears "In the Morning". Track three, "Capers & Wine", is buzzing with excitement and is paired perfectly with constructive ears and a calm 'n' cool attitude. This number exhibits a laid-back quality that rushes over you, so sit back and relax while you consume "Capers & Wine". Don't turn that dial or change the channel because the title track, "Radio's Playin'" is up next. Cary Shields delivers a shining performance on "Radio's Playin'" that is golden. Cary ends the record on a soothing note with "Peaceful' Hum" that will rejuvenate your musical bones. You might catch yourself humming along to the bright beat on "Peaceful' Hum" because it's very infectious & inviting.
Cary Shields has created a musical montage for your eardrums and what a highly productive listening experience it is. Cary Shields says it best here: "Hey Mama, the radio's playin' songs that gets us singin'". That is the exact spirit that this EP gives off to the listener with just a pure joy & excitement taking place. SKOPE out the official music video for "Run Rabbit" right here: https://youtu.be/Pgl1JJXRAuQ. And make sure "Radio's Playin'" now for ALL to hear!
https://www.facebook.com/caryshieldsmusic
https://www.instagram.com/caryinkentucky
https://open.spotify.com/album/4ux1OjDxPp9YIDMDpwpjNl?si=lozCG7YTTk2LoON80hUrtQ
By Jimmy Rae