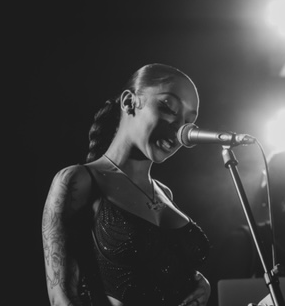 @skopemag news – tuesday – december 6, 2022 @ 11 am est
@skopemag HQ – http://smarturl.it/skope
We Are Scientists' New Album – Out January 20
"Murray says the album's lead single "Operator Error" is the song that bridges Lobes with their previous album 2021's Huffy. "We consider Huffy our daytime record – it's an upbeat rock album designed to soundtrack jet ski rides to the Bahamas and piña colada in aquamarine-tiled jacuzzis. Our new album, Lobes, however, is our nighttime album. As the first song on the record, 'Operator Error' soundtracks that moment when you realize that all of those tiki cocktails you started drinking at 11:00am are going to give you a wicked hangover by sunset, and so your best bet is to just keep the party going, consequences be damned!" He adds, "Lobes is, overall, more electronic, dancier, more ominous, and way sexier than Huffy; 'Operator Error' kicks the door open into that seamy underworld.
Toronto Pop-Fusion's LESLIE TAYLOR Alchemizes Memories Of Traumatized Past With Beauty Of Coming Out In "Look But Don't Touch"
Like it did for so many others, the pandemic allowed for a time of deep reflection, and Toronto-based veteran pop-fusion artist Leslie Taylor combines memories of a brutal past with the sweetness of being 16 and awakening to one's sexuality in her new single "Look But Don't Touch" – available now.
Chew Magna's excellent new alt-rock single 'Spat Out'
Taken from the band's forthcoming self-titled debut album which explores themes of wasting potential, 'Spat Out' delves even deeper into the band's poetic and philosophical fascinations as its inspiration and humour is drawn from one of Laurie's own poems that he reads out during the guitar solo/chorus of 'Spat Out'.
Hamish Hawk shares new single "Money" | New album "Angel Numbers" out February 3rd via Post-Electric
Following a standout live session for Steve Lamacq at Maida Vale Studios last month, Edinburgh's Hamish Hawk returns today with "Money", the third single to be lifted from his much-anticipated new album "Angel Numbers", set for release on February 3rd via Post-Electric.
SHYGIRL — Releases New Single: 'Poison (Club Shy Mix)' || Listen Now
Experimental pop artist Shygirl shares a brand new Club Shy mix of her track "Poison," which was originally released on her debut album Nymph, out now via Because Music.
Brooklyn based experimental rock band Pure Adult share new single 'Hot Crusade' via FatCat Records
Pure Adult are a Brooklyn-based experimental rock duo formed by Jeremy Snyder and Bianca Abarca. At the centre of their music is the far left political ethos and DIY attitude the pair share. Their new single, 'Hot Crusade', is a furiously cynical dismissal of a hope for change. The song is a nod towards the 80s-era evangelical revisionist concept of a "crusade" as well as an indictment of the political centre in how it constantly stalls, choosing momentary safety for themselves at the expense of the poor, both present and future.
NE OBLIVISCARIS Unveils First New Song in Over 5 Years from Forthcoming Album, 'Exul'
Nigerian drill pioneer ODUMODUBLVCK drops slick official video for 'Picanto'
SHYGIRLRELEASES NEW SINGLE 'POISON (CLUB SHY MIX)'
Experimental pop artist Shygirl shares a brand new Club Shy mix of her track "Poison," which was originally released on her debut album Nymph, out now via Because Music. Accompanying the reimagined version of "Poison" is a distorted and hyperdelic music video which flickers in between hallucinations as Shygirl brings her lover back to reality but only when she deems it appropriate.
Singer-songwriter Malenka
Polish-born, London based, singer-songwriter Malenka bares her soul – and eats a lot of cereal – in her new single, 'Pain Makes You Present'.
Born in Warsaw to Monika and Ireneusz, Malenka was raised by her single mother after her musician father left; at 16, after an arty, bohemian childhood she decided to move to London, following in her father's footsteps. Teaching herself English in preparation, she becomes a beekeeper, selling honey-infused beer in an East London pub, and studies Psychology, while working on her songs.
ANIQO – THIS HAS TO STOP (+ VIDEO)
CAMILLA SPARKSSS & MIKE MARE (DALEK) team up for limited edition 7inch single!
Nigerian drill pioneer ODUMODUBLVCK drops slick official video for 'Picanto'
German Black Metal Duo IMPERIUM DEKADENZ Present Gloomy New Single "November Monument"
From the depths of southwestern Germany's Black Forest, IMPERIUM DEKADENZ gathered their strengths from the dark to create their remarkable atmospheric black metal sounds. 'Into Sorrow Evermore', the new album from this sinister unit, will be unleashed on January 20, 2023 via Napalm Records!
CULTØ: Italian melodic death metallers launch "Excrete" video
CULTØ was born from an idea of ​ mastermind Dave, who, in a very short time span, managed to put together a line-up made up of well-known musicians from the Lombardy underground scene (Ghostheart Nebula, Vide, Perfidious, etc.) and record an album of nine songs.
NxFxce Shares New Single "bff"
Mysterious US artist NxFxce shares his vision unlike any other emerging name, confidently tapping into experimental rap, pop and other genres too. The end result is an atmospheric soundscape packed with relatable lyrics and distinct melodic vocals as he details his journey as an artist and paints a vision for his listeners through candid storytelling, which delves into topics such as feelings of insecurity and regret. Such openness is captured on his new single, "bff".
WHO ON EARTH Release Music Video for New Single "The Price"
WHO ON EARTH continue to live by their "Rock's Not Dead" creed, and are back with a new music video for "The Price"! The latest single from the New Jersey rockers (off their debut album, 'Blame') is a hard-driving song, replete with its tasty intro and foot-stomping verses, ultimately setting the table for the powerful chorus delivered by the booming vocals of lead singer Coosh. The track breaks into a musical interlude of thundering war drums, flare-launching guitar shrills, and a solo that narrates the pain of paying the price for "sins of the past."
STALLEY Releases New Album (+ Video "DILLA BAP")
Today, critically acclaimed Ohio rapper Stalley releases his sixth full-length album via his partnership with Mello Music Group on all streaming platforms. Somebody Up There Loves Me does everything but spark the blunt, the latest from the bluecollar beacon is a soulful cruise of hard-earned wisdom and street gospel.
Sparklehorse: Listen To Previously Unreleased Track "It Will Never Stop"
ANTI- Records is honored to share a never-before-heard song by Mark Linkous of Sparklehorse. Distorted and gritty like many of his classic tracks, listen to "It Will Never Stop" below.
"It Will Never Stop":
Rising R&B Artist SHAY 24K Releases "About Me"
Toronto, ON – Canadian R&B singer, Shay 24K dropped her newest single, "About Me" on all major music platforms. The singer's seductive vocals are on full display with the highly anticipated release. The team behind Shay, Green Money Entertainment worked closely with the artist to bring out the very best in the singer/song writer. "About Me" has special meaning behind it and it was important to the artist to get it right. The single addresses Shay's feelings towards her past relationships, and how she changed her focus on providing the best life for her son. Shay 24K has come into her own and her music is headed up the charts. Her vision is clear, and her music is strong.
BLONDSHELL – Signs To Partisan Records + Shares New Single: "Veronica Mars"
A taut and hypnotic slow-build of a track that erupts into a pulsing guitar freakout, with subtly stated lyrics depicting how the media conditions us as children, this will be her first release since signing to Partisan Records.
Black'n'Roll Metal Band DEPRESSIVE WITCHES Drops "Forgotten Icebergs" (Lyric Video)
Lyricist/Record Producer D.Y. McDaniel's "Choose Life" Gives Hope To Those Facing Suicide
According to a study from the Center for Disease Control and Prevention, suicide is the leading cause of death within the USA with 46,000 residents who've taken their own lives in 2020. Within young people aged 10 to 14, suicide was the second leading cause of death.
These alarming statistics caused great concern for NYC-based songwriter/producer D.Y. McDaniel. The father of two daughters, age 14 and 10, McDaniel created "Choose Life" – a song of hope and encouragement for those facing challenges in life.
WOODS OF DESOLATION Streams New Album in Advance via Black Metal Promotion
Atmospheric black metal project WOODS OF DESOLATION will be releasing its new full-length, 'The Falling Tide,' this Friday, December 9, via Season of Mist, making its debut to the label! The record can now be heard in its entirety ahead of Friday's release via Black Metal Promotion!
MYFLORALFUTURE RELEASE NEW SINGLE, "MEDUSA" FROM UPCOMING EP
Richmond-based, one-man metalcore outfit MyFloralFuture has released "Medusa," the first single from their upcoming EP Is It Still Cannibalism If We Eat God?, which is set to drop on Dec. 9. The track is a feverish outpouring of emotions. The strained vocals of Saffron, the face behind MyFloralFuture, evoke a level of pain and struggle that many dealt with over the course of the pandemic. MyFloralFuture gave it a name and bled it out over crashing electronics and bouncing riffs—an ode to one's former self.
WITCH RIPPER release first video single and details of new album
WITCH RIPPER have released the tongue-in-cheek video clip 'Enter the Loop' as the catchy first single taken from the forthcoming album "The Flight after the Fall". The sophomore full-length of the American melodic sludge metal outfit is slated to hit stores on March 3, 2022. Please find all album details below.
SZA TO RELEASE LONG-AWAITED NEW ALBUM 'SOS' ON DECEMBER 9
The genre-defying artist revealed the SOS release date during her performance of "Shirt" this weekend on Saturday Night Live. Marking her second appearance on SNL, SZA also performed "Blind" and appeared in the "Big Boys" music video parody alongside host Keke Palmer and several cast members.
GOOD BISON Can't Quit the Ghost On New Single "Can't Waste This High"
"After being driven off the road by the ghost, running through the dark desert and stumbling upon a convenience store in the middle of nowhere, our protagonist finds a secluded beach with a fire already burning. Although he knows the ghost cannot be far behind, he simply can't resist the call of the flames and the pounding of the bass. Dancing, drinking, and blinded by lights, he fails to notice the eerie orange glow creeping into the edges of the scene."