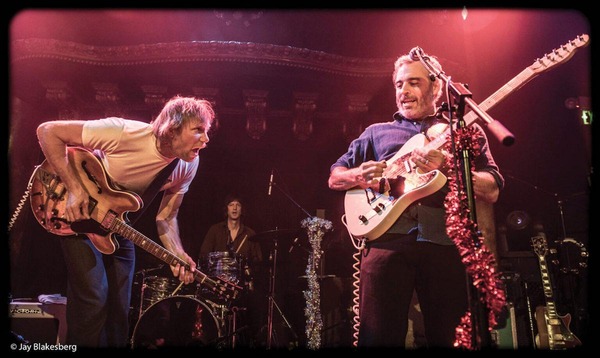 @skopemag news – monday – december 5, 2022 @ 10 pm est
@skopemag HQ – http://smarturl.it/skope
STARCRAZY Premiere The New Video For "Hysterical"
STARCRAZY's new fun-filled, humorous music video for "Hysterical" is premiering now at Sleaze Roxx. "Hysterical" is taken from the band's upcoming 2023 EP Another Day, Another Squalor…, and is also available to stream now on all major platforms.
Premiere of Starcrazy's video for new single "Hysterical" on Sleaze Roxx
The Long and Short Of It Debut Music Video
Baird and Toop are loaded with magic. The Long & Short of It have hit upon a vital creative formula that's far from exhausted. The authenticity you hear in each song, in every rise and fall of the singers' voices, earns your trust in the performers and, most importantly, likely ensures you will keep coming back for more. — Skope Magazine
Fierce Alt-pop Single "Fake" By Nashville's Juliana Hale is Now Streaming On All Major Platforms
"Fake" is full of karmic wisdom encouraging listeners to take the highroad when faced with betrayal.
King Canyon Releases New Single with Son Little
King Canyon, the supergroup collaboration consisting of Eric Krasno, Otis McDonald, and Mike Chiavaro are excited to release their newest single "Ice & Fire" with Son Little on December 2. The new single comes out ahead of the self-titled debut album due out early 2023. So far King Canyon have a few singles including "Mulholland" featuring Derek Trucks, with Will Blades on organ; and their debut single "Keep On Movin."
Rising Punk Rock Artist Gunnar Gill Shares New EP, 'Raging Rebel Rocker'
The EP's title, Raging Rebel Rocker, refers to his ex-girlfriend's father who warned his daughter saying, "Don't go out with that 'raging rebel rocker,' he's going to ruin your life!" The EP's 5 songs live up to its outlaw promises, delving into the details of Gunnar's real life adventures. Juicy stories abound about girls, friends, weed, hateful people, and illicit romantic affairs. "The motivation behind these things is humor—deep down I am a sweet and loveable guy," Gunnar reveals. The songs themselves are tuneful blasts of punk with scrubbed-raw vocals, relentless virtuosic drumming, and instantly familiar choruses. The ultra-hooky "Painted Nails & Grinded Rails" looks at a teenage friend group from different angles, and also examines Gunnar's self-doubts and bouts with loneliness and anger.
INTRODUCING GHANA'S NEWEST AFRO-CARIBBEAN FEST WOODXWATTA
On December 26, and January 4, Ford Communications in partnership with Ghana's Office of Diaspora Affairs will present WoodxWatta – a two-day interactive Jamaican Festival set to take place in the heart of Accra. This festival, unlike any other, is the ultimate celebration of the direct lineage between Ghanaian and Jamaican cultures. WoodxWatta invites the visiting diaspora and Ghanaian investors to shift their focus to the collaborative future of Ghana and the Caribbean; and unlock industry, trade and investment opportunities between the two regions. The festival will feature two panel discussions focused on culture and business, global networking opportunities, and will climax with a proper bashment to close out the "December in Ghana" activities.
Rising Atlanta R&B Artist, ATI, Releases Fresh New Song "Mixed Signals"
Zoe Sky Jordan double single release // Acknowledgment, Acceptance & Forgiveness
The title track, "Selfish", kicks in with echoey, haunting piano and synths trailing a diary style confession which reveals a main plotline of Zoe Sky Jordan's new album. Penned during the pandemic, which saw Zoe and her husband move in with her parents for seven months, the album is reflective, introspective, investigative and dissective. In the same way that many of us gained perspective once we were forced to sit still, Zoe's voyage home, after years out on her own living in Toronto and Nashville, gave her fresh eyes and ears to embrace a new frame of mind.
14-year-old Atlanta pop artist Zeigh-V to release new anthem for young death "Gone Too Soon"
Zeigh-V describes the heartbreak involved in losing the people she loves in her new single, "Gone Too Soon." Her music is like poetry, putting emphasis on the emotion in these tough times. She uses her powerful words to impact her audience. We share in her every emotion. Zeigh-V sings, "You could have won first place/You could have had it all/We could have gone to prom/But the writings on the wall/There's all kinds of things that I could've said/Now I don't have the chance/All our messages on read."
New Video by Trizz & MIKE SUMMERS "ON AND ON" (feat. XV)
Trizz & MIKE SUMMERS dropped the visuals for "ON AND ON". The track featuring XV is taken from Trizz & MIKE SUMMERS' album "BASELINE CAVI" that was released in September this year. Begin of November the duo also dropped the deluxe version of the album with an additional of 6 new tracks on top of the original 14.
Hungarian Grammy winner Belau cooperated with Massive Attack's vocalist
New Christmas Release from KIDZ BOP Kids 'KIDZ BOP Christmas'
KIDZ BOP is the #1 children's music brand! KIDZ BOP's family-friendly new album, 'KIDZ BOP Christmas,' is the perfect soundtrack to get everyone in the spirit this holiday season!
Featuring today's biggest holiday hits sung by kids for kids like "All I Want For Christmas Is You," "Santa Claus Is Coming To Town," "Rockin' Around The Christmas Tree" and many more, 'KIDZ BOP Christmas' is sure to be a favorite for this year and many more to come for families everywhere!
The Mother Hips share their "addictive, psych-tinged" cover of Buffy Sainte-Marie's "Codine"
Mother Hips' co-founder Tim Bluhm recounts: "When we were teenagers we were on a road trip in the Great Basin with my older brother and some of his friends. They had this cassette tape with a lot of weird music on it and one night at the campfire this song came on and freaked us out," Tim Bluhm explained. "He wouldn't tell us who it was but it stuck with us. We later discovered that it was the Charlatans covering a Buffy St Marie song. It seemed like it would fit nicely with the songs we were recording in Santa Fe."
New Single "Lobby" By Vicky Chand
"Vicky Chand" has just released his new Single entitled "Lobby" released on December 1, 2022. This song is an upbeat, dance record with R&B and Trapsoul Vibes.