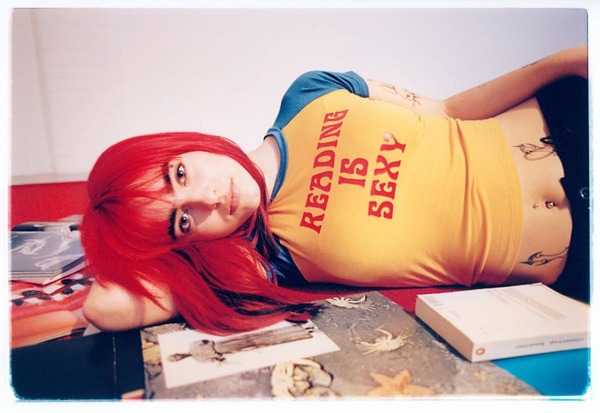 @skopemag news – friday – december 2, 2022 @ 3 pm est
@skopemag HQ – http://smarturl.it/skope
Zahna Announces New LP And Releases Powerful Single "Die For Something"
Today hard rock and modern metal powerhouse Zahna released a massive new single "Die For Something," which features the rich, deep voice of Patrick Madsen, also known as rising rock artist, Nesdam, and husband of Zahna. The duet's explosive chemistry is evident in this soaring arena rock epic.
"LENNON, THE MOBSTER & LAWYER – THE UNTOLD STORY"
In his new memoir, John Lennon's lawyer takes you inside the courtroom and behind the scenes at Lennon's epic lawsuit vs a notorious mobster/music mogul
Before John Lennon retreated peacefully into private life in 1975, he fought a major legal battle that flew under the public's radar. At the same time John's Rock 'n' Roll oldies album hit the market, the notorious Mob-connected owner of Roulette Records, Morris Levy, released Roots, an unauthorized version of the same record. Levy used rough mixes of John's unfinished Rock 'n' Roll recordings, claiming the former Beatle had verbally agreed to the arrangement. The clash led to a lawsuit and countersuit between Levy and Lennon.
In his new memoir, Jay tells the intimate story of how he worked closely with Lennon to rebut Levy's outrageous claims. He also recounts how John explained his recording process in poetic, exacting terms before a judge who knew little about the Beatles and rock and roll. Lennon, the Mobster & the Lawyer (Devault Graves) captures the high drama of the courtroom skirmishes in this previously untold story, using transcripts, testimony and documents from the trial. It also paints a detailed personal picture of John and his world in 1975-76, when he was soon to have a new son and went into happy seclusion to be a husband and father. – lennonthemobsterandthelawyer.com/
New Music This Week – Neil Young, White Lung, Beach Boys, Richard Dawson and More
New Releases for December 02, 2022 – Here are the AllMusic editors' picks for the most noteworthy releases this week. Looking for more? Visit our New Releases page.
KATIE GREGSON-MACLEOD SHARES SONGS WRITTEN FOR PIANO EP
FORTUNE CHILD Releases Official Lyric Video for Fool Me Once"'
Israel's Twisted Mind Keeps It Classic With "Long Live Rock & Roll" Off Upcoming "From Slave To Prophet"
"This song was actually born twice, two band members wrote the lyrics, and both of them took different approaches to the song's title. We love the naivety of the song's concept – our big yet simple hope, to love our daily creations, making music our main activity, and live a rock & roll lifestyle. The music that surrounds this song has tons of awesome guitar riffs and powerful melodies, and something like three and a half tons of Middle Eastern instruments such as Oud and Bouzouki spicing it up and creating one tasty dish."
INVICTUS Drops New Video For "Eagles"
OUT TODAY _ art pop / alternative _ 12/2] Uhl makes magic on her debut EP, "Channels," shares incredible fairytale video
lozeak SHARES POWERFUL NEW SONG "CUTTHROAT"
"I always struggle with upsetting people, and I struggle to end relationships or friendships because I don't wanna be the bad guy," lozeak says of its meaning. "But as I was writing that I realized that sometimes you have to be."
Jenny Palacios Releases New Single "Clean Break"
"Clean Break" is the sequel to a song that Palacios released earlier in 2021, "Convenient." Where that song listed the reasons to leave a relationship she didn't belong in, "Clean Break" came out of the uncharted territories of the aftermath of leaving – she wondered, "Is it too soon to catch up? What memories can I revisit and come out unaffected? And ultimately, if I'm still asking these questions, am I just plain not over it?"
Instead of trying to salvage what's left and hold out for hope, sometimes it's best to stop kidding yourself and just make a "Clean Break."
All-Star Charity Project FEELINGLESS Releases New Album "Metal Against Animal Cruelty"
All-star charity project Feelingless has released its brand new studio album Metal Against Animal Cruelty via Noble Demon. Brought to life by Hugo Markaida, member of Spanish melodic death metal band Rise to Fall, Feelingless is a project to support animal rights and to give a voice to the voiceless. With guest appearances by the likes of Björn Strid (Soilwork), Jon Howard (Threat Signal), Christian Älvestam (Solution .45, Miseration) and Ettore Rigotti & Claudio (Disarmonia Mundi) – just to name a few – Metal Against Animal Cruelty offers eleven tracks and the proceeds raised from this release will be donated to local animal shelters in Spain and to 'Animal Equality' (https://animalequality.org/), a well respected, transparent and very efficiently working international animal welfare organization.
Out Now From Starling Arrow "By The Jordan"
Starling Arrow is an all-star cast of spirit-folk songstresses featuring Leah Song and Chloe Smith of Rising Appalachia, Tina Malia, Ayla Nereo, and Marya Stark. Powerhouse songwriters in their own right, and innovative leaders within the industry, the joining of the 5 songwriters and singers have created a potent gift of synergy. All share a common devotion for the love of songwriting which they have elegantly captured in their debut album, Cradle, due out February 2023.
[Single] Act-1 & Sankofa – Flowerpot Head ft. Showrocka prod. by Explicit Mass Productions
"Three MCs, one raw beat, no hooks, run it! "Flowerpot Head" is the lead single from "VLTR KMBT," launching the team up of Rooftop god ACT-1 and Fort Wayne motormind Sankofa with a fire-barred feature from New Haven's lord of the verse Showrocka. Explicit Mass Productions provides the sonic backdrop for these three wordsmiths to lay their groundwork.
Mychelle Drops Disco-Laden "Tightrope" Remix
JOSEPH LAWRENCE RELEASES NEW SONG & LIVE VIDEO "EMPTY HOUSE"
"Empty House" finds Lawrence weaving technically astonishing vocal runs in and out of emphatic production from his collaborator, Fryars: it is a dexterous performance, one that shows the range of Lawrence's abilities.
UNDERGROUND METAL DARLINGS RIKETS RETURN WITH FUTURISTIC NEW SINGLE, "MISERY"
Noah Cyrus Releases Deluxe Edition of 'The Hardest Part,' Plus New Focus Track 'Set For Life.'
Following the release of her debut album The Hardest Part [Records/Columbia Records], and a SOLD-OUT North American headlining tour, GRAMMY® nominated, multi-platinum selling songwriter and musician Noah Cyrus has released a special deluxe edition of her critically acclaimed full-length. Produced by Mike Crossey, the album features a brand-new track titled 'Set For Life,' as well as alternative versions of 'Noah (Stand Still)' Ft. Billy Ray Cyrus, 'Hardest Part,' 'Ready To Go,' 'Unfinished' and 'I Burned LA Down.'
BLOODY CIVILIAN – NIGERIAN SINGER/SONGWRITER/PRODUCER – RELEASES "HOW TO KILL A MAN"
Born and raised in Abuja before relocating to Lagos, Bloody is a storyteller before anything. Using her work to platform African art and history, she draws from her West African heritage and international artists such as Frank Ocean, Kid Cudi, and Tame Impala among others to create a unique artistic vision unlike any other. HTKAM marries the best of both these worlds, combining an innate penchant for instantly punchy, satirical hooks with sweeping melodies into a fully formed and startingly powerful debut that is singular in nature.
GYAOS:DIABOLICAL Release New Single "Burn The World"
Exuding a ferocious intensity, GYAOS:DIABOLICAL's fierce new album In Accordance With The Prophecy will release on January 13th, 2023. Drawing together extremes of thrash with elements of black metal, the album contains a ruthless portrayal of the trials and tribulations emerging from social unrest born from systematic inequality. The band has released another taste of the upcoming album with new single "Burn The World".
Grace McKagan releases introspective debut EP 'Heart of Hearts'
On today's release, McKagan shares, "This EP represents softer aspects of myself. Listeners can expect a vulnerable and more honeyed sonic experience than they have ever received from me and my past musical projects. What I feel to be the whole ethos and resonating theme of this project is identifying with the commonality in all of us; insecurity, sorrow, heartbreak and kindness. Or perhaps, at least attempting to see the good in a world full of some many pre-disposed judgments and hate."
LEWIS CAPALDI SHARES NEW SINGLE "POINTLESS" TODAY
NEW MUSIC: Eric Krasno's King Canyon Drop New Single "Ice & Fire" ft. Son Little
King Canyon, the supergroup collaboration consisting of Eric Krasno, Otis McDonald, and Mike Chiavaro are excited to release their newest single "Ice & Fire" with Son Little on December 2. The new single comes out ahead of the self-titled debut album due out early 2023. So far King Canyon have a few singles including "Mulholland" featuring Derek Trucks, with Will Blades on organ; and their debut single "Keep On Movin."
For Skope: Dannic debuts on Nicky Romero's Protocol with "Your Love" (out now)
Zahna Announces New LP And Releases Powerful Single "Die For Something"
Today hard rock and modern metal powerhouse Zahna released a massive new single "Die For Something," which features the rich, deep voice of Patrick Madsen, also known as rising rock artist, Nesdam, and husband of Zahna. The duet's explosive chemistry is evident in this soaring arena rock epic.
Check out Wayne Static Featured In Shock Rock Movie Teaser!
Rising Streatham visionary RAF-SAPERRA fuses Punjabi influences with East Coast rap instrumentals for "Modern Mirza"
Keith Burns Releases New Music Video "Came Here To Drink"
Burns wrote and produced the song with long-time collaborators, Ray T and Isaac Harris and is releasing the track on his label, Song Consortium. It will be available on all digital platforms on January 6, 2023.
Allie Crow Buckley Shares Brooding Dark Pop Ballad "Naked At The Feast"
Los Angeles indie artist Allie Crow Buckley shares her dark new single, "Naked At The Feast." She explains, "I became transfixed on the God Dionysus – the God of wine and chaos. As chaos ensued all around us, I, like many others, reverted to escapism. Dionysus famously dies by being eaten alive by his followers in psychedelic splendor. And as we all fell deeper and deeper into chaos, I thought of this myth often. To submit to the chaos. A few months later, in a cottage in the woods, I saw a book upon the shelf entitled 'Naked at the Feast' I harkened back to the imagery and ethos of Dionysus. Sat naked at his own feast, waiting to be eaten alive." The song was recorded at the 4AD Studio in London, and was mastered at Abbey Road. It was written, recorded, and produced by Allie Crow Buckley and Jason Boesel of Rilo Kiley.
LA's Taleen Kali shares new emotional single "Fine Line"
""Fine Line" kicks off side B of the record. I wanted to explore the ways we feel marked by love and pain. How much of an impact the smallest of impressions can make. And how they can feel when they fade. I wrote this song in the summer of 2018 right when the last album Soul Songs was coming out. The process of putting out my first solo record was so strange and cathartic that a handful of new songs just came spilling out during that time, and this was the first one. I really wanted there to be a demarcation for side B of Flower of Life so "Fine Line" is written in a minor key, setting the tone for the 2nd half of the album." -Taleen Kali
Adeem The Artist Releases Acclaimed New Album "White Trash Revelry"
Earlier this week, The New York Times posed a question about Eastern Tennessee-based, queer songwriter Adeem the Artist: Can modern country music make space for them and their experiences? With their brand new album, White Trash Revelry—out today via their own label, Four Quarters Records (more on that below)—Adeem makes a case that their songs and performances won't be holding them back. Brandi Carlile recently called Adeem "one of the best writers in roots music," and American Aquarium's B.J. Barham was quoted in the Times piece saying, "People aren't coming to shows because of a nonbinary singer-songwriter. They're coming because of songs."
UNQUIET MUSIC LTD To Release New Single "I Succumb"
will hyde Shares "as the world is passing by." EP
Speaking on his new project, will shares, "'as the world is passing by.' is a search & longing for something more than myself. i used the themes of places to describe the search for something more & to explore different parts of me. in my previous ep, "nothing ever changes.", it was much more of an introspective struggle for peace. now, i'm stepping out into the world to see how other relationships, places & experiences shape me as a person. in that sense, it's as much a search as it is a documentation about my life. with each new place, whether it is LA or Amsterdam, i am able to compartmentalize each emotion or feeling i have felt to a certain period of time or experience & paint it the way i want."
Singer-Songwriter Dylan Dunlap shares vulnerable single "Common Denominator" 
Dunlap shares, "I couldn't have imagined being in the studio and cutting it the morning after a breakup. I barely held it together through that last screaming chorus, and we all just knew when it was done that it was the one. with absolutely no distractions, common denominator tells the raw & ugly truth of what it's like to live with autism, losing somebody, and wrestling to believe if I'm even worthy of love at all."
TODAY pop artist noelle collabs w/ Virginia To Vegas on pulsing track "Daydreaming"
The pair have since written together over the years, but noelle knew she had something special with her new song "Daydreaming." Timing is perfect as noelle heads out on the road for the first time as the opening act for the 'Rock, Paper, Scissors' tour in support of Virginia To Vegas & Ria Mae. noelle will be joining VIIV on stage each night to close out the show with "Daydreaming."
THROAT LOCUST Get Violent on New Single "Corruption & Greed"
Influenced by classic Florida death metal, but seasoned with BOLT THROWER and PANTERA's Texas groove, THROAT LOCUST seeks to create extreme music with a broad appeal. The new EP Dragged Through Glass will be unleashed on January 6th, 2023.
Fuze the MC, GAM, Tone Oliver, & Honest in 10land Connect On "Programmin'" Produced by Michael Sneed
Oakland-based nonprofit Oakstop Alliance presents "Programmin'," the second single from their forthcoming compilation album Royalty Summit. "Programmin'" is a soulful laidback Rap tune produced by Michael Sneed and featuring Fuze the MC, GAM, Tone Oliver, & Honest in 10land. Due out December 23rd, Royalty Summit is a 12-track album curated by Oakstop Alliance and Homeboy Sandman to showcase Oakland's most exciting homegrown Hip-Hop talent. Stream the new single "Programmin'" –
LOS AUTÉNTICOS DECADENTES Release New Single Ft. Andrea Echeverri "Se Me Ha Perdido Un Corazón'
Si hay una artista que se metió en el corazón de la canción popular y dejó una huella indeleble en la movida tropical por éstas latitudes, esa fue GILDA. Y como no podía ser de otra forma es parte fundamental del ADN Decadente.
LATTO, GLORILLA AND GANGSTA BOO LINK UP FOR "FTCU" — SINGLE AND VIDEO OUT NOW!!!
Directed by maliaSHUTup, the accompanying visual shows Latto and Glo showing out and going up in the club. This release follows Latto garnering two Grammy nominations for "Best New Artist" and "Melodic Rap Performance" for "Big Energy (Live)." Recently, the three-time AMA nominee and 4x VMA nominee also presented at both respective shows in addition to being announced with the honor of the "Breakthrough Artist" Award for the 2022 Variety Hitmakers.
Music Submission: antstat
NYC Lo-Fi Artist/Producer Chris Mazuera Shares 'Let's Take A Trip' Album
Today, New York-based producer and lo-fi craftsman Chris Mazuera shares his latest album, the ten-track Let's Take A Trip via Nettwerk. The multi-instrumentalist released six singles leading up to the project, which received adds to Spotify's chill lofi study beats playlist and Apple Music editorials such as 'SLEEP' and 'LoFi Jazz – Global.'
Seaning Shares New Single "Brainwaves"
Ambient Neo-classical Artist Alaskan Tapes Shares New Track "W(e)ave"; Album Out January 
Today, Juno-nominated Toronto-based composer Alaskan Tapes shares the latest track, "W(e)ave," from his upcoming album, Who Tends A Garden, out January 13, 2023. As the last track on the record, he explains the significance, "For 'W(e)ave' I tried really hard to stick by my typical structure of ambient pieces, fade-in intro, floating bass comes in with the melodic pieces and then fade everything else. It feels stable, which I felt was very important for the last piece of the album, especially since the track before weaves in and out of multiple musical ideas. This one is what it is and doesn't try to be anything else."
Stream the full 44 track OVENS reissue, out today on Tankcrimes
Tony Molina has played in a LOT of bands – a rough estimate would put it at about 14 bands. But OVENS are the band where you can really hear Tony developing the sound / style that he would fully realize in his solo career, which started around 2009. There's a note included in the 2009 release of OVENS, which has previously only been available on CD which gives a great deal of context as to why their only album release was a 44 track CD:
Shimmy-Disc Announce Daniel Johnston Tribute Compilation, Re-Released for the First Time on Vinyl
Today, Shimmy-Disc announces the first-time vinyl release of I Killed The Monster (due February 10), an 11-track compilation of songs written by the celebrated American music legend, Daniel Johnston, whose classic LPs 1990 and Artistic Vice were produced by Kramer — the former at his legendary Noise New York recording studio and the latter at Daniel's home in West Virginia — and released on Shimmy-Disc in 1990 and 1991, respectively.
LOST KINGS RELEASE "WONDERLUST" + ANNOUNCE 'I THINK I THINK TOO MUCH' TOUR
The upbeat track flexes Lost Kings' production finesse, featuring pulsating, heavy bass before delving into a flurry of synths and piano. Driven by melodic vocals, "Wonderlust" looks back on a missed connection and wonders what could've been.
Sophie Jamieson Releases Debut Album 'Choosing' & Shares New Video via Bella Union
VALCATA Release Visualizer For "Paralyzed"
The ethereal symphonic metal project VALCATA return with their powerful new single "Paralyzed". Bringing together an array of talented musicians from across the globe, VALCATA manifest an immense and enthralling sound.
"This song is about how being a musician can sometimes be torturous and depressing, because there's a climb to success that seems so insurmountable," says composer Oha Cade.
"I'm sure not only musicians can relate to this, but anyone who has a dream or a goal and sometimes feels lost. "Paralyzed" is about a moment in time that many of us feel, where the future seems bleak. There is hope of course, and my hope is expressed in the creation of the song itself. I'm extremely grateful to have worked with the insanely talented musicians who have brought this song to life."