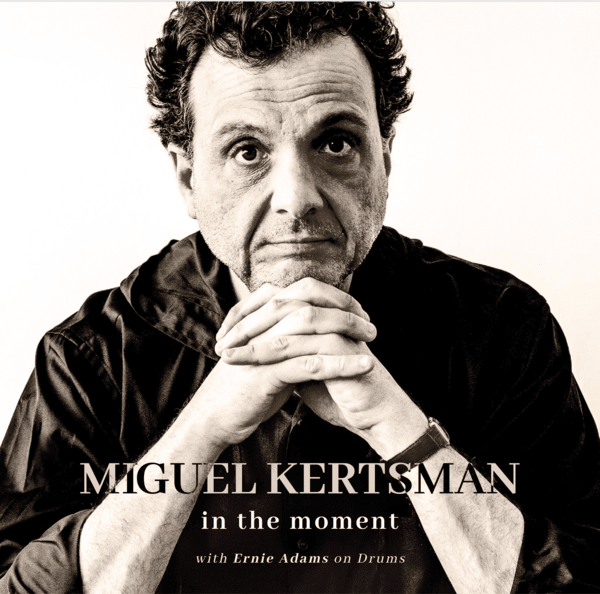 Miguel Kertsman has captured musical lightning in a bottle with his latest release titled 'In The Moment'. Miguel Kertsman is most certainly 'In The Moment' with his new album and just having fun making music at the end of the day. Miguel Kertsman is an accomplished composer & keyboardist and on his most recent project, Miguel has successfully crossed musical boundaries. With a wide array of elements from progressive rock and jazz-fusion to Brazilian and Eastern, 'In The Moment' is experimenting with sound for all the right reasons.
This album also features Ernie Adams on drums and I was shocked to discover that Miguel Kertsman has never played with Adams. When you hear 'In The Moment', both musicians are locked in and completely in the zone as a unit where the music seems to come across naturally. With creative improvisations and clever mixing, 'In The Moment' will fully satisfy your musical palette.
On the opening number, "Driven", an exciting sound will hit your eardrums and will put your senses on maximum overdrive! Buckle up and hold on tight as you go on an exhilarating ride with "Driven". We're heading into "East West" where the listener will be lured into an exotic world full of wonder & surprise. The title track, "In The Moment", is up next and what a fantastic effort overall where Miguel Kertsman is stealing the show with a magnetic performance. An intense sensation rushes over you on the following composition, "West East", where you will be listening on the edge of your seat as the mysterious tone pulls you in. It's time to speed things up a bit on "Acid Blues Bop" where Miguel Kertsman and Ernie Adams are playing at a frenetic pace while also keeping it nice 'n' steady. A soothing melody will ease your mind, body & soul on "Ipanema Love" where the whole song is just pleasing to hear. Get ready to let loose on "Fusion" where it's time to go bonkers and embrace the shifting of notes and freedom of artistic expression.
Miguel Kertsman has created material that is engaging and highly imaginative on 'In The Moment'. Letting the music take to you to undiscovered places and new spaces is what this record is all about. It's worth noting that Miguel Kertsman's music has been performed by the London Philharmonic and the Vienna Symphony Chamber Orchestra. But now it's time to get 'In The Moment' and get lost in the music. I would like to leave you with a quote from Miguel Kertsman: "Music is a supreme form of human communication, it's atemporal and transcendent. It carries us from now to a next or previous now through feelings, memories, desires, and emotions. Music unites us, enabling us to share in uniquely powerful ways—genres, labels, borders, are irrelevant."
By Jimmy Rae