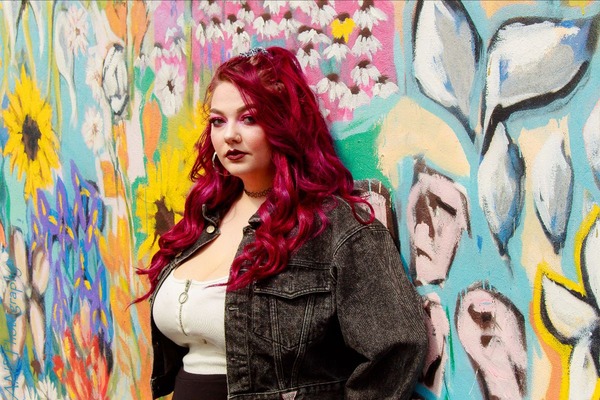 @skopemag news – friday – november 11, 20222 @ 11 am est
@skopemag HQ – http://smarturl.it/skope
Introducing O. | Debut single out on Speedy Wunderground now | Playing Pitchfork Festival Paris on Monday
Formed during the first lockdown, the duo started improvising together at home with just acoustic sax and drums before securing studio time in Peckham to start experimenting further with guitar pedals, amps and studio effects units, all pushing the limits of their two instruments – a rule put in place that everything was to be made by manipulating and layering their sax and drums alone.
SCI-FI SCIENTISTS New Official Video 'Bill Standing At The Gates Of The Lizard King'
Irish metal group Sci-Fi Scientists have released their latest official video taken from their forthcoming album Sars Attacks, out on November 22nd via Sliptrick Records.
Here's what the band had to say; "Bill Standing At The Gates Of The Lizard King speaks about the influence from current globalist technocrats on our human sovereignty. Why is Bill Gates suddenly the leading expert in health? What does he stand to gain from global vaccination? Also, what is his history regarding social engineering and eugenics? Check it out yourself."
Warner Music launches new label OUT OF ORDER with star-studded OOO:AFRO – feat. P. Priime, Moelogo, Makhadzi & more
Curated by the OUT OF ORDER label in partnership with Warner Africa, OOO: AFRO offers a glimpse into the hotbed of sounds simmering across the African region – from finely crafted Amapiano and Afrobeats tracks to deep house and electronica moments – while also proving the endless capabilities of OUT OF ORDER's concept. As a key element of OOO's collections is to spotlight talent of all mediums from the focused region, the OOO: AFRO artwork has been designed by rising Ghanaian designer Nyahan Tachie-Menson.
EMPIRE DROWNS: debut full-length album "Nothing" out today
Delivering a tasteful blend of old-school doom/death-laden metal and dark, gothic rock, Denmark's EMPIRE DROWNS is finally releasing today their debut album, following the 2013 EP "Bridges".
On "Nothing" the band has aimed for a heavier approach to their doom metal, and Marco Angioni at Angioni Studios (Tygers Of Pan Tang, Detest, Thorium etc.) was told to capture a sound close to the early nineties where The Academy Studio in the UK was the place where bands in this genre would prefer to record. Albums that have inspired the sound on "Nothing" include "As The Flower Withers", "Gothic" and "Serenades".
Out Today > Fliptrix unveils more classy hip hop
Produced by the infamous Illinformed, 'Eden' is the first song Fliptrix penned on returning to music after a hiatus that saw him relocate to another country, in search of a brighter future. With the extended break came a flurry of new insights, primed for the right moment in time. The result is quintessential Fliptrix: flawless penmanship made up of spiralling references rooted in the aforementioned quest for paradise and the various life changes that comprise a brand new way of being.
Natalie Gray releases sugar sweet new single 'Fallen Into Dreaming'
FALLEN INTO DREAMING is all about that moment that you meet someone and your world changes, the sun is brighter, food is sweeter and you can't imagine a time when they didn't consume your daydreams. Bubble gum love that has you smiling from ear to ear.
Following the playlist and BBC introducing success of "Fire", comes Natalie Gray's next track "FALLEN INTO DREAMING". This brand new track captures all the classics Natalie grew up listening to which helped shape her musical influences, including "How Will I Know" by Whitney Houston and "Material Girl" by Madonna as well as Natalie's own personal flair.
Jonasu drops new single 'Who Cares' with Alex Hosking & announces album
A carefree dance-pop jam, 'Who Cares' pairs bouncy, playful production with Alex's scintillating vocal range. It follows recent singles 'Dinner For Two', 'True' with platinum-selling singer-songwriter Karen Harding, and 'Trouble', a collaboration with fellow UK artist Georgia Ku, with all four tracks set to feature on Cutting Through Noise.
RUN THE JEWELS RELEASE 'RTJ CU4TRO' ALBUM
Celebrated American rap duo Run the Jewels (aka Brooklyn's EL-P & Atlanta's Killer Mike) have just released RTJ CU4TRO via Jewel Runners / BMG. RTJ CU4TRO is a full reimagining of their 2020 hit album RTJ4 through the prism of collaboration with artists, rappers, producers, singers, musicians & visual artists from across Latin America. Using the original RTJ4 masters & stems as both foundation & inspiration, each song was paired with specific collaborators via the guidance & vision of EL-P (who also contributes new production to the album) and longtime RTJ ally Nick Hook (RTJ, 21 Savage, Young Thug, Fool's Gold) who helped to curate & co-executive produce the project, pulling from his deep relationships across LATAM and spending almost two years traveling across the region to help bring this vision to fruition.
Dream Pop Band Velvet Beach Share New Melancholic Track "Home (Is It True?)"
Formed in late 2021, Velvet Beach are an independent band from Toronto. Originally formed by members of Newcomer, Matias Gutierrez and Martin Camara were then joined by Sean Stover (Silus, The Honeycomb Flyers) and Meagan Aversa. Existing somewhere between shoegaze, dream pop, and new wave, Velvet Beach strive for authenticity without forgetting some of their core influences such as The Cure, Beach House, and Slowdive.
Next-Generation Country-Rock Artist Cory Marks Releases New EP "I Rise" and Premieres New Video for "Flying"
"This EP was a blast to create and it's very special to me because it's rooted in my edgier rock side," says Cory Marks. "Every track allowed me to push myself vocally and gave me one hell of a challenge, but it also allowed me the time to focus on writing rock songs that express my passion for the genre and this side of who I am as an artist"
DEUX FURIEUSES — New Album: "Songs From Planet Earth" out Today
An album of hope and fire that burns all the brighter in these darkest of times, it finds the duo of Ros Cairney and Vas Antoniadou rising up with some of their most incendiary work to date.
Dazzling slow alt-pop ballad forces you to see yourself in a 'New Light'
Alternative indie singer/songwriter Varas has arrived with his mesmerising new release 'New Light' out today via TEN Music Group. The single and video is the first taste from his upcoming sophomore EP, scheduled for release early 2023.
REFS REVEAL DEBUT ALBUM 'NEW RELIGION'// LISTEN HERE
Having spent the past few weeks since their return revealing a series of stunning offerings from their debut project, today NYC/ Berlin duo Refs ( Dessauer & Rich) reveal their project in full, New Religion. Led by ' I Should Be Alone Right Now' featuring Kevin Garrett, the album beautifully marries the gorgeous tones of Rich with the innovative beats of Dessauer, creating a body of work showcasing their unique chemistry. The pair have scored millions of streams and gained widescale acclaim from areas such as Noisey, Pigeons & Planes, Complex and more. Speaking on the project, Rich states:
SOOTHING SOUNDS: Emotive Electronic Producer WMD set to release 'Nowhere' (FFO: Novo Amor, Tycho, and Firewoodisland)
RISING PUERTO RICAN RAP SENSATION VILLANO ANTILLANO RELEASES NEW SINGLE "CASCARA DE COCO"
Following the recent success of her incredible tour through Spain, which stopped in iconic cities such as Barcelona, Bilbao, and the island of Ibiza and broke records for ticket sales at every venue in which she performed, Puerto Rican rapper Villano Antillano returns today with new music, delivering "Cascara de Coco," her latest single that's sure to leave her fans around the world begging for more.
NEW MUSIC: Platinum-certified Cimo Fränkel SHARES 'Closed The Door' single (The Weeknd, Billie Eilish, Frank Ocean and Tate McRae)
Plaid's new album Feorm Falorx out now on Warp + debuts new AI-generated video
BOYHITSCAR ISSUES NEW SINGLE/VIDEO, 'INJUSTICE FATIGUE,' FROM FORTHCOMING NEW ALBUM
LYRICS BORN Goes On An Intergalactic, Stop-Motion Journey In New "Alligator Boots" Video – Vision Board Out Today
Imagine that a brand new, mystical, stop-motion world has opened up. Alligators, flamingos, tiny elephants with big hearts, oranges, vast seas, and frigid, tall glaciers are all abound. Oh, and it's all located in space. The only man brave enough to charter these unknown and magical terrains? Rap legend LYRICS BORN (LB) on his magic flying carpet, of course! Today, not only has he dropped his brand new, 14th album Vision Board, but he also is releasing his new stop-motion, clay-animated video for "Alligator Boots."
Braxton Cook and Masego Explore Their Love of the "90s" on New Single + Video
Paul Maroon & Jenny Lin Share "Alfama" Single + Visual, Read The Talkhouse Feature
Today, storied composer Paul Maroon — best known as a member of the critically acclaimed rock band The Walkmen — and concert pianist Jenny Lin — a frequent Phillip Glass collaborator — have teamed up to present a brand new collaborative record, 13 Short Piano Pieces (out now via all DSPs). Alongside the full LP, the pair have shared the record's focus track, "Alfama."
Soul Blind release Feel It All Around LP out now on Other People Records
HANNIBAL BURESS UNVEILS NEW SINGLE "KNEE BRACE" AS ESHU TUNE
Today, prolific multi-hyphenate comedian and rapper Hannibal Buress releases a new single, "Knee Brace," as Eshu Tune. Hannibal derived his moniker "Eshu Tune" from Eshu, a benevolent trickster god, a fitting name for a consistently witty artist like himself.
Producers Mike Dean and Apex Martin Present First Label Signee, SASH, Debut Single Out Today
Dream-Pop/Folk Artist Rosemary & Garlic Releases New Single "Their Eyes On Me"
"Wanting to be part of a creative industry is like standing in a ballet studio, surrounded by mirrors with all eyes on you. And then there's you, constantly watching what others are doing (social media) and feeling numbed by it. But then you realize that the others are not your harshest critic, it's you who's setting the bar that high," states Rosemary & Garlic about "Their Eyes On Me."
SID SRIRAM – BOLLYWOOD PLAYBACK SUPERSTAR – RETURNS TO HIS AMERICAN INDIE POP ROOTS WITH U.S. DEBUT "LONG, LONG TIME"
"Long, Long Time" is the first advance music from SIDHARTH, Sid's eponymously titled new album and his first full-length Western pop music project, due for release in early 2023. Described as "Minneapolis winter meets California suburbs meets South Indian vibrance," SIDHARTH was produced in Ryan Olson's Minneapolis studio with a closely knit group of musicians, including his Bon Iver bandmate Justin Vernon on guitar and vocals. Gospel choir, organ and pedal steel elements were recorded in Nashville. As a nod to Sid's Carnatic roots, his mother Latha Siriam's student choir is also featured.
CARNEYVAL SHARES NEW SINGLE "ME TIME" FEAT. LOURDIZ
Produced by Carneyval at his home studio in L.A., "Me Time" was sparked from a radiant piano riff he spontaneously composed five years back. As he shaped the song's lush and airy arrangement of bouncy grooves, soulful piano melodies, and bright and shiny textures, Carneyval tapped into the sonic ingenuity first revealed on his hit single "It Ain't Love" (a track that debuted at #1 on both the U.S. and Global Viral charts on Spotify).
New Music This Week from Bruce Springsteen, Christine and the Queens, Fitz and the Tantrums, Bill Frisell and More
New Releases for November 11, 2022 – Here are the AllMusic editors' picks for the most noteworthy releases this week. Looking for more? Visit our New Releases page.
Sophie B. Hawkins Releases Official Video For Latest Single "Love Yourself"
"Sophie told me she was a 'pick-up truck kind of girl,' and suddenly the charming-yet-gritty Victor, Colorado seemed like the perfect location to shoot the video," said Nigel, "It's always an honor to work with people who have some history so you can have a conversation about their career between shots. The thing that came across on that day we worked together is that Sophie seems very comfortable in her skin and she essentially embodies the meaning of the song."
Rockshots Records – Out Now! EVERFROST's Anime Cover Song EP "Frostbites" + New Video "A Cruel Angel's Thesis" ft. Mikael Salo
Today, for the EP's release day, Everfrost is sharing their last video in support of the cover record for the final track "A Cruel Angel's Thesis" ft. Mikael Salo. The song is from the anime series Neon Genesis Evangelion and was originally composed and performed by Hidetoshi Satō. with lyrics by Neko Oikawa, and arrangement by Toshiyuki O'mori.
Alone at Parties shares visually striking music video about boredom
DISILLUSION release acclaimed new album "Ayam" today
The German avant-garde metal pioneers have scored album/band of the month titles in Metal Hammer (DE) 7/7, MetalObs (FR), Metal.de (DE) as well as a #2 in the Soundcheck of Rock Hard (DE) 9,5/10, and a 10/10 in Ave Noctum (UK) among many other great reviews.
RACHEL WAMMACK SHARES NEW SONG, "GIRL'S GOTTA KNOW"
"'Girl's Gotta Know' is the first song that I'm releasing because my fans were demanding it. I love teasing bits and pieces of what I'm writing with them, but nothing has ever connected like this," Wammack said. "'Girl's Gotta Know' received a huge response the first time I posted it at the beach while showing the song to my family back in the early summer. And every time since then that I posted it, I would get comments telling me to release it. I can't explain how good it feels to connect with my fans and be bonded together in such a special way through this song."
LEELA JAMES WANTS YOU TO "REACH FOR IT" WITH NEW SINGLE
R&B Soul Diva Leela James did not come to play and wants all her fans to raise their hands and sweat. Today, the vocal powerhouse releases her new classic house single "Reach For It" in collaboration with the legendary Strictly Rhythm label brand and BMG. Produced by the legendary Rex Rideout and Mike City, Leela's voice brings forth freedom with her larger-than-life vocals prompting you to jump out of your seat and let loose with the fancy footwork.
Oliver Hazard Releases New Track and Lyric Video "Oh Mama Won't You Write Me"
CRUZA RELEASES NEW SINGLE "SELTZER" VIA DEF JAM RECORDINGS
"We're in our own world." That's how vocalist Adam Kain describes CRUZA, the band blending R&B, psychedelic, and alternative sounds. He's joined by the band guitarist, Charity Joy Brown, and bassist/producer, AJ Roth, as they channel their influences into a series of dreamy transmissions. Mixing heavy basslines and melodic guitar, Cruza exists in a space somewhere between alternative indie music and R&B.
All Girl Psychedelic Rockers Pearl Earl Share Hypnotic New Single 'Evil Does It'
Neo-psychedelic rockers Pearl Earl return with the hypnotic new single 'Evil Does It' taken from their upcoming sophomore album. With heavy nods to spacey prog and golden era glam rock, these cosmic women invoke the nostalgia of psychedelia's lysergic past while carving new territory of its own. Once described as 'Pink Floyd in the sunlight' the band are renowned for their captivating live performances delivered with a euphoric and ominous grin.
Nashville Singer-Songwriter Abby Reign releases stunningly vulnerable new single "Walk Away"
Abby Reign releases stunning new single "Walk Away." She sings a story of betrayal and loss of a loved one, through lines full of emotional turbulence. The single is available on all digital streaming platforms.
Abby Reign is an up-and-coming pop artist who exploded onto the music scene with her single and music video for "Louder," now followed by her sophomore release, "Walk Away."
Emma Hewson – 'Lighthouse' out Nov 11
Written about the romance and longing that long-distance relationships bring, 'Lighthouse' features acoustic piano as well as 3 voices, blending together like the waves at sea. Reminiscent of Joni Mitchell and Phoebe Bridgers, the song starts off like a calm shore and leaves you floating in stormy waters.
Symphonic Metal Band CROWN SOLACE Release New Single "Inside My Mind"
CROWN SOLACE have released their new symphonic metal track "Inside My Mind" on all streaming platforms.
The band comments, "'Inside My Mind' is the perfect follow up to Horizons. We continue to showcase the modern symphonic metal from before however we added in more a more melodic feel and a change in vocal approach, making the track feel more sophisticated but still just as fun!"
Ash Olsen is releasing her single "BORING!" November 11th