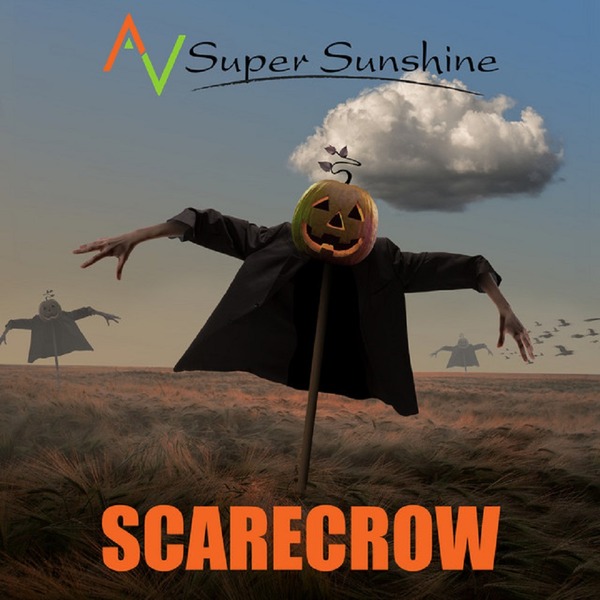 Though subtle in its first appearance in the song, the vocal harmony in AV Super Sunshine's "Scarecrow (Rock Mix)" is at the backbone of every provocative beat in this latest single from the underground-stationed songwriter, and while I wouldn't say it's the only element here that qualifies as spellbinding in tone and design, it's one of my favorites every time I give this track a spin. AV Super Sunshine is putting melody before everything else in his new single and its music video, and while he isn't teaching us anything about his artistry we didn't already know beforehand in this incarnation of "Scarecrow," I don't think this composition was exclusively meant to score new fans for this seasoned musician. 
The drums could have benefited from just a little more volume in the master mix, but at the same time, I can understand – and eventually grow to appreciate – the minimalist aesthetic that is in play here. By keeping the percussive tones to a minimum in the grander scheme of things "Scarecrow (Rock Mix)" is allowed to serve as a display vehicle for AV's sophisticated way of marrying soft vocals with cutting B3 organ melodies, rather than simply highlighting his ability to come up with a slick beat in any compositional circumstance. 
SOUNDCLOUD: https://soundcloud.com/av-super-sunshine/scarecrow-rock-mix
This might not be the most romantic serenade that AV Super Sunshine has committed to tape in his career, but it's certainly on par with what he's produced in past chill-inducing ballads (most of which, I might add, were somewhat similar in structure to what we find in "Scarecrow (Rock Mix)"). Where some critics might see this release as playing it safe, I think both the video and the song on its own were conceived to affirm a stylistic trend not for this songwriter's genre, but for his own work moving forward. It's ghoulish in spots, but only because AV wanted it that way. 
If you've been keeping up with the underground lately, then you have probably already noticed how impossible it's been to miss word of AV Super Sunshine's latest release in the past month, but it's easy to see what all the buzz has been about even in the most cursory examinations of "Scarecrow (Rock Mix)" and the surreal music video made in support of its debut. AV has been at this game for a long time now, but if this is a glimpse into his sonic future, I think it would be safe to say we can expect a lot more magic from his brand in the next decade ahead. 
Gwen Waggoner