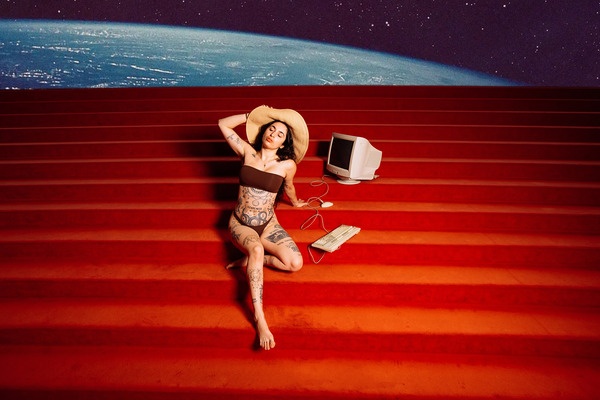 @skopemag news – tuesday – november 8, 2022 @ 12 pm est
@skopemag HQ – http://smarturl.it/skope
RICH WEBB SHARES NEW SINGLE + VIDEO 'BLUE WILDFLOWERS' AND NEW ALBUM 'RIGHT!' SET FOR RELEASE DECEMBER 9
A warm and lucid bundle of smooth alt-country swoon, the brand new track Blue Wildflowers out today from Melbourne singer-songwriter Rich Webb marks a third peek into Rich's upcoming fifth full-length album RIGHT!, set for release on December 9. An immersive amalgamation of the likes of Bob Dylan, apologies and lost loves, Blue Wildflowers will be witnessed live in action in Brunswick at the Union Hotel on Saturday December 10, as part of a special album launch show to celebrate all things RIGHT!.
Taxes (indie emo / sad pop) // new album out now!
ZAYN MALIK WRITES OPEN LETTER TO BRITISH PRIME MINISTER RISHI SUNAK ASKING FOR IMMEDIATE ACTION ON FREE SCHOOL MEALS
Global superstar Zayn Malik has written an open letter to British Prime Minister Rishi Sunak to plead for free school meals for all children from families on Universal Credit. It is estimated that 800,000 children in England are living in poverty and do not currently qualify.
In a personal letter penned to Mr. Sunak, the multi-platinum selling artist demonstrated his passionate commitment to tackling Britain's grave problem of food poverty, pleading the Government to commit in their budget on November 17th to give all children living in poverty a Free School Meal.
Bend Sinister's Dan Moxon Embraces Being a Steady, Stay-At-Home Adult on New Single "Real Good Guy"
N3WPORT Returns to Lost In Dreams Records With Eye-Opening Melodic Bass Single "Bliss" ft. KC – OUT NOW
N3WPORT has upcoming shows at Groove Cruise Cabo, DC9 Nightclub (Washington), Peabody's Nightclub (Virginia), Larimer Lounge (Denver), and has earned tastemaker support from Crystal Skies, MitiS, JVNA, Nurko, William Black, SLANDER. KC has featured on tracks for Last Heroes & Man Club, Kompany.
A Unique Night of Exquisite Food and Music Comes to London this December
The pioneering brainchild of Producer/Promoter Ovie and his Crazy Sexy Coool team have devised a unique London night which takes the best moments of a fancy supper club and added on some musical entertainment for dessert which will shine a light on some of the greatest unheralded vocalist talent around today.
JACK VALERO SHARES THE NEW SINGLE 'FORM OVER FUNCTION' – WATCH THE VIDEO HERE
'Form Over Function' finds Jack lamenting a love that never was, his voice shimmering with equal parts pain and power in a modern take on the torch song tradition – his conversational lyrics set to a very English take on Americana. The gentle strum of his acoustic guitar combines with mournful piano to build an hypnotic elegance over the song's six-minute journey. Jack's opening words immediately set the tone of overwhelming loneliness as he sings, "Walked into the crowd to be alone." Its hook is similarly affecting: "If you ain't gonna see me tonight, there really ain't much I can do… but I never thought I'd leave here without your love."
Canadian Singer Songwriter – Matt Holubowski shares 'End Scene'
MF Tomlinson releases swirling ode to community "The End Of The Road", new album 'We Are Still Wild Horses' out 17th Feb 2023 via PRAH Recordings
[Skope Magazine] Ted Lasso And Downton Abbey Actor & Pop Singer Jeremy Swift Brings You Into His World Of Creativity In New Single 'Wonderland'
Skindred announce new album 'Smile'
Next year, Skindred – one of the UK's most exciting live acts – celebrate their 25th anniversary with the release of their brand new album Smile, their eighth long-player and their first for Earache Records, with whom they signed a global four-album deal last year.
ADAM HOPPER shares debut single 'Beauty In Sadness' | out today (Nov 8th)
Cutting his teeth in recently defunct indie-punk band Blanketman, the musician caught the eye of Rolling Stone, NME, and BBC Radio 1, with Hopper now looking more inwardly for his new solo project. In spring 2021, he emerged from Blanketman with two cassette tapes and a PC hard drive full of songs and brought them to producer Rob Kirwan (Hozier, PJ Harvey, U2) who was keen to help him get his music out there. Concentrating on poignant, wry lyricism and catchy melodies, he creates his own unique brand of wide-eyed, mellow alternative pop music.
MALADY announce debut EP & share lead single 'Hyperreal' | out today (Nov 8th) via MODERN SKY
Londoners Malady announce debut EP 'All Pressure, No Diamonds', set for release February 10th, and share tantalising lead track 'Hyperreal', out today (November 8th) via Modern Sky.
Newly confirmed to support indie titans Wet Leg on their UK tour later this month, the London quartet have also revealed details of their very own headline run in February, lined up to coincide with the arrival of their much anticipated debut EP.
Fierce new lo-fi rock n roll single from The Adam ft. Lasse Storm!
Taking his cues from the golden era of rock n roll's "British Invasion" of the mid-1960s, this single comes out with vocalist Lasse Storm, on fine form as he rips into the track poring about 'The one who got away'.
Vallis Alps return with climactic new single "Set It Off, Set It Right"
Reflective of the leaps taken in life-altering decisions, and the myriad of emotions that come with following them through, "Set It Off, Set It Right" is the sonic manifestation of momentum; a mantra to trust the process. Hand-claps stir alongside sparkling synths, springboarded by booming percussion to boost Parissa's vocals, shifting in and out of focus, with a similar balance of intention and passion through all elements of the creative as James Blake, Mount Kimbie or London Grammar.
URIAH HEEP ANNOUNCE RELEASE OF 25TH STUDIO ALBUM, CHAOS & COLOUR & FIRST SINGLE "SAVE ME TONIGHT" AVAILABLE NOW
Art Rock Singer-Songwriter Kate Davis Signs To ANTI-, Shares New Track "Consequences"
Called "clever and heartfelt" by Pitchfork and compared to Liz Phair, Madison Cunningham and Courtney Barnett, Kate Davis has signed to ANTI- Records and is releasing the new track "Consequences" to accompany today's announce. A ruminative, diaristic song, Davis considers the results of a lifetime of choices on "Consequences" and lets them wash over her. "I experienced a major low point in 2020, tangled up in a chaotic love affair where I really met myself," Davis says. "It's about a very peculiar kind of heartbreak and betrayal where you're at the mercy of your "other." Listen to the song and watch its 90's Microsoft Windows-inspired lyric video below.
VIDEO: Maia Barouh releases surreal visual for 'RINGO'
On the video, Maia said, "The Ringo video is a first collaboration with my sister, the director Amie Barouh. She was the perfect person to film this dive into my childhood and the memories of our father. In the clip, the characters play their own role. A strange, dreamlike group of circus performers to which I belong."
HUMOUR share the epic "Good Boys Remember Well" | Debut EP, "Pure Misery", out November 25th on So Young Records
At the start of the summer So Young Records – whose recent releases have included Vlure, Been Stellar and Lime Garden among others – announced the signing of Humour, a Glaswegian group still in their relative infancy, but one who arrived musically fully-formed, pairing together fragments of off-kilter post-punk, erratic indie-pop and discordant post-hardcore, delivering a sound that is at once disorientating and immediate. Early shows in support of Do Nothing, Folly Group and DEADLETTER have already marked them out as a must see live band, propelled by the unhinged lyrical energy of front man Andreas Christodoulidis.
TIDAL WAVE: new album announced on Ripple Music
Swedish stoner and fuzz rock newcomers TIDAL WAVE join the Ripple Music roster for the release of their sophomore album "The Lord Knows", to be issued on January 20th. Listen to a first track with the first single "End Of The Line" now!
"Silhouettes" – Burn The Louvre (NEW Single!)
"Silhouettes" is the 10th single and title track off of Burn The Louvre's debut LP Silhouettes. The band have been releasing the album 1 song per month since January. "Silhouettes" is a dark, moody indie rock song inspired by The Last Shadow Puppets and the end of singer/guitarist Jordan Speare's first relationship.
Eclectic soulful band KARMACODA shares new album, Lessons In Time (FFO: Paloma Faith, Adele and Pixie Lott)
Riot Stares amplify their blend of alternative hardcore on new single "Relief Technique"
JARET RAY REDDICK Releases New Video For "Drunk As It Takes" Featuring FRANK TURNER & Starring THOMAS IAN NICHOLAS
Steve Mason announces new album 'Brothers & Sisters' – out March 3
Co-produced with Tev'n with musical contributions from feted Pakistani singer Javed Bashir, British gospel singers Jayando Cole, Keshia Smith, Connie McCall & Adrian Blake and Kaviraj Singh on the santoor, the result is a record that brings people together through art, music and culture. Written against a backdrop of fear and uncertainty, and at a time when those in charge lurched from one disaster to the next mismanagement with increasing regularity, Brothers & Sisters is in fact an incredibly joyous and even spiritual listen.
Atmospheric Black Metal Duo IMPERIUM DEKADENZ Announce New Album, 'Into Sorrow Evermore', out January 20, 2023 via Napalm Records
Lords of black metal, IMPERIUM DEKADENZ, raise darkness from the depths of southwestern Germany's Black Forest once more and proudly announce their new album, 'Into Sorrow Evermore', to be unleashed on January 20, 2023, via Napalm Records. Immersed in the void, they approach themes of depression, death and desperation, luring the listener into their sorrowful reality of existence. True to the beginnings of the genre, IMPERIUM DEKADENZ stick to their roots and leave their own haunting mark on the genre, claiming their rightful place in the upper echelons of black metal.
Georgia Maq announces live EP – listen to a new cover of Regina Spektor's 'Samson'
Performed in the intimate Utzon Room, Live At Sydney Opera House is a capsule of Georgia's own original songs reimagined as a stripped-back, piano and strings-led performance, including Pleaser's 'Big Embarrassing Heart' and the stand-alone single 'Cold Summer', alongside her entrancing cover of 'Samson'.