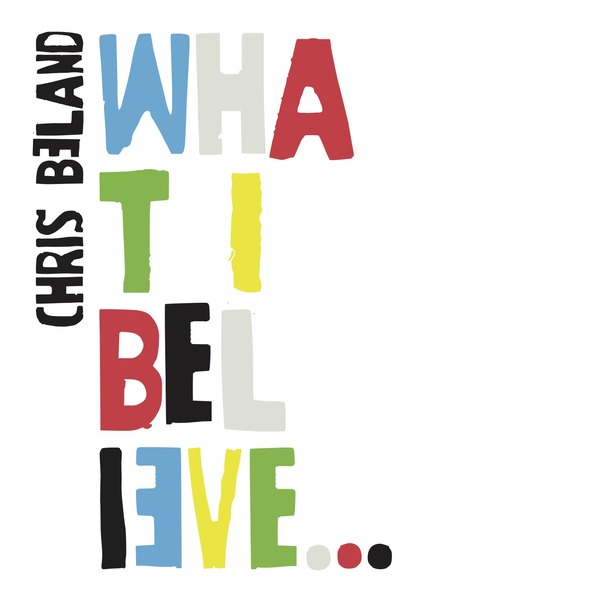 The expression to hell and back can relate to singer/songwriter, Chris Beland in many ways, shapes and forms. From being homeless and addicted to drugs to locating his real father at age 32, Chris Beland has had his fair share of trials and tribulations in this thing called life but I say what doesn't kill us makes us stronger. This can certainly be said for Chris Beland who has found love again and a real sense of purpose. Chris has a new album titled 'What I Believe' that serves as an open book and wide open lens into the life and times of Chris Beland. The new release also focuses heavily on the world around US as Chris Beland does not hold back on 'What I Believe'.
You can call it music therapy if you want as 'What I Believe' looks to help and heal not just Chris Beland but anyone who may be listening. Whether you have fell on tough times, have a troubled past or you are one who closely analyzes all aspects of culture & society, then 'What I Believe' is just the right medicine. 'What I Believe' has something for everyone with 11, well-crafted songs all written with a specific purpose and all designed for a precise reason. The time has come and the time is now for Chris Beland to fully express himself as an artist with 'What I Believe'.
The record starts up with a wonderful hook that immediately catches your attention on "Where Is Georgia". This single is fully-equipped with an inviting sound that pulls the listener right in and hopefully you can discover more qualities on "Where Is Georgia". Next, experience a strong delivery & dominant performance on the title track, "What I Believe". The listener will be hanging onto every note and believing every lyric on "What I Believe". Chris Beland has made a full believer out of me thanks to his standout single, "What I Believe". Track three, "Feel Like Cryin'", exhibits a sense of melancholy and vulnerability with Chris delivering a soft touch vocally. "Feel Like Cryin'" is emotionally-drenched and offers powerful moments from beginning to end. Moving straight ahead, get ready to travel through this "Tunnel" of hurt & hard truth. The message is clear on "Tunnel" and that is that "Love will find you" no matter what. Track five is raw-sounding & edgy as Chris Beland welcomes all to his "World". I picked up on a classic rock influence on "World" that was refreshing to hear and definitely caught my interest. "I Don't Think It's a Sign" is the next song and what a catchy tune this is! "I Don't Think It's a Sign" is well-executed and well-played from start to finish and just a real treat to witness. There is nothing fraudulent about track seven, "Conspiracy", because Chris Beland proves this is the real deal. The audience will receive an inquisitive tone, pleasant vibe and spacious sound on "Conspiracy" where everything is revealed to the public once and for all. No dull moments present on the following number, "Stare at the Wall", with Chris providing a convincing performance. "Stare at the Wall" captures your attention & imagination for all the right reasons! Track nine, "Colson Canyon", displays a real, outdoorsy element that surrounds you. It's as if an easy-going breeze blows past you in the wind on "Colson Canyon". Chris Beland is very open and honest on the next song, "Family Tree", where Chris welcomes ALL in. The record ends on a personal & touching note with "11 Miles Between" where Chris is laying it all on the line and laying it all out on the table.
Chris Beland sings & plays with a lot of heart and plenty of soul making 'What I Believe' a captivating listen. Losing faith and finding it again while searching for love are all powerful emotions and Chris Beland portrays them all wonderfully on the new release. I feel Chris Beland has found himself as a person & artist and now there is no looking back; that is 'What I Believe'.