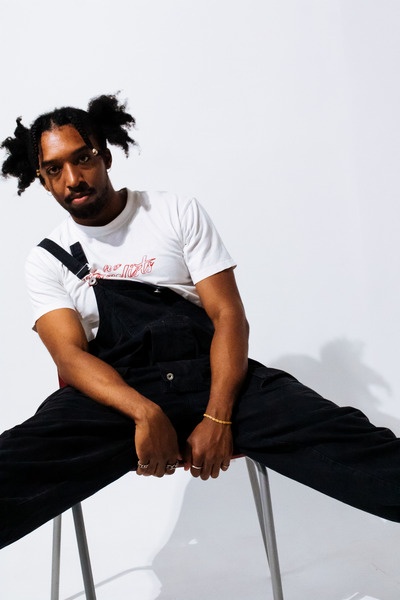 Canadian/Jamaican rapper Lan'do unveiled his first solo EP titled 'Man Like Me' on October 14th 2022. After starting No Tourists with other Toronto-based artists, the artist has been busy working on his own music and it's going well for him! His debut single '16 Bit' released last June, has already garnered over 25k streams and is getting radio play in Canada and the UK.
For sure, Lan'do is imposing his own experimental style and it works. We had a little chat with him about his first EP, his creative process and upcoming plans.
Hey Lan'do! Can you start by introducing yourself? Did you always know you wanted to pursue a career in the music industry?
Well for starters if I were to introduce myself, I'd say I'm a hip hop artist from Toronto. I didn't think I'd be pursuing this as a career, it's always been something I did because I have a profound love for music.
You've just released your first solo EP 'Man Like Me'. What was the creative process like?
For this EP the I wanted to lock into a more UK influenced sound, hence why some of the pockets feel so heavily grime influenced. I always aim to keep my projects cohesive in feel not only from a music standpoint. All visuals, whether they be artwork or video followed a similar theme.
What is your favorite song from the EP and why?
My current favorite song is first contact. At the time I wrote the songs we were in the middle of a pandemic so they have a darker feel to them. First contact was created on the tail end of all of this, hence the lighter bouncier energy it has. It also just makes you want to dance. I feel it is a good transitional piece for where my sound is headed.
What do you think makes you different from other rappers?
I'm not too sure how to explain what sets me apart from other rappers. I try to speak from my experiences and only that.
I don't see myself as anyone wholly unique. If I were to say anything, I'd say that I'm a very solid performer.
What are your next plans?
In the future I'm gonna be flooding the streets with music. I'm sitting on two more EPS ready for release
Follow Lando: Twitter | Instagram