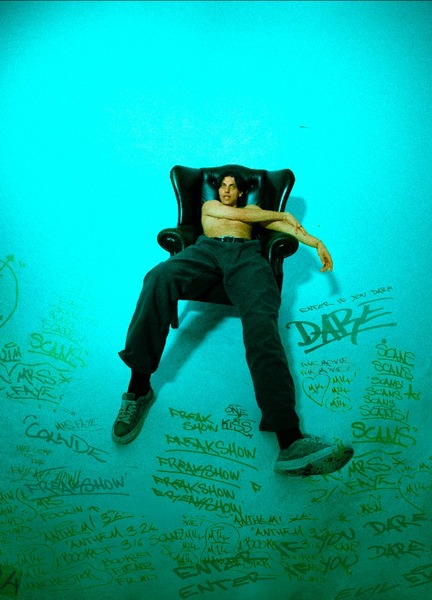 @skopemag news – tuesday – october 18, 2022 @ 8 am est
@skopemag HQ – http://smarturl.it/skope
Guided By Voices Share "Queen of Spaces" Single via Stereogum | 'La La Land' Out January 20 via GBV Inc
The ever-prolific and always active Guided By Voices is back at it again with their recently announced first release of 2023, La La Land, a brand new LP due January 20 via GBV Inc. Today, the band shares the record's newest single, "Queen of Spaces." The track was premiered by Stereogum, who described it as "a pretty ballad that's dominated by strings." "It's not the power-pop jam that I was expecting, but GBV contain multitudes," said writer Tom Breihan.
THE 69 EYES: New Single "Gotta Rock" Now Playing
Helsinki's longest serving gothic rock vampires THE 69 EYES are unstoppable at the moment and have returned with yet another new song "Gotta Rock" – the first to come off their upcoming, as-yet-untitled new full-length slated to drop in early 2023.
CARRION VAEL Add New Dates To US Tour
Melodic death metal band CARRION VAEL have finalized all dates for their upcoming US tour in support of their recently released album Abhorrent Obessions. The October shows will see support from SEVERED HEADSHOP and ASSIMILATOR while the November dates will see the band tour with HATH and REEKING AURA.
TODAY Dance legends K THEORY RETURNS with fire new single BOUNDARIES
Curvey began writing and recording the basic tracks for Phosphorus right after the 2020 release of of the album Oxygen. The following spring, he bought a 1974 Harley Davidson Sportster and was seduced by chrome and the smell of burning oil. He spent the entire summer riding and becoming a grease monkey. It was a fine escape from the COVID madness and gave him time to write and compile enough songs to create a positive, ambitious album.
Lady Gaga & Mick Jagger Tout Pop Star Spotlighting Mental Health
Non-binary singer, songwriter, multi-instrumentalist, and producer Grace Gaustad (@GraceGaustad) is making worldwide headlines for their massive Gen Z audience and music that explores mental health, gender, sexual identity, and self-esteem. Grace is also known for a string of passionate covers including a heartfelt rendition of Hozier's Take Me to Church which has garnered over 25 million views.
Toronto-Based GROWERS Bring High Energy To "TTYL" New Single
Lil Baby Releases Music Video for "Stand On It" !!!
Tom & Collins Reconnects With Cumbiafrica on Afro Latin Shaker "Se Va" on Insomniac Records – OUT NOW
Tom & Collins previously touched down on Insomniac Records with their "Honey" collab alongside Hollaphonic. They are currently ranked at #75 on the DJ Mag Top 100 DJ list, and have been tapped for remixes by Gorgon City, Duke Dumont, Sofi Tukker. Cumbiafrica have racked up more than 60 millions streams worldwide and are double gold certified artists, with a recent feature for HUGEL and Westend.
Artist: Tom & Collins
Title: Se Va (feat. Cumbiafrica)
Label: Insomniac Records
Release Date: Oct 14
Genre: Tech House
Music Submission: Samm Hewitt
Samm's biggest influence in music is Michael Jackson for his showmanship and Melanie Martinez for her creativity and lyricism. Samm started performing in his early years where he trained to be an actor. Samm also performed on various television programmes, theatre shows and events around the United Kingdom.
FRAGMENTED TRANQUILITY Release New Single 'The Fall'
US metalcore group Fragmented Tranquility release the first single taken from their forthcoming album This Entity. Here's what the band had to say about the track; "The Fall is our political view of the corrupt and deceitful government and, in our eyes, the downfall of our country. We as a whole feel out of place in our home, and at times think that we won't get out of this hell our country has created."
Max Jury returns with Delilah Montagu on stunning new duet 'Is This Love?' co-produced by Dan Rothman of London Grammar…
Beginning with an upbeat, acoustic tempo, with Max and Delilah each taking gentle, hypnotic turns with their vocal performances, 'Is This Love?' is an infectious earworm of a song that tells a familiar story about those awkward moments following the initial honeymoon phase in a relationship when cracks begin to show – and questions arise about the validity of a connection.
Mantaraybryn's break-up banger 'Five Minutes'
Costa Rica's Las Robertas release hazy new single 'Awakening' & announce debut full length 'Love Is The Answer'…
A labour of love, the band began recording the album with Owen Morris in December 2019 in Hermosillo, Mexico and with factors out of their hands finished the project sporadically throughout 2020 back in San José. A blend of 90s rock, shoegaze and drenched in influence from psyche rock, the album delivers nine measures of raw, fuzzed out, guitar driven brilliance with an infectious pop edge. Lyrically the LP finds love towards the universe, individual freedom and hope in a time where the world seems ever closer to being consumed in chaos. "It is what pain sounds like," Felipe says of the album. "But if you go beyond the sad layers of the songs, you'll end up with guidance full of hope and strength to keep on going."
JAXN SHARES THE NEW SINGLE 'FREAKSHOW'
Opening with a Strokes-esque, garage-rock guitar riff, JAXN's genre-splicing mash-up of hip-hop, indie and big beat energy also brings to mind prime Jamie T. But JAXN's riotous rhymes are full of his own personality as he invites fans to embrace its bizarre side and "come to join the freakshow." While it's a song that celebrates the individuality of the outsiders and misfits among his fans, it's also a Halloween anthem in the making. "Meet me in the shadows, where the living meets the dead," he sings as he introduces a song that's a perfect addition to this season's petrifying playlists.
Indie-Pop Breakout Ed Staal Shares 'That Girl' Ahead Of New EP
Hertfordshire, UK based up and coming pop artist Ed Staal Shares another look at his upcoming EP on the brilliant new single 'That Girl', the third single to be taken from the upcoming 4 track release Battle Scars & Broken Hearts. The follow up to 'Baby Blue' and 'Why', the new single see's the single once again demonstrate his talents as a producer, songwriter and performer.