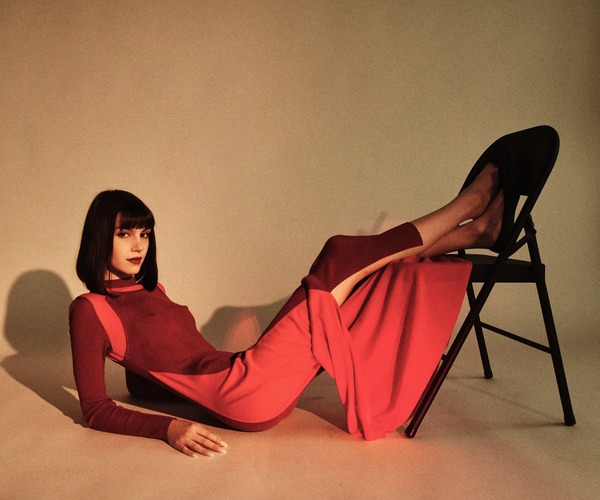 @skopemag news – friday – october 14, 2022 @ 4 pm est
@skopemag HQ – http://smarturl.it/skope
EMOTIONAL ORANGES REVEAL NEW SINGLE 'PETTY'// THE JUICE VOL III SET FOR RELEASE DECEMBER 9th VIA AVANT GARDEN
LA based R&B dynamos Emotional Oranges continue their recent hot streak with the reveal of party-ready new offering, Petty. Showcasing the distinct Emotional Oranges bounce and incomparable chemistry between A and V, the track is another stellar entry into their back catalogue. As well as the single release, Emotional Oranges are also announcing that their anticipated third project, The Juice Vol III, is set for release via Avant Garden on December 9th.
NEW MUSIC: Vincenzo Ramaglia Shares Perennial Electronic Duo Plaid's Remix of 'La parole 3' (FFO: Aphex Twin, Autechre, Lapalux.)
L.A. Hardcore band Law of Power release Born Into War EP out now on Flatspot Records
RCA Nashville Artist Corey Kent 'Takes In The Moment' And Releases "How You Know You Made It"
"I spent years trying to 'make it' in the music industry," says Kent. "Trying to make a name for myself. Trying to make a dollar. I was newly married to my wife, just had our first baby girl and I was more focused on providing for her than being there for her. I took for granted the things in life that really mattered. I was so busy chasing a dream that I couldn't see that I had THE DREAM right in front of me the whole time. Now after moving to Texas to be closer to family, working for a pavement company through COVID, and playing over a hundred shows in 2021, here we are with an unimaginable year of success. A lot of people are telling us we just might be the next big thing; that we are going to "make it." And hell, maybe they're right. Maybe it's our time. But what they don't know is…
Chase Rice Takes Fans to the Wild West With "Way Down Yonder," Out Now
NERIAH Releases Sophomore EP "How Do I Get Clean?"
Neriah mentions that "..this EP means a lot to me. I went through a really hard breakup and remember feeling like I was never going to get over him. It felt like an addiction where the highs were so high, but the lows were so low. I remember feeling like I was never gonna find anyone else again and feeling incomplete when we weren't together. Making this project gave me the closure I needed to 'get clean' of the love withdrawals I felt once we ended."
Bernth Releases Long-Awaited New Single and Music Video "When It Rains"
Brooke Candy and Only Fire get physical with "Yoga"
"I've been listening to Brooke Candy since 2012 when she released 'Das Me,'" says Only Fire, "so her reaching out to make music together felt amazing. I had the idea for 'Yoga' in mind for a long time but never got the verses right until she hopped on it and did her thing. Both our styles are very similar so this collab just made sense, and it's definitely not our last one. I wanted 'Yoga' to have a generic house sound you would hear on the radio in the gym; catchy but with very raunchy lyrics. So that's basically what inspired its sound and lyrical content – I just wanted to make a fun workout song."
BAILEY ZIMMERMAN'S DEBUT EP LEAVE THE LIGHT ON AVAILABLE EVERYWHERE NOW
The track listing also features standouts like "Rock And A Hard Place" and "Where It Ends," which both reached the Top 10 of Billboard's Hot Country Songs chart as well. Leave The Light On also includes his most recent release "Never Leave," hailed by Los Angeles Magazine as a song that "will make a fan even out of those who aren't country-listening regulars."
Julio Iglesias Jr. and Brian McKnight Release Stevie Wonder Medley Duet
Victor Oladipo shares sensual new single "Morning Gift"
The two new tracks are Victor's first musical releases since his 2018 debut album, V.O. In addition to generating millions of streams and views, the project earned widespread acclaim. Billboard praised, "V.O. is filled with sultry love ballads and even opens with a bouncy potential strip-club anthem," and Complex observed, "How many people know that the ultra-talented Oladipo had the kind of pipes worthy of recording an album, though?" Among many highlights, "Connected" with the late PnB Rock gathered 3.2 million Spotify streams and 1.1 million YouTube views on the music video.
Kissi promise to raise your 'Blood Sugar' in new song
G-Eazy and P-Lo Let Loose on a Party Positive Single from 'Tales Of The Town'
The multimedia project Tales Of The Town looks at Oakland's rich Black history from every angle, telling stories directly from community members via a podcast, an album, and much more. Today, Tales Of The Town teams up with local favorites G-Eazy and P-Lo for "PARTY WITH THE GANG" ft. FREDOBAGZ, a new slapper from the upcoming Tales Of The Town album. Though the three previous singles from the album tackled salient issues facing the community, "PARTY WITH THE GANG" proves that the Black experience in Oakland provides plenty of opportunity for letting loose. Blessed with a bouncy Bay instrumental from P-Lo himself, "PARTY WITH THE GANG" finds some of Oakland's proudest hedonists talking their smack above a rubbery bassline and distorted vocal samples. The new song is a tribute to decades' worth of NorCal club hits, complete with call-and-response hooks, wild ad-libs, and over-the-top punchlines.
OUT NOW: SOHMI Unveils New Single 'Somebody'
Truly coming into her own, 'Somebody' highlights SOHMI's multidimensional skills as a singer, songwriter, and producer. Building a euphoric soundscape around her lush vocals, SOHMI hones in on her unique blend of soulful pop mixed with melodic techno, a sound she's coined as 'minimal pop-tech'. 'Somebody' serves as the first taste of SOHMI's upcoming Recital EP, due out early 2023, and marks the beginning of the next chapter in SOHMI's career.
LOVE SICK SHARE THEIR NEW SINGLE 'SICK OF LOVE'
Released earlier this year, LOVE SICK's two thematically linked EPs SICK and SICK II established the Scottish duo's darkly decadent take on relationships as something different from the pack. A summer highlight came when they hit the BBC Introducing festival ("Their set was even better than I hope… they blew the roof off") and the station's support extended to them naming the standalone single 'I Take It All Back' as their Track of the Week. LOVE SICK also flourished during their biggest show to date, a Hyde Park set as guests to the iconic Duran Duran.
Darla Jade shares superb sophomore EP including two epic new singles!
Tender and reflective, Say A Word is a gorgeous moment of reflection, touching on wanting to be there for loved ones in need, through all the hardships life throws at us. The track is a dreamy showcase of Darla Jade's effortless vocals.
Doechii New Single, New Colors Episode, New Jordan Peele trailer, New Spotify Radar Performance. She's Doechii!
Earlier Doechii stopped by the performance series Colors to debut the new track. As fans gave the live performance rave review – and more views than the last seven Colors episodes — Doechii took to Twitter to say, "I'm really touched that y'all love my song "Stressed." it's a vulnerable track for me … means a lot."
Blake Rose Releases New Single 'Dizzy'
Ahead of his headlining North American shows this month, Australian musician Blake Rose is back today with exciting news about his brand new EP, 'You'll Get It When You're Older,' out February 24, 2023 via AWAL Recordings. Today, Blake is teasing the new body of work with the release of 'Dizzy,' a playful track filled with his signature wit and nostalgia, out now, accompanied by an official music video directed by Julian Bachan.
Olivia Lunny Shares Dreamy New Single "Wonderland"
Proving herself to be a pop powerhouse, Olivia shines as brightly as ever on "Wonderland." The shimmering new single is another meticulously crafted, breezy alt-pop track which sees Olivia wrap her emotions and optimism into a song about the dreamy splendor of young love. "Wonderland" packs an emotional punch, and honors the moment and allure of a youthful relationship, living in the moment and shutting out the rest of the world.
BANDMANRILL DROPS URGENT NEW SINGLE "INFLUENCE"
RHYTHM OF FEAR: Metal Injection Debuts "Alien Synthesis" Video
Committed to unrelenting riffage, RHYTHM OF FEAR worships at the altar of thrash metal and crossover reinvigorating the timeless collision of speed, musicianship, and attitude. Unrepentant bruisers like "Dark Energy" and "Ten Theories" quickly became underground classics to a growing legion of like-minded supporters who snapped up the band's 2011 demo, the Mass Illusion EP (2015), and full-length debut, Maze Of Confusion (2016). The appetite for devastation only intensified with the Ritual Dementia EP (2019), featuring "Vortex Of Torment," and RHYTHM OF FEAR's impassioned take on "Over And Out," a deep cut from the early power metal years of Pantera.
RHYTHM OF FEAR Brings The Groovy Thrash On New Single "Alien Synthesis"
MADISON BEER RELEASES NEW SINGLE "SHOWED ME (HOW I FELL IN LOVE WITH YOU)"!
TAMPA BAY RAPPER RUBLOW MAKES CASH MONEY RECORDS DEBUT WITH NEW BANGER "BLOW MUZIK"
"Blow Muzik" front-and-center faces the rising rapper's soon-to-be-known flair, delivering diaristic lyricism that fans of rap from both the golden era of Hip Hop and of today will champion. His essence brings a sense of familiarity in sound while holding a flame to feelings of what is new and next in music with a ferocious flow to match.
New Music: YOUNGTREE & THE BLOOMS add east coast flair to Americana with self-titled debut album
Biomechanimal Brings The Destruction Of Innocence To An Epic New Single & Video
Jeremy Squires Releases Acclaimed New Album "Hymnal"
When North Carolinian songwriter Jeremy Squires started production on his new album Hymnal, it became apparent that a big to-do would only get in the way of the words and melodies he'd written. "These songs are true stories that I wanted to tell without any clutter," says Squires, who recorded his parts at his home studio and sent them over to violinist and vocalist Autumn Rose Brand to add her contributions. Done and done.
Wall of Sound Records – Bahrain's 7MND Announces Deeply, Introspective Progressive Single "Cataclysm" Off "Verge of Collapse"
Emotionally heavy, deeply layered, and introspective, Hamad likes to draw inspiration from both his personal experiences and the stories that fill his life from games, TV shows, and movies. 7MND is recommended for fans of The Contortionist, Stephan Bodzin, and Between the Buried and Me.
7MND's "Cataclysm" is due out on November 18, 2022.
All Star Band BELTFED WEAPON Drops Second Single "Darkened Demise"
No Resolve Release New Single "Come Back Stronger" + Official Music Video; Over 1 Million Monthly Listeners on Spotify!
FOR IMMEDIATE RELEASE: Despite Exile Tease New Album
K-POP STAR WONHO RELEASES 2ND SINGLE ALBUM, BITTERSWEET
Lead track "Don't Regret" expresses two contrasting moods and shares Wonho's message that we should not be regretful of our past memories, but realize that they have left beautiful traces to create the moment we have now. The song's lyrics express the doubt, misunderstanding and waiting involved when loving someone. It's dedicated to those who have no regrets when it comes to love, including Wonho himself. The music video metaphorically shows the emotional stages of a breakup, while taking the viewer on an emotional rollercoaster of the anger, bargaining, depression and finally acceptance stages.
Refs release stellar new single 'Night Low'
Having recently returned with their stunning first single in two years, New Religion, Berlin/NYC based duo Refs (Dessauer and Rich) continue to step towards the release of their debut album with new single, Night Low. Showcasing the gorgeously crafted production of Dessauer and spellbinding vocals of Rich, Night Low is another welcome offering.
2 CHAINZ RELEASES NEW ORIGINAL SONG "2 STEP" FROM THE NEW "HOUSE PARTY" ORIGINAL MOTION PICTURE SOUNDTRACK
Country Newcomer Whitney Miller Releases New Music Video For Current Single "Diamond Country", Premiered by CMT.com
The Beatles release Danny Sangra directed video for 'Taxman'…
GOMORRA Share Brand New Video for "Stand United" (feat. Laura Guldemond of BURNING WITCHES)!
Skinshape Shares "Turn Away" Single | 'Nostalgia' LP Due 10/28 via Lewis Recordings
Will Dorey aka Skinshape recently announced his seventh solo album, Nostalgia (out October 28 via Lewis Recordings), on which he taps into motives and motifs. To celebrate, he shares the record's newest single, a soft crooning ballad entitled "Turn Away."
Australian Alt-Folk Songwriter Lawson Hull Explores Romantic Nostalgia on New Song & Video "Wanna Be With You"
Today, Australian alt-folk songwriter Lawson Hull returns with new song "Wanna Be With You." The earthy ode to young love highlights Lawson's witty, everyman-style songwriting that has resonated with listeners around the world. It comes from Lawson's newly announced EP Mountain Days, co-produced with friend and labelmate Riley Pearce.
Smartbombmusic Calls Out Wanna-Be And Studio Gangsters With New Video "Euthanasia" FT Rockness Monsta & XL The Beast
Smartbombmusic (Dr. Whooligan & Rock The Wolf) are here to both entertain and inform. Hailing from the old-school era and the 90s Boston hardcore scene, their musical influences came from break beats, originality lyrical content, and that head-nodding infectious bass blasting.
Leezy Shares Debut Album 'Metanoia' Inbox
Today, Chicago-based dream pop artist Leezy shares her debut album, Metanoia. Combining vivid imagery with masterful production with emotive vocal melodies, Metanoia creates a captivating exposition of Leezy's struggles with addiction, love, sexuality, anger, and power. Leezy is part of a new wave of talent, with aesthetics influenced by trip-hop legend Beth Gibbons of Portishead, and the lyrical sensibilities of Elliott Smith.
PARAVI RELEASES NEW SINGLE "ANGRY" – ANNOUNCES MUSIC VIDEO COMING OCTOBER 21ST IN PARTNERSHIP WITH HEADCOUNT
Paravi shares, ""Angry" feels so important to me because it says every emotion I've been feeling as I've grown into a young woman. It encapsulates the frustration, the loneliness, the confusion, the desperation, every aspect of what life has become…including the fact that it sometimes feels like no one else is experiencing that. It's the worst kind of state of mind to believe that you are alone in this. That you are ignored and unimportant. This song is a plea, a cry for help to prove that there are other beautiful souls that feel this way, this song is a chance for us to relate in our humanity. From climate change to stopping Asian hate to Roe v Wade, I find myself often asking why everyone isn't angry? Why they don't care enough, aren't loud enough? Why I'm alone in this? But I'm not. None of us are, and the listeners of this song prove that."
Fused By Defiance Release New Single "Villain" + Official Lyric Video; Tour Dates in Support!
Stream the new Reds, Pinks & Purples release, They Only Wanted Your Soul
Before The Reds, Pinks & Purples started getting noticed by a larger audience, the I Should Have Helped You 4 song EP snuck out on Swedish experimental label I Dischi Del Barone and quickly disappeared, becoming a little-heard but often whispered about piece of the RPPs discography. Recorded around the same time as the material that ended up on his breakthrough LP Uncommon Weather, it contains some of the best examples of Glenn Donaldson's melancholy but wry take on indie pop. Needless to say, it's terrific.
Jude Flannery, Matt Barrick (Walkmen), Robbie Bennett (War on Drugs) + More Share "Stars" Single + MV via Wonderland's RollaCoaster TV | LP Out 10/28
LAVISHER: MetalSucks Premieres Video For "Gesture" From Chicago Alt-Rock Quartet; Series Of Singles Continues To See Release Through Nefarious Industries
LAVISHER's sleek riffs and time-bending grooves have drawn comparisons to Failure, A Perfect Circle, and Queens Of The Stone Age. Their darkly uplifting songwriting is composed of minimalist poetry, textured guitar work, and focused drumming. The band has released an EP and one full length since the project's inception in 2017.
Lavisher Release a Trippy CG-Filled Video for "Gesture" That Kinda Feels Like an Old Tool Video
Nate Amor brings hopeful "Count on the Rain"
Singer and songwriter Nate Amor relocated to LA in 2022 with a fresh mind and fresh music followed. These new perspectives are the driver for a new album he worked on with legendary mixers Joe Zook and Drew Middleton. He delved into a unique sound, paying homage to Kings of Leon, Ray Lamontagne, and Chris Stapleton. But before the full album release, Nate Amor has some singles for you to snack on.