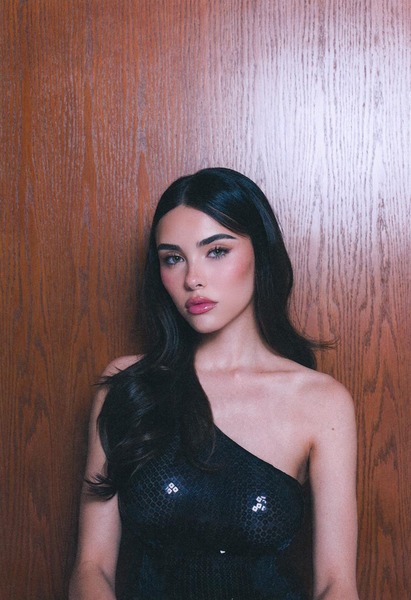 @skopemag news – friday – october 14, 2022 @ 11 am est
@skopemag HQ – http://smarturl.it/skope
EP RELEASE: LONDON ALT ROCKERS WAX ON WATER RELEASE 'GHOULS & FIENDS AND IN-BETWEENS'
Wax on Water are Maya Damaris and Steven Blessing – an Alternative Rock duo from London, who have always taken a different path from the identikit rock groups that exist on the scene. Drawing inspiration from a range of genres – they boldly fuse elements from electronica, metal, grunge, goth and Industrial music and nowhere is this seen more intensely than in their fiendishly good new five track EP 'Ghouls & Fiends and In-Betweens…' which is released alongside the focus track and first single 'Ghouls & Fiends' on 14th October 2022.
MADISON BEER RELEASES NEW SINGLE "SHOWED ME (HOW I FELL IN LOVE WITH YOU)"
Today, rising pop star Madison Beer releases her latest single "Showed Me (How I Fell In Love With You)," which premiered on BBC's Radio 1 yesterday. "Showed Me" is the most recent track to come from Madison's forthcoming project, the follow up to her smash debut Life Support. The official video for "Showed Me" also makes its debut today with a premiere on MTV. You can watch the visual here.
M. Byrd Announces Signing To Nettwerk Music Group; Releases New Track and Video for "Flood"
Ruthie Foster Announces New Album Healing Time Out November 18th & New Single "Soul Searching" Out Now
When speaking about "Soul Searching," Ruthie shares: "Writing this one with Gary Nicholson took me back to what it might feel like to write a classic soul song about a relationship and if it should end permanently. We were looking for something that talks about being caught inside the shift and the realization that while it worked in the beginning, it's now changed and you're wondering if you're both able or even willing to take that trip together or not."
out today: ALASKALASKA RELEASE ALBUM STILL LIFE ON MARATHON ARTISTS + "GLASS" MUSIC VIDEO
Finnish Heavy Metal Group, Green King, Release New Single "Where Speedian Dwells"
Harvey Jay Dodgson – Tell Me
Heavily championed by John Kennedy – Radio X, BBC Introducing, Apple Music, BT Sport and Clash Magazine who described Harvey as "a potent talent". With endless syncs, including his single 'Caroline' (listen) featuring on Netflix's top 10 most streamed films 'Purple Hearts', 'Tell Me' lands on firm foundations.
Green Day Announces Nimrod 25 + Drops Unreleased Demo "You Irritate Me"
Five-time GRAMMY® Award-winning band Green Day celebrates the 25th Anniversary of their triple platinum, fifth album Nimrod. The Nimrod 25 – 25th Anniversary Edition box set, out January 27, 2023, includes the original album, one disc of previously unreleased demos, and a live set from Philadelphia's Electric Factory recorded on November 14, 1997 one month after Nimrod's release. The 20-song live set includes several songs from Nimrod, plus fan favorites from their previous albums and singles. The 14 track demos disc includes two unreleased Green Day songs ("You Irritate Me" (OUT NOW) and "Tre Polka"), plus a cover of the classic Elvis Costello song "Alison" (previously unreleased).
The One Eighties Release Disco-Americana "No King" Song + Video Today! Please Listen + Watch!
The Raging Nathans share "Waste of Time" from forthcoming Still Spitting Blood LP
"'Waste of Time' is almost like a follow up or companion song to the last single, 'Doubt,' says vocalist/guitarist Josh Goldman. "It kind of continues with this theme of questioning yourself and how you deal with failing yourself and others. The lyrics also kind of explore not beating yourself up too hard about your perceived shortcomings because a lot of that shit is out of your control anyways."
QUARRY — Releases new album: 'Positioning The Sun' Today || Watch Video for "Beyond Any Sense"
NOTFORTHEO RELEASE NEW SINGLE "INTERLOCK"
The group released their first-ever music ever last month in the form of a Zane Lowe-premiered single, "just a little bit". Zane had this to say about the track: "the first time I heard this, I was like… I need this. I need this now"…."so gassed on this trio.. they are gonna just blow" …"a modern day hippy-potamus vibe to it." Both "interlock" and "just a little bit" are attempts by the band to bring attention to the prevalent addiction, psychosis, and technology burnout found at alarming rates among today's youth, conditions that have been greatly exacerbated by the global pandemic. Beyond the laid-back, feel-good overtones of the music, the band hopes to find resonance with those who have been alienated by their modern lifestyles, ultimately helping them rekindle a sense of connection and hope.
PLVTINUM Releases New Single "STRESS ME OUT"
Today, PLTVINUM shares his new single, "STRESS ME OUT." Kicking in with haunting digitized vocals, the track explodes into a lush and cinematic cacophony of experimentation. Following on the heels of his recent hit, "DIE4MYBITCH," "STRESS ME OUT" is another enthralling tease of what listeners can expect from PLVTINUM's forthcoming EP.
BREAKOUT POPSTAR LEAH KATE RELEASES BALLAD "HOT ALL THE TIME"
International Metal Collective THE WAY OF PURITY Release New Single & Video "The Red Herring"
REESE LAFLARE ANNOUNCES GANGSTA GRILLZ TAPE W/ WORDS FROM DRAKE FT. VINCE STAPLES, TY DOLLA $IGN, BENNY THE BUTCHER AND MORE
Multi-Instrumentalist and Pop Singer-Songwriter Michal Leah Releases Viral Track "The Way I Love You" 
Nettwerk's SVP A&R and Creative Operations Tom Gates says, "Michal's talent is beyond her years. Not only does she possess one of the most incredible voices I've heard, she is also already an extremely skilled writer who I have no doubt will be sought-after even outside of her own project."
ALESSO TAPS SICK INDIVIDUALS FOR EPIC CLUB COLLABORATION "WE GO OUT"
In many ways, "We Go Out" is a love letter to dance music culture. "We go out dancing together, we gotta rave all night," the anthemic chorus goes. The irresistible banger operates as both a boisterous throwback and a bold look forward, infusing tried-and-true elements of clubland with new tones and textures, and off-kilter time signatures.
The Bedroom Witch conjures dark magic in her new video, "My Only" [Watch + Listen]
The Bedroom Witch, Los Angeles-based dark synth-pop project of performance artist Sepehr Mashiahof, has just revealed "My Only," a video single from her upcoming album, A Place of Hurt, scheduled for 04 November 2022 via Psychic Eye and Ratskin Records on CD, vinyl, and digital.
The Bedroom Witch Explores Self-sabotage in her Video for Heartbreaking New Single "My Only"
Chief Keef Announces 'Almighty So 2,' Shares "Racks Stuffed Inna Couch" Single
He's established himself as the most influential rapper of his generation, but Chief Keef is not finished innovating. The proud Chicago native prepares to follow up one of his most acclaimed projects, officially announcing Almighty So 2, his next album. Released on October 12th, 2013, the original Almighty So was one of Sosa's most mind-bending projects, home to beloved deep cuts like "Blew My High." Home to the viral hit "Tony Montana Flow," which racked up over 140k video creations on TikTok and 270k+ Shazams, Almighty So 2 releases later this year via Chief Keef's new venture 43B and is now available for pre-order.
Doxxis, la nueva dupla del género urbano, presenta su nuevo sencillo "Festivo"
Dos jóvenes soñadores quienes se unieron musicalmente gracias al destino, hoy cumplen uno de sus más grandes sueños junto al sello disquero que les dio la oportunidad de convertirse en verdaderos exponentes del género urbano: Rapetón Approved. Juval y Khaled, hoy el dúo Doxxis, dieron sus primeros pasos en la música en edad escolar, sus melódicas voces y especial talento para la interpretación destaca ante la multitud y desde una corta edad se vislumbraba un gran futuro para ambos cantantes.
KEMBE X ANNOUNCES NEW EP
Los Angeles by way of South Holland, IL rapper Kembe X has announced a new EP, FLATFOOTED, due in December as a self-release. An offering to fans as he puts the final touches on his upcoming solo LP and label debut coming next year, today you can hear the first track from it. Produced by Wolf, "Always Loud" is a defiant meditation on speaking out and not being held down. Listen here and stay tuned for more every two weeks until December.
Housewife's New EP 'You're Not The Worst' Out Today!
Having just wrapped a string of dates in Canada with The Rural Alberta Advantage, this fall will see Housewife playing select dates in Ontario before heading to the US in December for their first ever US tour. They will support Born Without Bones on a run of dates that include Brooklyn, Boston, Chicago and Philadelphia among other cities. Tickets for all date are on-sale now and dates can be seen below.
Aaron Burdett's "Denver Plane" tells a serendipitous story
Set to a driving beat supplied by Laura Ray (banjo), Zeb Gambill (mandolin) and bassist/harmony singer Kim France — the musicians who made up Burdett's road band for the preceding year — "Denver Plane" unwinds an entertaining tale of a western North Carolina bluegrass band trying to make tight airport connections on their way out west, punctuated by a memorable chorus that almost demands a sing-along:
Tiffany Announces New LP, Shares "I Like The Rain" Single via FLOOD Magazine | 'Shadows' LP Out 11/25 on All DSPs via Deko Entertainment
Today, Tiffany is back with the announcement of her first new record since 2018's Piece Of Me. Shadows, due November 25, 2022 via Deko Entertainment, is described as a cathartic comeback LP on which Tiffany bares her soul and invites listeners to walk with her into the light. Today, she shares the record's newest single, "I Like The Rain," of which she says: "'I Like The Rain' is about owning your own dysfunction and the people who benefit from it."