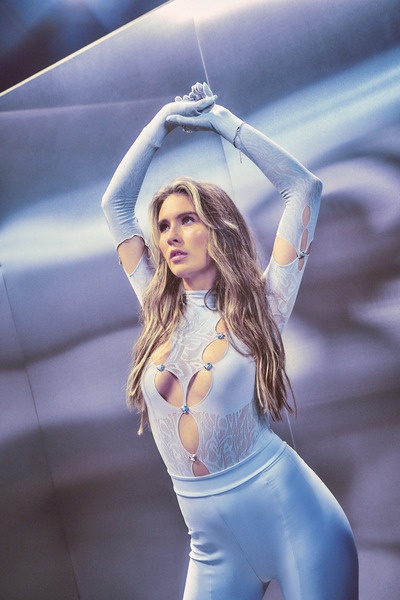 @skopemag news – wednesday – october 12, 2022 @ 12 pm est
@skopemag HQ – http://smarturl.it/skope
HARMONIC CROSS: Treble Premieres "Virtue" From The Grand Paradise Original Motion Picture Soundtrack By Dark Ambient Alter-Ego Of Bleach Everything; Score To Release This Month Via Dark Operative
Ending a seven-year stretch between albums, The Grand Paradise is the second full-length album and first original motion picture soundtrack from HARMONIC CROSS, the dark ambient alter ego of the Richmond, Virginia-based artist collective that also records and performs in their punk/hardcore form as Bleach Everything and their indie rock incarnation Highness.
Hear the immersive new drone track from Harmonic Cross, "Virtue"
Claudia Balla Drops Striking Emotional New Visual 'baby'
Gabrielle Shonk shares single / co-written with Men I Trust (ffo Crumb, Hand Habits)
Today, Montréal-based singer-songwriter Gabrielle Shonk shares "How We Used To Be", her first new music in five years. The song is taken from her forthcoming 2023 album which chronicles the enormity of heartache and hope that comes with endings and new beginnings.
Out Now: Sensitive-pop artist Lulu Simon shares sophomore EP 'Muscle Memory' (RIYL: Taylor Swift, Olivia Rodrigo)
Muscle Memory outlines what Lulu would describe as a snapshot of her experience of goingthrough the stages of grief after losing a relationship. Influenced by modern artists such as Carly Rae Jepsen and Kim Petras, Lulu Simon's shimmering sound fills a space in the current pop scene by bringing a singer-songwriter mentality to big pop productions.
Morgan Wallen Wraps Dangerous Tour in Arlington, Texas
With a Texas Rangers snapback covering his signature mullet, Big Loud Recording Artist and '22 CMA Entertainer of the Year nominee Morgan Wallen emerged on his Dangerous Tour "MW" staging one final time Saturday (10/8) night after zigzagging across North America since his February tour launch at Madison Square Garden, a grin as big as the state he was in. Setting a new attendance record for Globe Life Field, the boy from East Tennessee's sincerity was on full display in response to the crowd's enthusiasm for his first headlining stadium show.
"This is a special night for me, my band and crew," Wallen shared as he paused for several minutes to collect himself and take in the at-capacity crowd. As he introduced his band, he added, "We started out rehearsing in one of my buddy's mom's basements…and this is not quite a basement."
LOWLIFE Announce Debut Album, Share New Music Video
Christine and the Queens presents Redcar releases "la chanson du chevalier" + music video. Redcar les adorables étoiles (prologue) out 11.11
Redcar today releases his new song "la chanson du chevalier", the latest track to be lifted from Redcar les adorables étoiles (prologue), the beginning of angels, which is due for release on November 11th and is available to pre-order now.
A prayer for a lost knight, the song is accompanied by a stunning film starring Redcar himself alongside Rodin's masterpiece l'Age d'airain. The song encapsulates perfectly the essence of the sculpture, a meditation on what a young man appears to be, whilst the performance embodies its physical presence, with the deep flexing of the muscles just beneath the skin.
LENNE Releases New Lyric Video for Single "The Screaming"
"This song has a bit of a different attack than the other tunes on our EP. Initially, I was not in a good head space while writing/recording this one. So a few of our studio friends helped fill in some vocals. But after time working out some personal issues, we all agreed it was worth going back in and letting me at it. We ended up keeping all the new takes after just a few hours of recording. Sometimes it's better to walk away for a minute and come back fresh than trying to force a moment or feeling," says Leonard Cerzosie Jr.
obSCENE Stealers feat. Ken Lewis and Michael Maas Release New Single "Side Effects" Out Now!
obSCENE Stealers released their new single "Side Effects" to all major platforms!
obSCENE Stealers feed their musical co-dependence mainlining their new single "Side Effects". Weaving a cinematic dark pop story of love addiction, "Side Effects" spills "There's an unexpected innocence in letting all your walls down, yeah the flood can be too much I'm under water under you now".
Joyce Wrice Releases "Motive" EP
"In between coming off of my debut album and brainstorming ideas for my sophomore album, I was motivated to create an EP that the world could dance to," shares Wrice. "This new project is experimental, fun, carefree, and sexy. After 'Overgrown,' I was inspired to be free-spirited and to let loose and during this process I was consistently asking myself, 'what's your motive?'"
CHRISTINE AND THE QUEENS — Presents: 'Redcar les Adorables Étoiles' Out 11 Nov || + New Song "La Chanson Du Chevalier"
Montreal's' CYDEMIND "Breach" The Walls of Normality To Present Next Violin Prog Metal Single Off Upcoming Album "The Descent" Out November 2022
Montreal instrumental progressive metal band CYDEMIND is offering up its next single from their forthcoming album "The Descent" due out November 4th, 2022 to follow their 2017 debut album "Erosion".
Frozen Factory: An eclectic mix of alt-rock, prog and metal from Finland release new album 'Of Pearls & Perils'
Weaved with Frozen Factory's signature mixed sound of alt-rock, metal and proggy elements, 'Of Pearls & Perils' marks their second full-length album and third LP/EP release. Its 12 songs, including their traditional short intro & outro tracks, explore topics of equality, life, the afterlife, and the climate crisis. The sound twists and turns through a range of heavy and light soundscapes that draw careful influence from classic acts such as Pink Floyd, Alice in Chains, Iron Maiden & Depeche Mode, while nodding at many others.
NEWS: King Canyone Announce Debut Single "Keep On Movin"
King Canyon, the supergroup collaboration consisting of Eric Krasno, Otis McDonald, and Mike Chiavaro are proud to announce their debut single "Keep on Movin," which is due out October 7th. "Keep on Movin" is the first single from King Canyon and part of their forthcoming full length due this winter that features guest spots from Derek Trucks and Son Little.
Finnish Melodic Death/Black Metal band ARCTORA Presents I Am Human (Official Music Video)
"I Am Human" is a track taken from the band's album "The Storm Is Over", out via Wormholedeath worldwide.
Band statement: "We wanted the music video for "I Am Human" to be aggressive, simple, and straight to the point. Nothing too fancy about the story elements. Close to how you would see us play live. We had an absolute blast filming and all credit for how the video turned out goes to Juho Jokimies. We can't thank him enough!" Enjoy the video!"
Julie Neff's Powerful Vocals And Harrowing Angelic Production Creates "A Lot Left To Learn"
GOATWHORE Unveils Video For Angels Hung From The Arches Of Heaven Title Track; Album Out Now On Metal Blade Records
Trooping into their twenty-fifth year as conjurors of the most ruthless extreme metal, with Angels Hung From The Arches Of Heaven GOATWHORE spews forth forty-seven decimating minutes of the band's trademark brew of death, black, thrash, and classic metal delivered with breathless intensity and an unapologetic bloodlust.
joan new single/video infectious blend of pop eras
"don't wanna be your friend" was created after the band returned home from their biggest headline tour yet. Confiding, "Co-written with their friend Jon Capeci from the band Nightly, "don't wanna be your friend" details the all too relatable feeling of being in a relationship with someone you love and feel close to but knowing that you need to move on as that person is not the right one for you. joan further reveals, "it's also about growing up though and knowing that you just can't continue being friends with each other, because you know how that situation turns out. hope this song resonates with you in some way – makes you realize you need to cut that person out of your life, makes you move, makes you want to start a band, makes you want to call your best friend :)."
Kat Leigh Debut Self-Titled EP Out Now!
The 21-year-old used the pandemic lockdown as an opportunity to focus on their creativity; writing material for their debut EP, filming videos, painting, and taking photos. Musically, Kat's influences span genres ranging from Tyler the Creator to Avril Lavigne to Amy Winehouse. Lyrically, Kat boldly channels uncomfortable topics and underrepresented experiences. Over the course of five tracks, they explore their mother's illness and the emotional fallout which surrounded it, their parent's divorce, sexual harassment, and gender identity through poignant and relatable lyrics. Though Kat initially took to music as a means of distraction and cathartics, they hope to create a sense of community and let others know they are not alone.
LOWLIFE ANNOUNCE DEBUT ALBUM 'PAYDAY' OUT 18TH NOVEMBER FEATURING THE NEW TRACK "SOMETIMES"
LOWLIFE – announce their debut album 'PAYDAY' due on November 18th via Tim Armstrong-led Hellcat Records. Drawing inspiration from a wide variety of sources, the album fuses 90's hip-hop and alt rock with the sound of early 2000's pop and punk bands. Informed by the erratic, boisterous energy of groups like Beastie Boys, Rancid and Bikini Kill, they are here to deliver a new wave of unique music in 2022.
Naima Bock Shares "Giant Palm" (Live At Rough Trade East) Video
electronic artists INZO and Elohim release "Earth Magic" single
"Earth Magic," via Lowly. (home of NGHTMRE, Said The Sky, TroyBoi, and more,) heralds a new direction for his sound marked by the more quiet, introspective areas of his range. Created during lockdown, Earth Magic is more cinematic and calmer, with lo-fi beats, piano breakdowns, and transcendent synth beams—a byproduct of INZO's renewed focus on health and wellness. Making music itself has become therapeutic for him, so it's fitting that his new work reflects that cozy headspace. As much as he enjoys playing live, he especially loves the quieter, more intimate moments of listening back to a track he's made for the first time and realizing it's exactly what he'd envisioned.
Ovtlier's New Single "Living Dead" Reaches #15 on Octane's Big Uns Chart
"'Living Dead' is the embodiment of everything telling, dark and fun. An animated and colorful song that sticks out from everything in our discography. A spoken word opening by the legendary Vincent Price sets the scene that dives into a riff-driving intro, leading to a heart pumping verse, a monster chorus that will have you singing along by the second go-around and a bridge that brings the heavy. 'Living Dead' is the beast that keeps on killing!" says Joey Arena.
Dan Pallotta Shares New Album 'American Pictures' + Music Video for "The Mailman"
Dan Pallotta is sharing American Pictures, his new album following in the footsteps of folk and singer-songwriter greats to reflect on the human condition. Pallotta brings empathy and wisdom to his songwriting, gained over several decades spent exploring music, philanthropy, and family life.
Cremation – Timebomb // New Single Out Now
Ariel Arbisser Shines in Her Electro-Pop single "Rabbit Hole"
"Rabbit Hole" is that urge to be reckless but waiting for someone else to push you over the edge. The indie electro-pop single is a follow up to her last single "Bloodshed." "Thematically there's some crossover, but 'Rabbit Hole' comes down from the rage-filled fever pitch of 'Bloodshed' to this which is a more restrained, sexy, slow-burn," she shares. "Things haven't settled yet. The "dark side" is still enticing, maybe even more comfortable than it was before. The full song sonically is a true, addictive journey downward."
Gothic Indie-Rock Band Souls Extolled Release "Self-Mutilation"
The Austin based Souls Extolled are known for their diverse and provocative blend of familiar and eclectic rock fusion. Taking parts from indie and alt rock to grunge, ska, and punk, they have created a modern rock of the ages that can only be described as purely Souls Extolled.
Their newest single "Self-Mutilation," is out now and they're excited to announce their third full length album named MMXXII (2022) due out this January. "Self Mutilation" is available everywhere you stream music, stream and download here.
Marc Urselli's STEPPENDOOM release new single (feat. Steve Von Till)
Marc Urselli's fascinating project STEPPENDOOM amalgamates indigenous throat singers from around the globe with the cream of doom metal. Today we present the new track, 'Tamag & Ocmah', featuring renowned throat-singer Albert Kuvezin, best known in the West for his work with Tuvan folk-rock outfit YAT-KHA, and legendary guitarist Steve Von Till of the luminary NEUROSIS. The single is taken from the album "SteppenDoom", which is slated for release on November 18, 2022.
Get High and Listen to Music by The Derevolutions
The Beatles forever changed popular music after being introduced to pot by Bob Dylan and then again after being secretly dosed LSD by their dentist. And I imagine in those timeless moments they listened to music with a changed perspective and the things they heard were so remarkable that life on earth, for most, was never the same since. And this song is a homage to those moments in time that have brought so much joy to the world, high or not. I just wanted to write a song that made people smile.
ANIMA MORTE: Decibel Magazine Premieres "Seeds Of Trepidation" From Swedish Cinematic/Horror Music Collective As Serpents In The Fields Of Sleep Nears Release Via Cadabra Records
Cadabra Records, purveyors of nightmares on vinyl, presents Serpents In The Fields Of Sleep, the stunning new LP from Swedish instrumental cinematic/horror music outfit ANIMA MORTE. As the album nears release at the end of October, Decibel Magazine is hosting an exclusive stream of its second single, "Seeds Of Trepidation."
Eves Karydas releases 'Last Night When We Were Young'
Produced by Dan Puusaari of Cub Sport, 'Last Night When We Were Young' is a slow burning, intimate track about the pressures of growing up coupled with the fleeting sense of life passing before your eyes. Karydas expands her pop sensibilities, with a string accompaniment providing the sonic stage for Karydas to conjure up transitory, cinematic snapshots of her life and loves.
Lil Yachty Officially Releases Viral Hit "Poland" !!!
A Cure For Love Release LP "Birds, Beasts, Trees, Flowers"
Alternative rock powerhouse A Cure For Love released their new LP, "Birds, Beasts, Trees, Flowers," out on all digital streaming platforms NOW. "Light, airy, smile-inducing and energetic," according to GBHBL, is the best way to describe this indie-esque body of work. Their promotional singles "Cafeteria Harrison" and "Anor Londo" hyped up new and existing audiences, giving them a peek into the soul that the LP would exude. It isn't too common for alternative-based bands to bring so much raw emotion to their lyricism and melodies, but A Cure For Love accomplish it seamlessly. "Birds, Beasts, Trees, Flowers" is an endearing one – an album that you truly don't want to avoid.
Tigercub return with "The Perfume Of Decay" | First release via Stone Gossard's (Pearl Jam) Loosegroove Records
THE WRECKS Find Solace After Breakup By Smashing Things In "Things You Make Me Do" Video
Today, alt-pop band The Wrecks share a dynamic video for their newly released blustering alt pop single "Things You Make Me Do." While the song is about being in an inescapable one-way relationship, the cinematic video (directed by: Natalie Hewitt) starts off by following vocalist/producer Nick Anderson around a sun-filled house doing his daily morning routine until he ventures outside to take out his frustrations by smashing things.
MIMI WEBB ANNOUNCES DEBUT ALBUM – AMELIA
"Announcing my first ever album is such an important moment in my career that honestly, sometimes I wasn't even sure would happen. But after 3 years of hard work, I just can't wait to share this body of work with all of you who have helped me get to where I am today," Mimi shares. "The album is named Amelia, my full first name, as there are two sides of me that I want people to get to know. There's Amelia, the girl from the UK countryside who loves to be at home with her family, friends, and dogs; and Mimi, the pop artist who loves to be up on stage traveling the world. It was important for me to capture this duality with songs written for both of those girls, and I'm excited for you all to get to know them!"
New Castle Frank Single
The song was co-written with Nixon Boyd, a Toronto producer and one of the principal songwriters in Hollerado. When Bergé and Boyd wrote this song, Bergé was living inside the back closet of the guitar shop he worked in and the vocals were recorded in the basement of that store.