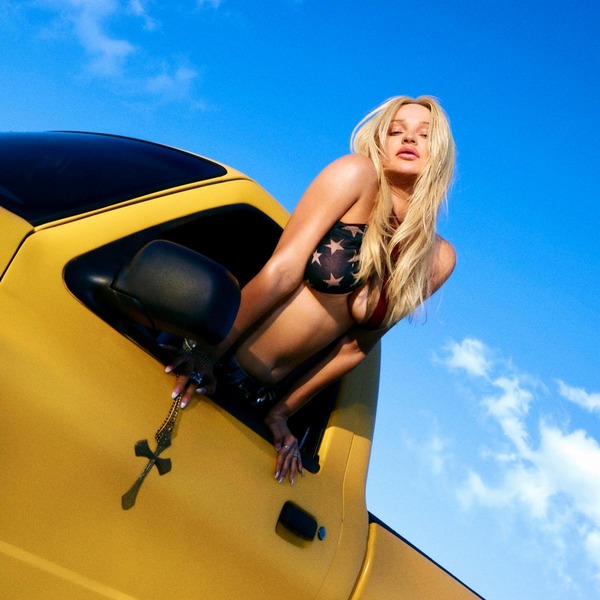 @skopemag news – tuesday – october 4, 2022 @ 4 pm est
@skopemag HQ – http://smarturl.it/skope
Progressive Rock Band KAJOSHIN Present "Chrisalys" (Official Visualizer Video)
"Chrisalys" is a track taken from KAJOSHIN's album "Chrisalys", due for re-release on October 21st, 2022.
Hana Lili – Common Ground
Hana's new single 'Common Ground' finds her strolling through tumbling acoustic-lined textures and wistful gossamer-quilted melodies that are both serene and steeped in nostalgia. Speaking on the track, Hana explains: "Common Ground" is a real snapshot in time from my own personal relationship and derives from a truly heartfelt place. It's about two people who are facing personal hardships that, in turn, cause them to lose their communication with each other. The lyric, "maybe we could meet up at a common ground" is an attempt at opening up the dialogue."
Ruth Koleva's Warner Music Debut Marks The Arrival of an International Pop Phenomenon
Rich Homie Quan Releases Highly Anticipated EP, Family & Mula
Family & Mula is an eight-song project that picks up where Quan left off. Notorious for his melodic rap sung, Quan refines his sound while incorporating velvety keys, the Spanish guitar, and soft drums. "Kno No More," the first track on Family & Mula, sets the tone for an odyssey that stops at every milestone and emotion Quan has felt and experienced between his last release and now. From the dark shadows of his mind illuminated on "Dark Shades" to "Another One," the flaunters anthem, Family & Mula is a serious musical stand. Ten years after the debut of Still Going In, a landmark he recently celebrated with a sold-out concert in Atlanta, the Rich Homie is still rhythmically weaving his story—sometimes sad, sometimes playful, but always real—into the soundtrack of the people.
Hear Midwife's "Sickworld,"The "Heaven Metal" Artist's Contribution To Hardly Art's 15th Anniversary Singles Series
Midwife is the project of Madeline Johnston, a self taught multi-instrumentalist and recording engineer, currently based in Southern New Mexico by way of Denver, Colorado, where she spent the last decade+ developing her sound and community. Midwife began while Madeline was a resident of the beloved/infamous DIY space Rhinoceropolis in 2014. She has released three albums with The Flenser, most recently, Luminol (2021), which received national and international acclaim. On stage, Johnston is known for her sparse, emotionally charged experimental pop music that can silence a crowd of hundreds. On record, she produces intricate and lush sonic environments in her own little corner of the heavy music scene. She describes her sound as "Heaven Metal," AKA emotional music about devastation: catharsis. Johnston writes primarily about grief, and the many faces it can inhabit.
BLACK ANVIL Premieres New Song via Decibel, Reveals Signature Beer Collab
In conjunction with this single release, BLACK ANVIL is now revealing the launch of their very own signature beer in collaboration with Wake Brewing! Fermented and aged on wood, the Black Anvil Stout will be officially released in tandem with the band's performance at the upcoming winter edition of Decibel Magazine's Metal and Beer fest, which will take place from December 2-3 in Denver, CO! Tickets for the festival can be found HERE.
CARRIE CUNNINGHAM HAS US DYING OVER NEW SINGLE "GRAVE DIGGER"
With alluring lyrics like we'll wear those lampshades, swing from the chandeliers, swim in the champagne, the feel good times are here, Carrie's sultry vocals are sure to haunt listeners in a good way.
NEW RELEASE: PAUL PAYNE837 – VICTORY FEAT. PROFET & JOECY TEE
The song is a compelling blend of Afro and dancehall vibes with meaningful lyrics that inspire change and perseverance. The song is a reminder that no matter the season in your life, everything will come to pass. Whatever you are going through, always remember that at the end of a tunnel there is light. The chorus takes you into a place of you chanting "Victory! Victory! Victory" cause you are a conqueror through Christ (Romans 8:37), "That's one of my favorite verses" Paul says.
Brooklyn band S.C.A.B. shares new single / video "Why Do I Dream Of You"
AJA shares great new bop 'How Do You Sleep?'
RICKY RACKS X BIGBANNDIT – JUST STOP IT
Courtney Govan Releases Energetic And Dreamy New Single "sofa"
The light-hearted non-gendered situations song sprinkled with a little bit of commitment issues is a bouncy and enticing cocktail of upbeat, indie-pop rhythms, playful bedroom pop sounds, and energetic electro-pop pulses. Much like Govan's subject of interest, the song is irresistible: flirty and colorful, it transports crowds into a bustling inner world of attraction. This is an anthem to cheerfulness, chasing connections, and the excitement of desire, where having drinks on the sofa teases and characterizes an organic relatability.
PALE HORSEMAN Release New Song "Grigori"
Chicago sludge lords PALE HORSEMAN have released their crushing new single "Grigori" today on all streaming platforms. The song is taken from their upcoming split with BUZZHERD which will be released on October 28, 2022 on vinyl and digital formats.
Magnolia Park Announce Debut Album 'Baku's Revenge', Watch New Music Video For "Misfits"
Under the guidance of producer Andrew Wade (A Day To Remember, Wage War) they combine elements of punk, pop and hip-hop teeming with catchy melodies, massive guitar hooks and cutting-edge production. At times lighthearted, the band is also serious about spreading a message of inclusivity and inspiring kids who look like them to start bands as a form of creative expression.
RIPPED TO SHREDS Shares New Song "Violent Compulsion For Conquest"
Frontman Andrew Lee comments, "'Violent Compulsion…' is easily one of our favorites off this record with the sickest double bass Brian's ever laid down on record. Dave Suzuki was also kind enough to lay down a guest solo, and we're all huge Vital Remains fans. I had Dechristianize on repeat all throughout high school!"
BigMG feat Kia Shine – Rich & Ratchet [DJ Pack]
Contour shares "At All"; new album out this Friday + supporting Nick Hakim
Contour shares, "'At All' is a rumination on self definition. It poses the question of what steps must be taken to create a definition of self we're happy with. Sometimes that just means looking at ourselves but sometimes it means having to kind of carve away until we can actually see something. It also asks if the self is the individual or if it's a more fluid thing where we flow into each other."
Aesop Rock x Blockhead "All The Smartest People" video
Aesop Rock and Blockhead have returned with an animated music video for "All The Smartest People," the pensively reflective centerpiece of their full length 2021 collaboration album, Garbology. The psychedelic visual strings together nearly 1500 illustrated stills of Aesop Rock delivering his verses, all illustrated and animated by Aesop himself, with dozens of subtle notes, clues and references throughout.
Dan Mangan Reveals "All Roads" From Upcomning LP
Today, Dan Mangan is sharing "All Roads", a bouncy indie folk track about finding beauty in the ephemerality of life, from his upcoming album, Being Somewhere. Steady acoustic strums and a big drum beat hold the pace as ethereal synths float beneath Mangan's philosophical reflection 'the thing I thought that was in the way, well it was the way'. "It's absurd and beautiful how much consideration and yearning we place into a life so fleeting," Mangan explains. "In a billion years, it's all just space dust. No John Lennon, no Oprah. Relativity is infinite, and we are infinitesimal. And yet, in the here and now, how could anything matter more? This song is about being emancipated by the beautiful humility of littleness."
DANZIG/SAMHAIN/BLAK29 Member STEVE ZING Revives His Early '80s Horror Punk Project MOURNING NOISE With New Studio Recordings!
It appears that the demise of Mourning Noise, the underground '80s punk rock sensation founded by Steve Zing, may have been a bit exaggerated. Zing, best known as the drummer for Samhain and the bassist for Danzig as well as bassist for Son of Sam and helming the forthcoming Blak29 project, recently reissued Mourning Noise's complete recorded discography earlier this year, and now most of the band's original line-up has returned for a new set of recordings!
April Kry Announces Sophomore Album, "Krysalis"
The forthcoming record is a follow-up to her 2018 EP, "Sink Or Swim" which received national acclaim with songs from the EP landing a spot on the Music Row Country Breakout charts, with plays on numerous radio stations across the country, over 4 million streams across platforms, including a coveted rotation on Radio Disney Country. Her newest album explores the growing stages of life with themes of empowerment and self reflection.
"Lord Try" single/video from Katy Rea RIYL: Marissa Nadler, Wednesday, Richard Swift
The video for "Lord Try" was directed by Kaitlin Scott and shot by Rachael Batashvili. "Kaitlin and I were aiming to capture subtle moments of temptation that often creep up in the still, quiet moments of life. Growing up I spent a lot of time alone, daydreaming, fantasizing the mundane away," says Katy. "And as a girl who grew up in the church everything became sweet or evil, right or wrong. Natural desires felt like something bad within me, but eventually I started to become friendly with close calls and cheap thrills. I put myself in dangerous places and learned my strength through escaping them. Eating a flower with thorns, swimming in murky waters, wearing little clothing knowing maybe the neighbor would see, was just the start of some of this flirtation I knew as a girl. We shot this on 16mm in upstate New York at an abandoned kids summer camp. The grassy landscape reminded me of Texas, the church down the road, and the neighbors shaking their heads through their windows."
FUNERAL MASS Signs With Marquee Records; First Single Released
Polish Black Metal band Funeral Mass signs with Marquee Records to release their third full-length album Shadow of the Raventhrone. Album will be released on December 2, 2022.
BLEED: Dallas Alt-Metal Quartet Releases New Single, "Killing Time," Through An Exclusive Premiere At Knotfest; North American Tour Supporting Narrow Head Draws Near
In advance of the band's upcoming Fall tour with Narrow Head (with whom they share past and present members), BLEED presents the new track "Killing Time," their first new music made public since the 2021 release of their debut EP, Somebody's Closer. The new track is a first taste of the band's eventual debut full-length, which will see release via 20 Buck Spin in 2023. "Killing Time" will be on the as yet unnamed new album in re-recorded form, making this advanced single version unique in and of itself for the band's growing fanbase.
Texas-bred outfit Bleed taps into 90's era nostalgic heft on "Killing Time"
RED VELVET'S SEULGI RELEASES DEBUT SOLO EP, '28 REASONS'
This six-song EP displays SEULGI's ability to take on any concept as well as her diverse skills as an artist, including lyrics written by SEULGI herself on "Dead Man Runnin'." The title track, "28 Reasons," is a pop dance track with a heavily moving, groovy bass and a signature whistling sound that covers the topic of good and evil, and how the two can coexist within one person. SEULGI first teased the project with an official album trailer, setting the cinematic tone and showing off her impressive acting skills.
Rot Ken Puts It On Ice in "Heartless" Video
With a freewheeling sense of melody to complement his organic appeal, Rot Ken has an arsenal of vocal and creative weapons at his disposal. Combatting the adversity he faces, both in the streets and in his mind, Ken shares his latest video single, "Heartless," produced by Kay, Kid Krono, and Clemsy. Though Ken bursts onto the track, initially scolding listeners who failed to heed the warnings of his cold-blooded demeanor, the strength of "Heartless" lies in Ken's incremental self-reflectiveness as the track progresses. As Ken contemplates his mission to escape the drugs, guns, women, and reckless individuals that seek to destroy him, it's clear that his heartlessness comes from the toll the world took on him: "I'm worried 'bout me/I'm staying focused, gotta stay on my path/I go through things, I'm a human being."
New Music: Neek Bucks x 2 Chainz "Mask Up"
East Harlem native Neek Bucks teams up with 2 Chainz for his new single and video, "Mask Up," via H4 Records/MNRK Urban. Produced by Hitmaka (Big Sean's 5x Platinum-certified "Bounce Back," Meek Mill's "Dangerous," French Montana and Drake's "No Stylist," Ariana Grande's "Rule the World," Nicki Minaj's "Want Some More," Yung Bleu's "Baddest" ) and Buddah Bless, the gritty track warns people who talk big and can't follow through. The video for "Mask Up" is world premiering on BET Jams today, airing extensively throughout the day before being added into regular rotation. The visual was shot in Atlanta and directed by Marko Steez, and also features appearances by Ray J and Hitmaka, with the foursome taking over a trendy Krystal's fast food restaurant.
KIM PETRAS Announces New Single "If Jesus Was A Rockstar"
GRiZ Announces Eighth Annual 'GRiZMAS' Shows on December 9th & 10th at The Masonic Temple in Detroit
The eighth annual 'GRiZMAS' is set to host two nights of performances at the iconic Detroit venue. The double header kicks off Friday, December 9th with UK dubstep don Dirtysnatcha B2B up-and-coming bass producer Carbin, and fast-rising female DJ Canabliss, continuing into Saturday, December 10th with queer bass icon Wreckno, and rising bass maven Khiva, along with headline performances by GRiZ both nights. Each night, GRiZ and company will perform for over 4,500 attendees. In typical GRiZMAS fashion, fans can expect GRiZ to perform a unique set each night filled with unreleased material, standout classics, and unique live takes.
Devilpriest – first single and pre-order
Odium Records recently announced a contract with Devilpriest to release their new album. The successor to the debut material issued in 2017 is called "In Repugnant Adoration".
Bri Oglu Puts a Cinematic Spin on Aerosmith's "Dream On"
Los Angeles artist Bri Oglu has released her cinematic take on the Aerosmith classic "Dream On." The alt-pop artist showcases her sultry and powerful vocals alongside a modern update on a 70s fan favorite. "'Dream On' is one of my and my Dad's all-time favorite songs," explains Bri. "I knew I wanted to pair my sound with a few intentional covers, and this one immediately came to mind. The producer, Will Snyder, and I recorded it in the historic Sunset Sound in Hollywood with my family and loved ones. It was surreal." "Dream On" is the 2nd offering from Bri's forthcoming EP, Somewhere Else.
TAKING BALFOUR Reveal New Video For "Awakening"
Progressive metal outfit TAKING BALFOUR are streaming a lyric video from their new single "Awakening". The song is taken from their upcoming album Dawn of Polaris, due out on October 21st, 2022.