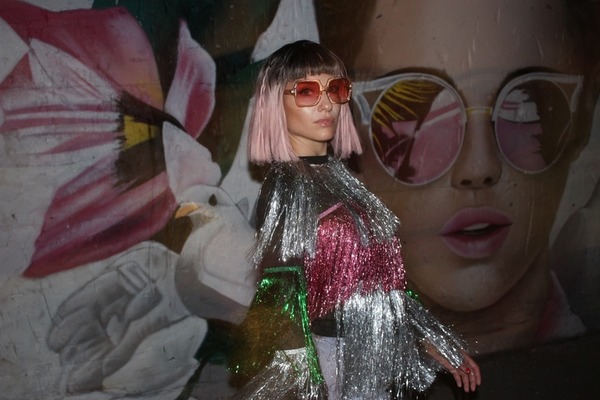 @skopemag news – monday – october 3, 2022 @ 11 am est
@skopemag HQ – http://smarturl.it/skope
Linda Ronstadt Releases Musical Soundtrack To New Memoir (OUT NOW)
Today Putumayo World Music releases Feels Like Home: Songs from the Sonoran Borderlands—Linda Ronstadt's Musical Odyssey, a musical accompaniment to the acclaimed singer's new book, Feels Like Home: A Song for the Sonoran Borderlands, published by Heyday Books.
SPAIN Share "HER USED-TO-BEEN" Single + Video via Uncut | 'WORLD OF BLUE' LP Out Now via All DSPs + Vinyl Due October 21 via Shimmy-Disc/Joyful Noise
Kick Off Your Weekend Right with George Ezra's New Video for His Latest Single "Dance All Over Me"
SG Lewis is performing at Big Night Live in Boston on October 6th
SG Lewis has cemented his status as one music's most sought-after producers and has collaborated with the likes of Elton John, Dua Lipa, Clairo, Tove Lo, Khalid, Aluna, Victoria Monet, Raye, Ray BLK, The Neptunes/N.E.R.D's Chad Hugo, Gerd Janson, Conducta + many more. Louis Vuitton also launched their pre-Fall campaign with Soulwax's remix of 'Impact' earlier this month and Sam is well regarded in fashion circles, attending, and performing an array of parties across his illustrious career. Behind the scenes, he also produced Dave's seminal breakout track '100M's' and co-wrote 'Hallucinate' for Dua Lipa's record-smashing number one album, Future Nostalgia. Sam has sold out headline shows across the US, Asia, Australia, and Europe as well as multiple festival appearances including prime-time slots at Coachella and Glastonbury – his raucous live shows not only make him one of London's hottest talents, but also a formidable artist capable of making a splash on both sides of the Atlantic and beyond.
Submission: The Bergamot's "Far Out"
"Far Out" comes via their album of the same name, also released today. The warming duet speaks to embracing bright blue skies even in the darkest of times.
New single+video: Phomea – J.B.
NEKOMATA: ex Frozen Crown and Skeletoon members premiere new single "Algorithmically Imperfect"
NEKOMATA is a new Italian modern metal band born from the ashes of the band PROJECT KASHA. Founded in 2022 by Filippo Zavattari (ex FROZEN CROWN) on bass and backing vocals and Andrea Cappellari (ex SKELETOON) on guitars and programming, the band has recently been joined by Andrea Olivieri on vocals and Nicolò Buganza on drums.
MASHVILLE shares empowering debut single and video "Rise Up"
Music Submission: Willie Lock
New York City's rising country-rock artist Willie Lock began his musical journey in the college town of Bloomington, Indiana. His latest single, "My Brother", is his most personal work to date. Lock wrote the song by himself after hearing the news about the passing of a friend, and he hopes the song will resonate with anyone who has lost someone special. Lock's work has been featured by MTV, Billboard, On Air With Ryan Seacrest, and Country Swag. He has shared the stage with artists such as Jake Owen, Pete Davidson, Jay Leno, Cuba Gooding Jr., and The Oak Ridge Boys.
Nord1kone x LMT Break Keep The Torch Lit For The Golden Age With New Video "High Velocity"
Aaron James // music video (alt folk)
YG UNVEILS VIDEO FOR "HOW TO ROB A RAPPER" FROM NEW ALBUM I GOT ISSUES
Previously released tracks include "Scared Money" featuring J. Cole and Moneybagg Yo, "Run" featuring Tyga, 21 Savage, and BIA as well as "Toxic" which hit in August alongside an incredible performance for COLORSxSTUDIOS. Most recently in the run-up to the album release, he released an in-studio performance for "Alone", "Maniac" ft. Hit-Boy and "I Dance" ft. Duki, Cuco.
Mango In Euphoria
This is Mango In Euphoria, I'm a dark disco London-based artist and I dropped my debut single 'GODDESS' two months ago.
Hannah Schneider releases first solo album in 7 years, 'Ocean Letters'
On 'Ocean Letters', the classic piano composition and the evocative electronic elements form a seamless kinship and create a picture-saturated tale of time.
PET NEEDS: Release Official Video For: "Lost Again" || + UK Headline Tour This December
"'Lost Again' was always going to be the opener of 'Primetime Entertainment'. It's frantic and furious, smashed together in the summer of 2021 fueled by trashy chords and cheap wine…. In parts it's a tale of defiant adventure – of drunkenly and euphorically stumbling 25 miles in circles round the Colchester Orbital path (literally and metaphorically). In parts it's a self-reflection on self-destruction, painting over the cracks and pretending that everything is fine. We're lost again. But we ain't ever stopping yet!"
Emerging Brixton rap prodigy and artist RIPPA releases debut track "Flows"
EWAN MACFARLANE — Shares Album Title-Track "Milk" || + Album Out 28 October
REEPA unleashes visuals to 'The Pack'
PETER MANNING ROBINSON NEW ALBUM "CELESTIAL CANDY" – NOW AVAILABLE EVERYWHERE
Myra Monoka released hypnotic eletronica produced by Mongoose
UMBILICUS release debut album "Path Of 1000 Suns", stream in its entirety
70s rock revivalists Umbilicus are streaming their debut album, "Path Of 1000 Suns", exclusively at Metal Injection. The group's 10 original songs showcase their love for all things 70s hard rock, covering a range of influences from Grand Funk to Lucifer's Friend to Led Zeppelin.
UMBILICUS (CANNIBAL CORPSE, DEICIDE) Streams Psych-Rockin' Debut Album
New vocal performance by XG's main vocalist, CHISA, is now on YouTube!
The video released today, titled CHISA from XG – Vocal Performance (Nobody Love) is a solo vocal performance by XG's main vocalist CHISA, covering Tori Kelly's hit song Nobody Love. CHISA performed the song making full use of her broad vocal range and singing abilities, singing in a soft and sweet tone, shifting to a dynamic performance leveraging her falsetto voice. The song showcases CHISA's abilities in a simple and straightforward manner, resulting in a romantic and dreamy performance.
NEW MUSIC: Multifaceted Electronic Producer Nau Leone Releases 'Nº1 Cambio' (FFO: FOR FANS OF: Ben Böhmer, Trentemöller, Avoure)
OAKS – Release Video For "The Abstract"
Band comments: "In order to celebrate the release of our 1st album Genesis of the Abstract, here's the edit version of "The Abstract". All those powerful shots were captures by the mighty Clément Sautet last months of rehearsals. Enjoy!!"
The Toxic Avenger "Getting Started" – New single out ! // LP on Nov. the 4th
[PRESS] Raised on Tv Release EP
Los Angeles alt-rock trio, Raised on TV, have released a new EP titled Around the Sun. Their Sell the Heart Records debut is a short and sweet two-song endeavor that captures the sun-soaked persona of California. The titular track addresses the labor of love relationship of having a band and it's accompanied by "Strangers in Pictures." Both songs showcase Raised on TV's brand of breezy alternative music that is driven by shimmering guitars and reverb-drenched vocals. Around the Sun is available now on all digital platforms and for purchase from Sell the Heart Records.