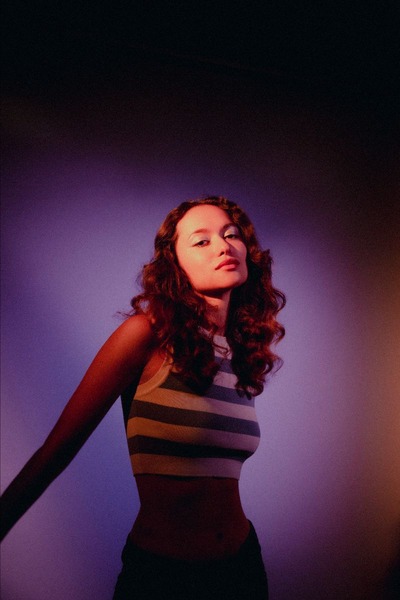 @skopemag news – friday – september 30, 2022 @ 8 pm est
@skopemag HQ – http://smarturl.it/skope
For Skope: Platinum Aussie duo Stafford Brothers revive Safri Duo's "Played-A-Live." Out now on Purple Fly
LIFE OF THE PARTY- JULES TRULY FT. JAY MORRIS
Farrow And The Peach Leaves Reveal New Album + Single
YG RELEASES NEW VIDEO 'I DANCE' ALONG WITH HIGHLY-ANTICIPATED NEW STUDIO ALBUM I GOT ISSUES
WATCH: The Deepstate Premieres New Music Video "Communicator" on Vents Magazine
Singer-Songwriter Lesley Pike Shares New Single "Paper Thin"
"Oh god, have I ever sounded like this?" Pike asked herself as she tried to catch some sleep. The next morning, she and The Dunwells set out to write a song which feels tender but also quite optimistic and hopeful. Delicate lap steel guitar and Pike's vocal at the forefront tell a story of comparison and the shifting perceptions of conflict that come from overhearing such a personal row between strangers.
BELGIAN POP STAR ANGÈLE DROPS NEW SINGLE "AMOUR, HAINE ET DANGER"
Milan McAlevey Shares "Whatever It Was" Single + Lyric Video via EARMILK | 'Islands of Milans' LP Out Today via Fortune Tellers
TORONTO'S SWAVY RELEASES VISUALS FOR INFECTIOUS HIT SINGLE "OLD WAYS"
"EN LA MIA", LO NUEVO DE AMOLAO FT. YAMIL CON FUSION DE TRAP Y SALSA
Vibrant Dance Pop Track "Backup Guy" from Corduroy.'s EP Half-Time Oranges
SAM SMITH UNVEILS OFFICIAL VIDEO FOR "UNHOLY" FT. KIM PETRAS
Payton Howie unveils "Jail and Jesus" Official Music Video
Tearing Up Announces New EP, Shares "Running" Video via Brooklyn Vegan | 'Billy Is Dead' EP Due October 14 via All DSPs
CHRISTIAN FRENCH SHARES "EVERGREEN" MUSIC VIDEO
TAKING BALFOUR Release Lyric Video For "Awakening"
Progressive metal outfit TAKING BALFOUR are streaming a lyric video from their new single "Awakening". The song is taken from their upcoming album Dawn of Polaris, due out on October 21st, 2022.
Legendary The Isley Brothers Present Anxiously Awaited New Full-Length LP 'Make Me Say It Again, Girl' The Album Today !!!
They originally set the stage for the record with a recreation of The Isley Brothers classic 1975 love ballad, "Make Me Say It Again, Girl," joined by none other than Beyoncé. It recently catapulted to #1 on the Billboard Adult R&B Airplay Chart, standing out as their first #1 since "Contagious." It incited a flurry of critical applause from the likes of The FADER and Vulture who proclaimed, "For this one, Bey is out of Club Renaissance, trading lines with Isley over a smooth, polished track."
ALAN WALKER "EXTREMES" FT. TREVOR DANIEL – FIRST TRACK TO BE TAKEN FROM UPCOMING WALKERVERSE PT II ALBUM
A radio-ready pop-infused electro track, "Extremes" is brimming with the larger-than-life house elements that Walker has become renowned for, while effortlessly bringing in Daniel's edgy vocals for an alternative pop meets trap soundscape with a little added grit.
New release: Blue Bird Fly Free
"Blue Bird Fly Free is my latest song. It is a song about longing – longing to be free, longing to be able to go where ever you want, longing for someone or something."
Happy For No Reason Releases Their Jazzy Folk Album 'Taking It Higher'
AP Tobler's Alt Rock and Grunge "False Hearted" is a Tale of Betrayal
Melodic Death Metallers CARRION VAEL Reveal New Lyric Video For "The King of the Rhine"
Fresh off their recent short trek through Canada, Melodic death metallers CARRION VAEL will further support their album, Abhorrent Obsessions, with live shows in October and November in the United States. The October shows will see support from SEVERED HEADSHOP and ASSIMILATOR while the November dates will see the band tour with HATH and REEKING AURA. Abhorrent Obsessions was released on on August 12th via Unique Leader.
For Skope: Timmo Hendriks returns to Protocol with new vocal progressive track "Lonely World" (out now)
WELCOME TO THE BLOCK: B-LOVEE LINKS UP WITH ICE SPICE, J.I. AND SKILLIBENG FOR THE "ONE TIME" VIDEO
Cryptic Wisdom Shares "Can't Be Saved"
Eva Rose Shares New Single "Final Girl" via CHORUS.FM | Read More in Ones To Watch
Kelly Lang Releases New Music Video For "Life Sentence" In Honor Of Breast Cancer Awareness Month
Nationally acclaimed singer, songwriter, author, producer, and survivor, Kelly Lang has released her latest single "Life Sentence" along with a new music video that was premiered by American Songwriter. In honor of Breast Cancer Awareness month in October, Lang wanted to pay tribute to those who fought the true fight of their lives and are thriving today. She enlisted the help of her friends and followers on social media to send in photos of themselves holding signs that offer hope to others who are currently battling cancer. As a result of the life-altering diagnosis that she received seventeen years ago, Lang has a different outlook than most and encourages all to live EACH day to its fullest and enjoy everything life has to offer. Lang has dedicated "Life Sentence" to her dear friend, the late Dame Olivia Newton-John, and it is available on all digital platforms today!
Kelly Lang Shares Breast Cancer Survival on "Life Sentence," Video Dedicated to Friend Olivia Newton-John