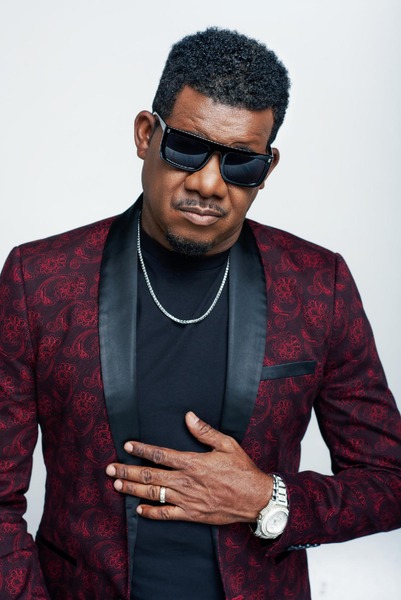 Tyrone Thompson, notably known as Papa San, was born in Kingston and grew up in Spanish Town Jamaica. Realizing his musical gifts from an early age he was singing, creating music, and performing with other artists more than twice his age at 12 years old. Growing in an inner-city environment, he experienced the hopelessness of hard life, grinding poverty, and street violence. He also was exposed to the full musical qualities of Reggae music through dance and singing.
With Reggae music always playing full blast on P.A systems throughout the town and also by his father was an influence to him. Having had his first smash as a teenager in the mid-80s, Papa San's phenomenal, ongoing reign on international music charts earned him the nickname Marathon Man. It was not uncommon for him to simultaneously hold down several positions in the Top 10 as well as to the long runs at No.1 that still no reggae or Dancehall artist to date has surpassed.
In 1994, he filled dance floors around the world with "The Programme" which made him the first dancehall artiste to hit No. 1 on the Billboard dance chart. It was his unique blend of traditional reggae sound and his intricate, mesmerizing style of rhythm and wordplay that became popular with the mainstream Hip-Hop and Rap Circles in America. With smash hits like "I Will Survive", "Hippity Hop", "Legal Rights", "Pray Fi Dem", "Strange", and "Maddy Maddy Cry" among many others. They brought Papa San a huge audience in all the Caribbean Islands and around the world in Japan, Europe, Africa, the U.S., and more throughout the 80s and 90s.
Despite all the success, fame, and material wealth, this once poor Jamaican acquired through his talent and music career felt unsatisfied as if something was still missing. Growing up in Rastafarian culture, Papa San did not know much about Jesus and the Christian faith. Living in poverty, Papa San assumed that life would be better if he could get out of this hard lifestyle by earning enough money. Papa San reflects, "As a child growing up, I always believed that if I just achieved certain material things that everything would be all right. As I became older, I had lots of success. I had lots of things and had tried many things, but I never found the satisfaction I had expected or fulfillment of peace".
In 1997, when unexpected turns in his life were moving him in the wrong direction, Papa San began a spiritual journey. He simply opened a Bible and began reading God's Word. This led to a spiritual transformation through belief in Jesus Christ and dedicated his life to God. Papa San explains, "The Holy Spirit started ministering to me, saying in my heart, 'you need to get yourself straight. You have to get yourself right". "Would the Lord forgive my sins and accept me?" he wondered. "I had given some bad messages in my songs, and I at one time had been involved with firearms and had run-ins with the police. I had one brother who was killed by gun violence. It caused me to be bitter and have hatred in my heart. Could God forgive me of my sins over all the years and accept me into his Kingdom? I thought I did too much for God's grace to be sufficient but back then, I didn't understand the love of Jesus".
With this question in his heart, "My wife and I went to a church," he explained, "the pastor told us about Christ. My eyes began to open and I knew that I had to receive Him, regardless of what anyone else thought or said about it". He and his wife accepted Christ and began attending Church to learn more about Christ. Since his conversion, all the success, fame, accolades, and material wealth once accomplished, he has counted them as dung. Papa san says "I have learned from my past experiences and gained wisdom from my mistakes. He proclaims that his life has been the best since receiving Jesus Christ in 1997.
As a result of his growing relationship with Christ, Papa San's focus for music shifted. The content of his songs changed to convey his newfound faith in the Gospel but the mighty grooves, unforgettable hooks, and mile-a-minute words and rhymes continued to soar. His astounding international success and signature sound have established him as a visionary in Reggae music while being anchored in Kingdom building.
Papa San is without a doubt the trailblazer in Gospel Reggae and is still known also as Jamaica's fastest lyrical speaking DJ. He has emerged to the forefront in music and in ministry as a leader and an innovator whether it was in his lyrical styles, his fashion sense, or even making changes in gospel music. This evolution is reflected in his continual presentation of poignant lyrics and his dedication to the Gospel. Not only does he aspire to be an effective Christian, he truly desires to make a difference in this world. The man himself spoke of his experience, his hopelessness of a hard life, grinding poverty, and street violence, which is creating a difference in the lives of others through music. Few have found the level of commercial success in the reggae and gospel arenas as Papa San. With over 18 secular albums and over 21 hits songs to his credit, the Jamaican native has impacted music charts and radios around the world.
Since 1997, the swift speaking lyricist has released five top ten billboard gospel albums to date and has collaborated with the likes of Kirk Franklin, Toby Mac, Percy Bady, Chevelle Franklin, Natalie Wilson, Fred Hammon, Lecrae, Israel Haughton, Da Truth, Trey Lawrence, Nicole C. Mullings, Carlene Davis and many more… Papa San is an internationally renowned, Jamaican Gospel reggae and dancehall singer, songwriter, and producer. He is a Twelve-time Marlin Award winner/ GMWA award winner/ Stellar nominee and award winner/ Tamika Award winner/ Dove nominee/ Soul Train nominee beside others.
In 2011, having been ordained ministers of the Gospel, Papa San, and his wife were launched into pastoral ministry and started Our Fathers Kingdom Ministries International. Even with being a husband, a Senior Pastor, a father, and an artist when asked how he balances all his roles, he says, "with my wife I am her other half, at church I am Pastor Tyrone, with my children I am daddy, and when I am on stage, I am Papa San. That's how I keep the balance".
Veteran performing artist Papa San delivers his new anticipated album 'Life Lessons' with hit-filled songs that accentuate messaging that praises God, balanced with sonics that seamlessly blend with Trap-Dancehall, Dancehall, and Reggae.
As a trailblazer in music, Papa San is known to push the boundaries in music. Taking Gospel to new levels, he acquired international success and a hearty signature sound that labeled him as a visionary in Reggae music while being anchored adamantly in Kingdom building. 'Life Lessons' furthers his accomplishments for its appeal to Gen Z Gospel music listeners while appealing to the tastes of mature listeners too.
Track 1, "Story" is a rapid freestyle that juxtaposes two stories that revolve around the choice each person has in life; a life with God or the hardships without him. Track 2, "Love About You" is a melodic ode to the new life one lives when they welcome God as their center. Track 5 "None Like You" is a hardcore pulsating Dancehall beat that marches listeners to the alter. Track 6, "Take It All Jesus" is an adult contemporary themed one-drop track that explains what happens when you give all your burdens to Jesus.
With a career spanning over twenty years, Papa San has emerged to the forefront in music and ministry as a leader and an innovator continuing to push the envelope with enthralling rhythmic Dancehall music immersed in the Word. This evolution is reflected in his continual presentation of poignant lyrics and his dedication to the Gospel. "It took me a while to get here, to evolve into the Christian I am now," he states. "I know who I am and who I represent. I represent the Father; I am His son." Tracks "Risky" and "Real" help to accentuate this thought.
Papa San's music is a representation of a life fueled by a musical pallet that was cultivated by growing up in an audible atmosphere of Bob Marley and Dennis Brown, infused with the American pop and soul sounds of Donna Summer and Nat King Cole, interlocked with the innovative contemporary urban sounds of today. His story is one of being raised by his grandmother and taught the doctrines of the Rastafarian religion and witnessing violence that took the life of two of his brothers. His story is about experiencing the conviction of his heart, growing into a relationship with the savior Jesus Christ, and conveying his love and faith through an entertaining yet life-changing medium we call music.