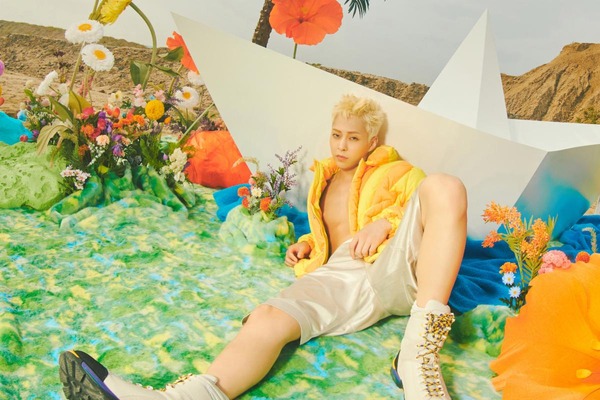 @skopemag news – monday – september 26, 2022 @ 4 pm est
@skopemag HQ – http://smarturl.it/skope
BET nominated rapper HAVIAH MIGHTY drops explosive record "Honey Bun"
JUNO, Prism and Polaris Prize-winning talent, Haviah's undeniable rise up the ranks is a crystal-clear reminder of her contribution to the evolving climate for female artists across the rap sphere.
ARLISTON — Return With New Single: "Hold My Wine" || +New EP 'Even In The Shade' Out 4 Nov
ARLISTON return with the stirring and spirited new single: "Hold My Wine", taken from forthcoming EP 'Even In The Shade'.
With a bold and rhythmic sound that feels worlds away from delicate earlier release "Mothering", the clinquant cut sees Arliston make a break for more plucky and playful territory.
Ascending London emcee JAY BIZZY delivers emotive rap offering "Diaries"
LESS KILLJOY returns with addictive alt-pop single "My Parade" // OUT NOW!
ELECTRIC JAGUAR BABY: new video "Slinky Shadows"
Emily Breeze releases new single 'Ordinary Life' via Sugar Shack Records
TOM JENKINS — Returns With New Single: "Be There For You" || + Announces New Album Out 25 Nov
YUNG GRAVY RELEASES "C'EST LA VIE" FEATURING BBNO$ & RICH BRIAN
This time around, he leans into a buoyant upbeat bounce with his signature swaggering bars, deftly rhyming "Attack on Titan"and "VP like Biden" (definitely a first)! It builds towards an instantly chantable chorus, urging "Let me live my life, baby c'est la vie." Meanwhile, best friend and frequent collaborator bbno$ and Indonesian rap phenomenon Rich Brian get in on the action too.
SleazyWorld Go's "Sleazy Flow (Ft. Lil Baby)" Jumps To #1 On Urban Radio
Hip-hop's 2022 breakout star SleazyWorld Go continues a momentous year with his first-ever #1 at Urban Radio. Today, "Sleazy Flow" ft. Lil Baby hit #1 at Urban Radio, while the breakthrough single simultaneously earned RIAA Platinum Certification. Island Records Co-CEO Imran Majid speaks on the accomplishment, "SleazyWorld Go's instincts and hard work are unmatched. Earning his first #1 at Urban Radio is a huge accomplishment and we know this is only the beginning for him." SleazyWorld Go shares his excitement too, "I want to say thank you to the radio stations that showed 'Sleazy Flow' love, the DJs, and the fans for this win. Going #1 and becoming a platinum artist in the same weekend is crazy. Wait until you see what we got in the chamber — I'm gonna keep doing this for my family and my city."
BECK: "OLD MAN" DIGITAL SINGLE OUT NOW
If you were watching NFL Sunday Night Football last night and thought you'd hallucinated Beck covering "Old Man" rendered in stark black and white… don't worry, you're not losing your mind. The eight-time GRAMMY winner has released his sublime version of the Neil Young classic performed in that NBC Sports ad as a standalone digital single, available HERE.
New Release from The Manhattan Transfer, WDR Funkhausorchester 'Fifty' on Craft / Concord
Collectively ten-time GRAMMY® Award-winning vocal group The Manhattan Transfer celebrates its 50th anniversary with a new studio album, aptly titled Fifty, which is available now digitally and October 21 on CD, via Craft Recordings / Concord. The group have announced they will embark on their final worldwide tour with the new album.
Groovy earworm with retro sepia video 'Covered In Gold' from Daniel Carlson
OBSIDIOUS Premieres New Song + Music Video, "Lake of Afterlife"
OBSIDIOUS comments, "This song narrates, in first person, the experience of a person whose time has come, but who is being stopped by external factors. And this person just wants to go in peace, that he has accepted his fate and does not want to suffer. It is a situation we have often seen of denial on the part of relatives of a person who is being kept alive, prolonging the inevitable."
Skinshape Announces New LP, Shares "High Tide, Storm Rising" Single + Video via uInterview | 'Nostalgia' LP Due 10/28 via Lewis Recordings
Will Dorey aka Skinshape has announced his seventh solo album, Nostalgia (out October 28 via Lewis Recordings), on which he taps into motives and motifs. To celebrate, he shared the record's second single, "High Tide, Storm Rising."
Skinshape Releases New Track "High Tide Storm Rising" With Beautiful, Low-Key Video
THE ILLICITS — Bounce Back With New Single: "Feel It" || + UK Live Dates This Autumn
MUNROE'S THUNDER Release New Single "Echoes Of the Dead"
MUNROE'S THUNDER, fronted by Ronny Munroe, have released their new sinigle "Echoes of the Dead" on all streaming platforms. The song is from the upcoming album The Black Watch which is slated to be released on November 11th
Ronny Comments:
"Echoes of the dead is about those who fought the battles and lost their lives in the highlands and how their blood and tears soaked the land."
JOJI SINGLE "GLIMPSE OF US" ENTERS TOP 10 ON TOP 40 RADIO CHART & GOES PLATINUM
Louie Ray's New Project 'My Signature' Out Now
The new project comes behind the release of its lead single, "Start"in late-August. Produced by ENRGY, the single has the signature mid-west bounce and Louie Ray sound. Louie reminisces on his humble beginnings, taking a step back to talk about his sudden rise to fame with lines like: "Still feel like I'm nobody, but I know that I'm known. Iont flaunt it like I can, but they know that I'm on."
[PRESS] Celebration Summer Release Debut Album
It's finally here! Start your weekend off with the debut album from Virginia's own Celebration Summer. The gruffy "org-core" quartet, combine their brand of unpolished late 80's/early 90's melodic punk with politically charged lyrics that makes Patience in Presence feel both fresh and familiar. Over the albums eleven tracks, the band weaves their influences in and out showing moments that liken to Hot Water Music, Samiam, Leatherface, and more. In fact, the band ends the album with a cover of Tiltwheel's "Hold My Hand To Make Them Go Away." For a band that has only been around since 2019, Patience in Prescence is a powerful debut that should certainly catch the ears of anyone remotely connected to punk music. Due to a technical difficulty, the album is currently only streaming at Bandcamp but will be available on all digital platforms shortly. For now, listen to it on Bandcamp or order a physical copy from the fine folks at A-F Records (US/CA) and Shield Recordings (UK/EU).
CHRISTINE AND THE QUEENS PRESENTS REDCAR RELEASES "rien dire" TODAY. HIS ALBUM REDCAR LES ADORABLES ÉTOILES (PROLOGUE) TO COME OUT 11.11
Today, Redcar shares his new single "rien dire", premiered by Zane Lowe on Apple Music 1.
Brazilian Singer-Songwriter Tagua Tagua To Release Sophomore Album "Tanto"
Brazilian singer-songwriter Tagua Tagua, aka Felipe Puperi, joins the Wonderwheel Recordings family with the first single from his upcoming sophomore album. "Tanto" – which means "so much" in Portuguese, and also gives the album its name – is a song about falling deeply in love, and being overwhelmed; the song introduces the message and meaning of the rest of the album, like a Shakespearean prologue. The new single is out now and available everywhere you stream music:
EXO'S XIUMIN RELEASES DEBUT SOLO EP, 'BRAND NEW'
The five-track EP hears XIUMIN tap into various genres and sounds including old school, New Jack Swing, retro ballad influences of the late '90s and early 2000s. The title track "Brand New" is an old school vibe dance track, with addictive hooks. The lyrics wittily express the determination to show a new, transformed self for the love of your life as if giving a surprise gift to a loved one.
AVANDRA Release "Codename: Pharaoh" Video
Prog metal band AVANDRA have released a video for their track "Codename Pharaoh". The song is from their upcoming album Prodigal which will be released November 18th, 2022,via Layered Reality Productions.
The band comments "The cycle of war begins again, and its concept made material. The Eisenhower speech throughout the song warns of the dangers of unifying the private sector's military industrial complex with the government, which would lead to eternal wars in the interest of war-oriented corporations and bribed congress members. The warning was not heeded, and the events of the album unfold."
GOMORRA (feat. members of DESTRUCTION) Share Music Video for "War of Control"; Announce New Album!
Following the critically acclaimed debut album Divine Judgement (2020), today Swiss thrash metal legion Gomorra announced the release of the band's sophomore full-length record Dealer of Souls, out on December 9 via Noble Demon.
ROXANA LINE HAS RELEASED NEW TRACK/VIDEO, "MARRY ME"
Roxana shared, "'Marry Me' is about coming of age while being trapped in circumstances outside your control. It's about fighting for being accepted for who you truly are. It's also about losing a part of yourself while going through various psychological traumas – this is why most of my characters are undead – they fight for themselves but there can't be a truly happy ending when they lose a huge part of themselves in the process."