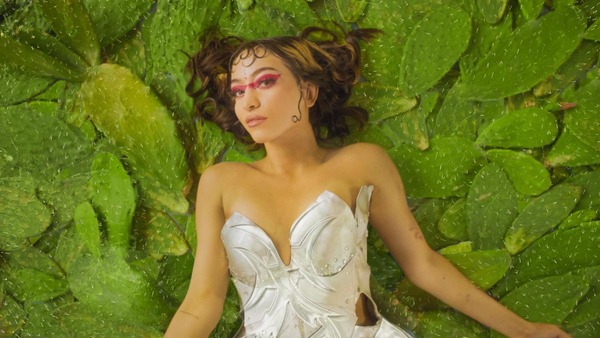 @skopemag news – friday – september 23, 2022 @ 5 pm est
@skopemag HQ – http://smarturl.it/skope
LA-based alternative artist Ronboy shares atmospheric single "Forget It" ahead of debut LP
It was during the making of "Forget It" that Ronboy knew she had a body of work taking shape. The sleek, mid-tempo production is bolstered with nostalgic, atmospheric instrumentation. Dropping into the bridge, Ronboy's vocal mantra swirls around before rocketing into a high energy solo and final chorus, singing, "Forget it too easy / Not your problem / You get it, you get it / You do away with it."
[Video Submission] PaceWon, Ren Thomas, Duece Bug, Paranormal Adam, B Dvine & Young Zee – Tri State Heat
Jack Fargo Memphis Born/ LA-Based Pop Artist Shares "Cool With You" + Instagram Viral over 12mil views on Reel      
New York Rapper and Golden Gloves Boxer Paul Rello Releases His Debut Single "War" Featuring Singer-Songwriter Alyssa Puletz
When asked about the release of his debut single "War" Paul said, "War" speaks to what a person endures when overcoming adversity, hardship, and conflict within. However, progress is only possible when you're willing to confront yourself and 'War' speaks to the challenges a person encounters when making these adjustments. Driven by fear of failure, 'War' takes a deeper dive into what a person experiences when facing insecurities, ego, bad decisions, and negative thoughts; but more importantly, it demonstrates the kind of determination, consistency, and persistence it takes when faced with these toughest challenges."
RISING LATIN SENSATION KORDELYA TEAMS UP WITH MEXICAN ROCK ICON JOSÉ MADERO ON COMPELLING NEW SINGLE
KORDELYA, the rising Mexican-American artist and producer who is quickly emerging as one of the most talented new faces of the exploding Latin music scene, today pays tribute to her cherished Mexican heritage, releasing her new single "-es + (menos es más)" alongside José Madero, acclaimed artist and founder of the popular Mexican rock band PXNDX.
Vancouver Musician Evan Konrad Releases New Album DENIAL
"Each song on Denial takes the listener through the shadows of modern human experience and brings them to light," says Evan. "it's a sonic journey made with the intention to encourage us through the healing and releasing of grief from personal and global consciousness."
French technical death-metal act Carnage Of Children unveiled new official music video "Endless Stairs"
[OUT NOW] Gunna & Nechie hop on CEO Trayle's "Bit With The Fangs" to start slime season
DJ CRAIG GORMAN AND ALEX HOSKING SHARE VIDEO FOR NEW SINGLE 'WORKOUT'
BLACKSTARKIDS Release New Project CYBERKISS*
New Originals premiere debut video, "So Sad" ft. Daru Jones
Nuela Charles drops new Soul-infused R&B album
Parris Mitchell Shares "your only" Single + Video via CHORUS.FM, Listen via Ones To Watch | 'i don't love you, and other lies' EP Out Now via Ninetone
PABLLO VITTAR RELEASES NEW SINGLE 'DESCONTROLADA' FEATURING MC CAROLA
DRE'ES RELEASES NEW EP 'YOUR SUMMER WITH ME'
Following a string of confessional singles, Los Angeles-based artist and MC Dre'es has released his new EP, Your Summer With Me via his imprint Running Forever. The anticipated EP exudes pure emotions derived from a past relationship and transcends into a captivating listen as it delves into personal ruminations and trials experienced by Dre'es. Your Summer With Me arrives at the tail end of the warm season as Summer comes to an end.
Taleen Kali gets into the Halloween spirit in new "Only Lovers Left Alive" music video
Despite Exile Explore Society's Shared Trauma In New Single "Custodian"
BLACK SPACE RIDERS Release Video For "Trapped In An Endless Loop"
Jru Anthony Releases His Debut Album, Life For Now, Out Today
For Skope: Sevenn returns to Purple Fly with new hybrid techno-pop single with BIGMOO, feat. Sarah De Warren (out now)
SUNDUB'S LATEST SINGLE IS AN EXTREMELY PERSONAL ONE
In early 2021, Joanna and Ben Teters, the brother and sister who front SunDub, were shaken to their core by the death of their younger brother, Adam. He was only 20 and was a budding musician and producer, just like most everyone in the family; he had already been working on projects with his older siblings. As you would expect with two musicians, Ben and Joanna used their artistry as a tool to help make sense of their new reality. The most direct result is the powerful title track from their upcoming sophomore album, Spirits Eat Music, which is out now as a single, via Easy Star Records. (The full album comes out November 11, 2022.) Though the song and its lyrics were written prior to Adam's passing, both took on powerful new meaning in the wake of that tragic event.
JP SAXE RETURNS WITH NEW SINGLE "WHEN YOU THINK OF ME" – WATCH THE VIDEO HERE
GOMORRA (feat. members of DESTRUCTION) Share Music Video for "War of Control"; Announce New Album!
With an uncompromising metal attitude, the virtuoso thoroughbred musicians Jonas Ambühl, Dominic Blum, Nico Ardüser, Stefan Hösli and Damir Eskic set the bar high on their new album, and with the first single "War of Control" Gomorra have just unleashed a first and intense preview of the soon to be released album.
ZOE WEES SHARES EMOTIONAL NEW SINGLE, "DADDY'S EYES"
NEW EP for FUGIT – "Nyctophilia Movements" is out NOW!
"POP SINGER JAKE MILLER RELEASES "LEAVE MY HEART ALONE" AND ANNOUNCES NEW EP DROPPING 11/4
Today, critically acclaimed pop singer/songwriter/producer Jake Miller releases his latest single "Leave My Heart Alone" via EMPIRE. Featuring an electric beat, the track finds Jake struggling to get over an ex. Jake has also announced that his forthcoming EP BASED ON A TRUE STORY II – a follow-up to his 2019 project BASED ON A TRUE STORY – will be released on November 4th. The 7-track EP is available for pre-save now.
BC Musician Zoe Guigueno Releases New Single + Video BENEFIT OF THE DOUBT
Quinton Griggs Unveils "Anything Goes" track/video
Trap Pop Sensation AyoPaco Shares New Single w/ Duke Deuce
WATCH Q'S DREAM-LIKE MUSIC VIDEO "STEREO DRIVER"
Amelia Moore Teams Up With ASTN On New Single & Video – "next door"
Wesley Shares "Twins in the Wind" Single
David Myles Releases New Album 'It's Only A Little Loneliness'
Myles drifts straight into a daydream with the help of Joshua Van Tassel's intricate rhythms and Asa Brosius' sweeping pedal steel. Halifax-based songwriter Rose Cousins' harmonies envelope Myles' vocals as both singers descend deeper into the reverie, confessing: I'll spend my lifetime loving you and making believe.
Christian Leave Shares "Why Not?" Single + Video via Rolling Stone | New Track Out Now via All DSPS, More New Music Coming Soon via Warner Records
JAMES AND THE SHAME (RHETT MCLAUGHLIN) Solo Country Debut 'HUMAN OVERBOARD' Out Today, 9/23
RHETT JAMES MCLAUGHLIN–one-half of the comedy duo Rhett & Link from their popular daily show "Good Mythical Morning"—solo porject JAMES AND THE SHAME's debut country album HUMAN OVERBOARD is out today, Friday, September 23. The album is a departure from his previous comedic releases and showcases a deeply personal musical exploration of RHETT's evolving worldview following his journey away from Christianity.
SIPTEE "MASTER P" FT. ROI (OFFICIAL VIDEO)
KHALID RELEASES NEW SINGLE & VIDEO "SATELLITE"
Madchild and Obnoxious team up with Sick Jacken from Psycho Realm in "Work For It" video
The Fair Attempts releases a new Dark Wave single "Dark Star"
NYC's DUSTY LOCANE, Ron Suno, Rah Swish & OnPointLikeOP Share Collab EP
408 Teams Up With Titus To Create New Pop Punk Anthem "2016"
COFFIN TORTURE Reveal New Single "Crawling Spleen"
COFFIN TORTURE have released "Crawling Spleen" the latest single from their upcoming album Blennoid, due out on October 7th via Sludgelord Records
The band comments, "'Crawling Spleen' is one of the earliest songs we wrote as Coffin Torture and has gone through several variations over the over years. We wanted to capture it as it is now for Blennoid. It's one of the heaviest and weirdest songs we've written."