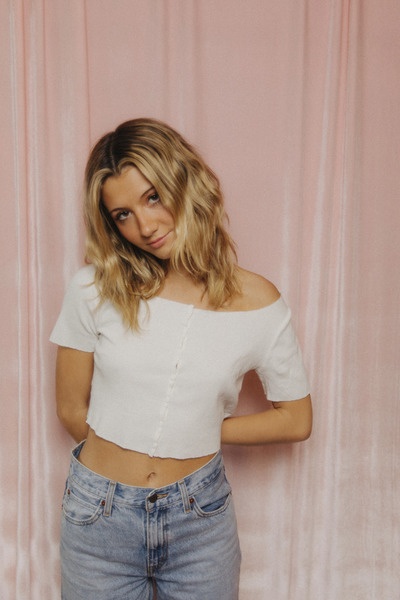 @skopemag news – friday – september 23, 2022 @ 12 pm est
@skopemag HQ – http://smarturl.it/skope
Spirited Electro-Pop Musician Russell Louder 'Come Around' Single (FFO: Eurythmics, Annie Lennox, and London Grammar)
Nashville Singer/Songwriter Dallas Remington Announces Release Of Sassy New Payback Single, "Steal Your Dad"
Nashville singer/songwriter Dallas Remington has announced the release of her current single, a sassy country romp entitled, "Steal Your Dad." The song was co-written by Remington, Nancy Deckant and Cyndi Limbaugh Torres and produced by Corey Lawson. Pre-release promotional videos on social platforms Facebook and TikTok Exceed 3.9 Million Views and music reviewers are loving the fun new song.
NEW – Idris Elba shares music video for current single
Fresh Music: Rowdy Rock Band Mellor Shares 'Battle Hardened'
Leather ​New Single & Video "We Take Back Control"
Natalie Shay returns with new MILK EP // OUT NOW!
Garnering attention from notable publications such as Billboard, Clash and The Line of Best Fit, to name a few, Natalie also performed "New Wave" on CBBC's "Saturday Mash Up!" late last year, and has landed on Spotify's New Music Friday playlist in 12 countries! It looks like 2022 will continue to be an explosive year for Natalie Shay.
MUNI LONG RELEASES HIGHLY ANTICIPATED FULL-LENGTH DEBUT PUBLIC DISPLAYS OF AFFECTION: THE ALBUM
The 18-track album fulfills the wishes of fans everywhere as it compiles all eight tracks from Muni's 2021 EP Public Displays Of Affection (including the RIAA platinum #1 global smash "Hrs And Hrs"), plus the five tracks from the follow-up EP Public Displays Of Affection Too (her Def Jam label debut released in July, with "Pain," "Another," and the summertime anthem "Baby Boo" featuring Saweetie), plus six new tracks.
Chris Cleverley releases 80s vibe haunting ballad 'Still Life'
AWOLNATION Premieres a New Video for "Freaking Me Out," the First Installment of a Three-Part Video Series
Vancouver Musician Dust Cwaine Releases Debut Album ARCANA
Arcana is a nostalgia pop navel gaze for grown theatre kids. Boasting nine tracks, the album balances drama and sweetness in a raw modern observance of queer identity. Dust Cwaine's lyrics tell a story that is both relatable and new, while Josh Eastman's guitar sets the pace and tone. With catchy hooks and a mid-tempo rhythm, Arcana brings you through the fire into the river.
220 KID JOINS FORCES WITH S1MBA FOR NEW SINGLE "LOSE CONTROL"
YG RELEASES NEW TRACK AND VIDEO "MANIAC" FEATURING HIT-BOY VIA DEF JAM RECORDINGS AND REVEALS TRACKLIST FOR I GOT ISSUES OUT ON SEPTEMBER 30TH
CHINA'S BIGGEST DANCE ARTIST CHACE RELEASES NEW SINGLE/VIDEO "MARIYA"
"Mariya" continues to tease the overall mysterious tone of the album following the previous single "In My Head." It contains a mood rendering and psychedelic inducing tonality. On "Mariya" Chace does it all. He arranged the music, wrote the lyrics, and sings and producers on it.
Out now: Future Teens' third LP 'Self Help' via Triple Crown Records & single + video "Good Reason"
Viral Sensation Tiko Releases Scintillating New Single "Flicker"
YouTube creator and singer Tiko, known around the world for his Fortnite gaming videos and infectiously catchy music, has released his latest single "Flicker" out today via ONErpm. Produced by Jordan Witzigreuter (Lindsey Stirling, AWOLNATION, UPSAHL, The Mowgli's), the scintillating track is about making it through life's challenges while dealing with the back-and-forth feeling of what you want versus what's best for you. Another infectious bop from the viral artist, "Flicker" offers the perfect juxtaposition of Tiko's signature high-pitch vocals with a hefty dose of buoyant, electro-pop rhythms.
LUCKI's Flow Dances Like Diamonds on 'FLAWLESS LIKE ME' Album
MUNROE'S THUNDER Release New Single "Echoes Of the Dead"
MUNROE'S THUNDER, fronted by Ronny Munroe, have released their new sinigle "Echoes of the Dead" on all streaming platforms. The song is from the upcoming album The Black Watch which is slated to be released on November 11th
Ronny Comments:
"Echoes of the dead is about those who fought the battles and lost their lives in the highlands and how their blood and tears soaked the land."
Frozen Factory: An eclectic mix of alt-rock, prog and metal from Finland release new album 'Of Pearls & Perils'
Weaved with Frozen Factory's signature mixed sound of alt-rock, metal and proggy elements, 'Of Pearls & Perils' marks their second full-length album and third LP/EP release. Its 12 songs, including their traditional short intro & outro tracks, explore topics of equality, life, the afterlife, and the climate crisis. The sound twists and turns through a range of heavy and light soundscapes that draw careful influence from classic acts such as Pink Floyd, Alice in Chains, Iron Maiden & Depeche Mode, while nodding at many others.
Today: Singer-Songwriter Kalila Badali Promotes Acceptance Via "No Eye Contact"
The song "No Eye Contact" and the Panacea EP is meant to be an expression of the sense of helplessness, hope, and longing for deep understanding that can come from having mental illness and disability while servicing this same population's mental health needs. Kalila's hope is to promote acceptance for the diversity of brains that have always been present and often misunderstood through her music and her practice as a therapist.
for Skope: R3HAB and VIZE join forces on euphonious dance-pop single on Sony Music (out now)
TOOSII'S NEW EP, 'BOYS DON'T CRY', SET FOR OCTOBER 7 RELEASE
Sam Williams Releases New Song "Blame 'Em Both"
Stela Cole Shines On Empowering New Single "Star"
Stela Cole reminds us of her heroine qualities with the release of her latest single, "Star," out today via Ultra Records. Anything but a humble brag, "Star" serves as a hype track, providing an irresistible energy and charm anchored by pulsating beats and luminous harmonies as Stela speaks to finding confidence within yourself and exceeding the expectations of those around you. The track places a spotlight on the fun and playful nature of the rising singer/songwriter's music as she continues to captivate listeners with her anthemic pop bangers.
GEORGIA WEBSTER RELEASES CHAPTER 1: THINGS WE'RE NOT SAYING EP
"This week is a dream," says Webster. "I'm finally releasing the music I've been working on this first year in Nashville and I get to play them on tour with one of my favorite artists in country music. I've been rehearsing all week and can't wait to share this music with all my fans."
JD SIMO RELEASES NEW SINGLE "MORTGAGE ON MY SOUL"
JD says, "Mortgage on my soul is an old Mississippi Fred McDowell song that I just really dug the words too. I also love the hypnotic vibe of his style. So over the course of a few months we started doing this during sound checks. Adam Abrashoff came up with this killer Afrobeat style groove and that's how it really came together. It's also a really good showcase for my slide playing. It's just such a blast to play. I could play it for an hour"
Divino Niño's Acclaimed New LP 'Last Spa on Earth' Out Today (Winspear), On Tour Now
With Last Spa on Earth, Divino Niño have totally upended the way they write songs, eschewing practice room jams for unrelentingly collaborative beats, implied grooves for immersive dance floor heaters, and mellow vibes for frenetic doses of reggaeton, electropop, and trap. While on tour with Crumb supporting their 2019 breakthrough LP Foam, the band gained a new perspective: "When you're in front of big audiences, you see what works and what hits people rhythmically," says drummer Pierce Codina. "We started pushing the tempo live, having more energy, and getting into a more dancey arena. Seeing people dance shifted our mindset." Across the album's 12 tracks, Divino Niño seamlessly and enthusiastically traverse a staggering amount of genres and sounds, resulting in their most adventurous and ambitious work to date.
Ella Tiritiello shares gorgeous second single 'Take It Personal'
After impressing with her debut single 'Say Something' earlier this year, 16-year-old Ella Tiritiello has returned with her gorgeous follow up single, 'Take it Personal'.
EVAN GIIA UNVEILS NEW SINGLE AND VIDEO, "MOMENTUM"
YUMI AND THE WEATHER — Release Anticipated Second Album: 'It's All In My Head' || + Announce UK Dates
Leading the way with one of its finest and most fearsome moments, the project fronted by Ruby Taylor is delighted to present the featured track "Be Your Lover". A prowling, brooding alternative-rock majesty that slinks somewhere in the shadows between the repertoires of Jane Weaver, Nadine Shah and Yeah Yeah Yeahs, it's a song that is oozes-with a purposeful sexual energy.
OUT NOW: Francesc evokes romantic angst on new single "Hurt"
Throughout "Hurt", Francesc portrays teenage relationships and their struggles to find a place within each other's lives, which includes late night overthinking, arguments, love, and sexual exploration.
Eerie Wanda releases video for "Birds Aren't Real"
Today Eerie Wanda, the project of Dutch/Croatian musician Marina Tadic, has released her new album Internal Radio, available on CD & digital via Joyful Noise Recordings (an LP version will follow on November 18th).
DENNIS LLOYD SHARES THE NEW SINGLE 'BERLIN'
'Berlin' also represents a strong shift forward in his sound. His instantly addictive songwriting is infused with a vibrant new energy, sourced from a production which stirs elements of bright house beats and alt-pop synths into its shimmering mix. Dennis's lyrics discuss the desire to break away from your comfort zone and instead embark upon an adventure around the world -something which most of us felt during lockdown. And appropriately enough, Dennis wrote 'Berlin' after starting a new voyage of his own.
Disturbed Return With New Album "Divisive" On November 18
Saleka Releases Intimate Female Empowerment Track "Echo"— Out Today
Izzy Strigel Drops Lively New Single, "Breathe"
Alternative-pop artist Izzy Strigel has just released her captivating new single, "Breathe." "After the breakup, a lot of emotions and clarity flushed forward, and the only way I knew how to process it was to write about it," explains Strigel, who wrote "Breathe" about her personal experience with feeling trapped in a relationship with a past lover. Her statement is supported by anthemic lyrics, "push me away; I'll disappear, scared to face my fears." "Breathe" captures these complex emotions in a poetic way, resonating Strigel's message to those who have experienced similar feelings.
ATT BLOGS: Dream pop musician Jaguar Sun collaborates with power pop duo Husbands on 'First Time Caller'
Singer-songwriter Abby Shreve's Debut Single "Misery" Depicts the Heart Wrenching Truths of Struggling with Mental Illness
Up and coming singer-songwriter Abby Shreve releases her debut single "Misery." The single is now available for streaming and download on all digital streaming platforms.
Plastic Harpoons Share "East of State" Single via Americana UK
Today, Santa Barbara indie-rock outfit Plastic Harpoons share "East of State," the latest single off their forthcoming LP, Modern World, out November 30 via Lolipop Records.
Bre Kennedy Shares the Authentic + Heartfelt single "Before I Have A Daughter" Cowritten with Lori McKenna 
New Julian Taylor Single "Opening The Sky"
"No matter what, I will always be there for her, whether it is in the flesh or in spirit. This song is meant to be transformative and exudes a feeling of unconditional love," explains Taylor.
Tim Williams Drops Fiery New Anthem, "Hate Is Real", From Upcoming Rollin' Coffin EP